New Years: Grassy Hut on the Bonnington Traverse
Every second New Years a contingent of the Backcountry Skiing Canada team descends upon Grassy Hut for two days of ski touring in the Bonnington Range Near near Nelson BC. This is the first hut on the Bonnington Traverse and is the only one with a "sled-free" designation. As usual the ski in was very easy and the hut itself was in great shape – thanks to everyone out there who is doing their part. We had New Years Eve and New Years Day to litterally lap up Grassy Mountain's offerings. The snow was not super deep but it sure was super stable, you could ski literally anywhere. Contrary to the preceding groups claims that they "Schralped the entire mountain", there was plenty of terrain left for us. Luckily the group before did not have great vis or navigational skills as they completely missed "Green Mile" the longest and best ski on Grassy Mountain at over 1600' of vert. Over the two days we made 7 summits of Grassy Mountain and 7 descents of Green Mile, over and over, up and down. Having been in this neck of the woods over a half dozen times before had it's advantages so our up track was uber efficient and we were able to work it pretty efficiently.
This is one of the best kept "cabin secrets" and it is getting busier, so if you want to sample it you best get on it.
Terrain on Grassy Mountain: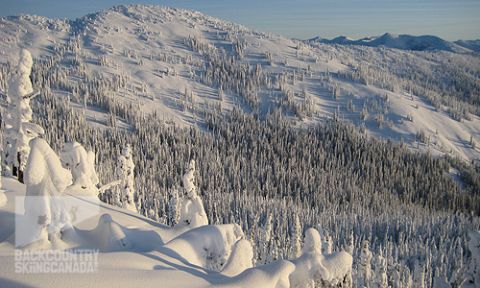 Grassy Hut has (in my opinion) the best views of sunrise and best skiing anywhere on the Bonnington Traverse. For all the hut details, you can find them over here on the Interior Mountains Lodging page. To learn more about the access to the hut and the route for the entire Bonnington traverse have a read on our routes page here.
Surrounding Grassy Hut are 13 ski touring routes that you will want to research before you head in as one of them (Sunshine) can be skied on the way out for a nice final fare-well. Check out all the routes in our route section for Grassy Hut here.
We GPS'ed out ski tour in and out as well as our up and down on "Green Mile". This info can be found with all the data you would ever want on our Suunto Moves Count page. For the ski in via "7k" have a read here, for the "Green Mile" lap check it out here and for the ski out via "Sunshine" give 'er a click here.
The ski in: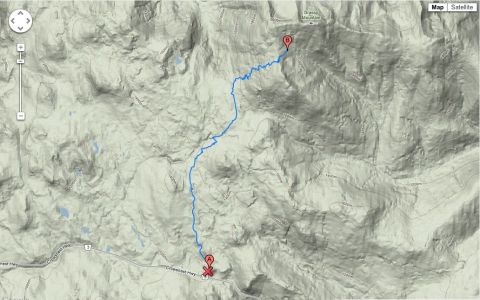 Lapping "Green Mile:
The ski out via "Sunshine":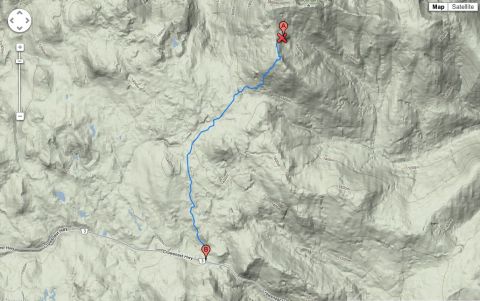 A video all about Grassy hut:
An early video of some of the skiing around the hut:
Some pics of the trip: