Huckleberry Hut area / Bonnington Range near Nelson, BC
Just back from 2 sunny days at the Huckleberry. The 20 cm that fell on Thursday has settled out to about 10 with the warming. I probed ~3m at the hut (1550m) and found wet grains down about a metre.
Timing and aspect were key as everything seems to have been temperature affected right to ridgetop. We had a good freeze overnight and woke to ~15cm surface crust on May 1 but it was laminated (5cm melt-freeze, 5cm new rounds, 5cm melt-freeze). Good spring skiing on Midday (NE) and Cabin (SE) peaks.
The snowpack held up remarkably well to the day time heating. Apart from minor surface sluffing on the steeps I saw only one old size 1.5 on the south aspect of Commonwealth Peak. Cornices were plenty big on E-NE aspects though.
We skied the drainage below the hut down to Barrett Creek (instead of following the road) on the way out to check the exit and found the old logging road (now flagged) that lead us up to the Barrett FSR. This is a neat exit with some fun skiing if you get down before the heat of the day.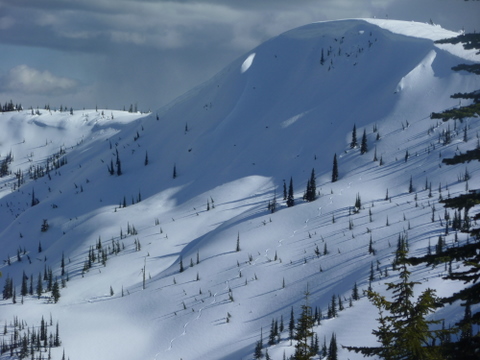 Cheers,
Shaun King ACMG / UIAGM Mountain Guide
Mountain Sense Guiding & Instruction