Zamst ZW-7 Back Brace & ZK-7 Knee Brace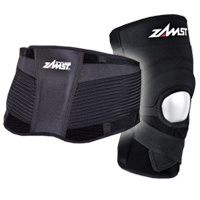 Injury is something no skier ever wants to to deal with, especially the long term repercussions—but it happens. For me it was a zipper crust that caught one ski and proceeded to make a wish with the other. On the loosing end of this game was my MCL, ACL and meniscus in my left knee, which just happened to be my 'good knee' as the right one had already had an ACL replacement years earlier. Then, a few years ago I took a 15 foot drop onto a newly created cat track at the local ski resort and that was the start of a life long affair with a compressed disc between L4 and L5 (thats the lower lumbar spine).
Being what they call 'middle aged' (I hate that term) I now have a growing list of skiing related injuries that I am trying to manage so that I can keep on backcountry skiing well into my 80s. When I stumbled upon Zamst Precision Engineered Support products at the 2014 Winter Outdoor Retailer Show in Salt Lake City it was a no-brainer; I asked them to sign me up to test out some of their products. Zamst is a company that produces reinforcement, recovery and protection products and was the brainchild of Nippon Sigmax, a leader in medical orthosis. Zamst has a product line that offers up over 39 support products for part of your body including achilles tendon, ankle, arm, back, calf, elbow, foot, knee, shoulder, thigh, thumb and waist. They sponsor a variety of hard core athletes who champion their products, however I could not find any medically supported testimonials on their web site pertaining to their products success.
Zamst ZK-7 Knee Brace
After having surgery a few years back to correct the issues in my left knee I was interested in supporting it while skiing to prevent further injury. The good folks at Zamst sent me a Zamst ZK-7 Knee Brace and I have been wearing it while resort skiing and backcountry skiing about 4 days a week this season. The ZK-7 is said to be the strongest knee support Zamst offers for moderate to severe sprains of the ACL, PCL, MCL and LCL of which I qualify with two of those three injuries.
The built in 'Exo-Tech QUAD' uses resin stays to provide 4-way ligament support with medial and lateral stability (MCL/LCL). The exterior velcro x-straps and parallel interior straps provide stability for anterior and posterior ligaments (ACL/PCL). The ZK-7 also uses 'i-Fit technology' which is a semi-open design that allows the braces to fit a wide variety of users and helps prevent the brace from slipping.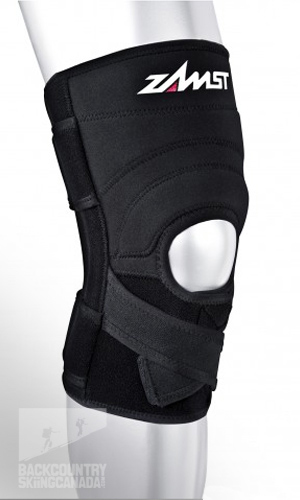 Features:
Exo-TECH (QUAD) - Exoskeletal four-way ligament (ACL/MCL/LCL/ PCL) support with individualized fit and multifunction design.
Flyweight Tech - Advanced material fabrication with lightweight construction.
i-Fit - Open panel design with adjustable fasteners provides individualized fit, enhanced comfort and variable compression levels.
Kneecap Stabilizer - Stabilizes the kneecap while body is in motion
ROM-Tech - Pre-curved design allows knee to still have full range of motion.
V-Tech - Ventilated flow through design keeps you cool while in motion.
---
Zamst ZW-7 Back Brace
With two levels of 'i-Fit' adjustable velcro compression and the four panel 'Exo-Grid' stabilizers, your lumbar stability is looked after. Grip Tech material keeps the ZW-7 in place even over a base layer which is how I ran the ZW-7 due to the high aerobic nature of backcountry skiing and my pack's hip belt placement. While the ZW-7 is not designed for any specific back issues it does offer up un-impeded support for your lower back while engaged in high aerobic activities (such as backcountry skiing).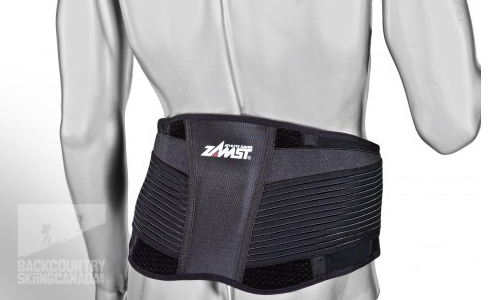 Features:
Exo-Grid - Dual stabilizer inserts provide anatomically correct stability.
Grip-Tech - Anti-migration design prevents slipping during activities.
i-Fit - Open panel design with adjustable fasteners provides individualized fit, enhanced comfort and variable compression levels.
ROM-Tech - Pre-curved design allows for full Range of Motion.
V-Tech - Ventilated flow through design keeps you cool while in motion.
---
Verdict:
If you have any joint injuries that need a little attention and support to get you through your active life then the Zamst line of products is worth taking a look at. I was not sure what to expect from the Zamst ZK-7 Knee Brace and the The Zamst ZW-7 Back Brace but I was pleased with the amount of support that they provided while backcountry skiing as well as skiing laps at the resort. I have been wearing the Zamst ZW-7 Back Brace over my base layer for the past two months while skiing and it has made a world of difference. My lower back muscles are not as fatigued after a hard day out with plenty of vertical gain under my skis. The compression provides support and is said to keep my spine more elongated thus taking pressure off of my compressed disc which allows me to ski longer with less discomfort in my lower back. The Zamst ZK-7 Knee Brace provided similar support and gave me confidence that my knee could hold up to skiing on those less than ideal days that seemed to be plentiful this season. The ZK-7 was soft and comfortable to wear while skiing, however I did find that on the chairlift when my knee was bent the brace did impede blood flow and occasionally I got tingly toes. Thanks to the design and features of the ZK-7 I did not sweat at all and the brace stayed in place perfectly. Similarly the ZW-7 back brace was comfortable and stayed in place thanks in part to the compression but mostly due to the quality materials it is made of. I was expecting to perspire quite a bit under the ZW-7 but to my surprise sweat was limited or nonexistent all together.
Overall, if nothing else, the Zamst products that I tested kept me aware of my lower back and knee so that I would remember not to go too hard or too big. Going backcountry skiing or resort skiing without them now makes me feel vulnerable to injury as I am used to the added support. I would highly recommend checking out the Zamst products if you are dealing with old injuries or are simply, as they say, 'middle aged' and in need of some additional joint support.
SPECS:
Zamst ZK-7 Knee Brace
Price: $79.95 US
Colour: Black
Sizes: S-M-L-XL-2XL-3XL-4XL
Small 17-18", Medium 18-19.25", Large 19.25-20.5", XLarge 20.5-21.75", 2XLarge 21.75-23.5", 3XLarge 23.5-25.5", 4XLarge 25.5-27.5"
Zamst ZW-7 Back Brace
Price: $84.99 US
Colour: Black
Sizes: XS-S-M-L-XL-2XL
XSmall 25.5-29.5", Small 29.5-33.5", Medium 33.5-37.5", Large 37.5-41.25", XLarge 41.25-45.25", 2XLarge 45.25-49.25"
PROS:
- Provides additional support for joints.
- Design is solid and products show no sign of wear and tear after several months of hard use.
- Fabrics breathe which prevents users getting hot and sweaty.
- The Zamst ZK-7 Knee Brace is easy to get on and off due to its lower closure system
- The Zamst ZW-7 Back Brace has a dual tensioning system so it is easy to tailor your support to your activity.
- Both products fit well, were comfortable and were not bulky.
CONS:
- Wearing the Zamst ZW-7 Back Brace next to skin is not recommended as it will be
uncomfortable, especially with high aerobic activity while carrying a pack.
- The Zamst ZK-7 Knee Brace cut off some blood circulation while sitting on chair lifts.
- Don't expect Zamst products to heal your ills, they merely offer support and stability which is sometimes all you need.
Rating: 9/10
Comfort 1.5/2
Support 1.5/2
Durability 2/2
Quality 1.5/2
Price 1.5/2

This is only our opinion. Do you disagree? Did we miss something? Are we totally out to lunch? Join the discussion in the forums here, and let us know what you think. People like/dislike gear for different reasons so chime in and we'll get a well-rounded evaluation.
Back to the rest of the reviews.
---