Yakima Flipside 4 Bike Rack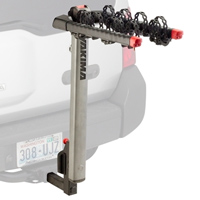 When you are talking bike carriers there are really only four options to consider—roof top, hitch, spare tire or trunk. The Yakima Flipside 4 Bike Rack that we will be discussing today is a hitch-mounted bike carrier which we have selected because we think it is the best of the rest. Roof top carriers work well but you have to muscle the bike up to the roof and there they have a bit of an impact on your gas mileage. I have also heard a few horror stories about people who forget about their (often pricey) bikes on the roof top carrier as they drove into their garage or under ground parking—you get the idea. The trunk bike carrier option keeps the bikes behind the vehicle and thus reduces wind drag however you are limited to two or three bikes due to their weight and the forces it places on your trunk. The spare tire option is similarly limited to two or three bikes and places all of the bike and rack weight on your rear mounted spare tire which is fixed to the vehicle body or rear hatch. I'm not a fan of all this weight going directly onto anything else other than the frame of the vehicle, enter the hitch alternative.
Yakima Flipside 4 Bike Rack is a high-end hitch carrier with a capacity of 4 bikes (as the name implies) and if you need to gain access the vehicle Flipside also flips 90° to either side and out of the way on most vehicles. The Flipside is compatible with 2" and 1¼" (class 2 or 3) hitch receivers right out of the box so not to worry if you upgrade vehicles or want to use it on a second vehicle. Up to four bikes are held securely to the rack by Yakima's sliding SwitchBlade™ anti-sway cradles which are adjustable plastic mounting brackets that eliminate bike-to-bike contact. You can slide these cradles up and down the support arms to give your bikes more or less room. Rubber stretchy straps are then used to tighten the bikes to their respective switch blade cradles for a really solid and secure fit. The bulk of the bikes weight (and where the switch blades are attached) rests upon two sturdy arms that are padded with burly rubber to reduce movement and protect your pricey investments.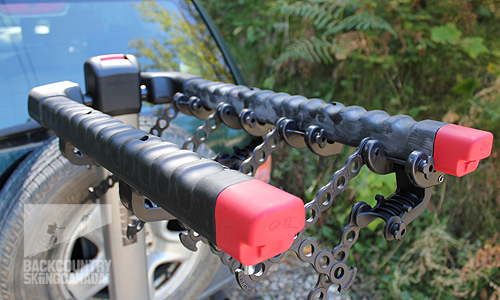 If you want to get the rack out of the way but don't want to remove it from your hitch (as this requires a wrench and a few minutes) you can use what Yakima calls the "TriggerFinger" which is a large red button that allows rack's support arms to fold down and save you about 25" of rear clearance. While the Yakima Flipside 4 Bike Rack is on your vehicle you don't have to worry about theft as the hitch pin comes with a lock as well as a security cable to lock the bikes to the rack. This security cable is stored inside the main vertical support when not in use so it is ready when you need it but out of sight when you don't.
A premium metallic powder coat finish and other high end components makes the Yakima Flipside 4 Bike Rack look good on any vehicle no matter how fancy it is. If you're up for a cold bevi after a long gruelling ride, Yakima cleverly integrated a bottle opener into each of the rear swing arms.
Features:
• Carries up to 4 bikes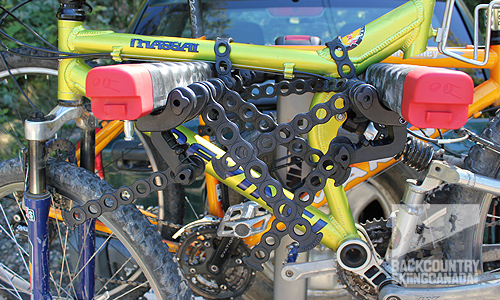 • Fits 2" and 1-1/4" hitches out-of-the-box
• Patented Anti-Sway Cradles for superior bike protection
• Premium automotive finish, reflective logo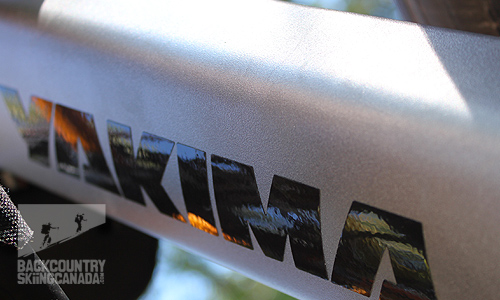 • Locking hitch pin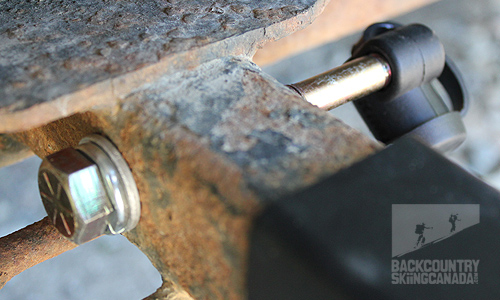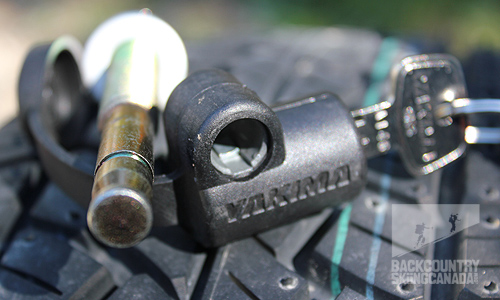 • Tilts to the side for superior rear-of-vehicle access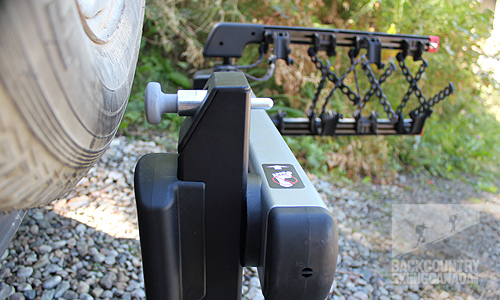 • Improved strapping for better stability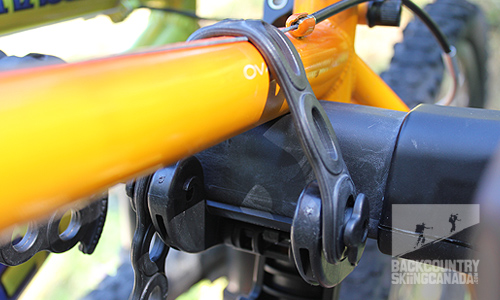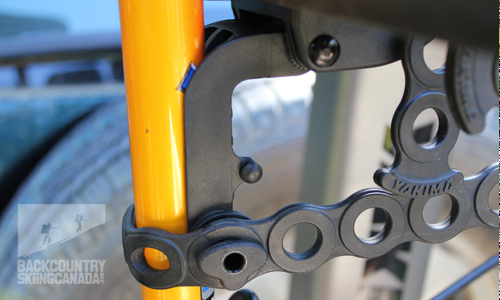 • Arms and mast fold down when not in use with large, easy-to-grip triggers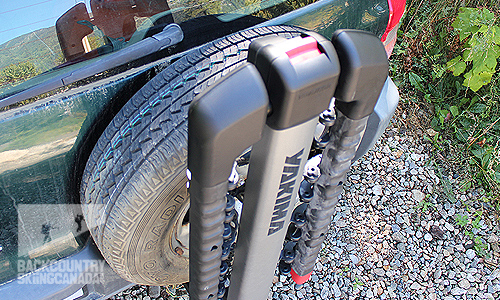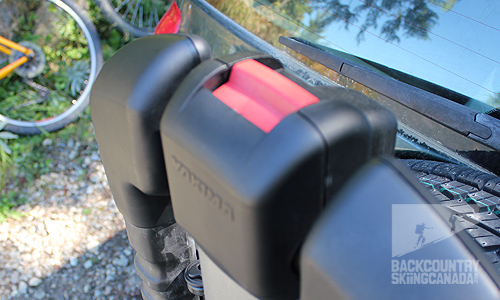 • Integrated cable lock included, hidden inside mast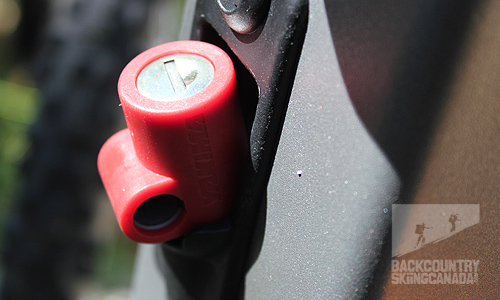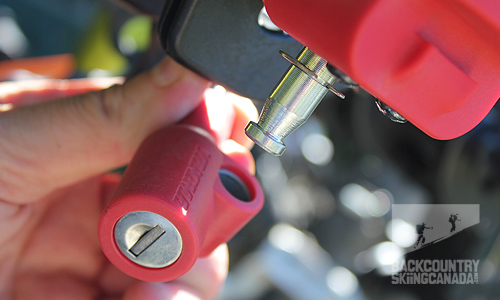 • Arm have adjustable track so you can move where the bike mounts are positioned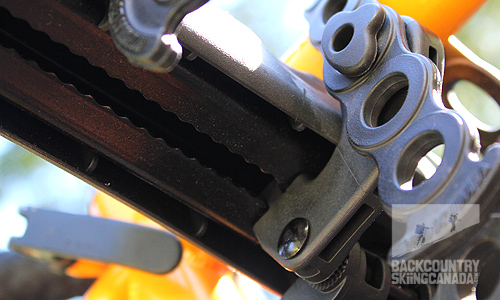 • Built-in bottle opener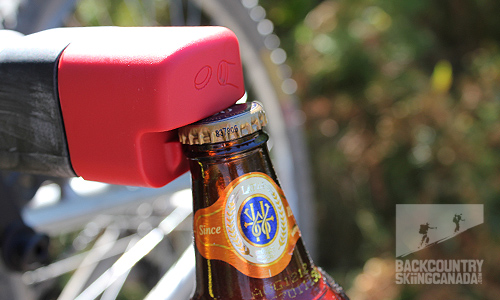 Verdict:
With the popularity of bike racks these days there is an enormous choice out there but I would suggest the big brands that know their stuff like Yakima—you will get what you pay for and with bikes costing easily over two thousand dollars its worth it to protect that investment. The Yakima Flipside 4 Bike Rack is a great rack full of several required features. Unfortunately it was not compatible with our 2001 Rav4 test vehicle. The Rav4's come with a rear mounted spare tire so there is very little clearance between the rack and the tire, so little that you cannot access the knob to allow the Flipside rack to flip to the side. "No problem" I thought I will just remove the spare tire, I have never actually used it anyways. Besides the obvious flaw in this thinking if I were to follow through with this it would indeed provide the clearance to access the knob but it would still not solve the problem of not being able to open the rear door. The Yakima Flipside 4 Bike Rack attaches to the rear hitch and then goes up 10" to the pivot point and it is this vertical height that the rear door would then knock into. I am not holding these two limitations against the Yakima Flipside 4 Bike Rack though as it would work just fine with a vertical opening rear door such as those found on the Honda CRV, just not horizontal opening rear doors like on the Toyota Rav4. These issues aside and the inconvenience of having to pack the trunk full of gear by gaining access through the car's side doors the Yakima Flipside 4 Bike Rack worked flawlessly. It carried 4 bikes very securely, even my old school cross country Devinci full suspension bike with funky geometry as well as my 9-year-old sons miniature Kona.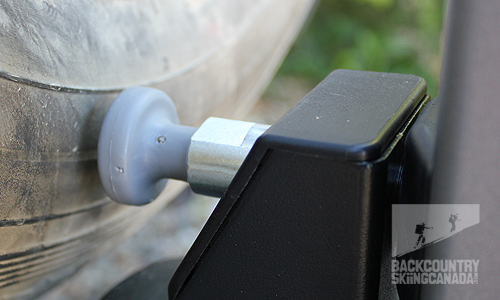 The included hitch pin lock and retractable locking cable are must-have features for security but it would be great to have a spring loaded re-coiler on the cable to that it automatically gets out of the way when you don't need it. I am not sure someone would ever steal your bike rack but you never know and at 16kg, they would not get very far very fast. This is one heavy bike rack but that is just a testament to how beefy it's built and how secure it is. Driving with the Yakima Flipside 4 Bike Rack on was unnoticeable other than the lack of a view out the rear window, but this is common to most rear hitch racks. There was a bit of sway with the rack while driving but this onus is placed squarely on the tolerances of the hitch and hitch mount and had nothing to do with the rack itself. If you are the kind of person who puts the rack on for a trip and then removes it (guilty on this end) then you will need to have a wrench handy as the hitch pin is threaded and will not come out by hand, just something to remember, or simply leave the rack on all season.
One improvement that may be unattainable due to physics or some other engineering limitations beyond my comprehension is the fact that the Yakima Flipside 4 Bike Rack could have a reduced height of 6 - 12" and thus provide a much better view out of the back window and even improved stability as the centre of gravity would be that much lower. A question for the Yakima design team I guess.
The built in bottle opener is a well-placed and thought out design feature - someone at Yakima was thinking!
SPECS:
Price: $429CAN
Weight: 16kg, 36.8lbs
Dimensions: 43" high, 39" extension from hitch bolt hole (14" when folded.) Distance between back of mast and hitch bolt hole is 12". Distance from the bolt hole to part of the rack nearest the vehicle is 9". Distance between arms is 11" (centre to centre).
Capacity: 4 bikes up to 13kg, 30lbs each (Maximum 120 lbs.)
PROS:
Well built, sturdy design that looks good. Must have retractable bike lock and hitch lock. Swings out of the way and flip down arms for compact on vehicle storage when not in use.
CONS:
Does not flip out of the way of Rav4's rear door and some other models. At 16kg this is one heavy bike rack but you need this to ensure a sturdy ride for your bikes. Sits very high so your rear window view is quite limited.
CONS: 7.5 /10
Innovation 1.5/2
Function 1/2
Aesthetics 1.5/2
Features 2/2
Quality / Price 1.5/2

This is only our opinion. Do you disagree? Did we miss something? Are we totally out to lunch? Join the discussion in the forums here, and let us know what you think. People like/dislike gear for different reasons so chime in and we'll get a well-rounded evaluation.
Back to the rest of the reviews.
---