Yakima skybox pro 18 ski box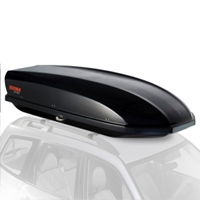 The Yakima skybox pro 18 is a ski box and cargo box in one, hence the name "skybox". It allows you to transport your skis to and from your favourite backcountry skiing trail head without getting the interior of your car full of snow or your skis covered in road grime like they would if you used the popular ski racks of the 90's. The Yakima skybox pro 18 has many new and very useful features that we will get to in a minute but it's real benefit is that it expands your gear carry capacity of your car/truck by eighteen square feet or a little over 500 litres. This is a massive amount of space. You can easily carry 6 - 8 pairs of skis or 4 snowboards in this behemoth. It helps out in the off-season as well. On those family road trips you can store all your camping and climbing gear up top in the Yakima skybox pro 18 and leave your vehicle relatively uncluttered. I am ethically against huge gas guzzling SUV's (it's the tree hugger in me) so the Yakima skybox pro 18 is a welcome addition to our small RAV4 as it provides a lot of storage space all year round when needed and when not needed it's super simple to remove the skybox in a matter of minutes.
First generation ski boxes were small, noisy, unsecured, hard to mount on your roof racks and virtual car sails. Times have changed (thankfully), the new Yakima skybox pro 18 is a big ski box, no question there - but it is easier to secure to your vehicle, more aerodynamic and a whole tonne quieter while you are driving. The sculpted design reduces any noticeable chatter on the road and also helps reduce any major increase in gas mileage. Part of the secret to the Yakima skybox pro 18's sturdiness (and why it is so quiet) is the use of Yakima's "Endo-Skel lid technology". These are essentially reinforcement braces which make it flex less, make it easier to open and close and also 3x stiffer than previous Yakima boxes.
Because of its' three foot width the Yakima skybox pro 18 practically spans the roof of our relatively small Rav4 SUV and so the ability to open and close the skybox from either side is a huge bonus. This is possible due to the integration of double wishbone hinges on either end of the box. These wishbone hinges are spring loaded to make things easier along with what Yakima calls "Easy-Edge" which is a beefy overlapping edge for better grip in wet, cold conditions (even with gloves on).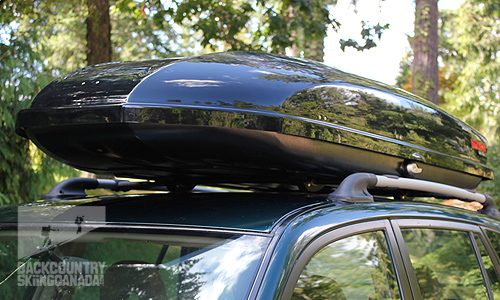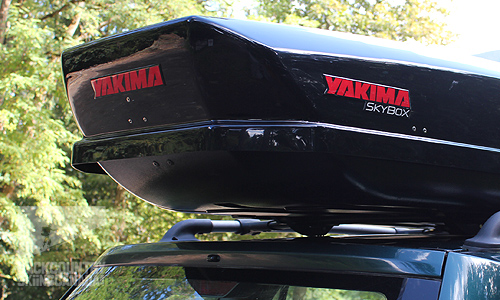 Install Process:
Prior to the Yakima skybox pro 18, installing a ski box was a frustrating, multi-hour endeavour that I personally loathed. This has thankfully changed into a 5 minute process thanks to the quick-instal mounting hardware that requires no tools. It is as simple as 1,2,3:
1. Place the skybox onto your roof racks
2. Adjust the mounting hardware location so the spacing is correct for your roof rack
3. Release the mounting hardware clamps and micro adjust the pressure fit to optimize contact with your roof rack and then close the levers.
The first time I installed the Yakima skybox pro 18 it took three minutes and zero tools, however I did need the assistance of someone else in order to lift the skybox onto the roof as it is large and 52 pounds. The Yakima skybox pro 18 fits car rack systems with round, square and a variety of different factory crossbar shapes. It will accommodate crossbar spreads as short as 24" and as long as 42" and thanks to the locking system once you adjust for your specific rack system the job is done and they stay put. The rear undercut on the Yakima skybox pro is designed to let you fully open your hatchback so you don't have to worry about having your hatchback crack you in the back of the head due to not opening it all the way.
Mounting hardware open.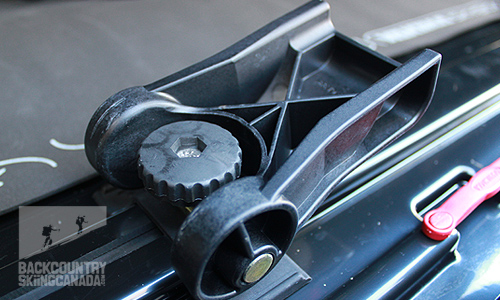 Adjusting the mounting hardware location.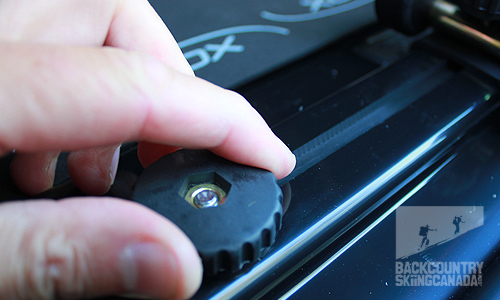 Mounting clamp located around roof rack.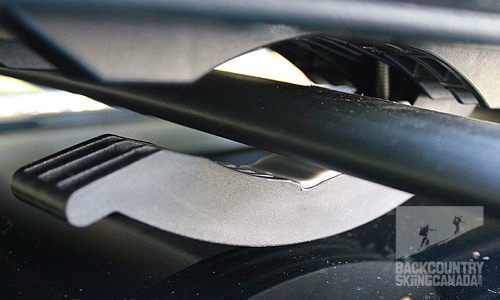 Tightening the mounting clamps.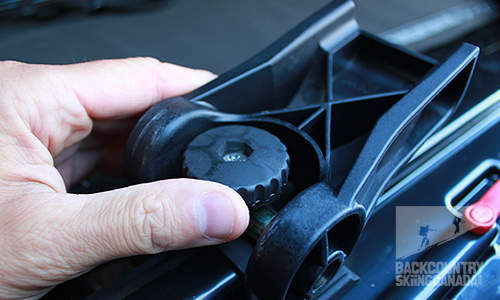 Mounting clamp secured onto the roof rack.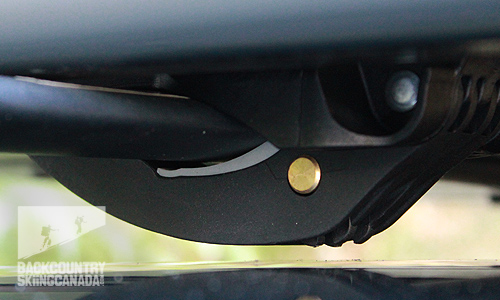 Mounting hardware closed and the Yakima Skybox 18 installation complete.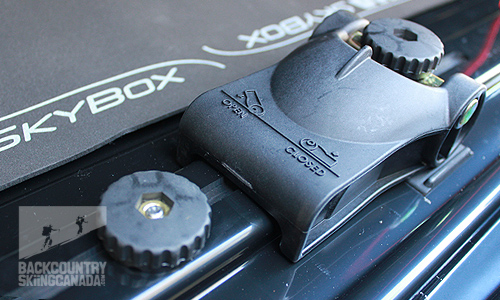 Materials:
Yakima seems to have had social responsibility in mind when they built the Skybox 18 (as much as you can have when you are mass producing large petroleum based products) they are concerned with recycling and their C02 offset efforts by way of their "Planet Payback" program. The biggest plus that we could see from this is that Yakima cargo boxes are made from up to 80% recycled ABS plastic - this is a good thing! ABS is also used instead of fiberglass because it is lighter and less expensive, while still being really strong and therefore maximizing value. Lighter weight is important in a ski box because the lighter the box is, the more weight you can put into it. We tested the Yakima skybox pro 18 onyx version which has a scuff resistant and UV resistant finish ensuring the shiny black coloured exterior appearance won't dull.
Hinge and reinforcement rod.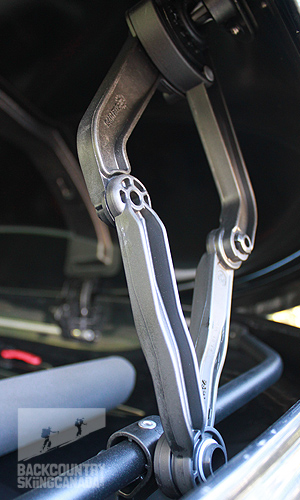 Cargo net and base pad.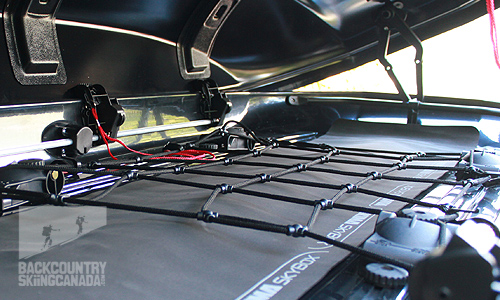 Cargo net securing points.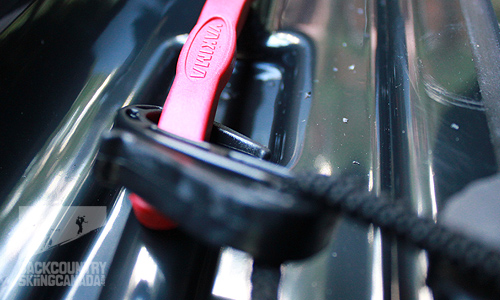 One of three locking mechanisms.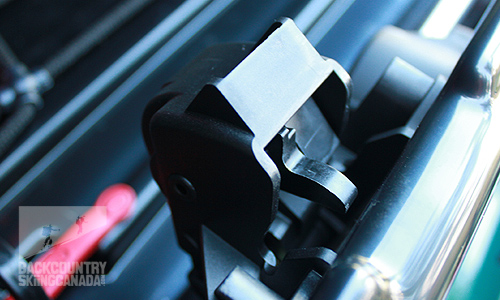 Locking handle with intuitive graphics and instructions.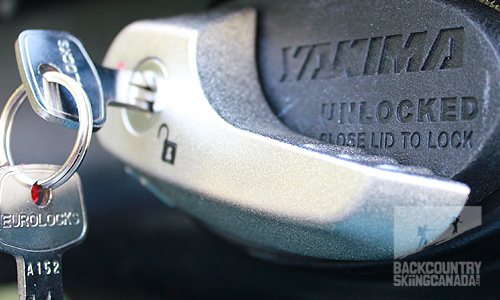 Verdict:
Given that I drive one of the smaller 4 wheel drive SUV's on the market the Yakima skybox pro 18 is a welcome addition to our three person family. I really like the additional 18 cubic feet of storage space during winter for ski touring and in the off-season for family road trips as we always seem to carry a lot of gear. It makes our small car feel really roomy again. Being able to install the Yakima skybox pro without any tools and in a matter of minutes makes it a no-brainer to throw it on for a classic weekend warrior road trip. I typically keep my ski box on for the winter months and then store it over the summer until it is required in order to reduce wind drag when driving around town (every little bit helps).
The mounting system is bomber and there is no questions about the stability of Yakima skybox pro, this is evident in how quite it is while driving. I also like the fact that the key cannot be removed when box is open so there is zero chance of locking the key inside. When you close the box you know you have all three latches engaged as the handle will then flip to the closed position and then you can remove the key. This is a great feature to ensure you do not muscle things into doing what you want them to and risking damage to you or your skybox.
Keep in mind that because the Yakima skybox pro 18 is so large you will need a fare amount of space to store this thing when not in use and you will definitely require another person to help carry it to your car and lift it onto your roof racks. Not a lot of muscle required here as it is only 52 pounds, just some agility as it is large and awkward to carry.
The Yakima skybox pro 18 comes with a lifetime warranty along with a base pad to protect your gear and the inside of the box alike, and a cargo net to secure non-ski items that may skid around in transport. It is available in four sizes: 12, 16, 18 and 21 cubic foot and four styles: polished titanium, matte black, onyx and shiny silver. Prices range from $709 to $969.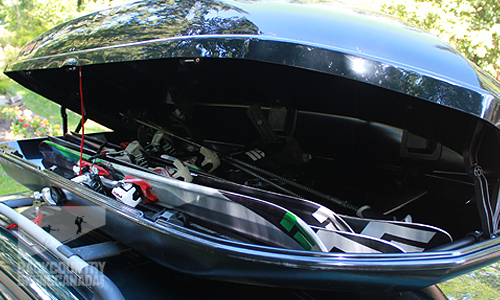 SPECS:
Price: $869 CAN
Volume: 18 cubic feet / 509 litres
Dimensions: 92"(l) x 36"(w) x 16"(h)
Weight: 52lb / 23.59kg
Warranty: Lifetime
PROS:
Idiot proof latching system, installation requires no tools and takes only seconds to secure. Did I mention this thing hold a lot of gear?
CONS:
The latch system requires a lot of force and feels like it may break if you leverage too much. Occasionally the rear latched did not release when we attempted to open the box - we had to push down on the back of the box to allow it to release. This may be just user error that will correct itself over time.
Rating: 9/10
Capacity              2/2
Features              1.5/2
Install                  2/2
Weight                 2/2
Quality / Price     1.5/2

This is only our opinion. Do you disagree? Did we miss something? Are we totally out to lunch? Join the discussion in the forums here, and let us know what you think. People like/dislike gear for different reasons so chime in and we'll get a well-rounded evaluation. Check back mid-season to see how our review stands up to our in-the-field testing.
Back to the rest of the reviews.
---