Outdoor Research Enchainment Jacket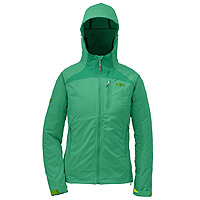 The Enchainment jacket is made with two different types of fabrics. The underarms are made with stretchy and very breathable Schoeller® fabric with NanoSphere® technology. According to the OR website, Nanosphere technology allows water and dirt to run off the jacket. Apparently it remains resistant to water after frequent use and numerous washes. However, the more notable fabric is 100% polyester main body, this is a tightly woven face fabric with no membrane that has exceptional weather resistance simply from its super-tight mechanical construction.
At the top, on the inside of the zipper, the Enchainment jacket has a small section of microfleece which is super comfortable against your face.
OR states that the Enchainment jacket will remain waterproof in everything other than the "burliest of downpours." I found that I remained perfectly dry after an hour of walking in steady rain. I am always curious about how long a soft shell can stay waterproof, but have not had this jacket long enough to test this.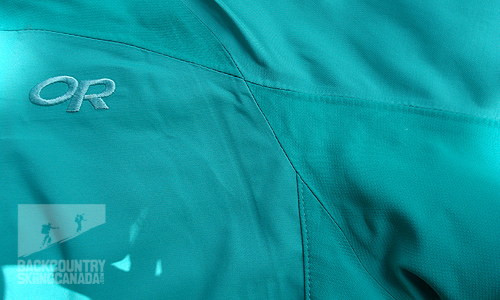 Hood
The hood on the Enchainment jacket is two way adjustable: around the face and around the head. Both directions are easy to tighten and around the face is easy to loosen as well. Loosening the hood around the head is a little bit fiddly but not too bad. The hood also has a brim which helps block your face from snow or rain. The hood does fit over a helmet, but as seen in the picture, the neck is too small to leave the zipper done up comfortably when worn over a helmet.
Fit
The Enchainment jacket has a standard fit. I found it to be a great length in the body coming to just below my hips. The arms extended to my first knuckles which I liked as I could easily keep my hands covered in cold or wet weather. The wrists are quick to adjust with a velcro cuff and stretch to fit well over gloves. The Enchainment jacket was tight enough that it fit under my larger down jacket but large enough that it also fit comfortably over my smaller down.
Pockets
The Enchainment jacket has four pockets: two hand warmer pockets, one chest pocket on the outside and one on the inside. The two hand warmer pockets are high enough to be accessed while wearing a harness or waist belt. The chest pockets are a useful size and could easily hold a camera or toque.
Features:
- Fit: Standard
- Zipper: Front zip internal stormflap
- Hood: Adjustable, wide brim
Interior mesh lined venting pocket.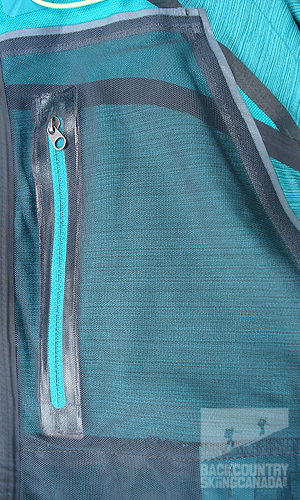 Nice elasticised-velcro cuff detail.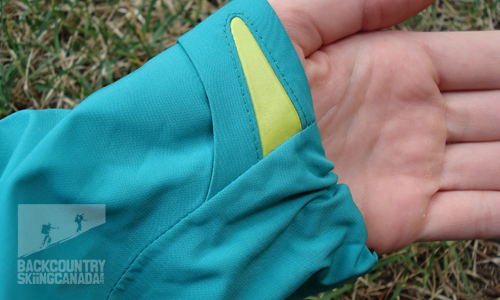 Fleece around the zipper to protect your face.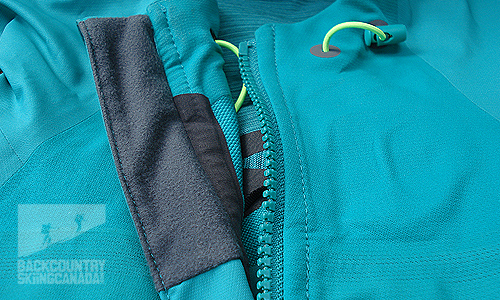 Zipper garage and pulls.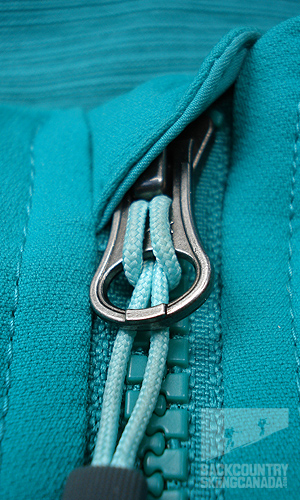 Lower pockets are easy to use while wearing harness.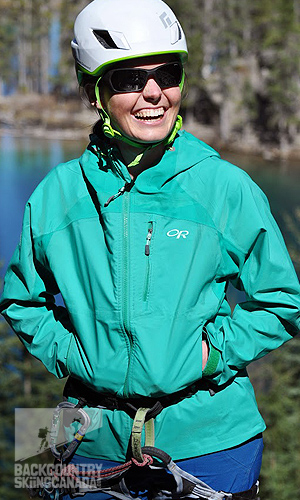 The hood has a wide brim and is two way adjustable.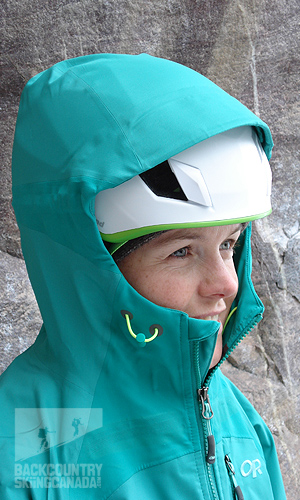 The hood fits over a helmet, however, is too tight to do up zipper.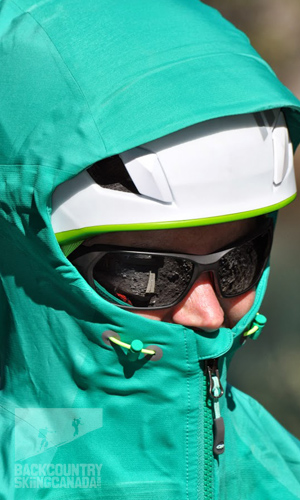 The underarms and body are made of different fabrics.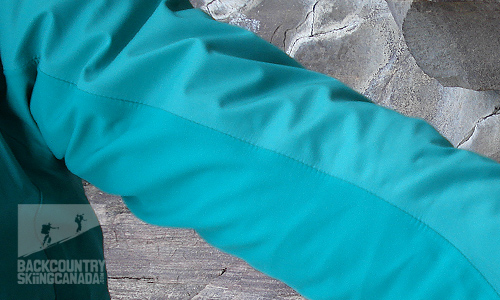 Fabric:
Body: 100% polyester (soft shell), tightly woven with no membrane that has exceptional weather resistance
Under arms: 100% polyester Schoeller® fabric with NanoSphere® technology
Fabric features: Highly water resistant, breathable, blocks wind, stretchy
Fabric Weight (medium): 14.6oz/415grams
Verdict:
I love wearing the Enchainment jacket. It fits well and is comfortable to wear. The hood fits well with a bare head or hat on and is easy to tighten. On the other hand, the neck is too tight to have the zipper done up when wearing the hood over a helmet. The pockets on the Enchainment jacket are a good size and are placed well. The jacket is waterproof enough that after an hour in steady rain I was still dry underneath. I liked having the two different fabrics, allowing the underarms to be more breathable and stretchy than the rest of the jacket. Although this jacket is only available in three colours, I love the bright green and have received a lot of compliments on it.
SPECS:
Price: $250
Sizes: XS-XL
Colours: Black, Flame, Gem
PROS:
- Lightweight
- Chest pocket
- Harness compatible pockets
- Great colour
- Under arms breathable
- Brim on hood
CONS:
- Hood tight with helmet on
Rating: 8.5/10
Fit / Mobility 1.5/2
Packability 2/2
Warmth / Breathable 1.5/2
Features 2/2
Quality / Price 1.5/2

This is only our opinion. Do you disagree? Did we miss something? Are we totally out to lunch? Join the discussion in the forums here, and let us know what you think. People like/dislike gear for different reasons so chime in and we'll get a well-rounded evaluation.
Back to the rest of the reviews.
---