Voile Revelator BC Splitboard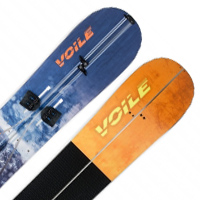 The Revelator BC splitboard is just one example of how Voile is continuing to innovate backcountry access since 1980. Based out of Utah, where deep snow is plentiful, Voile has been helping curb the costs of lift tickets and crowded ski resorts by developing backcountry tools and travel methods that work. They were there in the beginning when they developed and sold a split-it-yourself kit to reassemble a snowboard you cut in half. Fast forward to 2015 and Voile is now offering six different models of splitboards and bindings, eight skis, telemark bindings, probes, shovels and countless accessories. Not to mention they are doing it all locally. Voile has recently acquired Sentury Snowboards, whose mainstream influences helped make "directional twin and true twin splitboards, enabling diversity of style in backcountry lines.
The Revelator Splitboard is available in men's, women's and "BC". This review focuses on the Revelator BC with the only difference being the scales underfoot that are designed to help on low angle approaches without the use of skins. This is definitely the biggest selling point for this particular model. While it is the first production model of a scaled splitboard, you may have seen this technology before on cross-country skis and on the Voile Charger BC Skis which we reviewed here. It only makes sense that scales would eventually be seen in backcountry travel, but the real question is; does it work? In a word, yes, it does work on low angled approaches. I was surprised at how well it kept me moving forward until I hit something steep. The scales on the bottom of the Revelator do not affect the adhesion of the skins to the board, which may be a concern for some, and minimal snow is found underneath when the skins are removed. I am impressed with the ability to keep my skins off the board when touring in the mountains, especially in rolling terrain where I can glide down descents with more control then when my skins are on.
However, I am not the most skilled skier, which makes split-mode more challenging, and despite what my telemarking friends tell me about freeing my heel, I would feel more comfortable with a locking mechanism for the downhill.
Once reaching the apex of the tour, changing over from splitboard to snowboard is a breeze. Simply align the middle clips in a fold and snap the board towards you. The clips on the tip and tail of the board will do the rest to ensure the board keeps its shape and once the bindings are slid onto the pucks, you would never guess the board split into two. The channel puck system is quick and easy to dial in any custom stance. The pucks themselves are angled/canted three degrees to allow for a relaxed stance. Bending your knees towards each other improves lower body alignment, and as your yoga teacher may have taught you, better alignment equals a more powerful stance with increased balance. Setting up my stance at home was simple and the hardware safeguards against any variance or loosening of this position. So you don't have to worry about any malfunction on the way down.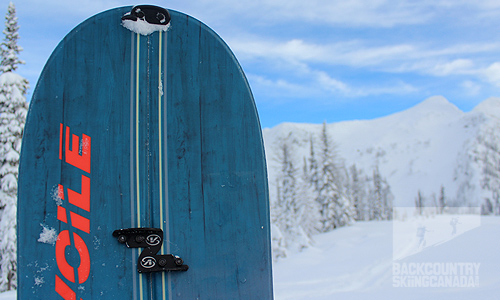 The Voile Revelator has a Paulownia wooden core which is lightweight, which is nice for the hike up, but it's also durable with a medium flex that allows for playful turns in the powder. The board has a directional shape, with a tapered tail and early-rise nose. The stance is also setback on the board with a long camber area. These factors ensure an optimal powder riding experience that is playful and fast. Although directional snowboards hinder the ability to ride switch, the scales on the Revelator make it almost impossible. This is not ideal for my particular style as I enjoy sharing lactic acid buildup with both legs, riding backwards at times for fun or because the terrain suggests doing so. For example when traversing a steep slope I prefer to ride on my toe edge, keeping my body facing uphill. The direction of the traverse dictates what edge you must use, unless you can ride switch. This isn't a deal breaker at all as the pros far outweigh the cons, but it is something to consider.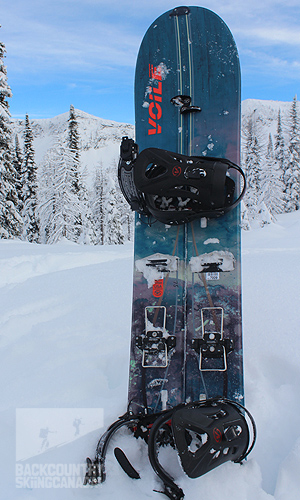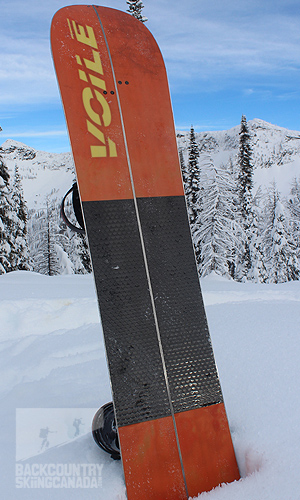 The bindings mounted on the Revelator Splitboard are the Voile Light Rail Bindings which we reviewed over here.
Features:
- Paulownia wood core & Carbon Glass
- A traction pattern on the base, also known as "fish scales", assist with low angle approaches.
- Channel Puck System allows for the ultimate custom stance for bindings when in ride mode.
- A strong & lightweight Paulownia Wood Core
- Long Camber Area
- Early rise nose
- Tapered tail
- Directional
- Medium Flex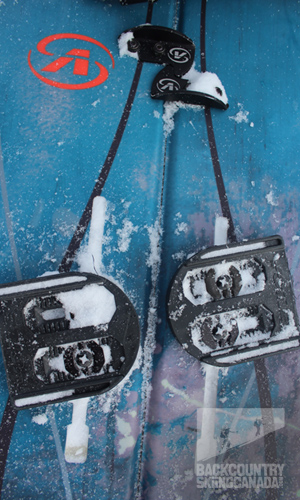 Verdict:
The scaled bottom underfoot is great for low angle approaches and rolling terrain. Save your skins for the steep inclines and enjoy gliding across the landscapes, especially the slight descents. This may help you keep up with skiers who might be slowed down by their skins, but all factors considered you'd better have some skills free-heeling it in split-mode. The channel puck system is the best I've seen and works perfectly for customizing your most desired stance. The hardware ensures your stance won't shift, enabling responsive turns as you shift your weight. The makeup of the board is solid, durable and lightweight with a medium flex. No problem burring your nose in deep powder with a setback stance, tapered tail, and an early-rise nose. I would recommend this splitboard for those aiming to summit peaks with a long travel approach in rolling terrain.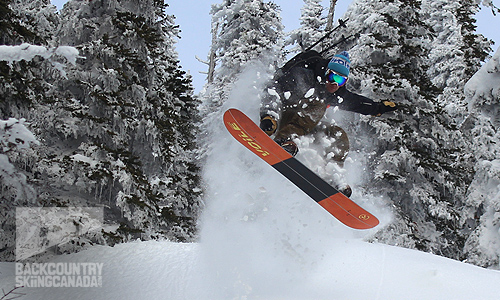 SPECS:
Price: $650US
Length: 159, 162, 165, 169
Effective Edge 103.7, 106.7, 109.7, 112.7
Sidecut (meter) 8.8, 9, 9.2, 9.4
Waist width 25.7, 26.1, 26.3, 26.5
Nose Width 29.8, 30.2, 30.5. 30.8
Tail Width 28.6, 29, 29.2, 29.4
Weight: 2.89kg / 6lb 6oz, 2.95kg / 6lbs 8oz, 3.03kg / 6lbs 11oz, 3.13kg / 6lbs 14oz
Warranty: Lifetime
PROS:
- Skins not needed for low angle approach, therefore making low angle descents faster.
- Fish scales prevent sliding backwards.
- Revelator BC Splitboard includes channel pucks, screws and t-nuts.
- An Installation Guide is available online for setting up your splitboard bindings.
CONS:
- Climbing Heels sold separately.
- Riding switch is greatly affected by fish scales.
- Only available in one colour
Rating: 9/10
Innovation 2/2
Function 1.5/2
Aesthetics 2/2
Features 2/2
Quality/Price 1.5/2

Back to the rest of the reviews.
---