Vasque Bitterroot GTX Boot for Women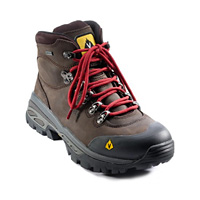 Last fall I put my feet into a pair of the Vasque Bitterroot GTX hiking boot for woman. I was on the market for a new pair of hiking/backpacking boots as my 10 year old faithfuls were on their way out and wouldn't make an 18-day trek in the Solu Khombhu region of Nepal.
In response to the growing popularity of hiking, Vasque was founded by William D. Sweasy over 40 years ago. The Bitterroot GTX is a great example of the kind of boot Vasque has been manufacturing over that time, combining quality leather with durable soles. It's the most rugged boot in Vasque's line-up it's designed to handle the rigours of backpacking.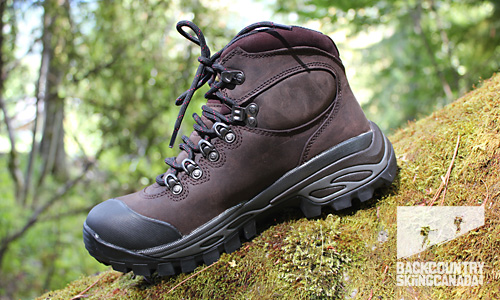 The Bitterroot starts with Vasque's Exclusive Vibram® Summit Sole, which boasts an aggressive tread combined with an articulated heel for braking in the way down.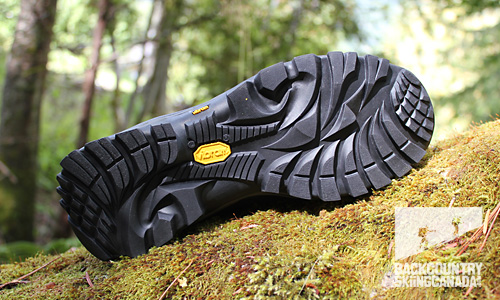 This is topped with a Molded PU/EVA/TPU midsole. Essentially an EVA frame is wrapped in TPU armor which extends around the base of the ankle toward the forefoot for comfort and stability.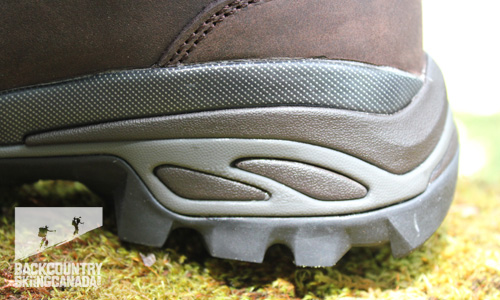 A PU cushion has been placed under the heel for added comfort.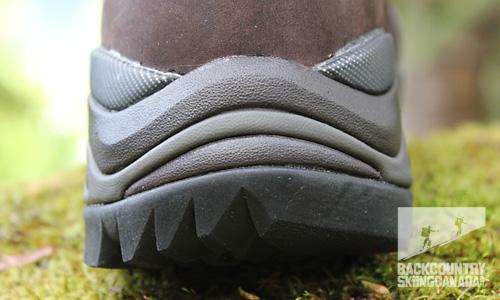 As it's namesake implies the boot features a full Gore-tex liner to keep your foot dry.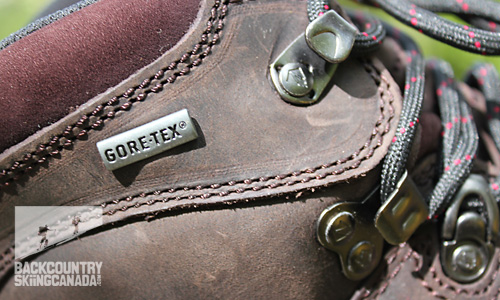 This is wrapped in a robust full leather upper ...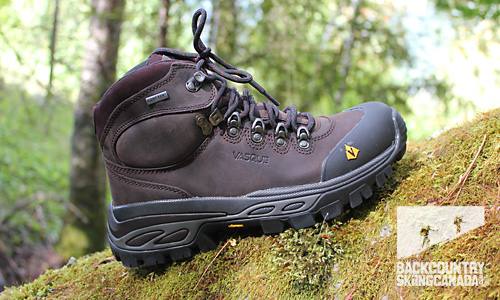 ... finished with a molded toe bumper to protect the toe leather from niks caused by rocks and bushwhacking.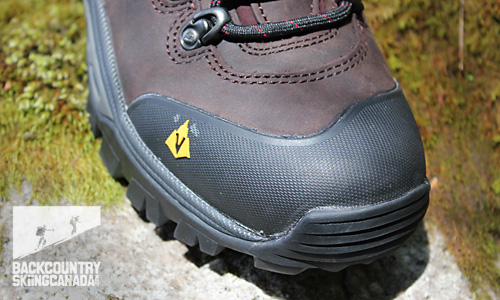 The tongue has articulated padding to avoid bunching and extends above the boot for comfort .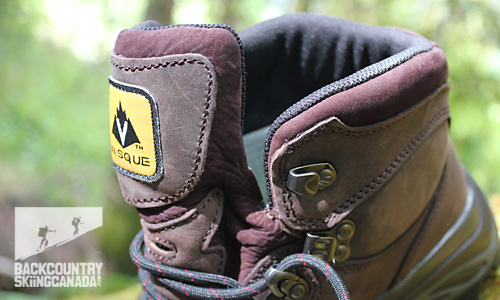 Sturdy metal lace fixtures keep the laces tidy.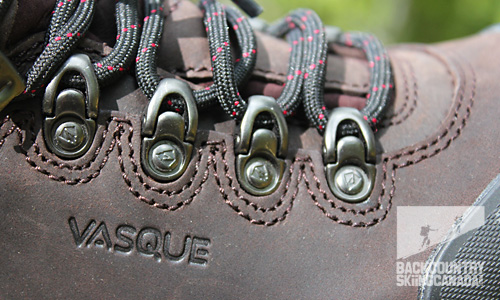 It's packaged with two lace options—red and black—the red combined with the full leather lend it a classic lumberjack feel.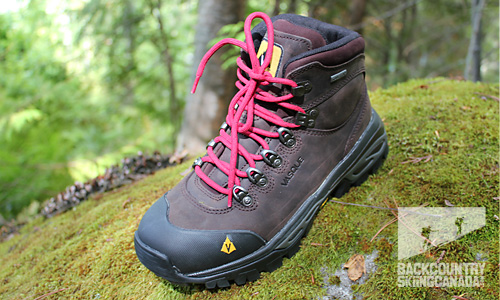 Verdict
I tested Vasque's Bitterroot GTX thoroughly on a few long day hikes and overnight trips into the backcountry around Whistler well before our departure date to make sure that they were something I could walk in for 4-8 hours a day carrying weight for 18 days. There was another component to our trip in Nepal that would push the Bitterroots—we would be on a glacier for a half day up to Lobuche East Peak. So I was looking for a boot that could handle a few hours walking on a non-technical glacier as well as being comfortable for long days of walking with weight. In truth I was unfairly asking too much of the Vasque Bitterroot and was fortunate enough to realise this before our big trip. The Bitterroots are in their element on long days of hiking. They are a traditional good-looking boot and a great price at only $200. Aside from the full leather upper the most notable feature on the Bitterroot is the beefy Vibram sole and aggressive tread. This part of the boot I loved.
The fit of the boot however was not for me, I have a narrow and low-volume foot and the Bitterroot last is more for a medium fit. I'd be interested in trying some of Vasques other narrow lasts but the Bitterroot only comes in a medium last. For a backpacking boot I found the ankle was a little too low for providing good rigid ankle support while carrying weight. There was a lack of adequate cushioning around the tongue so I quickly developed a hot spot at the front side of my ankle where the tongue would rub on the bottom of my tibia. I would recommend to test these boots out well before embarking on any longer committing trips (as with any new boot).
The laces broke only after a few weeks due to the rub on the hard edges of metal lace fixtures, exposing a design flaw. Aside from that and the fact that the boots are made in China they held up well but the craftsmenship doesn't compare to a boot made in Europe. Vasque have a great foundation for a boot with the aggressive Vibram sole but they need to invest some more time and money in developing comfort, durability and stability in the upper particularly around the ankle. I would pay extra for that. There are new technologies on the market these days such as memory foam, foot mapping etc which would be perfect for this.
I wouldn't recommend the Bitterroots for anything beyond hiking and moderate backpacking.
SPECS:
Price: $200USD
Weight: 2lb. 14 oz. (1304g)
Colors: Slate Brown
Sizes: Women's Medium 5-11
PROS:
Beautiful full leather upper. Aggressive tread and sturdy Vibram Sole. Reasonably priced.
CONS:
Could use more cushioning around tongue and ankle. Didn't come up high enough past the ankle to make them 100% sturdy when carrying weight so more of a hiking boot than a solid backpacking boot. Laces wore quickly due to rubbing on metal lace fixtures. Made in China so quality doesn't compare to European craftsmenship.
Rating: 6.5/10
Innovation 1/2
Function 1/2
Aesthetics / Fit 1/2
Features 1.5/2
Quality / Price 2/2

This is only our opinion. Do you disagree? Did we miss something? Are we totally out to lunch? Join the discussion in the forums here, and let us know what you think. People like/dislike gear for different reasons so chime in and we'll get a well-rounded evaluation.
Back to the rest of the reviews.
---