After a lengthy journey that took us through Las Vegas (definitely not on the way from Nelson, BC, if anyone ever tries to convince you) we landed in Salt Lake City. It wasn't clear to us how much snow we should expect to see on the Wasatch Range peaks but there was at least enough to hearten us. First day we hit Snowbird which, that day, could have been renamed Rockandicebird. Though the mountain was lovely, the skiing was suboptimal. Weather-wise, there were high winds that augured a coming storm. Check out the video above for some more detail of the day. A great guy named Cody Barnhill acted as our tour guide on the hill and later took us for a spin through the 4fnrt factory in Salt Lake (click that link for the video tour).
We had begun to investigate options for the backcountry but were quick to discover that the backcountry (accessed through the lift area, anyway) was closed. Being from the BC interior, this was new to us. At home, word might get out to "avoid" or "stay out" of the backcountry but the word "closed" is never used. At a couple locations, we saw actual gates which were closed. This approach could be because the U.S. is slightly more litigious than we are here in Canada or because their skier numbers are way higher, or both. Probably both. At Snowbird, there are four backcountry access gates, two of them (the western edge of Baby Thunder and the base of the Mineral Basin Express) are supposedly open "always." Others, like the top of Gad 2 and access to the Twins are open only when conditions permit. In our experience, the always open gates weren't. In fact, when we visited third-week in January, the backcountry hadn't been opened once yet. Shitty! A high point of the day was a super tasty lunch with Cody at the Forklift. Be sure to check it out if you are ever at the 'bird.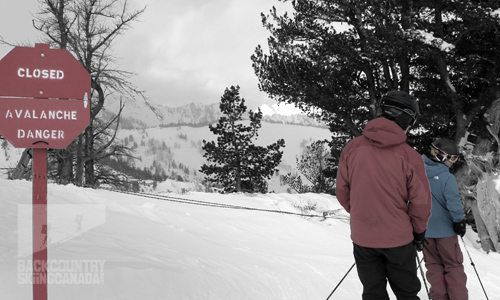 Next day was back up Little Cottonwood Canyon to Alta Ski Area, a place dripping in mythology. There, we met our guide for the day and observed the rabid masses in the lift line. There had been about 35 cms and patrollers were bombing the hell out of the slopes—even the lower ones near the base which could run and possibly do some big harm. Again, a new experience for us: the lift was closed, and didn't open until 10:30 or so, because of bombing and avalanche danger. We were at the Wildcat Base but the whole mountain was shut down (especially the backcountry). The skiing that day was heavy powder on crust and things were sliding (but not running) all around us. We saw a couple backcountry access gates which were closed--just like at Snowbird, on Alta's flipside. Conditions allowing, there are many tours that take skiers between Alta and Snowbird, like the one off the top of Mount Baldy in to the Peruvian Cirque and Gad Valley which had taken the life of pro-skier Jamie Pierre a few months prior to our visit. We had a look into Albion Basin and the Supreme Lift where more backcountry was accessible. Not today. All shut down. If conditions were right, we would have tried to get into Grizzly Gulch for a tour or even done a one-way tour to Brighton. Check out this video from the Utah Avalanche Center talking about conditions in the backcountry.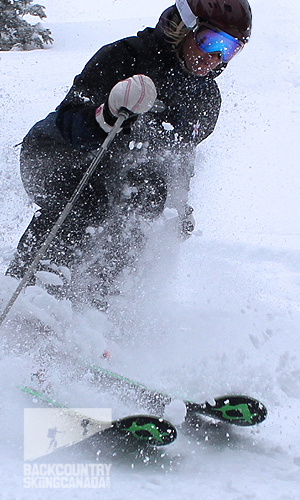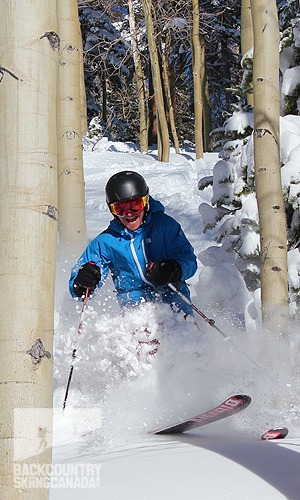 We took a couple days' break to attend the Outdoor Retailer Winter Market—which was way more exhausting than any day tour. End of the second day, it was dumping outside the convention center and we were clinically brain-dead. What better time to refuel and white-knuckle it up Big Cottonwood Canyon for a day each at Brighton Ski Resort and Solitude Mountain Resort respectively! The drive into the canyon was another learning experience. Of the few cars that ventured out, most were off the road and in the ditch. Not a plough in sight but we managed to punch through. Our accommodations at Club Solitude were a definite step up from the shithole motel we'd chosen in Midvale, suburban Salt Lake. On the hill and a stone's throw from the bar and pizza joint, we went to sleep that night (after watching some highway storm carnage on TV) on unfeasibly giant beds looking out the window at superfat snowflakes falling. 
First stop, Brighton and 65cms of new snow. The powder thirst was palpable that morning when we pulled in. This area, in sharp contrast to Alta, seemed like a snowboarder's hill. Once again, we were keen to get in to the backcountry. Once again--denied. Toutes fermées. We did manage to hike up Preston Peak off the top of the Snake Creek Express quad and ski back down inbounds through the Snake Bowl. That was a nice run but we could feel the high avy danger under our skis. We also dipped-in to an OB zone skiers' right of the Elk Park Ridge run off the Great Western Express. There are clearly marked backcountry access points off each of the four peak-accessing lifts but, that day, conditions meant we couldn't enjoy the experience. Though Brighton is rated #1 in Utah Family Magazine, it appeared testo-centric that day. Even some powder hungry girls in line were aggressive. But, hey…we are primarily backcountry skiers with delicate natures. And we appreciate and forgive powder starvation.
Next day was back to Solitude. As with other ski days on the trip, backcountry conditions meant access was verboten. On a good day, Honeycomb Canyon was clearly the place to be. Accessible off the Summit Chair and a quick skin, lines like Black Bees and Voltaire looked to be excellent sidecountry terrain that feeds you down Honeycomb Canyon. At the bottom, you can take the Honeycomb Return quad up and get dumped at the top of the Eagle Express, or opt for the traverse to the bottom of the lift. The saving grace that day was the Summit Chair. It kicked off a good throw-back vibe, not unlike the Summit Chair in Nelson, and provided access to some good steep terrain and old growth trees. It felt like home.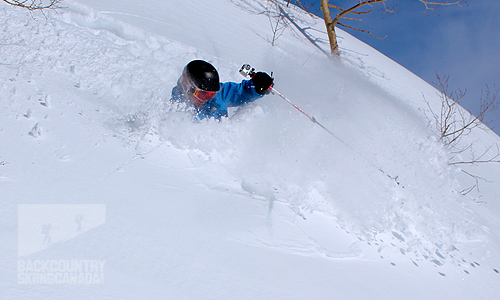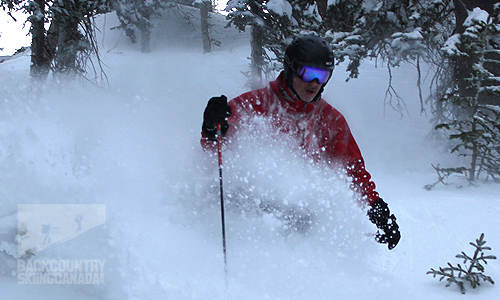 The last leg of our journey brought us out of Big Cottonwood Canyon and northward through Ogden, Eden and eventually to Powder Mountain—what might be Utah's best-kept secret. We had a lovely house (with! Jacuzzi!) for the days we were there, courtesy of Chris at Utah Lodging. 12 fresh cms were falling as we drove in and we were keen to get into some slackcountry terrain during the last couple days of the trip. Because it's not as close to Salt Lake as areas like Alta or Snowbird, Powder Mountain doesn't get the same skier traffic. This means less on-hill mayhem and fresh tracks for longer after a dump. Another factor is the massive acreage—7,000 in total—making it "the largest of any ski resort in the US." Note that this number represents the sum of inbounds, snowcat and backcountry touring areas. 
Access to the mountain is via HWY 158, which wends its way up to the Resort Centre/Timberline. The lodge, and the parking, is actually one of the higher points on the resort—you start up, not down. Trying now to get oriented by looking at the trail map, is yielding mixed results. Perhaps the only downside to Powder Mountain is the challenge new skiers might have in locating themselves, and this could be a good thing for locales knowing where to ski when. Being backcountry hungry, we set our sights on James Peak, the highest of the resort's several at 9,422'. Though technically in-bounds, James is only accessible after a cat ride or walk to Cobabe Peak and Lightning Ridge, a ski down into a saddle then a quick skin up. The terrain available off James is incredible. Wide-open bowl skiing and/or tight chutes all dumping you back to the Paradise lift and the base at an elevation of 6,900' for runs of 2,500' (or 760 M). Though we heard some rumblings about new owners' backcountry access policy being restrictive (and expensive) there was plenty to go around. With a signed waiver, apparently season pass holders are granted access to certain out-of-bounds areas north of Lightning Ridge and from the top of James Peak south and west into adjoining Powder Mountain private property.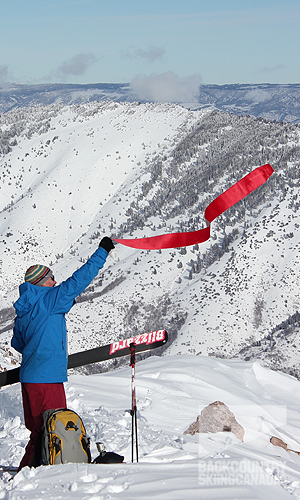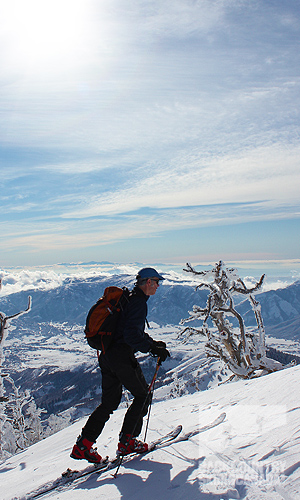 After hitting five areas in as many days, I think each of us agreed that Powder Mountain was our favourite. This was partly condition-dependant, but it was also because of the awesome slackcountry terrain powmow offered up. At the trip's outset, we had hoped to ski a little inbounds and a lot of lift-accessed backcountry. We wound up doing just the opposite. Because Powder Mountain had more open lift-accessed backcountry terrain than anything we saw in Big or Little Cottonwood, it wasn't clear to us whether the backcountry access was universally and evenly "enforced" or whether some areas are just more lenient than others. Whatever the case, conditions out of bounds were clearly dangerous. We'll take our 115cm week and return another time for a fuller backcountry experience.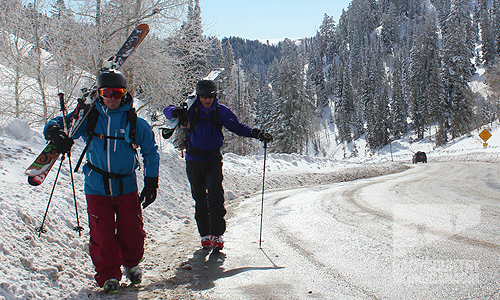 There is a significant battle over the Utah backcountry underway which would see a gondola linking Canyons and Solitude resorts. This would have a significant impact on backcountry access and wildlife. To read one man's opinion, and he's a pretty eloquent man for a ski bum, look to Andrew MacLean's "straighchuter" blog. For a good backgrounder on the issue, read his piece Wasatch Prepares for a Beheading. To really understand what Wasatch ski tourers are up against, read the actual bill in question. In a bit of a twist, Canadians are the "big, bad" developers here. Talisker Mountain Inc.—the Park City real estate development firm—is actually a wholly owned subsidiary Talisker Corp, based in Toronto. Get informed and get active!
Links 'n stuff:
For thorough avalanche information, look to: utahavalanchecenter.org
For general info and deals on great Utah ski areas: www.skiutah.com 
SPECS:
Alta Ski Area
Price of a Adult Day Ticket: $67
web site: www.alta.com
Brighton Ski Resort
Price of a Adult Day Ticket: TBD
web site: www.brighton.com
Powder Mountain Resort
Price of a Adult Day Ticket: $60
web site: www.powdermountain.com
Snowbird
Price of a Adult Day Ticket: TBD
web site: www.snowbird.com
Solitude
Price of a Adult Day Ticket: $68
web site: www.skisolitude.com
PROS:
Incredible amount of terrain and variety with (typically) heaps of snow.
CONS:
Unique backcountry skiing policy.
This is only our opinion. Do you disagree? Did we miss something? Are we totally out to lunch? Join the discussion in the forums here, and let us know what you think. 
Back to the rest of the reviews.
---
Some additional shots from our trip: