Thule Boxter 611 Ski box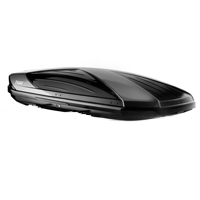 Thule lists the 611 Boxter under its' Cargo carriers and not its' ski boxes. It's definitely a multi purpose box given its massive size. The 611 Boxter will hold an astounding 18 cubic feet of ski gear or whatever else you can throw at it under 110lbs in total weight. Given its' $1099.99 price tag it may not be for everyone – if you are in the premium market then this could compliment your BMW X5 quite nicely. In my case I drive a Toyota RAV4 which gets pretty cosy with three people on the way to the trail head especially with loaded packs and ski gear. Sure it's good on gas but not great on cargo space - enter the Thule 611 Boxter. The Boxter not only carries all of our backcountry ski gear, it essentially gives me a second trunk. My previous ski box was the Thule Frontier and while it did the job it was not nearly big enough and did not have many of the features found in the just released (August 2011) Thule 611 Boxter. The Thule 611 Boxter is not just a large roof top ski carrier and added storage space for your car, it is also one fine looking product that will compliment the look of your car, whether it be a BMW or a Toyota thanks to the two-tone high gloss automotive finish.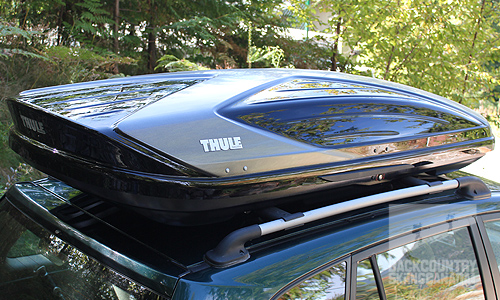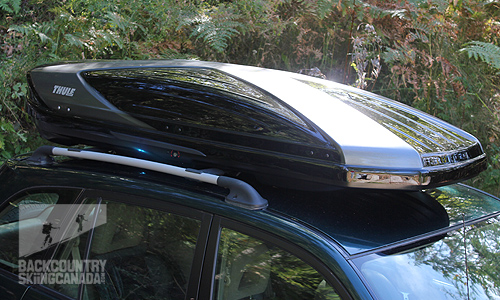 Not just a beautiful accessory, the Thule 611 Boxter is full of great design features as well. The biggest one for me is the easy on / easy off installation process. The "Quick-Grip" mounting system is activated by dials which open and close pincers under the box which then firmly grab onto the roof racks on your car. This eliminates the need for any tools or frustration when mounting your ski box like in the good ole' days. You will need the help of a second person to lift the Thule 611 Boxter onto your car's roof as it weighs 62 pounds and is very large and awkward to man handle by yourself (if not impossible). Once the installation is complete, which should only take a matter of a few minutes you can then access the Thule 611 Boxter from either side thanks to its' dual side opening feature. Because this is such a large ski box at 36" wide - it spans the entire roof of my RAV4 so it is easily accessed from the driver or passenger side of the car, a truly great option! The hinge system on the Thule 611 Boxter looks a little flimsy however it functions pretty well, I am not sure I would say that it is a one handed operation to open and close the box but the integrated handle makes it much easier with bulky gloves on. The Thule 611 Boxter can accommodate 6-8 pairs of skis and 4-6 snowboards with a maximum length of 215cm and a maximum weight of 110lbs. The lid and base of the Thule 611 Boxter are reinforced to offer more security, structural integrity and also minimize flex. This keeps the box more rigid when opening and closing it and also reduces noise on the road while driving. The "Secure Lock" system ensures that your gear remains safe and that the box is always closed and locked properly. The keys can only be removed once the box is fully closed so this eliminates any surprises after returning from a long day of ski touring. The Quick-Grip mounting system is adjustable to fit roof racks with a minimum span of around 21" and a maximum 36" distance between the front and rear bars. The Quick-Grip pincers attach directly to Thule and Inno square bars, Thule Rapid Aero bars, Yakima round bars and should fit virtually all factory roof rack crossbars.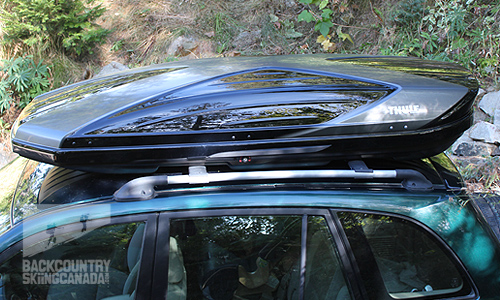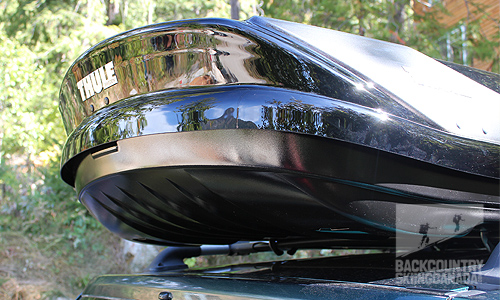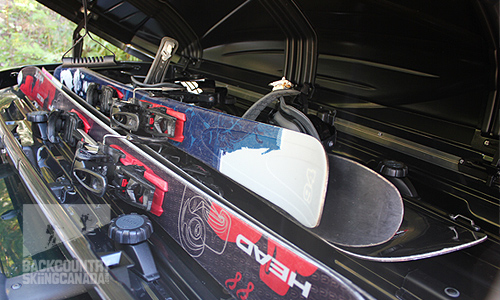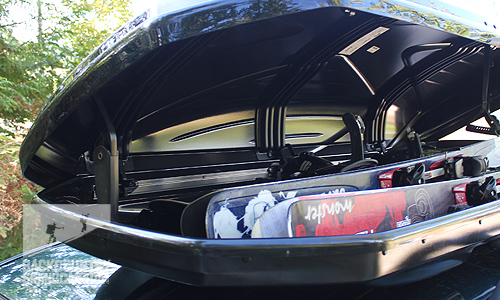 Features:
- Finish: Two-tone, high-gloss automotive finish combines style and durability.
- Construction: Reinforced base increases durability and rigidity for maximum cargo protection. Smooth opening and closing with the reinforced lid and redesigned lid lifters.
- Design: Aerodynamic design minimizes wind for greater fuel efficiency and quieter travel. Best trunk and rear hatch clearance in it's class with an expanded box-to-rack mounting area.
- Opening: Dual-Side opening for easier loading and unloading from either side of the vehicle.
- Mounting: Quick-Grip mounting system for fast, easy, tool-free installation and removal.
- Size: Carries 18 cubic feet or up to 110lbs of cargo.
- Locks: Two 'One-Key Locks' secure box contents and lock the box to the carrier, ensures that all gear is locked and box is properly closed prior to driving.
- Storage cover: Included to protect and maintain box appearance when box is stored.
Quick-Grip mounting pincers open.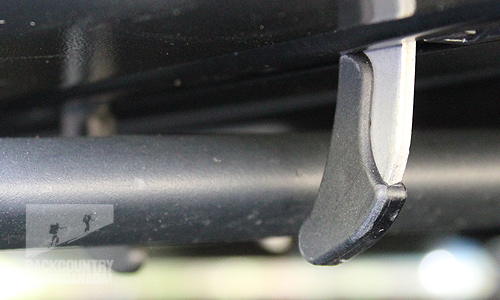 Quick-Grip mounting pincers closed.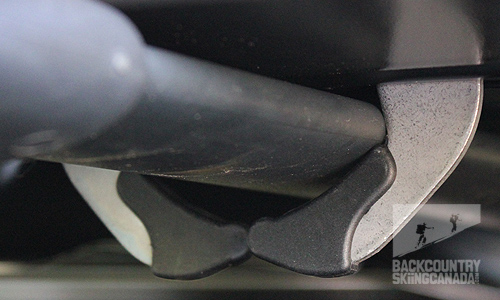 Adjustment knob to open and close the pincers.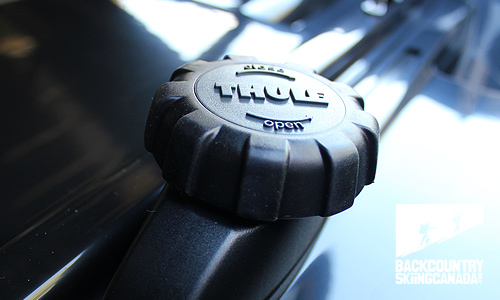 Track that allows for the Boxter 611 to fit multiple rack configurations.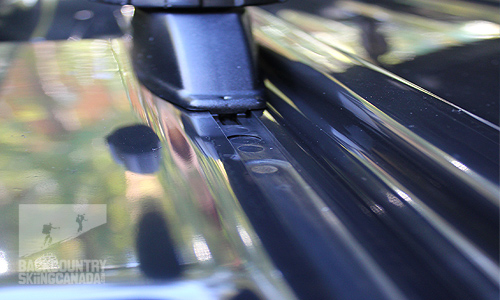 Locking mechanism.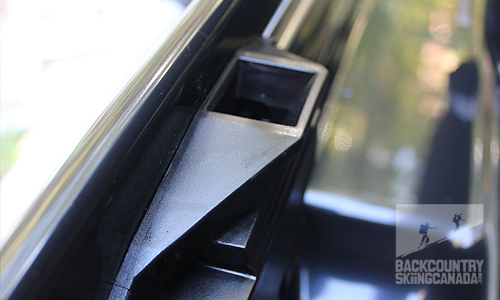 Dual opening hinge and reinforcement bar.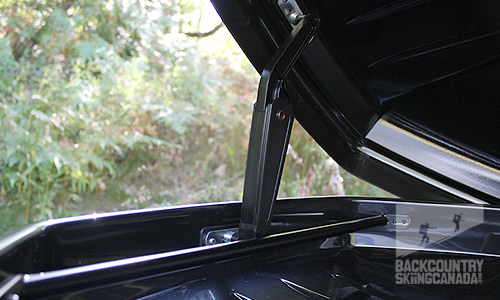 Generous closure handle.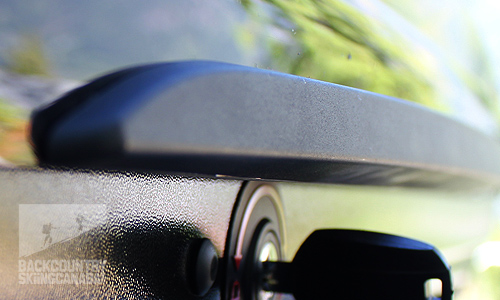 Sturdy key and lock system.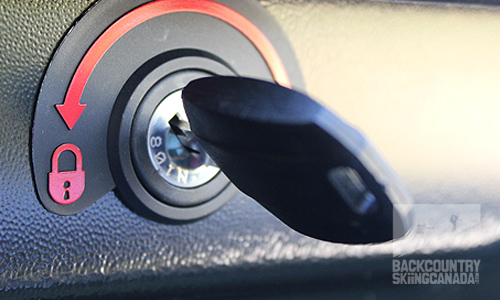 What's Included:
The Thule 611 Boxter comes with two keys (incase you loose one), three tie down straps to keep gear from moving around and a storage cover to keep that automotive finish in tip-top shape.
Verdict:
While the snow has not flown yet this season we have been able to test the Thule 611 Boxter in an off-season capacity. It is listed on Thule's site under cargo carriers for a reason - this thing can hold an incredible amount of stuff, in my case camping and climbing gear. Driving one of the smallest SUV's on the market has it's up side when you have to fill it at the pumps but road trips are a little uncomfortable when you cannot see out the back window due to gear piled a mile high. The Thule 611 Boxter took care of this problem and essentially doubled the cargo space in my vehicle. Having the ability to easily put the box on and off will make it an easy decision to remove the box at the end of ski season and only use it when needed in order to save on fuel, even if it is a minuscule amount. The only downside of this quick mounting system is that it does not have a separate lock device to keep the pincer in the exact location for your specific roof rack spans so some adjustment is required each time you place the box onto your vehicle. The Thule 611 Boxter has such a wide and low profile I found the wind did not affect it as much as traditional skinny and tall roof top boxes and hence improved the driving experience and no doubt didn't compromise gas mileage as much. This is achieved thanks to the recessed mounting area for the roof racks, this easily save 2" off the height of the box and helps with aerodynamics. The construction of the Thule 611 Boxter is definitely strong and stable.
The aesthetics of the Thule 611 Boxter is absolutely a factor. It's a darn good looking box and it should be since it is easily $300 more than it's competitors. The shiny two-tone finish and euro styling complete the high-end look of the Thule 611 Boxter. The upsweep design on tail also allows most hatches to open fully, although this wasn't a factor for me it's something to consider for most SUV's and wagons. While driving with the Thule 611 Boxter I tended to forget it was even there as there is no increase noise due to wind drag or creaks from the box itself when compared to driving with the box off and the roof racks exposed.
The storage cover is a nice touch as my Thule 611 Boxter will sit in my basement a good 40% of the year and I want to ensure it stays some what protected during this time. Thule includes three tie down straps which are pretty simple in nature and a cargo net system would improve the ability to keep things from shifting in transit.
Top this all off with a little love for the environment from Thule as their Franklin Park, IL ski and gear box factory uses regrind ABS as part of their box manufacturing process. After a box like the Boxter 611 is made, the plastic that is trimmed off is reground and sent back to the ABS sheet making company to be used in new sheets. It's a small step that adds up to a big savings in for mother earth.
Final thoughts, Lovin' the easy installation and dual side access, it is a game changer!
(Update: As of Winter 2013 the Thule Boxter 611 ski box has been re-mounted on a new Subaru XV Crosstrek which comes with stock rails but no rack. I have used the Thule AeroBlade Edge bars to connect the stock rails and mount the Thule Boxter 611 ski box, the process was pretty easy and the installation was seamless. Have a full read of the Thule AeroBlade Edge review over here to see what I mean.)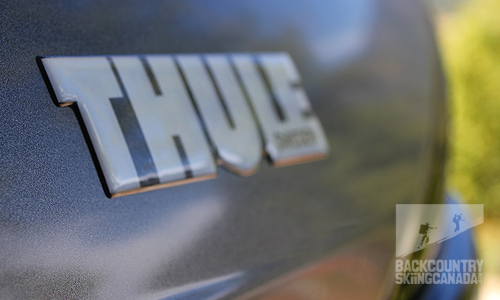 SPECS:
Price: $1099.99 CAN
Volume: 18 cubic feet / 509 litres
Dimensions: 87"(l) x 36" (w)x 15"(h)
Weight: 28kg / 62lb 
Warranty: Lifetime
PROS:
Unique, streamlined design is a head turner. Easy on and off is a game changer. Huge amount of storage space in a very sleek and aerodynamic shape to reduce bulk and wind drag is genious. The included storage cover is a great way to protect your investment over the years.
CONS:
Hinges not as fluid as they could be as one end opens before the other. 10lbs heavier than comparable boxes and with weight limits on most roof racks this is a large portion of weight use, leaving less for cargo. It would be nice to see some environmental initiatives from Thule and perhaps use recycled plastics in their design and construction? This is a premium ski/cargo box and hence the heavy price tag.
Rating: 9/10
Capacity            2/2
Features            2/2
Install                2/2
Weight               1.5/2
Quality / Price    1.5/2

This is only our opinion. Do you disagree? Did we miss something? Are we totally out to lunch? Join the discussion in the forums here, and let us know what you think. People like/dislike gear for different reasons so chime in and we'll get a well-rounded evaluation. Check back mid-season to see how our review stands up to our in-the-field testing.
Back to the rest of the reviews.
---
UPDATE APRIL 2013:
With two full ski season under it's belt the Thule Boxter Ski box is still looking good and working as it should. I have not run into any troubles with this ski box and the easy-on and off installation has allowed me to use it for summer road trips when I need more room in the car. It has stood up really well to road grime and there are virtually no nicks or scratches anywhere to be found. The included storage cover is a nice bonus as well to protect it when not on your vehicle. Still extremely happy with this product and nothing out of the ordinary to report.
---