Thermacell Heated Insoles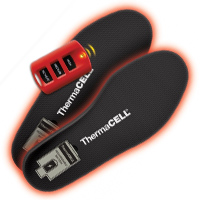 Having spent the last four winters skiing almost exclusively in the Rockies I would often wish I had a way to keep my extremities warm during the inevitable week long cold snaps that plague the area multiple times a year .Thermacell has come up with a practical solution for this classic issue. The Thermacell Proflex is the the most flexible and interchangeable insole in the Thermacell line up. This offering is meant to provide you with a comfortable experience in a wide variety of outdoor activities in any piece of footwear you own. The Proflex features a removable battery, wireless remote control for variable temperature options and is easily interchangeable between footwear.
Three Boots, one insole. Highly versatile.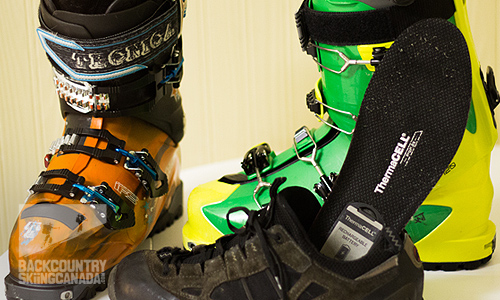 The proving grounds:
I have been using the Proflex for over four weeks and have had the chance to use them in several different applications and environments. I spent three days in a back-country hostel for a crevasse rescue and glacier travel course I participated in late October. This proved to be the ideal environment to properly test the Proflex marketing claims. Typically these courses are primarily held outdoors with lots of standing around , rain , sleet and cold glacial winds. The insoles were then placed into my ski touring boots for two days of ski touring in November, a day of sled assisted ski touring and spent the remainder of the testing period in my everyday shoes.
Included remote with 3 settings.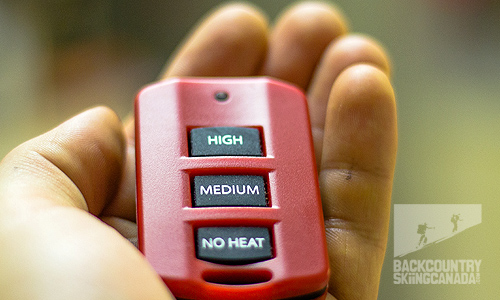 The Insoles:
The insoles have a durable build ,even though I have only a relatively short time on them they look and preform as the first day out of the box. The Profelx insoles are available in several sizes that range from small ( Men 3.5 to 5 ) to XX-L ( Men 11.5 to 13) and come with a " trim to fit " guide printed on the bottom of the insole. I did not have to trim mine but this appears to be straight forward however do take your time Once an insole has been over trimmed it will void the one year manufactures warranty.
Fit and Comfort:
The sizing chart is bang on. I wear a size 9.5 and did not have to modify the insole to have the correct fit. The heel of the insole houses the battery pack and as a result is thicker than a most traditional insoles. This could prove to be a issue if you have had extensive boot work or have a short cuff . There was a adjustment period as my foot sat higher in my shoe and didn't feel as secure as it did prior to the Proflex going in. Once accustomed to this , I had no comfort or performance issues.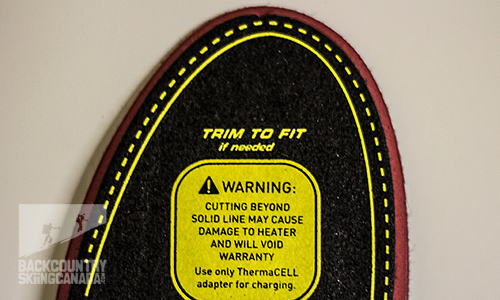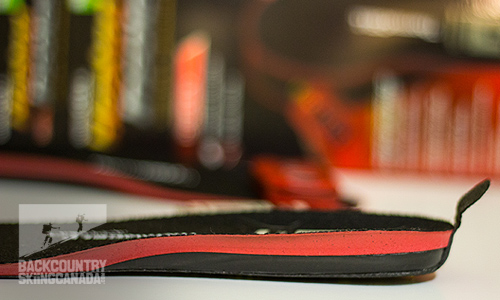 What's in the box?:
There are several items include with the Proflex insoles
• 1 set of Lithium Ion batteries, 500 charge lifespan
• 1 USB Thermacell branded USB wall adapter
• 1 USB charge cord
• 1 Battery charging unit
• 1 Travel bag
Charger which doubles as a protective carrying case.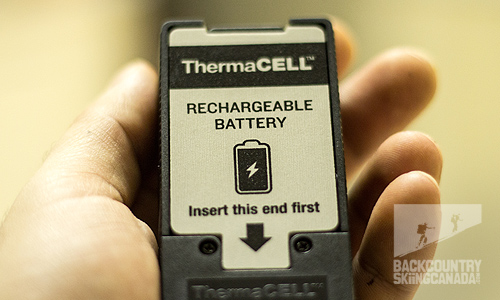 Overview of included items.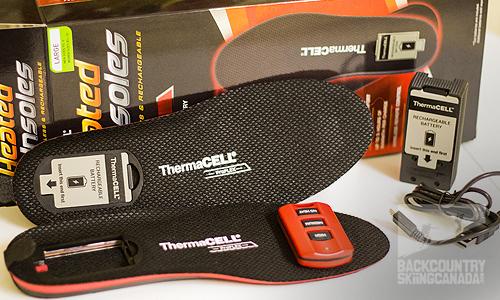 Verdict:
The insoles worked as advertised with the batteries lasting just over 5 hours on medium heat which is is a comfortable temperature without the feeling being hot and at no point were my feet sweating, it feels natural. I did find the high setting to be a bit too warm for my personal comfort but would be applicable to those with poor circulation. I tested the battery life on the high setting which lasted a little over 4 hours. It's important to remember that these insoles will never feel hot to the touch, they are designed to maintain a comfortable temperature over an extended period of time without having the sensation of standing on a heating pad. When I first used the Proflex I was aware that I was standing on the removable battery packs but this was minor and was forgotten in time. The Proflex is fairly flexible considering it is a heated insole and feels very natural when walking or ski touring. It perform like any other foot bed I have used in the past while skiing. This is where I believe this insoles will truly shine, I have spent countless days skiing the resort in -20°C or colder just wishing I had a product like this! Just think of all that extra vertical you could be getting while others are inside drinking hot chocolates. When you do finally need a break from the cold , just turn off the insoles with the handy remote and save some battery life while you're indoors. You can recharge your batteries via any USB port, this means you can re-charge your batteries in your vehicle, from a lap top or even as solar battery bank as I did while I was off the grid for several days.
Charing with solar battery bank. One of many charging possibilities.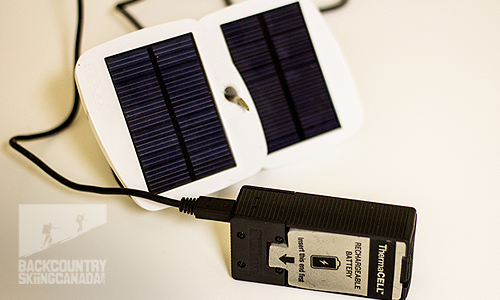 SPECS:
Price: $179.99US
Sizing: Unisex, 5 sizes available from men 3.5 ( 4.5 woman ) to men 13 ( woman 14 )
Material: Polyurethane foam
Heel height: 19mm
PROS:
- Three temperature options , No heat , Medium ( 100F ) and High ( 111F )
- They can be recharged anywhere you can find a wall outlet or USB port.
- Very easy to remove and place into another boot or shoe.
- Flashing green L.E.D confirms they are functioning
- Extra or replacement batteries can be purchased
- Batteries can be removed without removing the entire insole
CONS:
- Battery is quite noticeable when standing
- Quite thick in the heel, can cause fit issues for certain shoes or boots
- Need to carry the remote control
- If remote is lost you cannot control the insoles. Replacement available MSRP$14.99
Heel thickness
Rating: 8/10
Fit and comfort 1/2
Function 2/2
Practicality 1.5/2
Innovation 2/2
Quality/price 2/2

This is only our opinion. Do you disagree? Did we miss something? Are we totally out to lunch? Join the discussion in the forums here, and let us know what you think. People like/dislike gear for different reasons so chime in and we'll get a well-rounded evaluation.
Back to the rest of the reviews.
---