The North Face Furnace 35 sleeping bag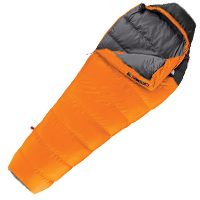 The North Face Furnace 35 is a warm climate-oriented sleeping bag featuring light 550-fill ProDown goose down insulation with a water-resistant finish designed to absorb less water and dry faster. When it comes to camping in the summer and on the shoulder seasons, warm (but not too hot) and dry is the ticket to an enjoyable night's sleep, and the Furnace 35 fits the bill.
The North Face Furnace 35 is rated down to 35 degrees Fahrenheit, or 2 degrees Celcius. If you've ever slept in a winter down bag in the summer, you know how uncomfortable it can be and a properly rated bag is not ideal for warmer nights but also lighter and more packable for your extended backpacking trips. It also features an anti-compression layer of synthetic "Heatseeker" eco insulation for thermal protection on the underside of the bag from the cold, hard ground.
Other features of The North Face Furnace 35 included baffled construction to keep the down in place, a hood, small inside pocket, "vaulted" foot box and draft collar to keep body heat inside the bag. The "comfort oriented" mummy cut of the bag is less extreme to provide ample room for movement inside.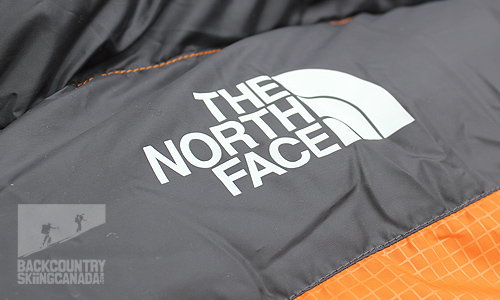 Baffled build keeps the down lofty and in place, while a Heatseeker layer on the bottom prevents conduction of cold from the ground.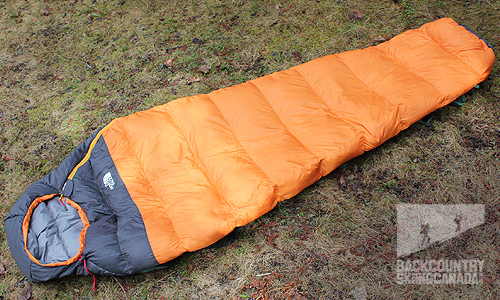 Features:
- 550-fill water-resistant ProDown™ for thermal warmth in wet, cold conditions
- Comfort-oriented shape has a less tapered cut
- Anti-compression layer composed of Heatseeker™ Eco synthetic insulation
- Vaulted footbox
- Shaped hood for more warmth and comfort
- Draft collar for comfort and to prevent heat loss
Nice styling and loaded with features for a more than reasonable price.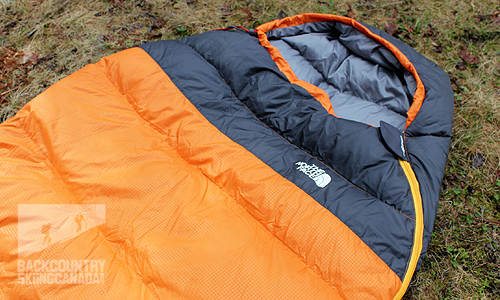 Easy to operate hood cinch and release.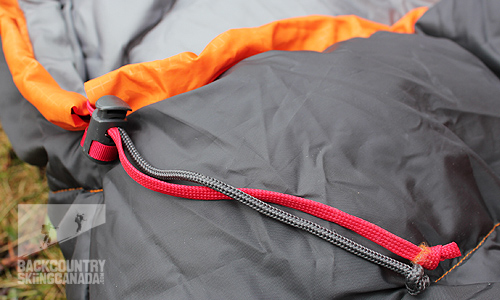 Sturdy internal/external zipper operated easily and without issue.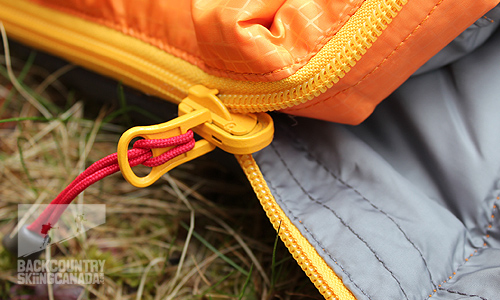 Draft collar keeps body heat inside the bag.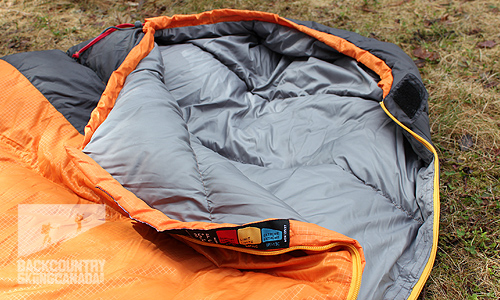 Small inside pocket convenient for phone or other items wanted nearby.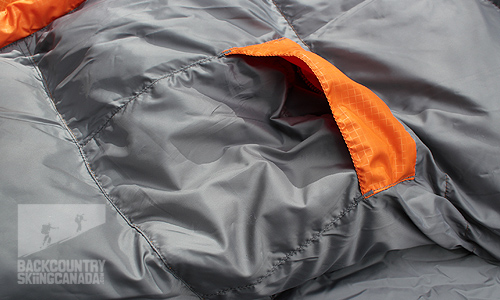 Velcro closure on the zipper prevents the bag from coming undone while sleeping.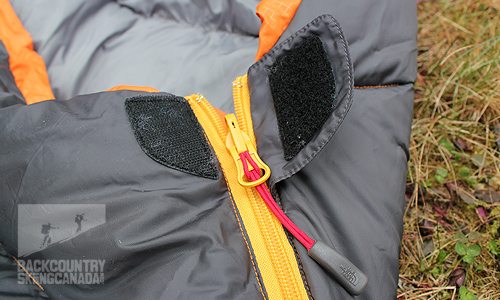 Verdict:
The North Face Furnace 35 is a light, compactable and temperature-appropriate sleeping bag for summer and warm shoulder season camping. We tested the Furnace 35 down to its suggested temperature and it was plenty warm as advertised. The 550 goose ProDown filling could actually work down to zero degrees Celsius with reasonable comfort. While we used it with a Thermarest, the Furnace 35's Heatseeker anti-compression layer seemed to prevent unwanted cold filtering through from the ground.
The ProDown fill water resistant coating is a nice touch in the often damp conditions when summer camping, wicking away perspiration and allowing a quick dry should things get wet – certainly welcome on an extended trip. Weight is slightly more than comparable bags of this size at 2 lbs 1 oz, and it compacts into a slightly longer 8" stuff sack.
The roomy fit of the Furnace 35 is focused on comfort, and comfortable it is. The snug-fitting hood, roomy footbox and nylon material all add up to a well designed bag. Combine that with a lifetime warranty, and the suggested retail price of only $179 equals great value for this seasonal bag.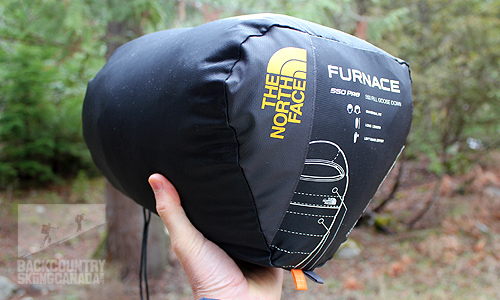 SPECS:
Price: $169-$179 CAN
Colour: Russet Orange/Asphalt Grey
Temp Rating: 35 F/ 2 C
Weight: reg: 2 lbs 1 oz (935 g) / long: 2 lbs 5 oz (1045 g)
Stuff sack size: 8" x 13" (20.3 cm x 33 cm)
PROS:
- Lightweight
- Ripstop nylon shell
- Comfortable
- Benefits of down with water wicking down treatment
- Maintains loft
CONS:
- Larger and heavier than comparable brands
- 550-fill down is on the lower end of the warmth and quality scale
- Single zipper pull where two would work much more effecivley
Rating: 8/10
Warmth: 1.5/2
Compressibility: 1.5/2
Features: 1.5/2
Weight: 1.5/2
Quality/Price: 2/2

This is only our opinion. Do you disagree? Did we miss something? Are we totally out to lunch? Join the discussion in the forums here, and let us know what you think. People like/dislike gear for different reasons so chime in and we'll get a well-rounded evaluation.
Back to the rest of the reviews.
---