The North Face Patrol 34 Pack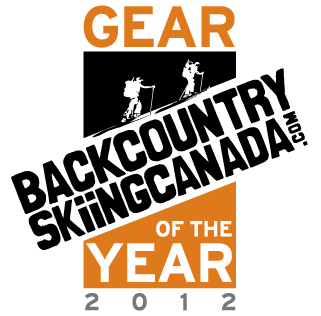 The North Face Patrol 34 Pack has been named "Gear of the Year" for the 2011/2012 season by the Backcountry Skiing Canada testing team. This pack stood out from the crowd due its unique design, comfort, functionality and versatility. The North Face definitely got it right with this pack.
The Backcountry Skiing Canada Team.
---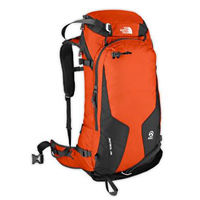 The North Face Patrol 34 Pack is a great example of the benefits of ski touring specific packs. For the past few years I have been trying to get by with one pack that accommodates my winter backcountry skiing needs as well as my summer climbing needs. It kept things affordable and meant I had one less pack to store in the off season. This season the inadequacies in my 'one-pack-fits-all' approach have been exposed by The North Face Patrol 34 Pack. I have come to realise that I have been sacrificing heavily on design features that make backcountry skiing a whole lot more comfortable and efficient. Not to mention that the 'one pack' I have been using for everything is looking hagged, in hindsight two specialised packs have a longer life and therefore justify the expense and storage of two packs instead of one.
It didn't take just any ski touring specific pack to change my 'one-pack-fits-all' approach. I have been looking at ski touring packs for some time now. The North Face Patrol 34 Pack is packed with features and then some.
Patrol 34 Pack Features
- Highly durable The North Faces Bombastic™ fabric, the same stuff they use in automobile airbags.
- Reinforced, high-abrasion zones on pack front (shown in grey)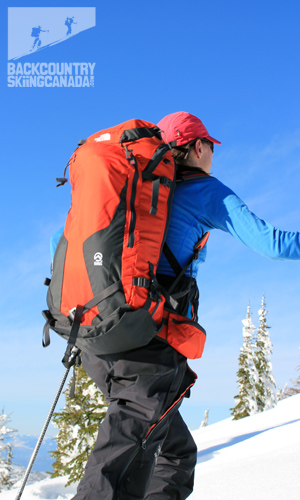 - X Radial™ tubular aluminum frame
- Molded back panel for shedding snow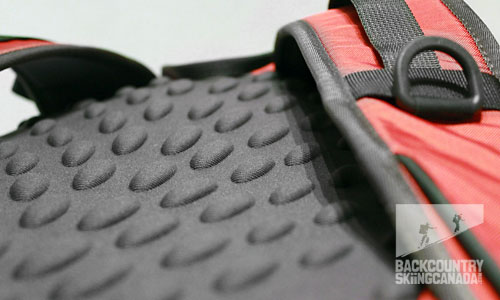 - Large separate avy tools pocket, with organization sleeves and backcountry checklist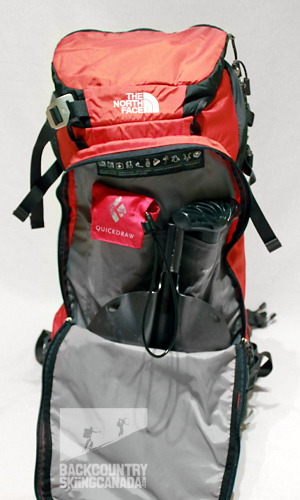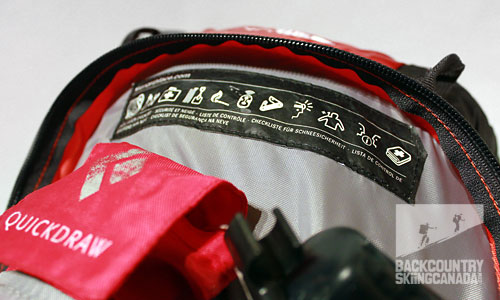 - Top access as well as side access to pack body interior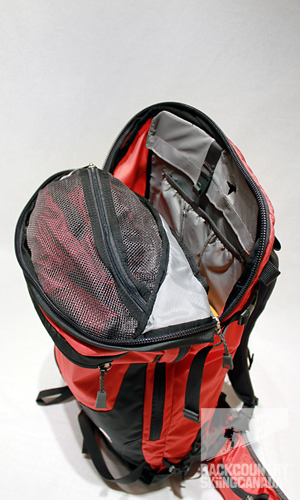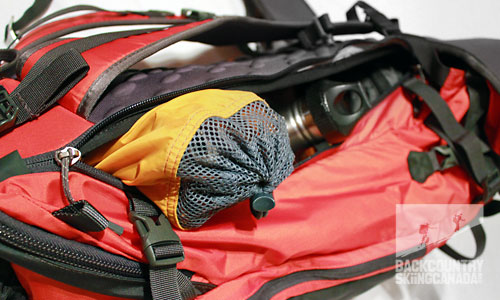 - External skin/crampon pocket which accommodates large skins.
- Hinch™ – a slick and simple tuck-away ski/board carry.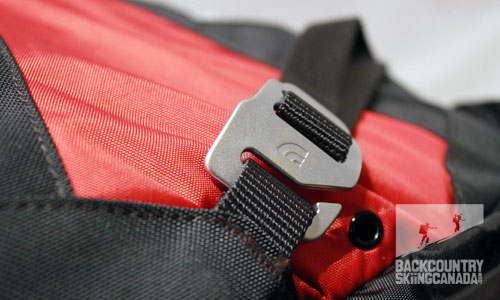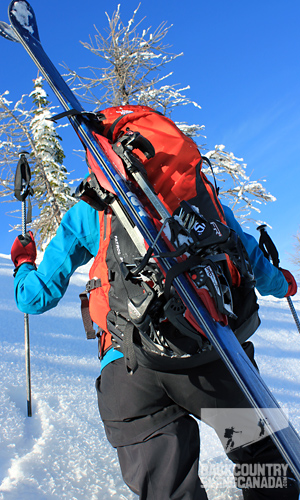 - A-Frame ski carry system (parallel to each other on each side of the pack using bomb-proof Hypalon-reinforced webbing).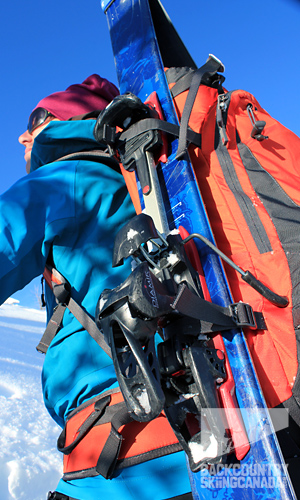 - Ice axe compatible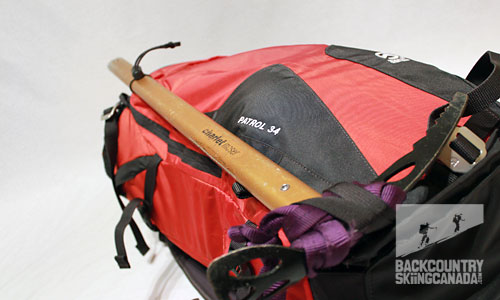 - Hydrations sack compatible.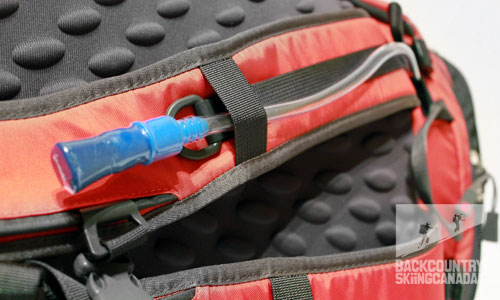 - Sliding chest strap with whistle clip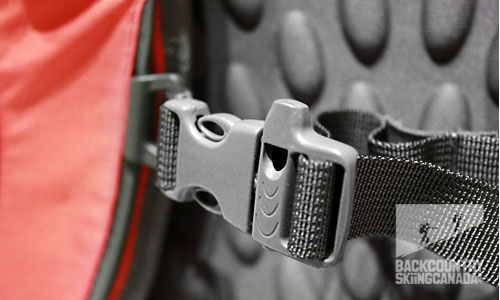 - Easily accessed side ski pole pocket
- Helmet lash points on pack front
- Sturdy hipbelt with snack pocket and gear lash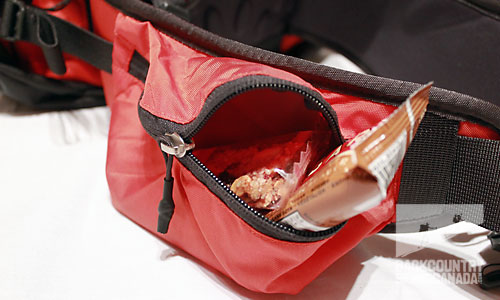 - Fleece lined goggle pocket at the top of the pack.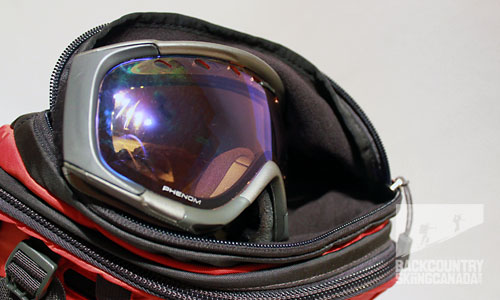 VERDICT:
The North Face Patrol 34 Pack has a number of features that truly set it apart from other packs on the market. It is solidly constructed and incredibly well thought through—down the detail. The innovative features that I wouldn't want to sacrifice now that I have been using the pack for two months include the ample avy tools pocket, the external crampon/skin pouch as well as the simple ski carry otherwise known as the Hinch™. The avy tools pocket at the front of the pack keeps things super organized and highly accessible so you can be quick when you need to. It also allows you to leave your avi gear in the pack undisturbed when it's not in use so your safety equipment is on queue and nothing is forgotten. My favourite feature of the Patrol 34, which has become a 'must-have', is the external crampon/skin pouch on the bottom of the pack. Skins are easily accessed/stowed with the real beauty being that it keeps the main compartment completely dry, something I am really looking forward to in the spring when things are wetter.
For the sake of brevity I will skip to one of the most important things in a pack—the fit. I found this pack very comfortable. It has comprehensive adjustments including an easy-to-slide chest strap and a sturdy hip belt that hugs the hips. When the pack is fully loaded it distributes the weight well.
The only caveat I found for The North Face Patrol 34 Pack is that is doesn't accommodate a helmet as well as I would like. I am not a fan of clipping items such as a helmut to a pack on the outside which can be cumbersome. My helmet does fit in the main compartment so I make it work, but it's tight.
Price: CA$180
Weight: 1450 g
Colours: Flare Orange, TNF Black
SIZES: S/M, M/L
VOLUME: 35 liters
PROS:
Innovative design which includes an external ski/crampon pocket, efficient ski carry system, easy-access avi tools pocket. Sturdy and very comfortable. Slick.
CONS:
Stowing a helmet can be cumbersome.
Rating: 9/10
Comfort / Fit 2/2
Features 2/2
Durability 1.5/2
Function 1.5/2
Quality / Price 2/2

This is only our opinion. Do you disagree? Did we miss something? Are we totally out to lunch? Join the discussion in the forums here, and let us know what you think. People like/dislike gear for different reasons so chime in and we'll get a well-rounded evaluation.
Back to the rest of the reviews.
---