The North Face Guide Vest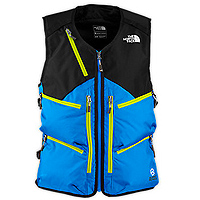 The North Face Guide Vest is an unique alternative to a traditional touring pack, offering exceptional storage space and comfort while equally distributing the weight of your gear. While the Guide Vest isn't a replacement for a traditional pack, it has a growing following, especially among those who use mechanized access to the backcountry.
We tried the Guide Vest on a few slack country trips and found it was great for hot laps while using the lift to get back to the top. We also had some of our sledneck friends use it with rave reviews. While TNF's Guide Vest is a bit much on longer ski tours due to fact that it's wrapped around your body and can be hot (which, coincidentally, provides exemplary warmth on cold days), it's a design that has a place, be it ripping side stashes or sled laps in the backcountry.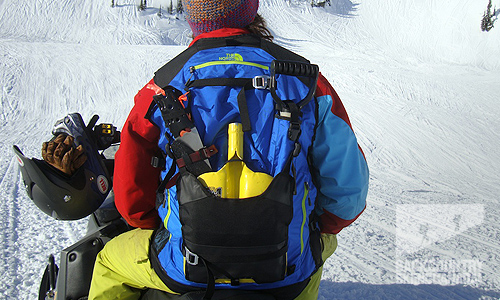 Features:
- Fabric: Shell - 315D airbag taffeta, 840D ballistic woven
- Fabric: Side Panels - mesh
- Fabric: Shovel Holder - 300D tarpaulin
- Fabric: Lining - taffeta / Shoulders/Back Panel: PU foam
- Know Boundaries Snow Safety label
- Water-resistant, adjustable side panels
- Recco® avalanche rescue reflector
- Vertical chest zip pocket with internal goggle and stash pocket
- Four horizontal zip pockets
- Dual vertical front zip pockets
- Zip horizontal game pocket
- Probe pocket
- Shovel handle pocket
- Exterior shovel head securing system
- External snowboard/ski securing straps
- Dual internal media/security pocket
- Dual internal stash pocket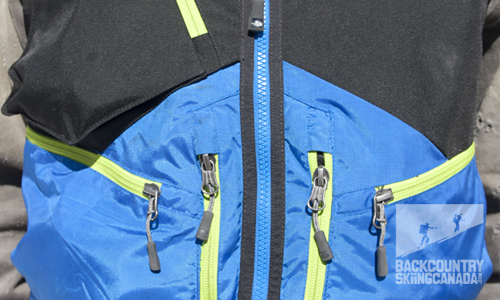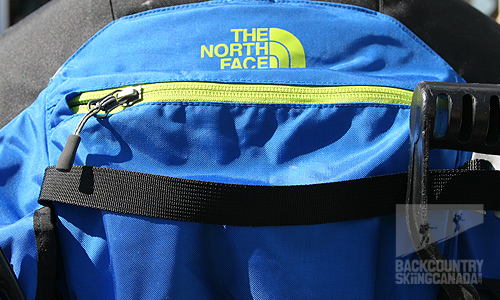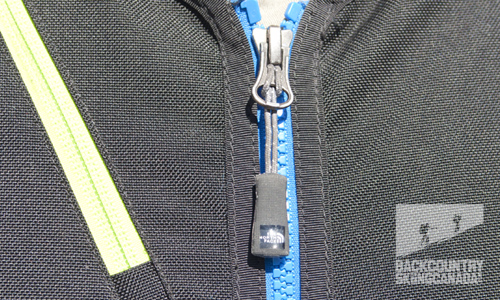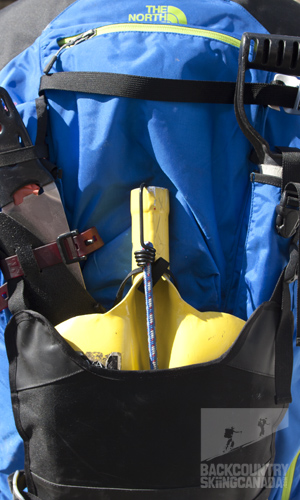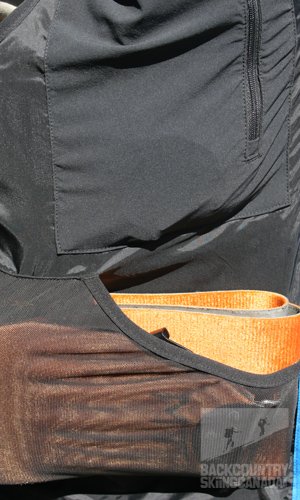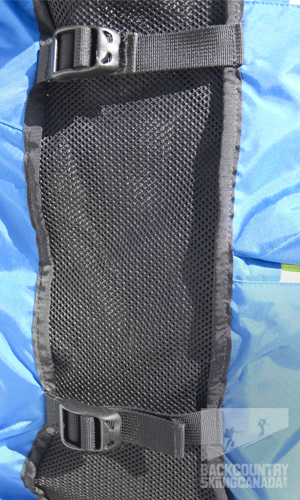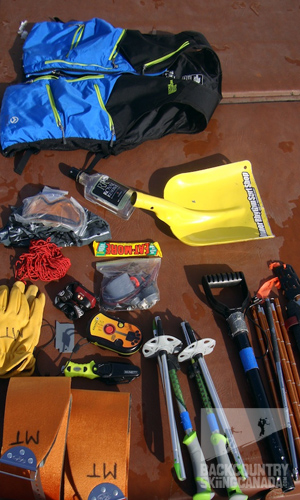 Verdict:
The North Face Guide Vest has exceptional cargo space with numerous pockets for any gear configuration. It is packed with storage features for your equipment including rear shovel/probe pockets on the back, vertical and horizontal ski/snowboard pack straps and padding along the back to keep the hard bits off the skin. Clearly the R&D department at The North Face put some critical thought into this well-designed garment.
One of the primary benefits of the Guide Vest is it evenly distributes the weight of your gear compared to a traditional pack, which puts all the weight on your back. This is a real benefit for skiing as it allows for a better centre of balance.
The padded back protects from the hard edges of shovels, probes and gear strapped to the back, ensuring comfort and safety. The mesh sides adjust via two straps for a snug fit or to accommodate additional layers.
Speaking of which, the Guide Vest easily fits over layers but if you're on a longer tour with multiple layers it poses a slight challenge to shed them. Shells can pack away into one of the large pockets, but you'll need to get creative to strap additional layers to the vest.
Overall The North Face Guide Vest is a unique and useful slack-country accessory. It's a viable alternative to a backpack and benefits weight distribution and balance. The ample storage means nothing needs to be left at home. However, it is a niche item, better suiting those who access side stashes with lift assistance or by snowmobile. Hiking on longer backcountry trips would prove hot and cumbersome shedding layers. The Guide Vest could be tucked away into a bigger pack for hot laps on a hut-based trip.
Seeing as The North Face sold out of the Guide Vest this season, it's sure to be back and in demand for 2012-2013.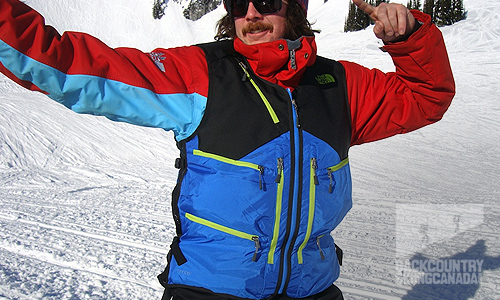 SPECS:
Price: $189 US
Size: XS, S, M, L, XXL, 3XL
Colours: Black, Bomber Blue
PROS:
- Enhanced weight distribution
- Ample storage with easy access
- Packed with useful features
- Warm
- Makes a comfortable, insulated seat
- Carries a 2-4 of beer with ease
- Can be worn on a lift
CONS:
- Too warm for long tours
- Packing additional layers can be cumbersome
Rating: 8.5/10
Comfort / Fit 1.5/2
Features 1.5/2
Durability 2/2
Function 1.5/2
Quality / Price 2/2

This is only our opinion. Do you disagree? Did we miss something? Are we totally out to lunch? Join the discussion in the forums here, and let us know what you think. People like/dislike gear for different reasons so chime in and we'll get a well-rounded evaluation.
Back to the rest of the reviews.
---