The North Face Flash Dry Base and Mid Layers
Another season, another miracle fabric it seems—can't blame me for being skeptical. You've probably seen the North Face ads for their new FlashDry fabric, touting it as their "fastest drying fabric ever". A mighty claim, and based simply on the ads I am not sure I would have paid much attention. Luckily I have first hand evidence of just how good this fabric really works thanks to a demo at last years Outdoor Retailer Show in Salt Lake City. At The North Face booth there were two mini science experiments putting the wicking abilities of FlashDry head-to-head against your standard polypro fabric. In the first experiment, each fabric was covered by a petri dish, both equally wet. After several seconds the FlashDry fabric started to sweat in the petri dish (it was converting moisture into a gas) and the polypro was doing nothing but being wet. Experiment number two had the same two fabrics stretched over an opening so air could move freely through both. A drop of water was then placed in the centre of each every few seconds. The FlashDry was moist but the moisture did not reach the edge of the fabric, because it was evaporating rapidly. The polypro sat in a puddle as more drips compounded the moisture problem. These are two relatively simple experiments that had me sold as soon as I saw them. Since attending this event I have been eagerly waiting to get my hands on some product to put to the test in the real world. That day is here.
Experiment #1.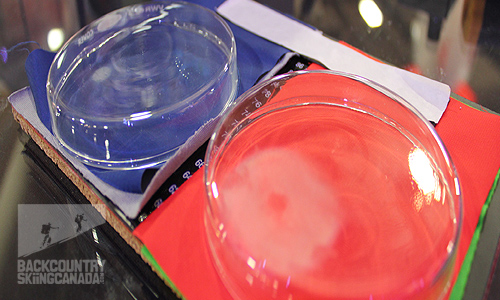 Experiment #2.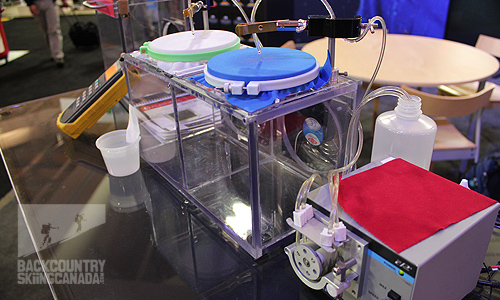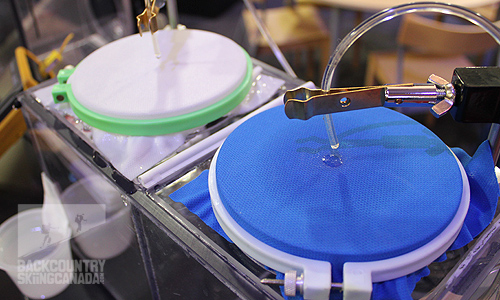 In a nut shell FlashDry will keep you drier (as illustrated above in the two experiments) and thus should keep you warmer than other fabrics. Apply this to any high aerobic activity where you sweat a lot, such as ski touring and you have got something of interest. FlashDry is a natural additive that is permanently embedded at the fibre level next to your skin where all that moisture comes from in the first place.
The North Face sent three of their new FlashDry products to give us a well rounded view of how this material works in the field. We tested two base layers: The North Face FlashDry Warm Merino Crew and The North Face FlashDry Light Boot Top Bottom, and one mid layer: The North Face FlashDry Kannon Midlayer.
---
The North Face FlashDry Kannon Midlayer
Price: $140 CAN
Size: S- XL
Colour: Black, Athens Blue
Fabric: body: 65% interlock wool, 35% polyester with FlashDry fibre, side and back panels: 53% polyester with FlashDry fibre, 47% polyester mesh
Weight: 360g / 12.7oz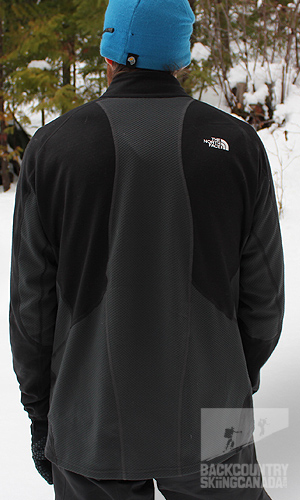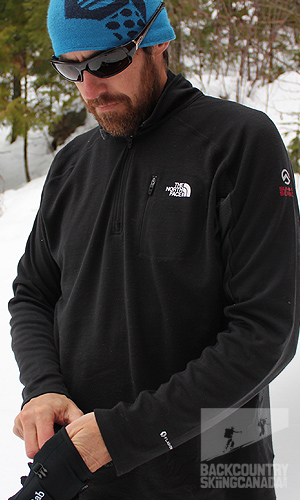 The North Face FlashDry Kannon Midlayer is a hybrid quarter-zip with a breathable stretchy fabric on the back and under arm panels where you need it most. The stretch fabric under the arms and on the back is 53% polyester with FlashDry fibre and 47% polyester mesh. The rest of this midlayer is 65% interlock wool and 35% polyester with FlashDry fibre. This combo provides stretch and extra breathability, with more warmth on the shoulder area and front panel. Strategically placing the different fabrics further improves upon the FlashDry fabric's moisture-wicking properties. This product is part of the Summit Series, which means that it is athlete tested and expedition proven in the real world. Elbow articulation and the stretch back panel provides good flexibility for those long reaches and pole plants on the skin track. The 1/4 zip and chest pocket give more venting options should you need them to stay cool, as this shirt is a touch heavier (235g/m²) than The North Face FlashDry Warm Merino Crew which we will talk of next.
Zonal construction.

Flatlock seems.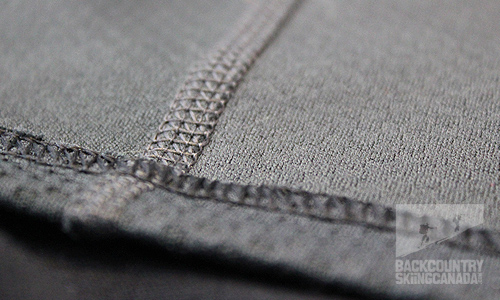 Chest pocket included.

---
The North Face FlashDry Warm Merino Crew
Price: $100 CAN
Size: S- XXL
Colour: Black
Fabric: 33% merino wool, 38% polyolefin, 29% polyester double knit with FlashDry fibre
Weight: 220g / 7.76oz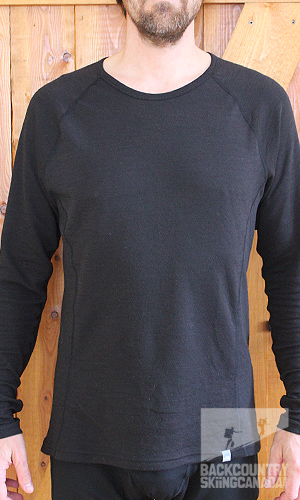 A mid layer is only as good as the base layer that's under it, I always say and luckily The North Face has put their FlashDry Fabric into the new North Face FlashDry Warm Merino Crew as well. The special sauce in this case is the combination of FlashDry fabric with merino wool. We all know about Merino wool's reputation to keep you dry, odour free and warm so combining this with FlashDry only compounds these properties. As with the previous FlashDry garment, moisture is pulled and spread across the surface of the fabric for accelerated evaporation and drying. Being 55g/m² lighter than The North Face FlashDry Kannon Midlayer, the Merino Crew is more ideally suited to ski touring however it doesn't have a 1/4 zip for fast venting - just your basic crew neck.
Unique FlashDry fabric interior even looks space age.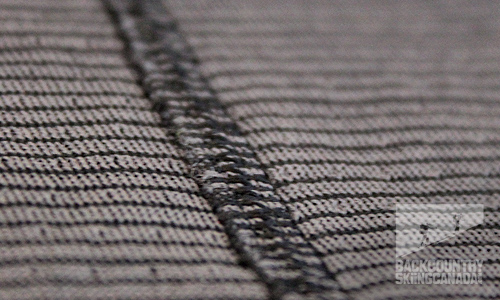 Flat lock seems.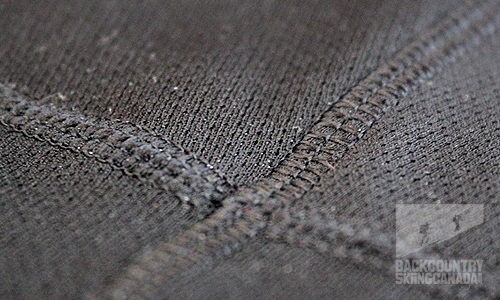 ---
The North Face FlashDry Light Boot Top Bottom
Price: $45 CAN
Size: S- XXL
Colour: Black
Fabric: 89% polyester, 11% polyolefin two-layer hi-mechanical stretch double knit with FlashDry fibre
Weight: 90g / 3.17 oz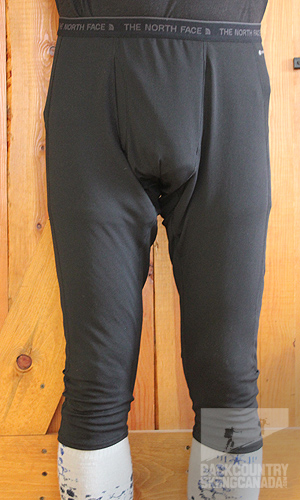 The FlashDry bottom base layer option is The North Face FlashDry Light Boot Top Bottom, which is a mouthful so we can also call it a capri base layer—which means it is only a 3/4 length bottom. It uses the same FlashDry fabric but this time with mostly good ole' polyester to provide warmth and moisture-wicking management. Flat-lock stitching seems to avoid the pinch and partial mechanical stretch fabrication promotes better mobility. Elastic waist keeps them up where they belong and of course a fly opening for when nature calls.
Elasticised waistband.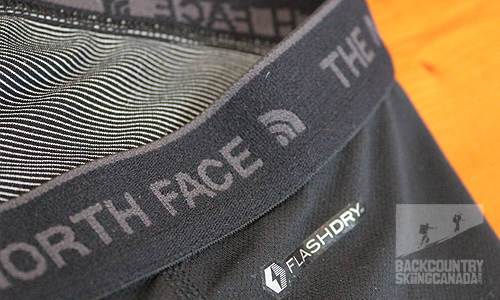 ---
Verdict:
I am a little biased with FlashDry as I have seen the science and was already a believer in the technology before we got our hands on the samples to test. The North Face is already preaching to the converted on this one but science and real world are sometimes totally different animals. After wearing the FlashDry base layers on several ski tours and resort based slackcountry days I can honestly say that considering the diminutive thickness of the FlashDry Boot Top Bottoms and Warm Merino Crew, they keep you incredibly warm. Since the amount you sweat is pretty constant given that you are exerting a lot of energy and evaporation of said sweat is a pretty hard process to monitor, I therefore cannot confirm the FlashDry fabric's accelerated evaporation. What I did notice though was that I was warmer than traditional poly-pro layers I used to wear and a bit drier overall. The North Face FlashDry Kannon Midlayer was a little too heavy for ski touring except on colder days however the 1/4 zip was a nice addition to be able to dump heat when things started getting warm. It would be nice to see the FlashDry Warm Merino Crew incorporate this 1/4 zip feature as it provides yet another way to get rid of heat and prevent moisture build up. I was not a fan of the stretch fabric aesthetics on the Kannon Midalyer but that is a minor point and purely vanity; after all it is placed there for a reason.
The North Face FlashDry Light Boot Top Bottom is a base layer that initially I had hesitation about. Given the 'capri' style of these bottoms it is easy to see why. These did however start to grow on me (not literally of course). I found the boot top cut ensured that they could not create hot spots in my ski boots if they bunched over my socks, because they didn't reach down that far. Because they ended mid calf the overlap of sock and base layer was minimal and hence I found that I did not heat up as much under my soft shells due to this double layer effect. The only down side was that if you don't overlap your socks on the FlashDry Boot Top Bottoms then they would ride up as you put on your soft shell pants. This is a minor point and one that is easily corrected by altering your layering process. Overall the FlashDry technology did keep me more comfortable and warmer than comparative base layers even if I could not notice a faster evaporation of moisture, but I know it's working as I have seen the science.
PROS:
- Innovative technology that actually does work, I have seen the science after all!
- Reasonably priced given the wool content and new technology
- Merino/FlashDry combo keeps the stink away for several days use
- Guaranteed Lifetime Warranty
CONS:
- Just can't get used to the look or feel of the capri base layer bottom, and they ride up if you don't overlap them with your socks.
- Sizing fits on the large size so double check your measurements before you order on-line.
Rating: 8.5/10
Fit / Comfort 1.5/2
Warmth 1.5/2
Moisture Management 2/2
Features 2/2
Quality / Price 1.5/2

This is only our opinion. Do you disagree? Did we miss something? Are we totally out to lunch? Join the discussion in the forums here, and let us know what you think. People like/dislike gear for different reasons so chime in and we'll get a well-rounded evaluation.
Back to the rest of the reviews.
---
UPDATE APRIL 2013:
The North Face Flash Dry base and mid layers have been my go to layers and the first thing I put on for a day of ski touring or resort skiing (base layer for the former and mid layer for the later). They are still comfortable after a solid season of wear however I do see the start of those nasty bally-things that magically appear after some use. The Flash Dry keeps me warm and seems to do a better than average job of keeping me dry. Combining the Merino wool with the Flash Dry technology is my favourite combo and nice to see The North face introduce Flash Dry into a wide range of products over the last year.
---