The North Face Blue Kazoo Down Sleeping Bag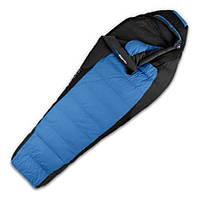 If you are a passionate backcountry skier you are or will be familiar with heading out on multi-day ski trips that involve either a rustic hut or closer-to-nature winter camping experience. Both are great options that open up a world of ski touring possibilities beyond those of your local ski hills' sidecountry or slackcountry. To enjoy the multi-day approach to backcountry skiing you will, of course, need some sort of sleeping bag to keep you warm in either your bivy sac, winter tent, snow cave or hut. The task of finding the sleeping bag that is just right for you can be daunting one with all of this talk about fill ratings, down vs. synthetic,…. blah, blah, blah.
One sleeping bag that we can recommend after testing is The North Face Blue Kazoo. With a price point in the mid $200's it's a bargain. Throw in the fact that it is super light, chock full of really well thought-out features, it's as comfy as full body bunny slippers and well ... you have a winner.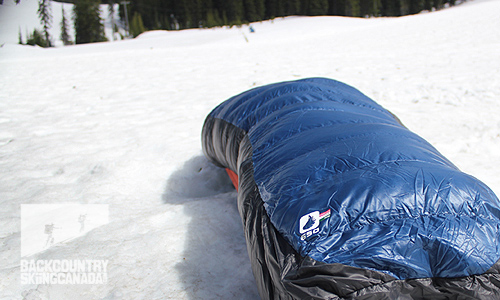 The North Face Blue Kazoo is a three season sleeping bag which has been a staple for The North Face for many years, this year however they have improved it by reducing the overall weight by 8%, a full 3 oz or 89 grams. They achieved this by using Eastern European goose down and increasing the down fill from 600 to 650+. The down fill rating is a measure of loft or 'fluffiness' and is loosely related to the insulating value of the down. The higher the rating the more insulating air pockets and larger percentage of down clusters and larger cluster sizes and therefore more warm and toasty sleeping. To improve comfort they have placed Climashield Prism in the sleeping bag's high pressure areas to deliver added comfort to the head, shoulders and feet (think extra padding where you need it most). These pads bolster support and improve thermal efficiency by an incredible 13% - no more cold spots. To help keep things on the dryer side Shadowlite fabric is used on the top shell. This lightweight, durable fabric allows internal moisture vapour to escape while you sleep but prevents water molecules from penetrating inwards.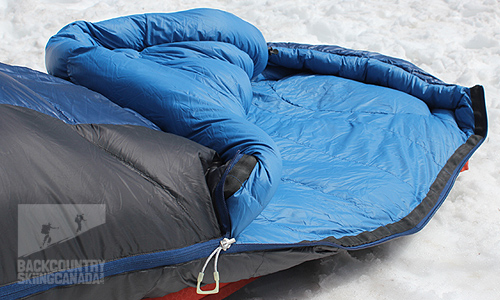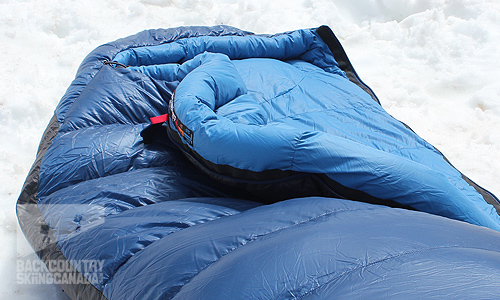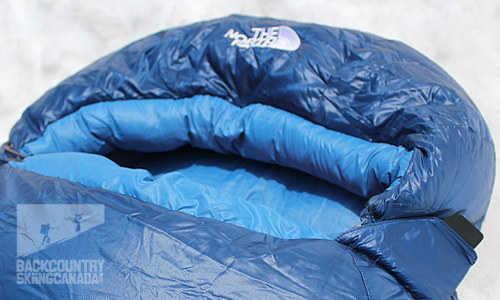 Features:
Fill: 650+ Eastern European goose down fill.
Compression Zones: Climashield™ Prism pads in high-pressure areas (head, torso and feet) for extra support and increased thermal efficiency.
Hood: Seven-chamber hood with hidden cord lock adjustment and down filled draft and face tube to keep heat in and cold out.
Storage Sack: A Nylon mesh storage sack is provided to keep the down lofty while not in use.
Compression Sack: Comes with siliconized nylon compression sack to keep it dry and small when in your pack.
Trapezoidal baffle construction: Evenly distributes goose down and keeps it from shifting from side to side, preventing cold spots.
Vaulted footbox: Allows for natural foot movement and increased thermal efficiency to keep your feet warm and comfortable.
No-Snag Zipper: Bonded stiffener in zipper column to prevent zipper snags.
Double zipper: To allow for lower venting if needed
Glow-in-the-dark zipper: Easily find your zipper in the middle of the night even if it is parked in it's zipper garage.
Internal pocket: Bonded water-resistant zippered pocket perfect for headlamp or watch.
Sleeping pad retention loops: To ensure you stay on your sleeping pad the entire night.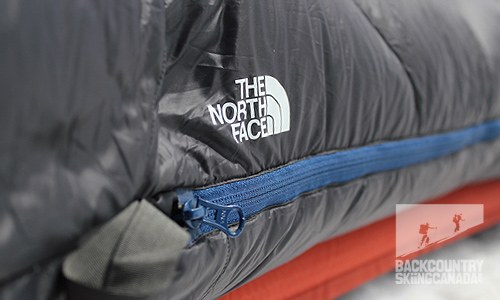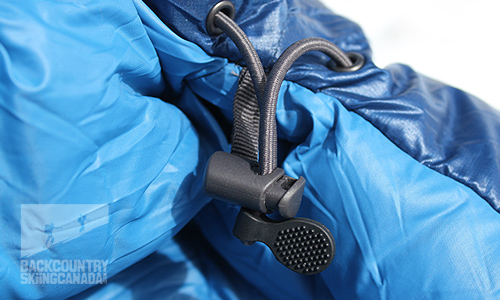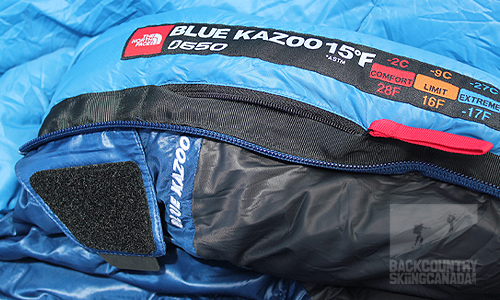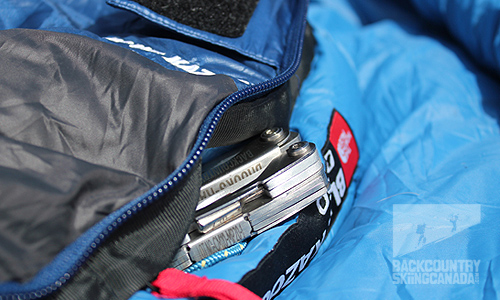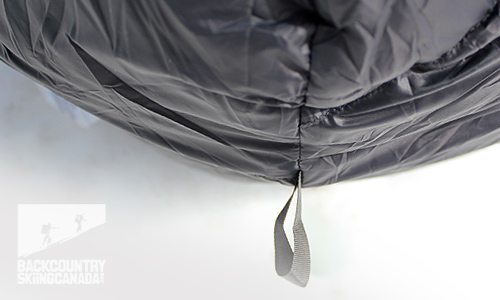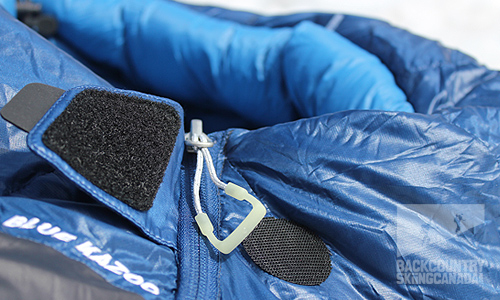 Fabrics:
Topshell fabric: Shadowlite™ SL™ Ripstop Fabric
• 64% nylon, 36% polyester
• 1.7 oz/yd² (49 g/m²)
• 33Dx20D cross-tie weave
• Lightweight and downproof
• Durable Water Resistant (DWR finish)
Internal Lining: Silky nylon taffeta lining (which is soft and comfy and feels good on bare skin).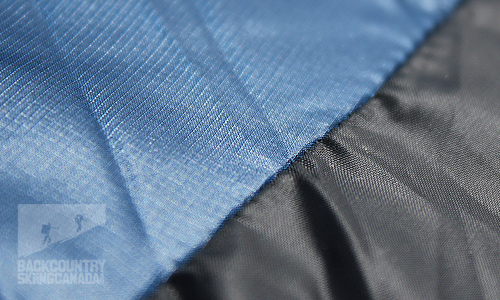 Verdict:
If you are cold - you don't sleep, if you are uncomfortable - you don't sleep, if you don't sleep you are pulling a lead weight up the uptrack all day and everyone suffers. A good sleeping bag is worth every penny, a good sleeping bag at a good price is worth even more. The Northface Blue Kazoo provides so much loft you feel incredibly comfortable and pushing zzzz's is easy. This sleeping bag is well thought-out with great features like an extra large glow in the dark zipper, Internal watch pocket and built in padding for your feet, head and butt. All this makes for a great sleeping bag and a no-brainer at just $259.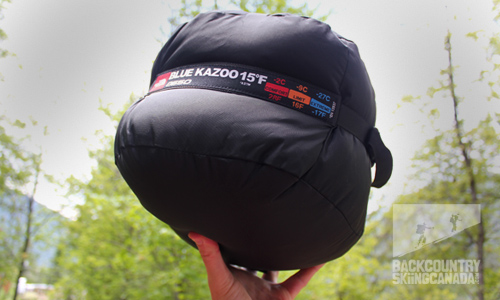 SPECS:
Price: $259 (long version)
Colour: Blue / Black
Temp Rating: 15 ℉ / -10 ℃
Weight: 2lb 12 oz / 1261 g
Fill: Hungarian Goose Down Fill 650
Shell: Shadowlite ripstop nylon
Dimensions: User height 6.6"/198cm, Shoulder circ. 64" /163cm, Hip circa 60" / 152cm, Foot circ. 40" / 102cm
Stuff Sac: compression / water proof
PROS:
Incredibly lofty down = super comfy. Low end price with high end features.
CONS:
Only uses 650 down and not 800 or 850, as well the weight is at the high end of the light bag spectrum.
Rating: 9/10
Warmth 2/2
Compressibility 1.5/2
Features 2/2
Weight 1.5/2
Quality / Price 2/2

This is only our opinion. Do you disagree? Did we miss something? Are we totally out to lunch? Join the discussion in the forums, and let us know what you think. People like/dislike gear for different reasons so chime in and we'll get a well-rounded evaluation. Check back mid-season to see how our review stands up to our in-the-field testing.
Back to the rest of the reviews.
---