Teva Fuse-ion and Gnarkosi water shoes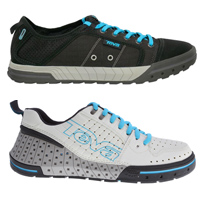 The men's Teva Gnarkosi and women's Teva Fuse-Ion are two shoes that should be on every waterman or waterwoman's list. In the off-season - that is when it's not snowing - we are lovers of the water, be it stand up paddle boarding, boat access camping or surfing. In this environment, flip flops suffice for sipping cold beverages lakeside but hardly the functional footwear we want when hiking or paddling about. This is where Teva's water shoe line has proven to be a huge step in the right direction.
Both of these shoes feature Teva's patented "Drain Frame," which means they shed water internally like a sieve, preventing the slish-slosh feeling of traditional shoes after you've tromped through water. Due to this rapid draining, the shoes also dry much sooner. The flat sole made of "spider rubber" is grippy and great for deck surfaces as well as rougher terrain.
The Teva men's Gnarkosi is a tennis-style shoe, but the similarities stop there. Originally designed as a wakeboard shoe, it has proven itself in multiple disciplines of water sports. I am an avid standup paddler, but have noticed on long paddles my feet get very tired. The ample support and comfortable fit of the Gnarkosi has virtually eliminated foot strain on long paddles, meaning more quality time on the water. They're very light to boot.
After months of use, the Gnarkosi has proven durable. The only issue I had was minor delamination of the sole from the shoe, which a dab of ShoeGoo fixed up fine. The Gnarkosi is made of a synthetic, leather-like material that dries quicker and requires much less maintenance than a suede or leather shoe. Beefy laces and metal reinforced top eyelets also wore well and were a nice touch.
The Teva Fuse-ion and Gnarkosi water shoes.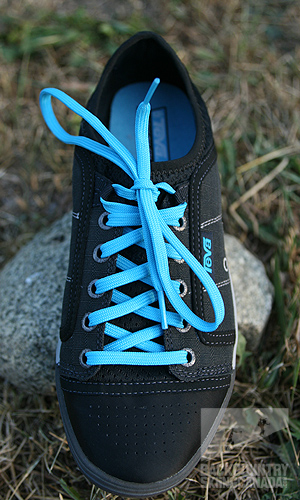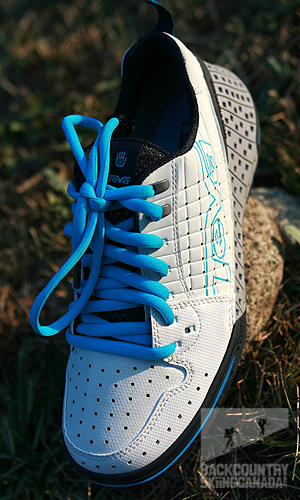 The women's Fuse-Ion is a bit more stylish in terms of casual wear. We'd wear these to the bar as much as the beach. Teva's Fuse-Ion sports a similar Drain Frame and has an "ion mask" treatment, which essentially means water slips off the material on the shoe like, well, water off a duck's back. The idea here is simple: these shoes aren't waterproof, they simply shed water when the do get wet and dry extremely quickly.
Both shoes are relatively comfortable but as with all shoes, they're much more so with socks. I'd recommend a synthetic sock if you plan to be hiking around, but for use on a board or in a kayak you could go sockless without too much concern for blisters. The collapsible heel in the women's Fuse-Ion allows you to slip them on and off easily.
The Teva Fuse-ion from the left.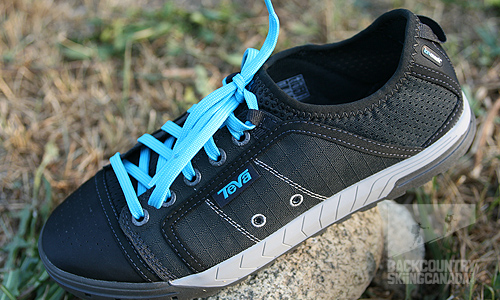 The Teva Fuse-ion from the right.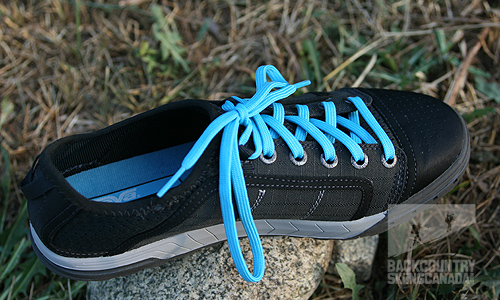 The Teva Fuse-ion treads.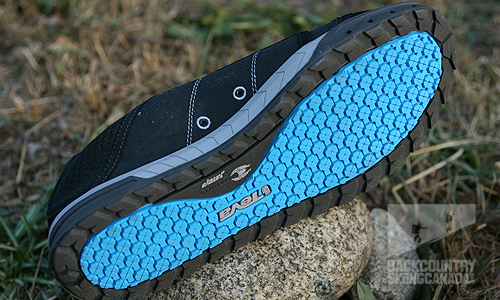 Up-close and personal with the Teva Fuse-ion.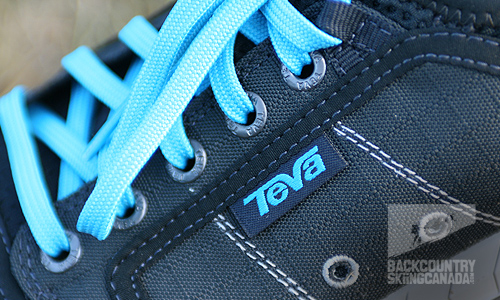 Even more fabrics that drain.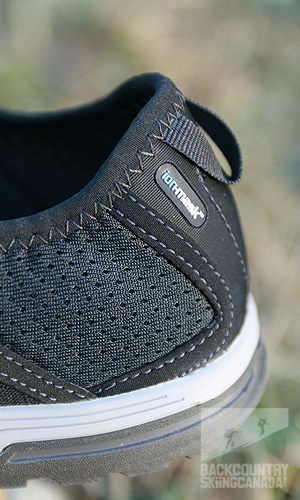 Features:
Upper Material: Synthetic Leather
Sole: Spider Rubber
Midsole: TPU (Drain Frame)
Footbed: seamless
The Teva Gnarkosi shoe's unique design.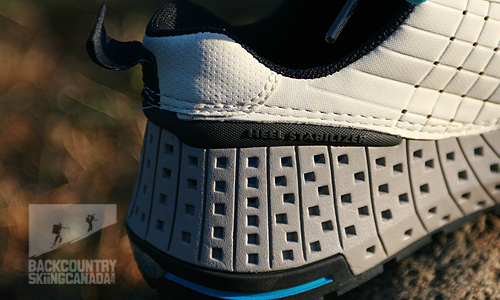 The underside of the Teva Gnarkosi's provide good grip.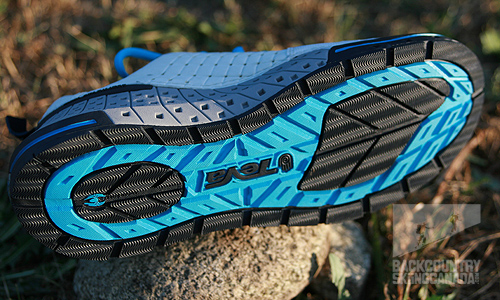 Everything drains on the Teva Gnarkosi shoes.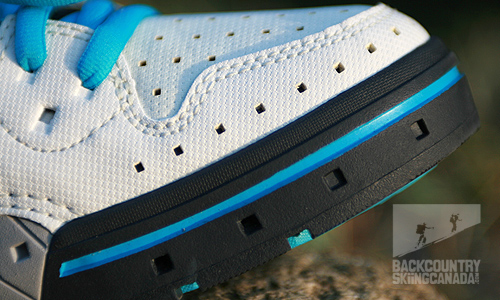 Tough fabrics and good looks all around.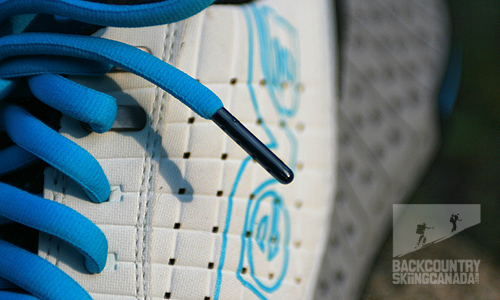 Beauty shot from the right of the Teva Gnarkosi shoes.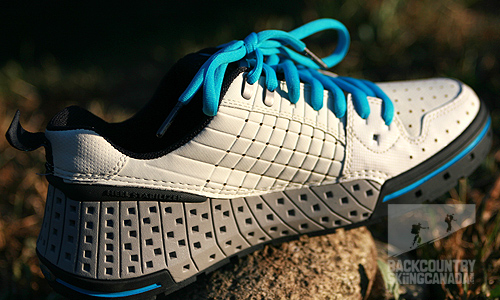 Verdict:
The Teva men's Gnarkosi and women's Fuse-Ion are excellent shoes for multiple water sports while still maintaining the aesthetics of traditional shoes. While the Gnarkosi looks a bit more like you're headed to play tennis, the Fuse-Ion (also available for men) is at home in the water and at your local watering hole. If you are an avid waterman or waterwomen, Teva's line of water shoes are the ticket.
(Note: While the Gnarkosi is no longer in production you can see similar models here, it is still widely available a retailers. The newer models featuring the same technology are a bit more stylish, which seems like a wise move by Teva.)
For a review of the Teva Zilch, Teva Omnium and Teva Tanza Sandals have a click on over here.
SPECS:
Price: $80-$85 US
Weight: 328g / 11.6oz
Recommended Ues: water sports, standup paddle boarding, kayaking, canyoneering, rafting, etc.
Warranty: 1 year
PROS:
- Water repellent
- Drains quickly
- Lightweight
- Comfortable
- Foot support
- Foot safety
CONS:
- Minor delaminating of the sole
- Socks required for hiking/walking (but what shoes don't?)
Rating: 9.5/10
Innovation: 2/2
Function: 2/2
Aesthetics / Fit: 1.5/2
Features: 2/2
Quality/Price: 2/2

This is only our opinion. Do you disagree? Did we miss something? Are we totally out to lunch? Join the discussion in the forums here, and let us know what you think. People like/dislike gear for different reasons so chime in and we'll get a well-rounded evaluation.
Back to the rest of the reviews.
---