Teva Zilch, Teva Omnium and Teva Tanza Sandals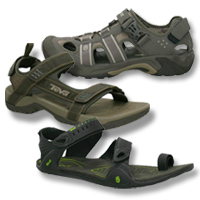 A sandal is a sandal. At least that's what I thought until we received three pairs of sandals from Teva, each with a very unique purpose and user in mind. Specifically we received the Teva Zilch Sandal, the Teva Omnium Sandal and the Teva Tanza Sandal. The Teva Zilch Sandal is by far the most radical of the three and is designed to be ultra light and compact. The Teva Omnium Sandal has more coverage to keep your feet protected while hiking but still has plenty of areas to let the water out while on the lake. And finally the Teva Tanza Sandal is more of the traditional Teva sandal design we are all familiar with but this one has plenty of new innovations to make it a well-rounded sport sandal.
If you are talking Sandals then the one brand that immediately comes to mind is always Teva. They are to sandals what Smuckers jam and Skippy peanut butter are to PB&J. I remember the appearance of sandals in North America way back when. The outdoor community and beach goers gravitated to them; they came as disciples of those monk-looking, euro-sock-wearing sandals from across the pond. Luckily Teva took the concept and ran with it (literally) so we no longer have to look like a tourist when we venture out in sandals, but rather we have the ability to ford streams with our footwear still on and still be comfy in the summer heat. Although they were initially truly revolutionary, sandals are commonplace today, and thankfully so.
Over the years Teva has expanded their sandal/shoe line into a vast array of new designs, purposes and market segments. They now have stand up paddle board shoes, biking shoes, lightweight sandals and much more. For this review we will look the Teva Omnium sandal, the TevaTanza sandal and the Teva Zilch sandal, which we have spent the better part of the summer running through the BSC review process.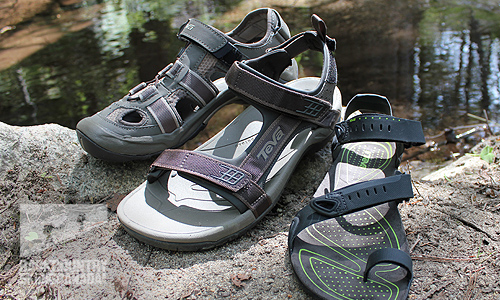 ---
Teva Zilch Sandals
Price: $120 CAN
Colours: Blue, Pirate black
Weight: 419g / 14.8 oz
Sizes: 7, 7.5, 8, 8.5, 9, 9.5, 10, 10.5, 11, 11.5, 12, 13, and 14
(Available for men and women)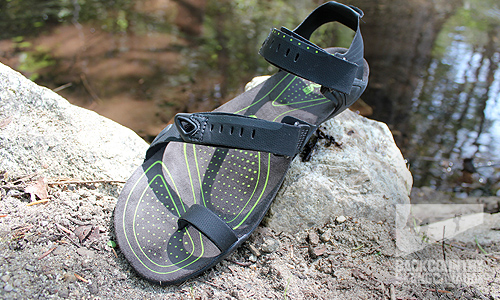 The Teva Zilch is "the thinnest, most minimalistic sport sandal we've ever made" says Teva, and weighing in at just 419 grams we believe them. To save on weight Teva has made the velcro straps, footbed and sole much thinner than on their traditional sandal. In fact, the sole and footbed are so thin and flexible you can actually bend the Teva Zilch in half (if you want). Although this means that you feel every step, it also makes them ideal for backpacking where weight is a priority and the sandals are not your main footwear. The Teva Zilch sandals offer protection from the ground and ample traction even on wet surfaces thanks to their Spider Rubber outsoles. The top sole uses a polyurethane material to comfort your foot while a micro-fibre synthetic cover provides moisture-wicking properties. The single adjustable velcro strap and toe loop keep the Teva Zilch's secure for walking, light hiking and hanging out in town or around base camp.
Comfy foot bed fabric.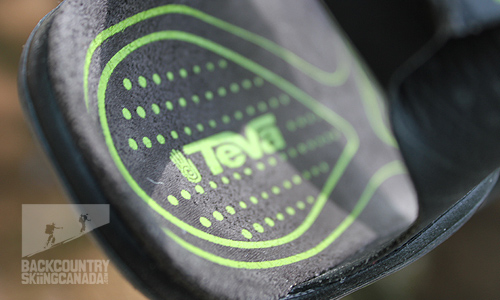 The fore foot strap is even super minimal.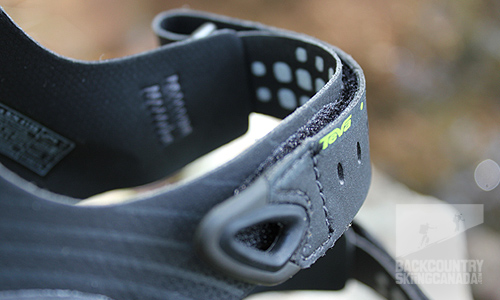 Incredibly thin soles make them light and flexible.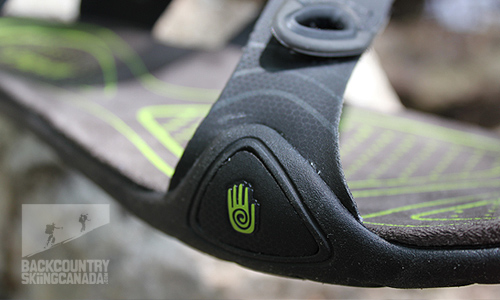 The big toe loop.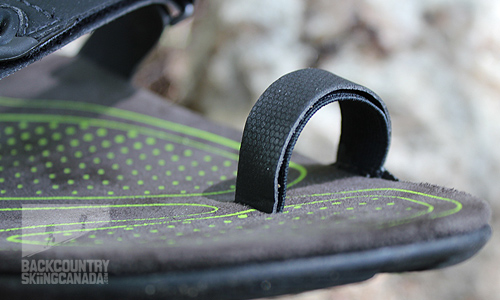 Backside traction.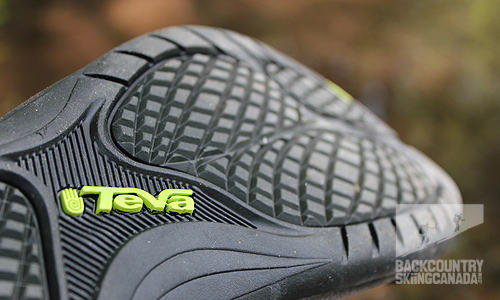 Features:
T.I.D.E. GRIP - Spider Original rubber outsole is made to grip in wet environments
T.I.D.E. HYDRO - Open toe construction doesn't allow water to pool
T.I.D.E. COMFORT - Minimal design with multiple points of adjustment for fit and a synthetic upper
---
Teva Omnium Sandals
Price: $100 CAN
Colours: Bungee Cord, Ombre Blue
Weight: 720g / 25oz
Sizes: 7, 7.5, 8, 8.5, 9, 9.5, 10, 10.5, 11, 11.5, 12, 13, 14, 15, and 16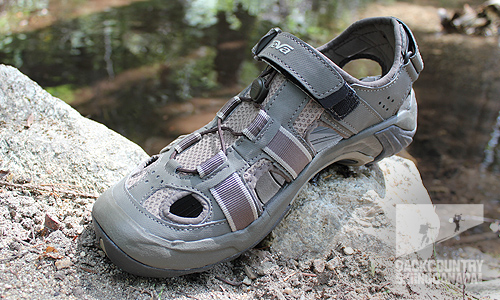 The Teva Omnium Sandal is designed with the active user in mind and is billed as a hiking/water shoe. It provides much more support than open sandal designs such as the Zilch and Tanza. Your feet, and specifically your toes, are well protected against any obstacles in your path and the added support of the shock cord, velcro strap and fast clip gives you confidence to go for a hike or scramble. Quick-drying materials, anti-microbial Microban® Zinc and generous areas for water to drain makes the Teva Omnium Sandal ideal for canoeing, kayaking, rafting and other water adventures.
Clip, strap and shock cord adjustments.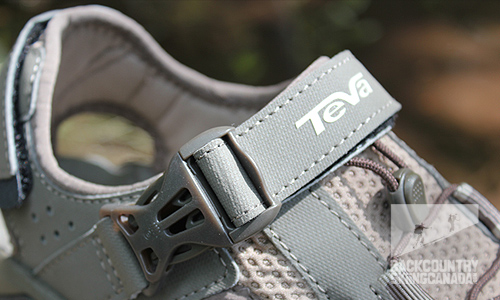 Quick drying mesh upper.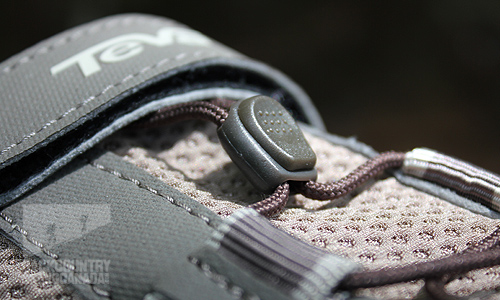 Shock Pad anatomic footbed.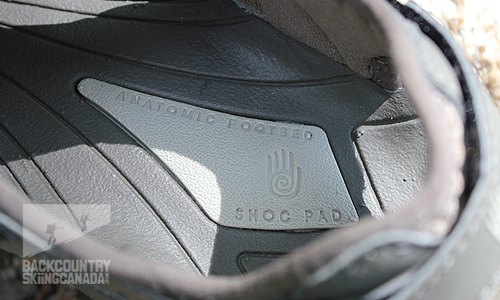 Backside traction.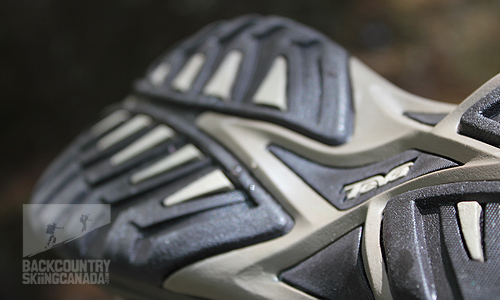 Features:
T.I.D.E. GRIP - Spider Original rubber outsole is made to grip in wet environments with increased rubber surface contact at the heel and forefoot to maintain traction
T.I.D.E. HYDRO - Multiple openings in the upper allow water to drain freely
T.I.D.E. COMFORT - Integrated toe protection keeps your feet safe in rugged terrain Shoc Pad™ in the heel for shock absorption.
Non-abrasive and breathable stretch mesh liner.
Multiple points of adjustment for the perfect fit.
---
Teva Tanza Sandals
Price: $110 CAN
Colours: Brown, Walnut
Weight: 623g / 22oz
Sizes: 7, 7.5, 8, 8.5, 9, 9.5, 10, 10.5, 11, 11.5, 12, 13, and 14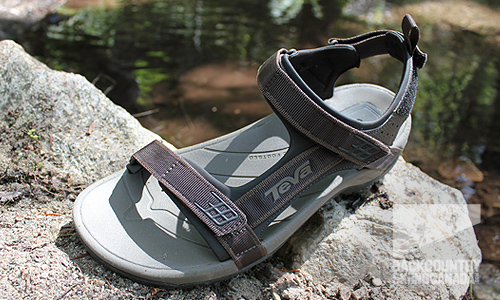 The Teva Tanza Sandals are the classic open sandal design Teva is famous for. With three adjustable straps (instep, toe and heel), neoprene foam padding, shocPad and anatomical footbed, the comfort, fit and feel of the Teva Tanza is first rate. The Nonmarking Spider Rubber outsoles provide traction even on wet surfaces and the nylon shank ensures stability on uneven terrain. Microban zinc-based antimicrobial treatment keeps the stink out while the usual T.I.D.E. (Teva Innovative Design Lab) list of features helps to keep your foot super comfy on or off trail.
Traditional Teva velcro strapping system.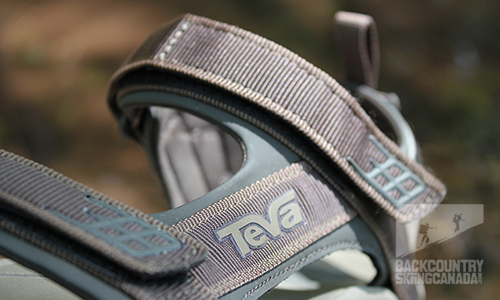 Built solid with neoprene soft bits to protect your feet.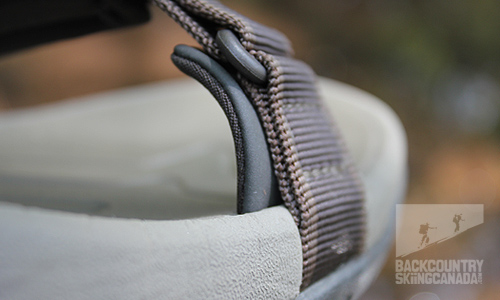 Shock Pad offers up adequate cushioning.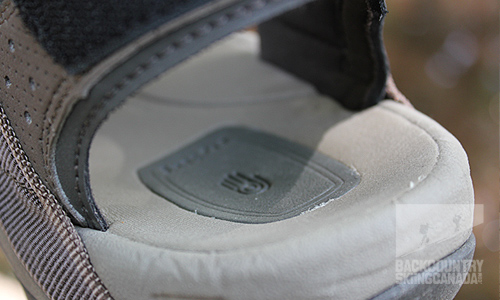 Backside traction.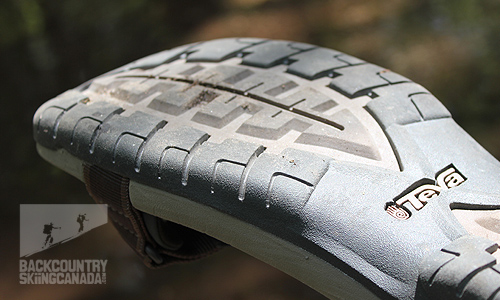 Features:
T.I.D.E. GRIP - Spider Original rubber outsole is made to grip in wet environments with molded nylon stability shank
T.I.D.E. HYDRO - Open toe construction will not trap water
T.I.D.E. COMFORT - Webbing and synthetic upper with neoprene foam package and mesh lining. Drop in EVA topsole with Microban® zinc and compression molded EVA midsole. Encapsulated Shoc Pad™ in the heel for shock absorption and water-channeling lug pattern. Three points of adjustment allow for custom fit.
---
Verdict:
Teva Zilch Sandals: 7/10
I am a big fan of the concept of the Teva Zilch but the execution has room for improvement. A light weight minimalist sandal has a place in my pack on any backpacking trip that involves a few days at base camp. Who wants to wear their sweaty boots after a big day of mountaineering or hiking? First thing I do is get them off and air them out. Some people I know use flip flops or crocks around base camp but I find that these don't offer enough stability for river crossings or light hikes. Although there is marginally more stability in the Teva Zilch there are several improvements that could be made that would increase the overall usability.
The first area that can be easily improved upon is packability. Teva promotes the fact that you can roll the Zilchs up for compact storage. To me this seems unnecessary and not as efficient as packing them flat together. I feel that having straps that are hinged so that they can fold flat and out of the way would provide a much more compact sandal than the current Zilch strap design.
The second miss for me with these sandals is the toe loop. First, it's not adjustable and, therefore, will not fit everyone. Second, even though I found the toe loop to fit me just fine, I was not comfortable with the big-toe-bondage that occurs from either a comfort or looks perspective. It seems to me that the instep strap could easily be moved higher (as on the Tanza) which would eliminate the need for a toe strap altogether. In addition to allowing a more universal fit and freeing your big toe, this would also allow you to wear socks with the Teva Zilch and while that may sound unnecessary, if I am using the Zilch sandals for base camp comfort then big burly wool socks are mandatory for warmth when the sun goes down.
On the up side, the Teva Zilch sandals are pretty comfy given their minimal design. The insole is lined with a soft fabric that doesn't make your feet clammy like other sandals. Although the straps could give some users irritation, luckily I have had no hot-spots to date and found that the straps worked well. I like that the straps do provide some stretch over time. Unfortunately, there is no shock absorption in the Zilch and you will feel ever detail upon the ground you tread but, in my opinion this is to be expected in a minimalist sandal and as long as all you need the sandal for is protection from the ground you're good to go. Teva is onto something with the Zilch, I hope the design crew keeps pushing the concept, as this product could be a real winner.
Teva Omnium Sandals: 8/10
After wearing the Teva Omnium Sandals for extended periods I found that they had so much foot coverage that my feet got clammy and uncomfortable. Although the anti-microbial "Microban Zinc" did its thing to suppress any smells, the initial off gassing from the pair I received was quite noxious for the first few weeks and I was happy to see it subside eventually. Despite feeling clammy, I did find that for walking, hiking and water sports the extra coverage worked to my advantage as my feet and specifically my toes were protected from rocks, sticks and underwater sharp-bits. I did find that once small rocks got in I had to stop and take off the Omnium to get them out again—a minor occasional annoyance. I have also discovered that I am more of an open-air sandal kind-o-guy and that the Omnium was more shoe-like than what I prefer…but then again everyone is different and the Omnium definitely serves a purpose.
Teva Tanza Sandals: 8.5/10
The Teva Tanza was by far my favourite sandal of the three as it was the most versatile for the tasks I threw at it, specifically hiking, urban life, water sports and beach time. It was really comfortable to wear thanks to the padding under the straps and the anatomical footbed provided a bit of arch support and a cushioned ride. The weight and thickness of the midsole also gave good height off the ground and a sturdy platform from which to walk on paths and rocky trails.
I also liked that the adjustable velcro straps let me customize the fit. I found, however that the velcro on the instep strap could use a few extra stitches to better secure it in place (on the top leading edge) as it constantly got caught in the plastic restrainer as you release the straps to remove your foot. I was going to put a little glue in there to keep the velcro down and out of the way but in the end I just cut off the excess and the problem was solved.
PROS:
Teva Zilch Sandals - light, compact and suited for camp comfort and stream crossings.
Teva Omnium Sandals - great foot and toe protection and ideal for hiking and water sports.
Teva Tanza Sandals - comfortable padding and arch support, great adjustability and versatility for summer adventures.
CONS:
Teva Zilch Sandals - toe loop must go as it is uncomfortable and would not be needed with a better placement of the instep strap.
Teva Omnium Sandals - lots of coverage so your feet can overheat and small pebbles go in but don't come out.
Teva Tanza Sandals - Velcro on the instep strap prevents you from releasing tension fully and easily getting your foot in and out.
If you are in the market for a water shoe then have a read on over here of the Teva Fuse-ion and Teva Gnarkosi shoe review.

This is only our opinion. Do you disagree? Did we miss something? Are we totally out to lunch? Join the discussion in the forums here, and let us know what you think. People like/dislike gear for different reasons so chime in and we'll get a well-rounded evaluation.
Back to the rest of the reviews.
---