Teva Toachi 2 M & Tanza M sandals & Jetter Thong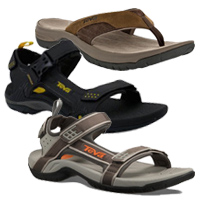 Our last review of Teva Sandals was three years ago and since that time some styles have come and gone and new ones have arrived. The Teva Zilch is no longer, even though I am still using mine on alpine trips as an ultra-light weight base camp footwear. The Teva Tanza, on the other hand, has lived on with no major changes other than colour choices and some minor cosmetics. I guess you don't fix something if it ain't broke? I decided to include the Teva Tanza in this year's review once again as I have thoroughly worn out my previous pair and wanted to see how they stand up next to new some new designs. Also included in this review are the Teva Toachi 2 M which are more of a water sandal thanks to their Drain Frame design which helps eliminate that squishy feeling when you get your feet wet. This feature is a real plus on paddling trips. The final pair of sandals we'll cover in this review is the Teva Jetter Thong which, as the name, suggests is not really a sandal but rather a thong.
Before we dive into the individual sandal reviews lets have a quick look at the technology that Teva developed for some of these models. First we'll start with the Spider Original Tread found on both the Teva Tanza M and Teva Toachi 2 M. This is basically a fancy term for Teva's original rubber compound used in the out soles of these two sandal models. The Spider Original Tread provides great traction on trails and slick surfaces, even when wet. Next up is Teva's "Shoc Pad" innovation which is again found on the Teva Tanza M and Teva Toachi 2 M. This is a softer area in the foot bed directly under the heel that provides increased shock absorption; a welcome feature on any sandal for longer hikes or high impact activities. Then there's Teva's Drain Frame technology which is found on the Teva Toachi 2 M sandals. Just as the name implies, this is a system of grooves in the footbed that are designed to drain water away from your foot which is Ideal for beach days and paddle sports. The final feature is the "Mush Infused Insole" found once again on both the Teva Tanza M and Teva Toachi 2 M. Someone on the Teva marketing team was having fun creating this term as it's simply a very soft footbed designed to maximize comfort for active movements.
---
Teva Tanza M
Price: $100 CAN
Sizes: 7, 7.5, 8, 8.5, 9, 9.5, 10, 10.5, 11, 11.5, 12, 13, 14
Colours: Dark Blue, Dark Gull Grey, Brown
Weight: 627g / 22oz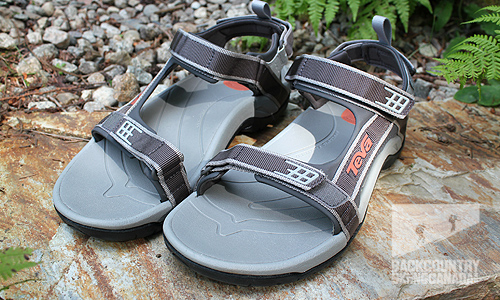 This is a classic Teva Sandal that has been proven over time. It's ideal for all activities as it holds to your foot very securely but is still comfortable enough for long days on your feet. The Spider Original Tread grips any surface with ease even if wet and the Shoc Pad in the heal reduces fatigue from high impact activities. The Microban zinc-based anti-microbial treatment also helps reduce the 'stink factor' that inevitably creeps in after prolonged use. The velcro straps provide adjustability over your arch, toes and around the heal for a snug fit which is required for light hiking, swimming and paddling.
Features
- Webbing upper
- Hook and loop Velcro closure
- Shoc Pad in the heel
- Nylon shank
- Microban zinc-based anti-microbial treatment
- Durabrasion Rubber outsole
- Spider Original Tread
Spider Original Tread for good grip on any surface and works well for light hiking in summer.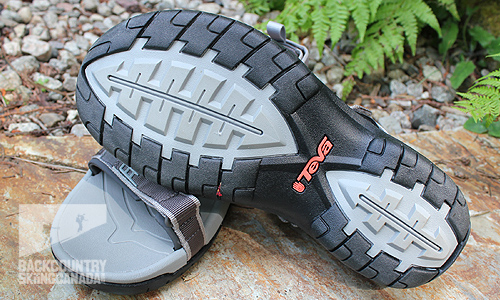 Velcro closures offer up plenty of adjustability for a custom fit.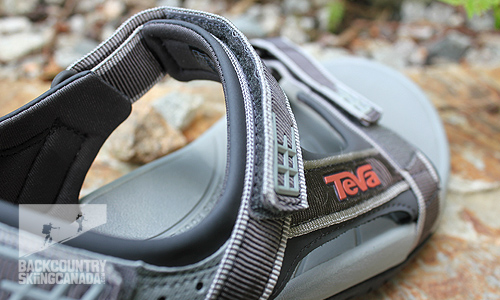 Here are the previous pair after four years of daily wear and abuse.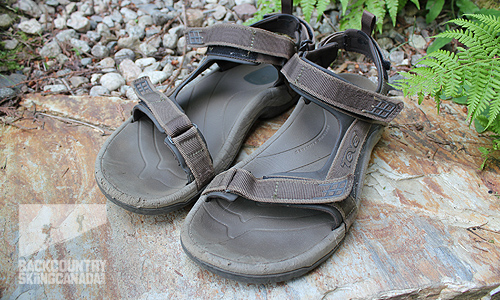 ---
Teva Toachi 2 M
Price: $110 CAN
Sizes: 7, 7.5, 8, 8.5, 9, 9.5, 10, 10.5, 11, 11.5, 12, 13, 14
Colours: Charcoal Grey, Raven, Turkish Coffee
Weight: 306g / 10.8oz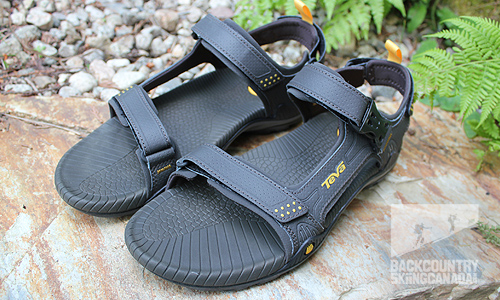 The Teva Toachi 2 M is a lighter take on classic Teva sandal designs such as the Tanza described above. The Taochi is ideal for days on the water and paddle sports thanks to its Spider Original rubber on the outsole which provides superior grip in wet environments. The 'Drain Frame' design channels water away from your foot so your feet and sandals can dry out quickly and get back to being more comfortable. A secure fit is achieved with the velcro fasteners at the heel, ankle and toe with a built in fast clip to make on and off easier. This is a true sport sandal that's comfortable enough to use for both light hiking and paddling.
Features
- High-abrasion synthetic leather uppers.
- Three-point hook-and-loop adjustment system, at heel, ankle and toe.
- Quick-release buckle at ankle for easy on/off.
- Microban zinc-based antimicrobial treatment.
- Compression-moulded EVA with a shock pad for cushioning heel strikes.
- Full-length TPU shank wraps up to the upper for stability.
- Teva Drain Frame midsole evacuates water to promote quick drying.
- Outsole rubber provides grip on slippery rocks and muddy trails.
- Spider Original Tread
- Mush infused Insole
Agressive treads ideal for paddle sports.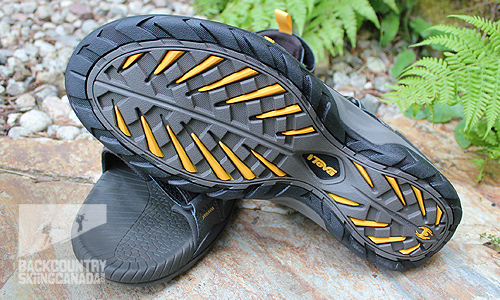 The Teva Drain Frame midsole help get water off the sandal so your feet stay drier.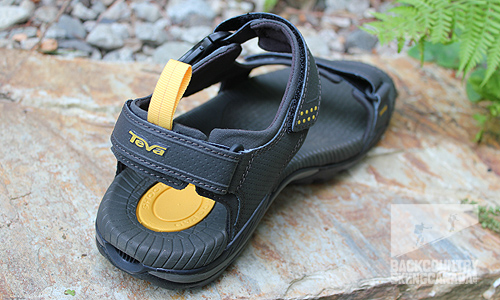 Fast clip closure system for easy on and off.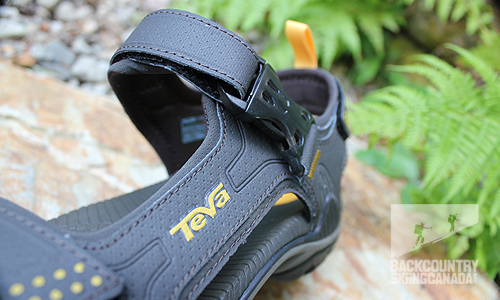 ---
Teva Jetter Thong
Price: $100 CAN
Sizes: 7, 8, 9, 10, 11, 12, 13, 14, 15, 16
Colours: Cigar
Weight: 368g / 13oz
The Teva Jetter Thong is not your traditional flimsy flip flop; it has a beefy design that has solid arch support. It's soft micro fibre footbed is comfortable on your foot and the durable leather strap keeps them on your feet when walking and during light activity. There is also an anti bacterial coating on the footbed to help fight the stink and a Spider 365 rubber outsole to ensure good grip on surfaces wet or dry.
Features
- Spider 365 rubber outsole
- Microban: Using small amounts of zinc powder, a naturally occurring microbe inhibitor, this non-toxic treatment in the footbed helps reduce odour-causing bacteria.
T.I.D.E. (Teva Innovative Design Elements) features:
- T.I.D.E. GRIP: Spider Original rubber grips well in wet environments.
- T.I.D.E. HYDRO: Open toe construction doesn't allow water to pool and the waterproof upper materials is designed to get wet.
- T.I.D.E. COMFORT: Leather and Suede Upper combined with a micro fibre footbed which is soft and luxurious.
Leather and Suede Upper makes things super comfy.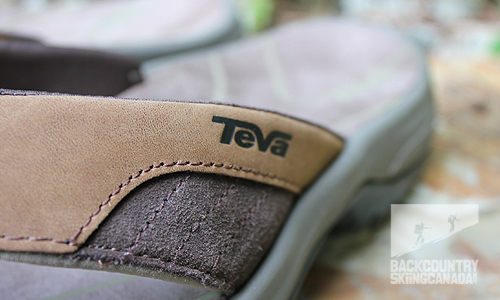 Spider Original Tread for good grip.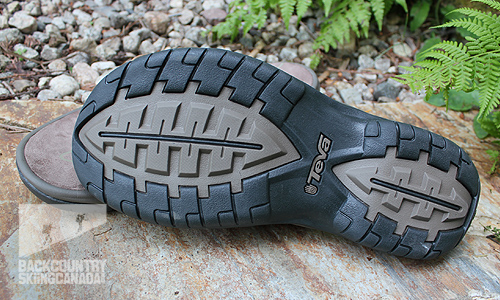 Verdict:
Why have one when three will do? Each of the sandals mentioned above have their own specific niche in the Teva line up and present a pretty strong case for their specific strengths. The Teva Tanza sandal continues to be the work horse and able to take on the beach, light hikes and just hanging out around town while the Teva Toachi 2 excels more at paddle and water sports. The Teva Jetter Thong, on the other hand, is more of a pure lifestyle sandal where comfort and aesthetics are paramount. Each of these Teva styles are well built and offer good value at around $100 each with the Tanza's actually coming down in price by $10 this time around. Overall, Teva is the brand if you are in the market for fashionable, comfortable (and above all) functional sandals. The question is really then which style, or styles best suit your life?
PROS:
- Teva Tanza Sandals have comfortable padding and arch support, great adjustability and versatility.
- Teva Toachi 2 M drain away water so are ideal for paddle sports.
- Jetter Thong are super comfortable and stylish.
CONS:
- Teva Tanza Sandals long term durability is questionable as my last pair expired after three years of moderate use.
- Teva Tanza Sandals are twice the weight of the Toachi 2 M, something to keep in mind if you like a lighter sandal
- Teva Toachi 2 M fit smaller and narrower than other Teva styles so be sure to size properly.
- Jetter Thong has only one colour choice.
Rating: 9/10
Innovation 1.5/2
Function 2/2
Aesthetics/Fit 2/2
Features 1.5/2
Quality/Price 2/2

This is only our opinion. Do you disagree? Did we miss something? Are we totally out to lunch? Join the discussion in the forums here, and let us know what you think. People like/dislike gear for different reasons so chime in and we'll get a well-rounded evaluation.
Back to the rest of the reviews.
---