Taste of Nature Bars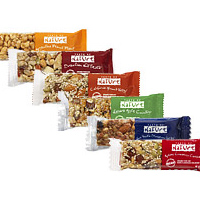 Chances are you are a backcountry skier (expert, newbie or wannabe) if you are reading this review, which means that you are likely physically fit since this recreational activity is not for couch potatoes. With that in mind you are possibly concerned about nutrition and have a soft spot for the environment? If we have you nailed so far then this product review will strike a chord not only with your stomach but also your conscience.
Taste of Nature consistently avoids calling their bars 'granola bars'. The shine has fallen off this once hippy-trippy snack food ever since multi-national corporations entered the game. The multi-nationals have played upon peoples weakness for sugar and their shareholders desire for profits so the once innocent granola bar is now most likely slathered with chocolate and manufactured with a list of ingredients that will barely fit on the wrapper.
It is easy to see why you may think Taste of Nature bars are granola bars but upon closer inspection you will see that there is actually no granola (oats) in any of their bars except for one. Taste of Natures bars have been produced with quality organic ingredients that you can easily pronounce and sound off in less than a full breath - no tongue twisters. Taste of Nature make bars that are a healthy snack alternative to conventional granola bar products. How do they do it? As they say "It's actually pretty easy. We use only certified good stuff, and we don't use bad stuff. Nice concept!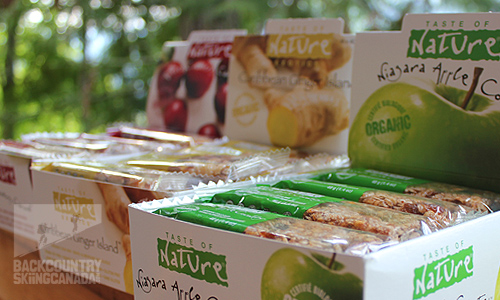 Ingredients
They do it by using only quality 100% certified organic, non GMO ingredients to create certified vegan and kosher products which are low on the Glycemic Index, low sodium and Gluten Free*. What they don't do is include any additives, artificial flavours, artificial sweeteners, animal products, dairy, preservatives, quasi natural sweeteners, simple sugars, Sulphur Dioxide, cholesterol, wheat or gluten*.
*(All Taste of Nature bars are gluten–free–tested by the University of Nebraska, to contain less than 10 PPM (parts per million) of gluten. The Niagara Apple Country bars are made with gluten free oats, but regulations do not allow to make a gluten free claim. This is the only bar that Celiacs may want to consume with caution.)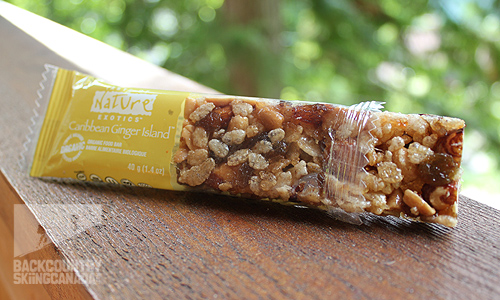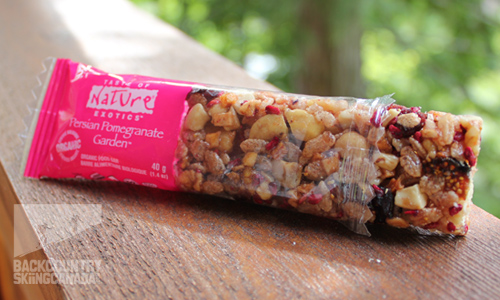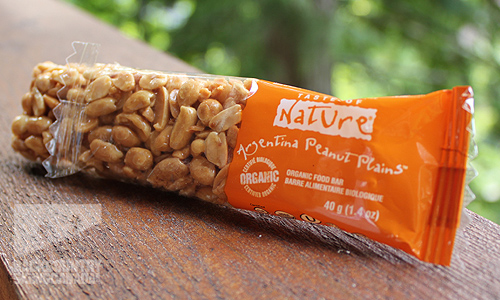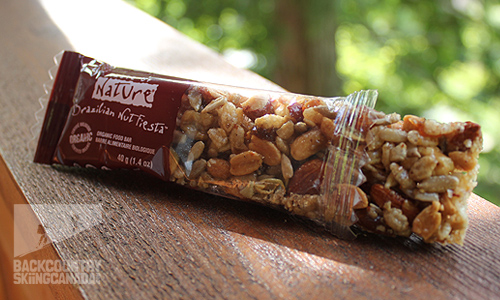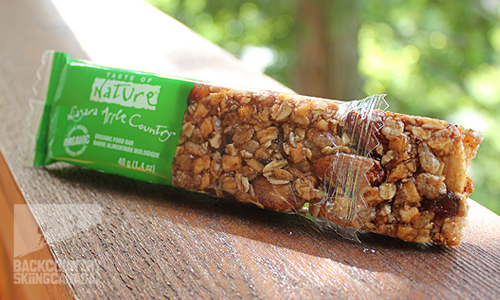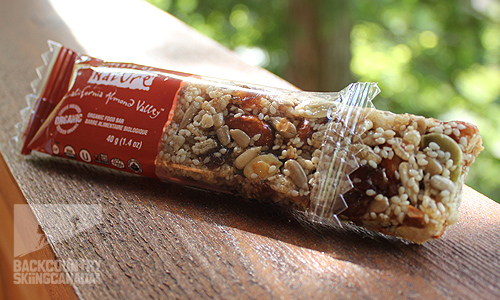 Green?
With so many companies claiming to be 'green' these days it is tough not to be skeptical. We were happy to find that Taste of Nature makes a decent effort to fulfill their social responsibility. They currently sources Bullfrog green power for the processing and packaging of their products. They donate their bars to the Salvation Army, Second Harvest and participate in events that promote environmental and ecological awareness. 10 per cent of their revenue is donated to Ecosource to help promote better eating habits in Ontario Schools. All of there ingredients are grown with sustainable farming methods. And, if that wasn't enough, they also produce a bar with 100% ingredients locally sourced from Ontario where they are based.
Health
Taste of Nature bars are a source of fibre, protein, essential fatty acids, omega 3 fatty acids, vitamins, minerals and trace elements naturally found in organic foods. They use agave and brown rice syrup for sweeteners instead of artificial or highly refined sweeteners. Their 100% organic ingredients are free from artificial flavours and colour.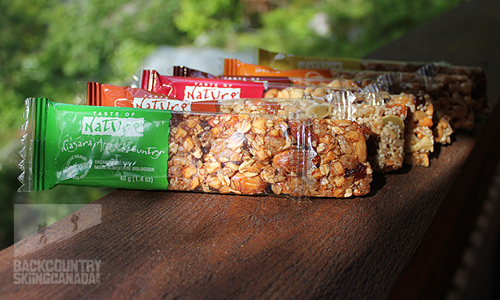 Verdict
Taste of Nature makes a great tasting product with good ingredients that you can feel good about eating. They're convenient and provide some energy and nutriton. About midday on a ski tour I crave something sweet and delicious to get me up that track for that third lap. Rather than reach for a chocolate bar or yogurt dipped, chocolate swirled, sweet and salty, sprinkled granola bar the Taste of Nature bars is a great alternative and makes me feel AOK about eating a sweet snack food. (TIP: For best results you should keep the bars under a few layers to keep them warm so that they maintain a soft and chewy consistency.)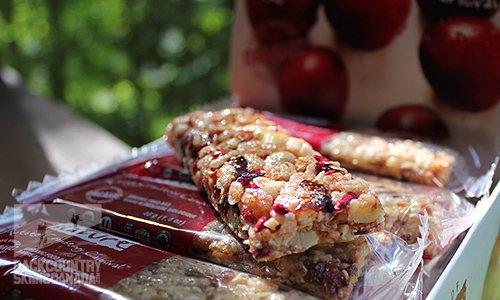 SPECS:
Price: $24US for a box of 16 bars
Flavours: Organic: Argentina Peanut Plains, Brazilian Nut Fiesta, California Almond Valley, Niagara Apple Country, Nova Scotia Blueberry Fields, Quebec Cranberry Carnival.
Organic Exotics: Canadian Maple Forest, Caribbean Ginger Island,Himalayan Goji Summit, Mediterranean Pistachio Passion, Perisian Pomegranate Garden
Weight: 40g / 1.4 oz
Awards: 2010 Gold for Consumers Choice product of the year and Silver medal for the Retailers Choice (Organic category) by the Canadian Health Food Association.
PROS:
The obvious place to start here is taste, but what makes you feel good long after you have inhaled the products is the companies environmental ethics and healthy ingredient list. Home Grown - Go Ontario!
CONS:
100% recyclable packaging would put the shine on their crown. Some may find these bars expensive compared to traditional granola bars (but we say you get what you pay for.)
Rating: 8.5/10
Ingredients      2/2
Taste               2/2
Effectiveness   1.5/2
Weight             1.5/2
Quality / Price  1.5/2

Join the discussion in the forums here, and let us know what you think. People like/dislike gear for different reasons so chime in and we'll get a well-rounded evaluation. Check back mid-season to see how our review stands up to our in-the-field testing.
Back to the rest of the reviews.
---