tasc Performance Bamboo and Merino base layers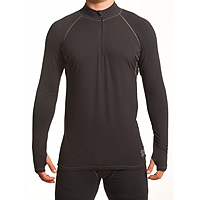 tasc Performance is a New Orleans-based performance apparel company with a proprietary bamboo-based fabric ("BamCo®") that aims to address the skin irritation and bad odor of polyester and pure merino athletic apparel. In the past five years, Tasc Performance has grown to offer an array of men's and women's athletic apparel for multiple sport pursuits.
We tried the tasc Performance Bamboo+Merino base system, including the midweight ("Brisk") pant, ¼ zip top and Peak Fleece Jacket over the past couple months with comfort and success. The unique bamboo-merino blend had excellent insulating qualities while living up to the anti-odor properties. It is soft on the skin and had no itch whatsoever.
Benefits of bamboo, according to Tasc:
· Extreme Comfort You won't want to take it off
· Anti-Odor No more odors from sweaty clothing
· Lightweight Feels like you are wearing nothing at all
· Breathable Regulates your temperature
· No Chemicals All attributes are inherent to the bamboo fibers
· Moisture Wicking Pulls moisture away from your skin and keeps you dry
· UPF 50+ Protects you from 99.9% of the sun's harmful rays
· 4-way Stretch Supports all forms of movement
While the tasc Performance items withstood the test, some small details such as the loosely embroidered logo had us questioning longevity, but no worries there.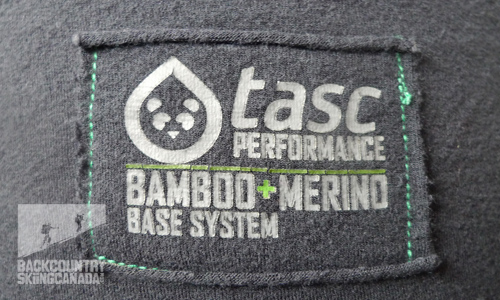 Here's the run-down on the pieces we tested:
tasc Performance Bamboo + Merino Men's Base Layer Level B 1/4-Zip:
Price: $90 US
Colour: Gunmetal grey
Size: Small - XXL
Fabric: 65% Viscose from Bamboo, 30% Merino Wool, 5% Elastane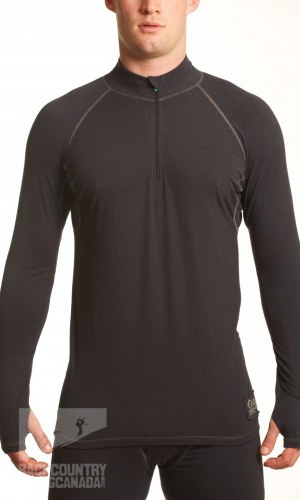 Features:
-Next-To-Skin Fit
-Strategic seam placement
-Underarm gusset
- Raglan sleeves
-Stand up collar
-Lock-down zipper
-Internal storm flap
-Thumbholes
The tasc Performance Bamboo+Merino fabric comes in three thicknesses: All-Weather, Brisk and Cold. We tried the Brisk and found it a fine balance between insulation and breathability for ski touring. The fabric wicks water surprising well (and much better than standard merino), is surprisingly comfortable and itch-free, and held up to extensive use well.

One small hold did form in the chest area, but that is not uncommon for a merino blend and these base layers need to be treated with a certain amount of care. This is not a complaint, but an observation.

The fit was comfortable, not too tight nor too loose. The 29" body length in the medium ensured adequate to tuck into the pant base layer and remain there.
The tucked away zipper is a nice touch and comfortable on the neck.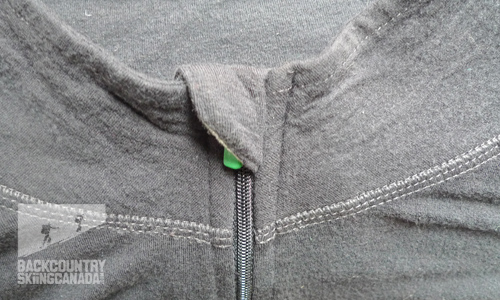 The thumbhole is useful to keep the sleeves in place and touring without gloves on. Some of the stitching was getting loose after daily use over the winter.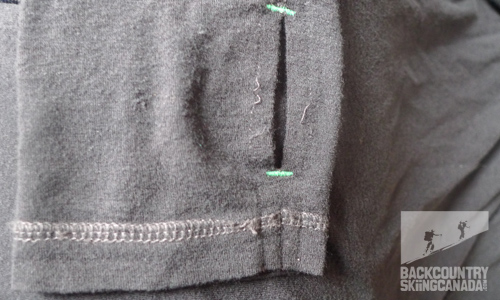 ---
tasc Performance Bamboo + Merino Men's Base Layer Level B Pant:
Price: $70
Colour: Gunmetal Grey
Size: Small – XXL
Fabric: 65% Viscose from Bamboo, 30% Merino Wool, 5% Elastane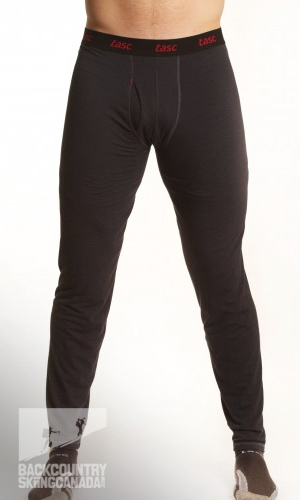 Features:
-Next-To-Skin Fit
-Plush elastic waistband
-Open fly
Like its matching top, the tasc Performance base layer pant is comfortable and wicks water better than any pure marino layer we've used. The bamboo adds an element of comfort while maintaining the insulating qualities of merino – a truly unique and exceptional fabric technology.

The pants were durable through the test period and the elastic waistband maintained its elasticity. The small open fly was not a huge advantage, but is there if you prefer to use such and exit.
---
tasc Performance Boxer Brief:
Price: $24 US
Colour: White,Heather Gray, Black, Kryptonite
Size: Small - XXL
Fabric: 55% Organic Cotton, 40% Viscose from Bamboo, 5% Elastane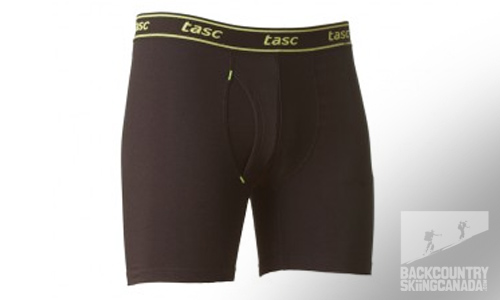 Features:
- Fitted
- 6" inseam
- Double layer FlowMesh™ panel at front
- Open fly
- Brushed elastic waistband

The tasc Performance Boxer Briefs use a mix of organic cotton and viscose bamboo to keep you comfy and dry with no petroleum based polyester fabrics. This combination worked far better than traditional 'wicking' base layer underwear and was much more comfortable. The elastane provided a comfortable and supportive feel and the simple design and colour options made for a great looking pair of briefs. A 5-pack is also available for added savings.
---
tasc Performance Peak Fleece Jacket:
Price: $95
Size: Small - XXL
Colours: Black, Thrive Green
Fabric: 53% cotton, 45% Viscose from Bamboo, 2% Elastane
The Velu fleece is soft to the touch on the inside and quite comfortable. The Velu is a cotton/bamboo blend that is supposed to wick water. While very comfortable, we found this mid-layer too bulky for technical use.
>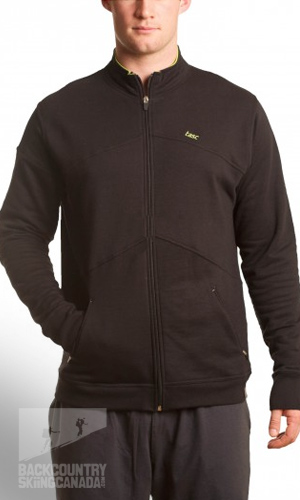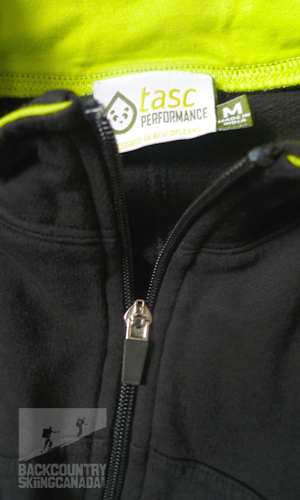 Features:
-29" body length on size large
-VeLu Performance Fleece
-Side Zip Pockets
-Ribbed cuffs and hem

tasc Performance touts the full zip fleece "is great for cold weather hiking or just running around town." We'd have to lean more towards the latter. The cut and feel of the fleece leans more towards casual wear than a true performance layer. The fit is a bit bulky under shells and simply doesn't fit into a proper, layered system as well as we'd prefer. The weight of the fabric, while good for lift-accessed skiing, is too heavy for hiking and excessive sweating.

Again, the Bamboo+Merino fabric is remarkably comfortable and we've enjoyed wearing this layer to work and around town on chilly winter evenings. The zippered pockets are roomy and comfortable and the garment is durable. For ski touring, Tasc's Explorer Fleece layer may be a slightly lighter, and better, mid-layer.
---
Verdict:
tasc Performance's proprietary BamCo® fabric strikes the balance between insulation and breathability. It is remarkably comfortable against the skin and dries much quicker than an all-merino blend, and the ani-odor claim holds true.
While merino wool has become an industry standard for base layers, we've found that they are easily torn and must be treated delicately. While the Tasc Performance base layers held up well over the test period, we did get a couple of similar small holes in the fabric. It's worth mentioning that these base layers must be treated with care, unlike other more durable synthetic undergarments – which have their own pitfalls.
We think tasc Performance has a wining blend with BamCo® and would recommend these base layers. The Fleece Jacket is not a technical mid-layer designed for ski touring and but should be appreciated as a comfortable jacket for casual use.
If you want to try tasc Performance base layers for yourself then click the links at the bottom of this review or visit the tasc Performance web site: www.tascperformance.com
PROS:
Extremely comfortable, wicks water and dries quickly, no itch and yet maintains the insulating quality of merino wool.
CONS:
Bamboo+Merino blend must be treated with care, as with all merino base layers. Fleece Jacket is not a technical mid-layer, but rather a comfortable jacket more suited to après ski. The long term durability is still in question.
Rating: 7.5/10
Fit / Comfort 2/2
Warmth 1.5/2
Moisture Management 1.5/2
Features 1/2
Quality / Price 1.5/2

This is only our opinion. Do you disagree? Did we miss something? Are we totally out to lunch? Join the discussion in the forums here, and let us know what you think. People like/dislike gear for different reasons so chime in and we'll get a well-rounded evaluation.
Back to the rest of the reviews.
---