Suntrica SolarStrap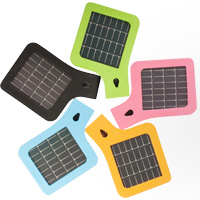 The Suntrica SolarStrap is a nifty, lightweight solar charging device that can be strapped on a backpack during a hike or around town and provides an often-needed boost to a cell phone, MP3 device, GPS or headlamp.
In this digital age we have an undeniable attachment to the mobile device charger. Plugging in is a necessary part of our lives, and when we get off the beaten track, away from the luxury of the outlet, our connection quickly starts to drain. This is where the Suntrica shines.
Compared to other heavy, bulky solar chargers, the SolarStrap is useful, light and convenient. Suntrica makes several models of the SolarStrap: the Basic for most mobile devices utilizing 5-volt systems, one specifically for IPod/IPhones and a High Energy Powerpack with enhanced battery power. We tried out both the Basic and the IPod versions; however, it seems probable an after-market adapter for the Basic could also be with an IPhone/IPod with success. The SolarStrap verion that has been rated for the Apple products comes with a cable and it is compatible with the iPhone 4, iPhone 3GS, iPhone 3G, iPod Classic, iPod touch and iPod nano (check the generations to make sure that it will work with older products.)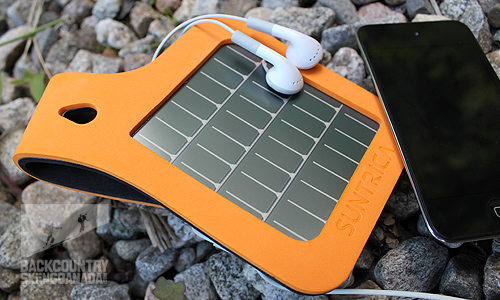 The Suntricas is more for small juice-ups as apposed to recharging devices on long trips from zero. We used it for a few months and always took it fully charged and then plugged it into the IPod. Realistically, the SolarStrap is best utilized by topping up a charge as mobile devices typically have only about 300 full cycles (or charges) before they are unable to hold a full charge any longer - better to keep it 'plugged-in' to make it last longer.
It took us 25 hours to charge the Suntrica from zero to full charge in the sun - two solid days of full sun no cloud - not really practical. But if you charge the SolarStrap on your computer and take it on a trip at full charge, hanging it off your pack to keep it topped up, it's very effective for boosting your device for a full week…well beyond the regular charge life of a typical mobile device.
The Suntrica is housed in lightweight, dense foam case. The 2-flap design easily straps to backpacks.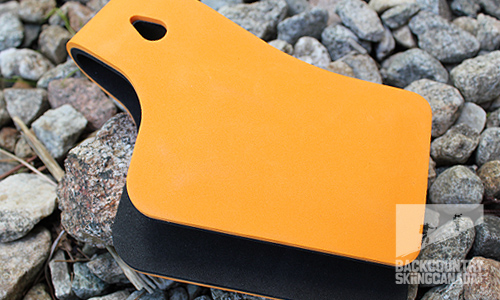 The solar cells of the Suntrica are flexible and light.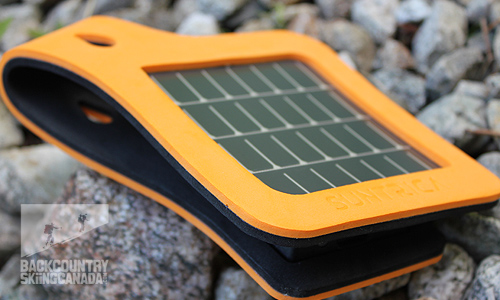 The battery case lives on the back flap of the unique Suntrica design.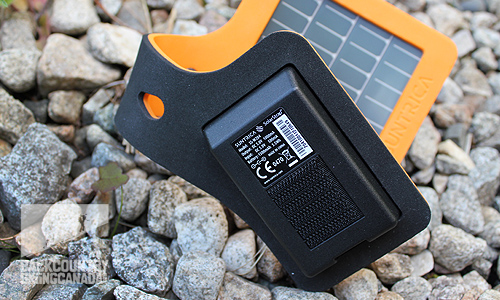 A small LED light on the bottom of the battery indicates the charge cycle.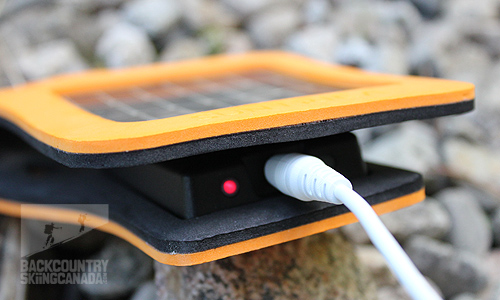 The best way to maximize the Suntrica's life is to charge it on your laptop so you can let the sun top it up on your travels.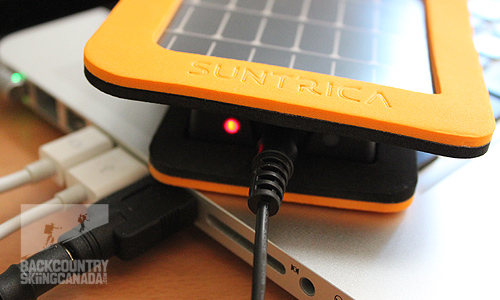 While there are two models for the Suntrica solar device, one for most electronic devices and one for Ipod/Iphones, we suspect with an after-market adaptor the Basic would work just as well with any Apple product.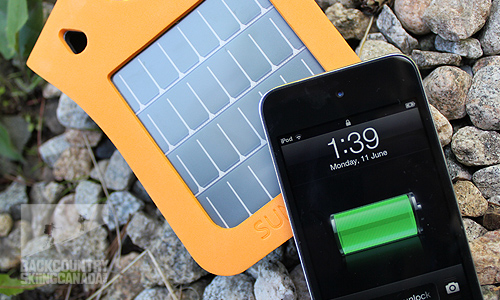 Verdict:
The Suntrica SolarStrap is a useful way to boost the charge life of your mobile device with little weight penalty. There's something undeniably cool about harnessing the power of the sun at your back while walking around town or in the backcountry. While the SolarStrap is not practical at charging a device from zero, it is effective for giving a boost to keep your mobile device, headlamp or GPS running much, much longer. It also won't operate effectively at temperatures below 0' Celsius, so it's a fair weather companion not intended for winter use.
Check out how we used the Suntric Solar Charger to power ourSuunto Ambit GPS watch on an 18 day trek around Mt. Everest in Nepal.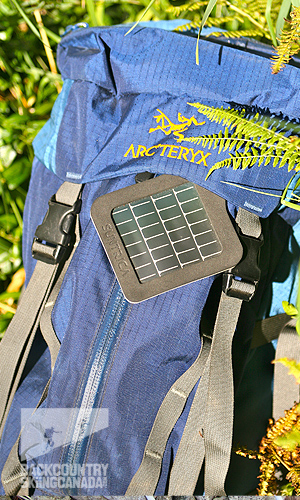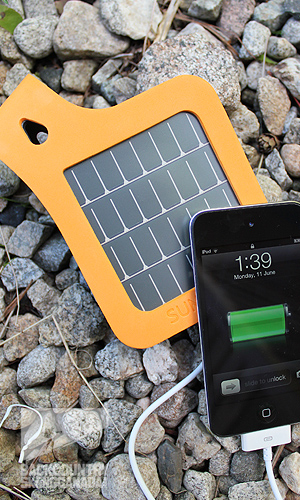 SPECS:
Price: W204 $69CAN, W205 + set of 4 adapters $69CAN, W204 Universal $79CAN
Rated input (AC charger): 5.0 VDC, 500 mA
Rated output: 5.0 VDC, 1000 mA
Battery capacity: 1500 mAh, 5.5 Wh
Operation temperature: +0°C ... +50°C
Enclosure: Flexible, splash proof made from RoHS compatible, PVC-free and halogen-free materials and processes
Dimensions (folded): 161 x 120 x 27 mm / 6.34" x 4.734" x 1.078"
Weight: 65g / 2.3oz
PROS:
- Lightweight
- Convenient
- Practical and easy to use design
CONS:
- Could use more battery power (we didn't try the High Energy Powerpack)
- Not for winter use
Rating: 7.5/10
Ease of use       1.5/2
Features           1/2
Quality             1.5/2
Size / Weight    1.5/2
Price                 2/2
This is only our opinion. Do you disagree? Did we miss something? Are we totally out to lunch? Join the discussion in the forums here, and let us know what you think. People like/dislike gear for different reasons so chime in and we'll get a well-rounded evaluation.
---

---
Backcountry skiing is an inherently dangerous activity that requires experience and knowledge to travel safely. Any of the routes on this site may be dangerous depending on conditions. You are responsible for your own safety in the backcounty—the team behind backcountryskiingcanada.com disclaim any responsibility for any injury resulting from people travelling on routes described on this site.  To read our Terms of Use and get all the details, read HERE. 
---