Stoic Bombshell Jacket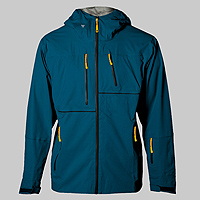 Stoic is the house brand of the online gear retailer backcountry.com. As with most house brands the technology on the Bombshell Jacket is not name brand and the price point is quite a bit lower than other jackets in this category. Normally with gear you get what you pay for, but there are exceptions, I was interested to find out if the Stoic Bombshell was one of these.
At the time of writing the Bombshell Jacket was on sale for $181 USD (Reg. 259.00) making it a bargain in the world of ski shells.
To be perfectly honest, I am a bit of gear snob and I did not expect much out of this jacket when it first came to me. On my first inspection my bias came out and my first notes were "micky mouse zippers," and "what is this fabric? Will it breathe?" After a more thorough test – those turned out to be the only serious concerns that emerged.
This is a pretty good looking coat, the cut is good, nice and bright (certainly not easy to keep clean, but takes good pictures), so if aesthetics are important to you when you are in the backcountry this coat meets the criteria. The Bombshell does fit pretty long in the body, which as a taller person I appreciate, but might get to be a bit of a dress and restrict mobility on those with a shorter torso.

The Bombshell kept me dry from the outside in all the conditions I tested it in; however waterproof is the easy part of the waterproof/breathable part of the equation, breathability is the one you pay for. I would rate the breathability of this jacket as "OK" - the pit zips (mesh backed) and welded seams add to the overall breathability but the fabric certainly does not move moisture as well as Gore Tex, Event or some of the big name proprietary membranes. As a disclaimer I tend to run pretty warm and sweat a lot so I am pretty sensitive to breathability. Someone that generates less perspiration might be able to make this work for them.
One thing that I really like about the Bomshell is the face fabric; it has a very nice soft feel to it and a four way stretch, this makes it comfortable and quiet to move and walk in. Other features that add to the performance of the Bombshell are hand gaiters which ensure that the pow can't find its way up your arms. It also has a very large hood (will even fit over a smaller profile helmet) with a storm toggle to ensure that it is snug around your head when you are wearing it. One complaint with the hood and collar is that when the hood is up and the jacket fully zipped it leaves a very small face hole making it difficult to get snacks in, and trapping most of the moisture from your breath.
I mentioned above concerns from my early notes – breathability and zippers. The breathability I talked about earlier. The zippers although I did not have any issues with while I was testing however I still have reservations about them as they do not seem very substantial and seem similar in style to ones I have had issues with in the past.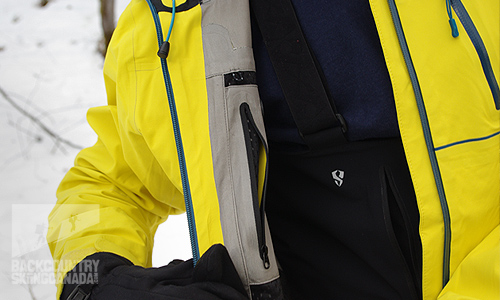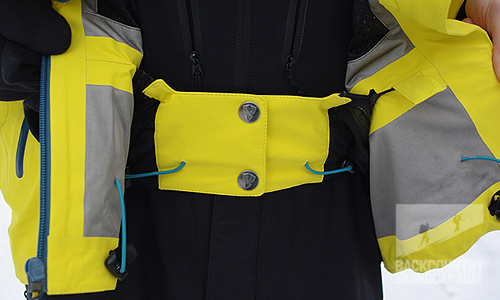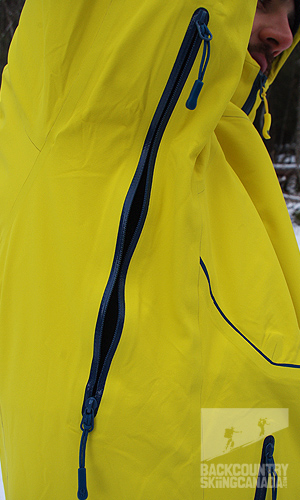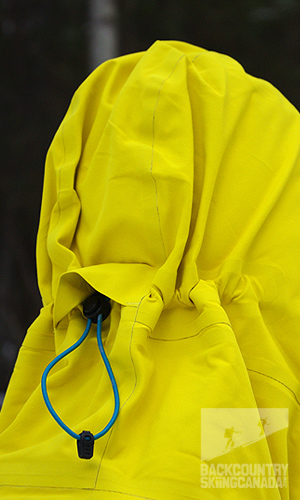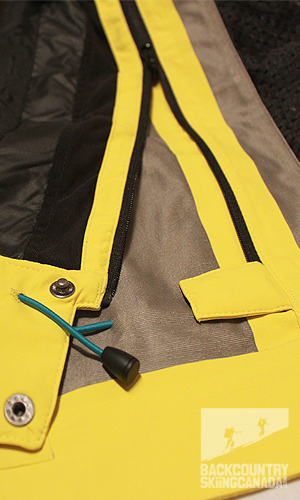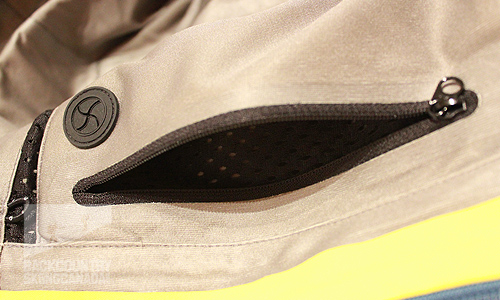 Verdict:
The Stoic Bombsehell Jacket is a great deal. The limited breathability is a big concern for me, but for those that don't run as hot, it may be a great option. Backcountry.com stands behind this product and I did not come across anyone that had issues making use of the lifetime warranty on the Bombshell. I would not put this jacket in the same category as high end hard shells but it is a great bang for your buck.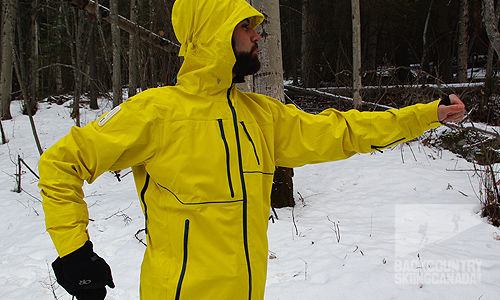 SPECS:
Price: $259 US
Weight: 1.75lbs (794g)
Seams: Fully Welded
PROS:
- Great Value
- Good aesthetics – good fit plus bright colour option for good pictures and good visibility in the Backcountry
- Hand gaiters
CONS:
- Only available online
- Breathability is OK
- Small face hole
Rating: 8/10
Fit / Mobility 2/2
Packability 1.5/2
Waterproof / Breathable 1/2
Features 1.5/2
Quality / Price 2/2

This is only our opinion. Do you disagree? Did we miss something? Are we totally out to lunch? Join the discussion in the forums here, and let us know what you think. People like/dislike gear for different reasons so chime in and we'll get a well-rounded evaluation.
Back to the rest of the reviews.
---