Smith Vantage Helmet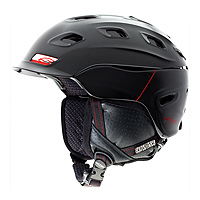 For a lot of people, ski touring and helmets aren't a great match—you've got to lug them up to the top of your run, they take up a bunch of space in your pack; the list of excuses goes on. The bottom line is, however, your mellon is better off with a dome piece than without one in the event of an accident.
I've been skiing for 30 years, with and without a helmet. For the past few years, when I've decided that my ski plans necessitated a helmet, I've most often reached for my climbing helmet—it's light and doesn't take up much space in my pack. In reality, what would a climbing helmet do in the event of a ski crash? Since they're designed to protect against rockfall, they probably wouldn't offer a whole lot of protection if you were tomahawking down a steep, rock-walled chute.
The Smith Vantage is an interesting piece of headgear. It's got fresh style and even a little bling—I could go without that stuff, but I guess the kids like it these days. More importantly it seems to be durable, light weight (a size large weighs 466g without the ear flaps), well ventilated and a solid piece of head protection.
While I find the visor to be a bit too chic, who's to argue about keeping a bit of the sun out of one's eyes. There are two vents located at the base of the visor which are intended to direct airflow into your goggles; personally, I didn't notice any difference. I counted 20 evenly spaced vents (12 of which can be opened or closed.) on the shell of the helmet. On cold days, you can close them up and keep your noggin toasty and when you noggin's roasting, open them up to vent some steam. For the sake of experimentation, I tried wearing it while touring on a cold day (-12C). The helmet kept my head comfortably warm while breaking trail and I could hardly notice the additional load on my head.
The Hybrid SL construction combines durability, safety and a weight-conscious design. At first glance, it seemed to be constructed similarly to a cycling helmet, but when examined closely, the shell is substantially more solid and can withstand the abuse of ski touring. The in-molded foam offers the impact absorption you need in the event of a high-speed crash.
The Vantage has a couple of other features that also make it a solid helmet, such as the Boa fit system and the goggle lock. The Vantage sports an X-Static Performance Lining for comfort and warmth. I found I could comfortably wear both a Buff and my fleece hoody underneath the helmet. The design of the helmet integrates well with goggles, however, I found it was hard to find a good place to perch my goggles when I didn't want to wear them over my eyes—thumbs down on the visor.
All in all, this helmet does the job, though I haven't really tested its impact absorption.
Features:
- Hybrid SL Shell Construction combines Bombshell technology with In-Mold technology
to create a lightweight low-profile helmet that fits well without compromising protection
- Boa fit system lets you adjust the size of the helmet with precision
- Snapfit SL Ear Pads are removable for spring riding
- X-static lining features a soft, moisture-wicking, silver-coated fabric that moves sweat
away from your head while you hike or shred
- Dual-density EPS liner provides lightweight industry-standard protection against impact
- Two rear sliders adjust front and rear vent zones to keep your head cool
- Removable rear clip locks your goggle strap in place
- Optional Skullcandy audio uses wires so you can jam out on the chairlift (Skullcandy sold separately)
Helmet profile. Vents galore.

The visor in question.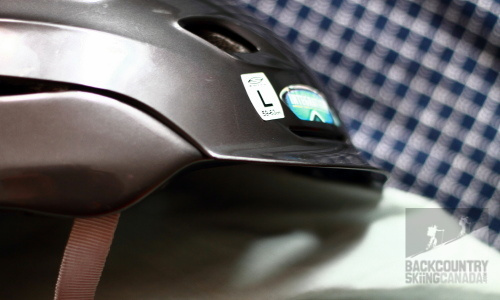 Ba-ling. Part of a very comfy under-chin attachment.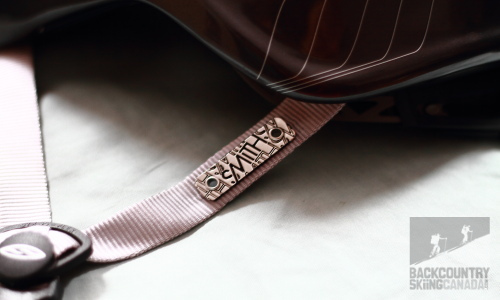 "X-static" lining wicks away sweat to remain dry.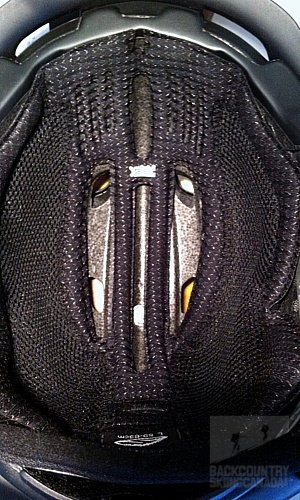 From the rear with goggle attachment.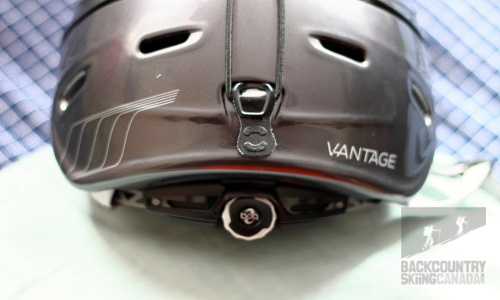 Close-up of Boa, dial a fit, system.

Verdict:
It's a helmet and a pretty sweet one at that. I could do without the visor, but aside from that, the Smith Vantage dome piece cuts the mustard—it is reasonably light, durable and well ventilated. The vent control is a nice feature, though for weight sake, I'd opt out on it. Lastly, there is no way to attach a headlamp to this rig, perhaps Smith could incorporate a page out of the climbing helmet book in their future design. Who wants to lose their torch while night shredding.
Inadvertent tree-hugger experiences the Vantage advantage.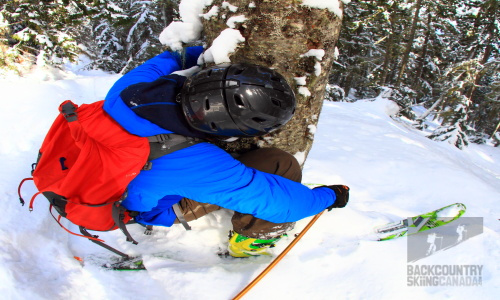 SPECS:
Price: $200 CAN
Sizing: Small 51-55 cm, Medium 55-59 cm, Large 59-63 cm, X-Large 63-67 cm
CERTIFICATIONS: ASTM F 2040, CE EN 1077:2007 CLASS B
PROS:
Solid construction, reasonable weight and comfortable.
CONS:
Visor and a lack of headlamp attachment points.
Rating: 8/10
Comfort / Fit 2/2
Features 1.5/2
Function 1.5/2
Quality 1.5/2
Price 1.5/2

This is only our opinion. Do you disagree? Did we miss something? Are we totally out to lunch? Join the discussion in the forums here, and let us know what you think. People like/dislike gear for different reasons so chime in and we'll get a well-rounded evaluation.
Back to the rest of the reviews.
---