Sherpa Adventure gear Gyalzen soft shell pants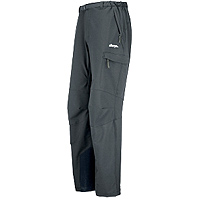 Sherpa Adventure Gear designs and manufactures their products in Nepal and tests them on the 8,000 meter peaks next door in the Khumbu region (think Mount Everest). This is thanks to Tashi Sherpa, of the Sherpa people, who founded Sherpa Adventure Gear in Kathmandu, Nepal.
One product that Sherpa Adventure Gear has created is the Gyalzen soft shell pants, a light-weight version of their popular Himal technical climbing pant. The Gyalzen soft shell pants are ideally suited for backcountry ski touring in warmer climates or closer to the spring when they will provide enough warmth and protection from the elements. The stretchy, lightweight fabric is breathable, wind-resistant and water-repellent.
The Company:
Tashi Sherpa started Sherpa Adventure Gear in 2003 to make outdoor clothing and raise awareness for the Sherpa people and all that they do. He also wanted to help make a difference so 50¢ from every product sold is directed to a special fund for the underprivileged Sherpa children of Nepal. Still based in Kathmandu, Nepal, Sherpa people are employed to create and manufacture the products. They are ideal gear testers working in some of the harshest environments in the world. The word Sherpa means "People from the east", referring to the origins of the Tibetan people who fled to Nepal. The word Sherpa is actually pronounced "Shar-wa".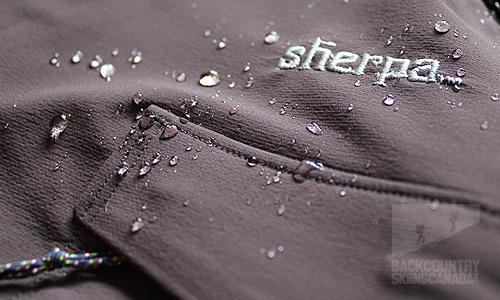 Features:
Gusseted crotch: Provides a comfortable fit with less fabric seams in the way and more range of motion.
Articulated knees: Enhances range of motion and provides a more natural fit.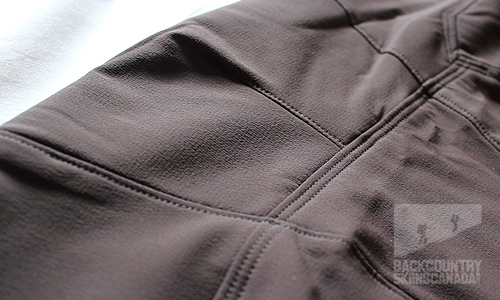 Waist closure system: The elastic waist has an integrated webbing belt, snap and hook & eye to ensure things stay put.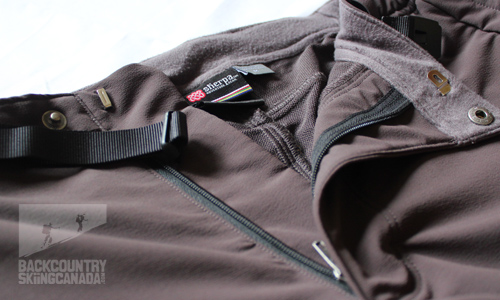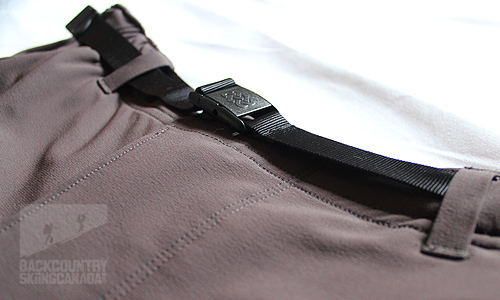 Pockets: Two hand and two cargo pockets for stowing essentials items like maps and snacks.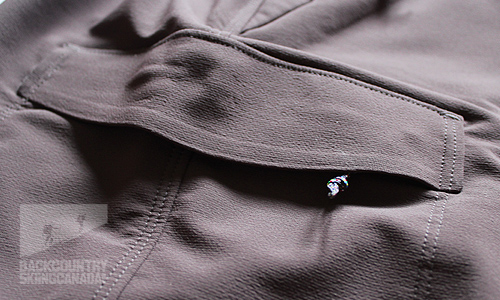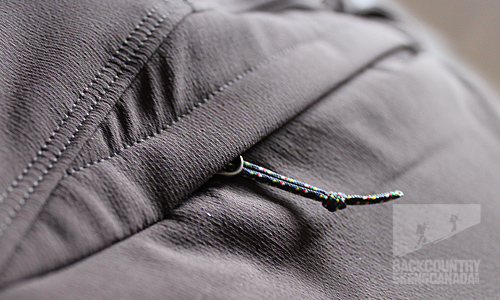 Hem adjustment: Hems can be adjusted via hidden draw string cords to keep spring corn snow out.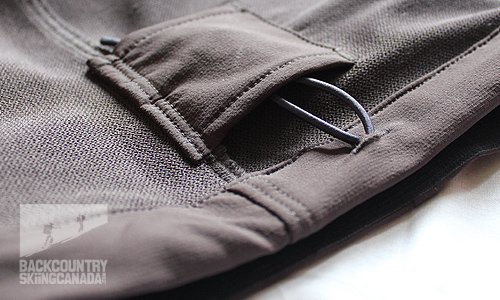 Instep Patches: Abrasion resistant patches on the inner ankle area protect against errant ski edges and crampons.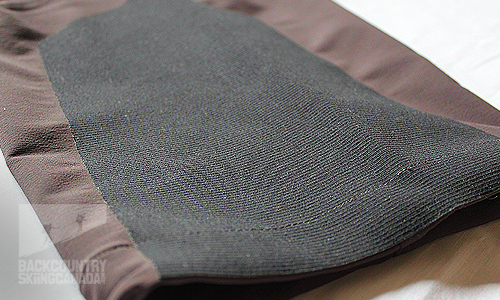 Verdict:
For a spring ski touring specific pant the insulation value of the Sherpa Adventure Gear Gyalzen soft shell pants can't be beat. The 60% Tactel, 30% Coolmax, 10% Lycra combo keeps you cool on those sunny warm April days that can get down right hot when you are churning out the last 1000' of the climb. Most soft shell pants provide some insulation which works well mid winter but come spring time you end up cooking yourself on the uptrack. The Gyalzen soft shell provide little in the way of warmth (which is good) but do offer up some wind and rain protection should you need it. The cordera patches on the instep are a life saver as I would have sliced and diced the soft-shell material several times over already. It would be nice thought if the rigidity and contrasting colour of these were downplayed a little so these could be a true multi-use pant and even work as a casual pant around town. Thanks again to the fabric make-up for the huge stretch and range of motion - perfect for breaking trail in spring slop. Overall the fit was ok (a little wide for my frame) but I was able to cinch them up well given the combination of snap, belt and hook - a bit of overkill perhaps?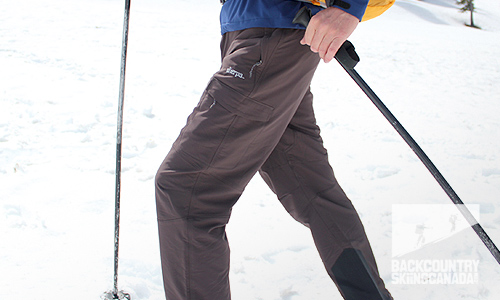 For a behind the scenes look at product development at Sherpa Adventure Gear watch the following video tour with the president of the company:
SPECS:
Price: $109 US
Colour: Grey, Brown
Weight: 16.6 oz / 470g
Fabric: 60% Tactel, 30% Coolmax, 10% Lycra
Size: S,M, L, XL, XXL
PROS:
Light weight and very breathable for spring ski touring while providing some wind and water resistance.
CONS:
The hip belt is clunky and needs some refinement. Thigh pockets are difficult to access due to the storm flap. Brown colour not too popular.
Rating: 7.5/10
Fit / Mobility 1.5/2
Packability 2/2
Warmth / Breathable 1.5/2
Features 1.5/2
Quality / Price 1/2

This is only our opinion. Do you disagree? Did we miss something? Are we totally out to lunch? Join the discussion in the forums here, and let us know what you think. People like/dislike gear for different reasons so chime in and we'll get a well-rounded evaluation. Check back mid-season to see how our review stands up to our in-the-field testing.
Back to the rest of the reviews.
---