Sherpa Adventure Gear Varun Jacket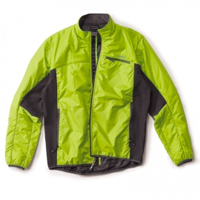 We here at Backcountry Skiing Canada are big fans of Sherpa Adventure Gear and the story behind the company. We have been reviewing their products for several years now and on a recent trip to Nepal we paid a visit to the head office and spoke with founder and CEO Tashi Sherpa. We were able to see the entire Sherpa Adventure Gear line of products in one place. Like a kid in a candy store I made a mental note of the most intriguing products for you, our readers.
High on that list was the Sherpa Adventure Gear Varun Jacket. This is a Primaloft jacket with 100% recycled polyester shell and softshell side panels. These soft shell panels are strategically placed to give you an increased range of motion and also let the heat escape when needed. The front and back of the jacket is filled with 40 grams of Primaloft Eco insulation for warmth where it matters. The "Eco" following the word Primaloft means, as you likely guessed, that this Primaloft insulation uses post-consumer recycled material to create an earth-friendly insulation. Approximately 6 plastic bottles were used to insulate this jacket. Add to that the 100% recycled polyester shell fabric and you can see that Sherpa Adventure Gear's priorities shine through on this product. Although the 100% recycled polyester shell will not stop a deluge, it will repel a sprinkle and protect you from the wind's bite, while the Primaloft Eco keeps you warm and snug inside. If the insulation does get wet rest assured that it will still provide some warmth, unlike down.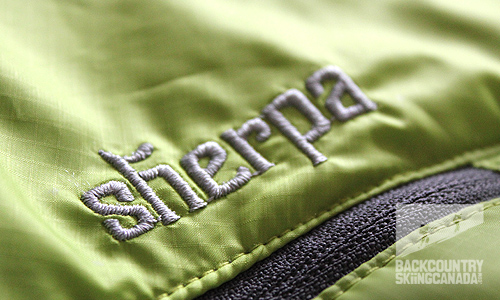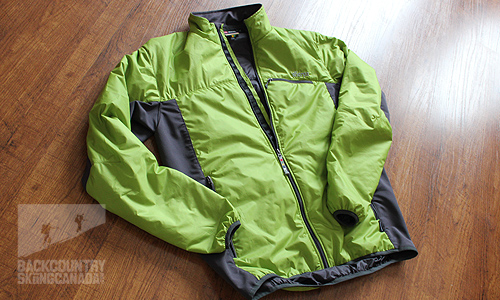 Features:
Hand pockets have zip closures and garages
On-seam chest pocket will hold a music device
Hem and cuffs are welded for a streamlined, low-bulk feel
Pockets are placed high for accessibility while wearing a pack belt
Zipper backing provides wind protection
Articulated elbows for an extra comfort

Chest pocket for small items or media player.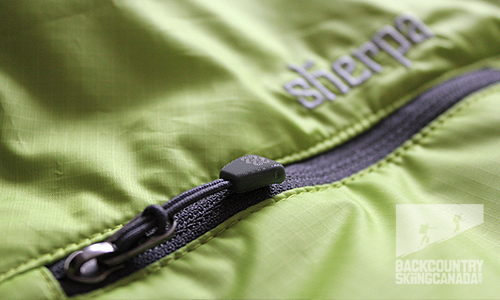 Prayer flags on the main zipper pull are standard.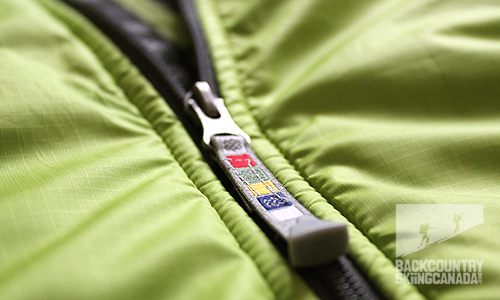 Cuffs are elasticized to keep wind and snow out.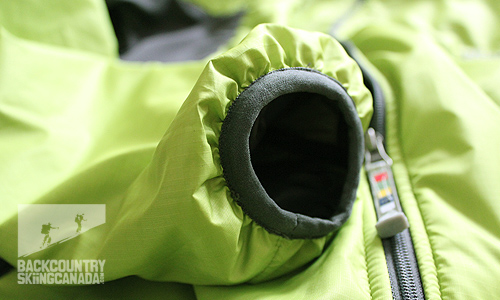 Soft shell fabric under the arms and at the sides for ventilation.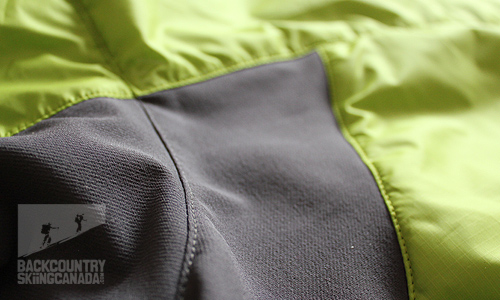 Fabric:
Shell fabric: 100% recycled polyester
Soft shell side panels: 93% polyester / 7% Spandex
Insulation: PrimaLoft® Eco (40 gsm)
Verdict:
I run a little hotter than most people so down is not my friend unless it's really cold outside. It's also not much use if it gets wet and it also needs a little more special care and attention. For these reasons I am a fan of Primaloft insulation and the new Eco version in the Sherpa Adventure Gear Varun Jacket is right for me for many reasons.
This is a jacket that works on the skin track as well as a mid layer at the resort, mountaineering or in the off-season. It is well-built and super comfortable with out adding bulk to my layering system. Typically jackets of this nature tend to use Pertex which is lighter and said to be as strong as polyester but I like the reliable feel of the polyester and being 100% recycled, well that seals the deal.
The Sherpa Adventure Gear Varun Jacket is light and packable, two qualities that are ideal for ski touring. The soft shell side panels are another nice feature that let in a bit of a breeze to prevent you from over heating while exerting yourself but also keep you warm enough when not going full bore.
The only two issues I would raise are the fact that the elasticized cuffs are too tight for my (average sized) wrists and the chest pocket lining is not stitched down to anchor the bottom so it comes out when you remove the contents. Minor issues on an otherwise impressive piece. Keep producing more products with recycled content is what I say!
For the full scoop on Sherpa Adventure Gear have a read of the story behind the company and if you are interested in other Sherpa Adventure Gear product reviews have a read about the Sherpa Adventure Gear Mukti Pullover and the Sherpa Adventure Gear Banns Tech Quarter Zip.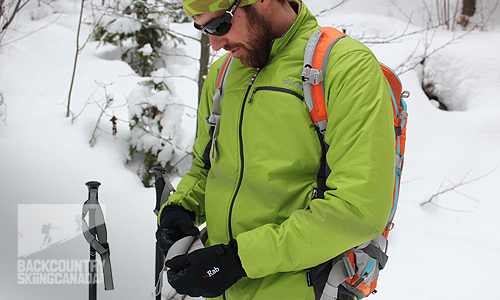 For a behind the scenes look at product development at Sherpa Adventure Gear watch the following video tour with the president of the company:
SPECS:
Price: $190 CAN
Size: S-XXL
Colour: Karela Green/ Kharani, Num Blue/ Kharani, Kharani, Tibetan Coral/ Kharani,
Weight: 538g / 19.0oz
PROS:
- Zonal construction offers up warmth with some venting
- Comfortable with minimal bulk considering the warmth it provides
- Great colour selection
- Recycled fabrics are the right things to do
- Nylon lining makes for easy on/off with long-sleeves
CONS:
- Elastic cuffs are very tight
- Chest pocket lining is not stitched down to anchor the bottom
Rating: 8.5/10
Fit 1.5/2
Packability 2/2
Warmth 2/2
Features 1.5/2
Quality / Price 1.5/2
This is only our opinion. Do you disagree? Did we miss something? Are we totally out to lunch? Join the discussion in the forums here, and let us know what you think. People like/dislike gear for different reasons so chime in and we'll get a well-rounded evaluation.
Back to the rest of the reviews.
---