Sherpa Adventure gear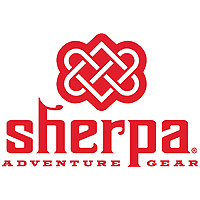 In November 2012, we visited Sherpa Adventure Gear HQ in Kathmandu, Nepal, where Tashi Sherpa and his support crew climb mountains of a different kind everyday as they manufacture quality outdoor gear in one of the poorest countries in the world.
Backcountry Skiing Canada first stumbled across Sherpa Adventure Gear online a few years ago and were intrigued. At sherpaadventuregear.com you will find a first-rate range of men's and women's outdoor adventure and mountain apparel. The site features Sherpa mountain athletes wearing hard shells, down jackets and mid-layers with himalayan backdrops that create an exotic mountain appeal. On the About Us page you will read how a magazine article on the 50th anniversary of the first ascent of Everest inspired company founder Tashi Sherpa to create Sherpa Adventure Gear and thereby raise the profile of Sherpa and Nepali people world wide. Though the story is compelling you would be forgiven for wondering if the Sherpa story was another clever marketing myth, after all, you can't believe what you read online these days—right?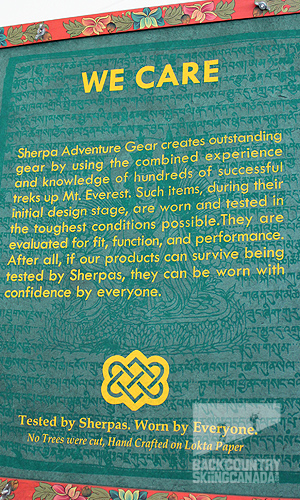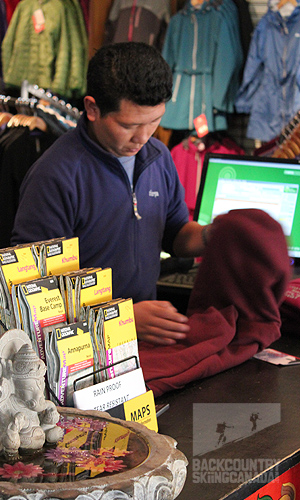 A deeper investigation into this relatively new and exotic outdoor clothing brand reveals a story that is even more compelling than the one you can read on their About Us page. This is the story of a unique business model, an altruistic for profit that manufactures high quality goods despite some truly challenging circumstances.
If you have not travelled to Nepal, you would still likely have a sense of the mystic surrounding this small mountainous country. The average glossy tourist perspective would be a country that is rich with culture, spiritualism and incredible natural beauty not to mention that your dollar can go a long way. The day-to-day reality of life and business on the ground however is not so sugar-coated. Nepal is recovering from a decade-long civil war where economic growth continues to be compromised by political uncertainty. There is a continuing burden of a poorly skilled workforce, strong labour unions, fuel shortages, unreliable and sometimes insufficient infrastructure as well as frequent natural disasters. To top it off, this land-locked country is sandwiched between and at the whim of two global heavy-weights—India and China.
A risky place to set up shop as a quality gear manufacturer you might say? Not so for visionary and entrepreneur Tashi Sherpa. You see, the primary goal of Sherpa Adventure Gear is to bring business back to Nepal to support the Nepalese community. At it's core, Sherpa Adventure Gear is a labour of love. Backed by a few key seed investors it is essentially a family-run business. The depth of commitment and tenacity that has been required to establish this level of manufacturing in Nepal is the equivalent of climbing Everest without oxygen. And it's no coincidence that it took a Sherpa at it's helm to make it happen. With unfailingly positive attitudes, legendary strength and resilience the Sherpa people have a reputation for being well-suited to the rigours of high-altitude climbing. It's in their blood. By applying these cultural traits in business Tashi and his counterparts have been able overcome overwhelming obstacles and focus on the possibilities.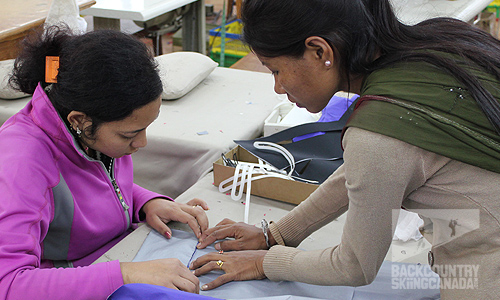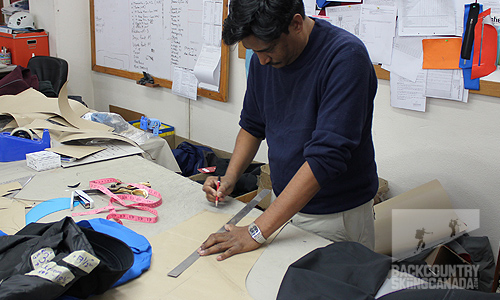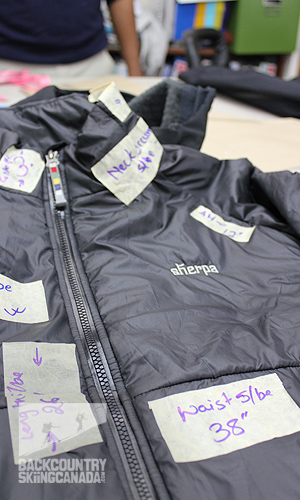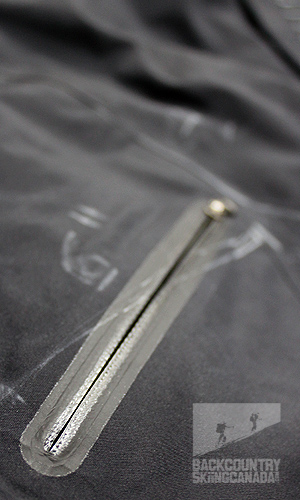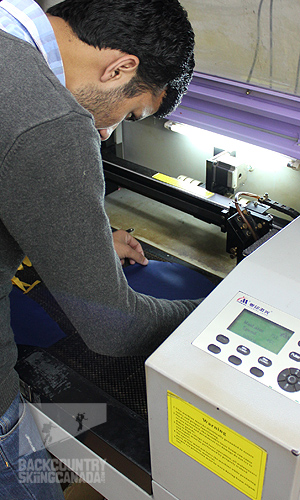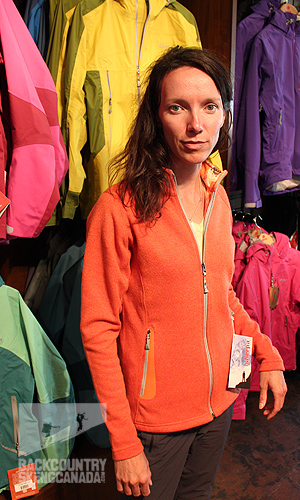 When Sherpa began manufacturing in Nepal nine or so years ago every jacket was made by hand. At that time there were no skilled workers to create the jackets and experts were flown into Kathmandu to teach the highly specialized skills required to work with technical fabrics and garment construction. It took three years of trial and error before they shipped any technical pieces. Today when you walk into the Sherpa HQ sample room you could be forgiven for thinking you were in the sample room of a boutique gear manufacturer somewhere in North America. The room is a buzz of activity with highly-skilled and adept pattern-makers, cutters, seam-sealers and laser-cutters. Then the lights go out momentarily and you are back in Nepal. Kathmandu currently has 7 hours per day of rolling blackouts to accommodate the growing demand on power resources. A back-up generator seamlessly kicks in and it's business as usual. There is something about adversity that inspires resourcefulness, both of which are in no shortage at Sherpa HQ, though you would have to look closely to notice the day-to-day hurdles—from an outsiders perspective the operation is slick.
Built in the heart of Kathmandu down the road from the tourist district of Thamel, the Sherpa Adventure Gear flagship store is a travellers oasis. The textile fruits of their labour hang from well-organised displays providing a welcome contrast to the pollution, chaos and noise of Kathmandu streets. The quality merchandising is the legacy of an REI employee whom Tashi imported for 3 months when the store first opened 3 years ago. At that time, there were no precedents for retail merchandising in Nepal, so retail staff were trained in order to continue merchandising to REI standards. Tibetan-style decor and motifs compliment the colourful apparel lending a warmth and cheer that is a reminiscent of the Sherpa culture. A patchwork of toques decorate the back wall, all of which were hand-knitted by women in nearby Bhaktapur. Eighty per cent of all Sherpa items are manufactured in Nepal.
Every item within the store is finished with an endless knot a buddhist symbol that represents that all things in all ways are tied together as one. Zipper pulls are finished with a mini prayer flag which, according to Tashi, are added in appreciation to help the wearer stay in balance with the sky, wind, water and earth. Though your understanding of prayer flags may have been tainted by the hippy house down the road, this is different. Sans western appropriation or idealization, this is sincere Sherpa. They have a license to use prayer flags but with this comes an ongoing responsibility. As the company grows Tashi's concerns, in his words, include, "How do we maintain authenticity? How can we do things the right way? How will this decision impact the people who work for us, the people that depend on us?"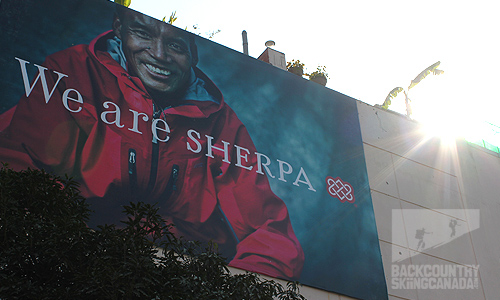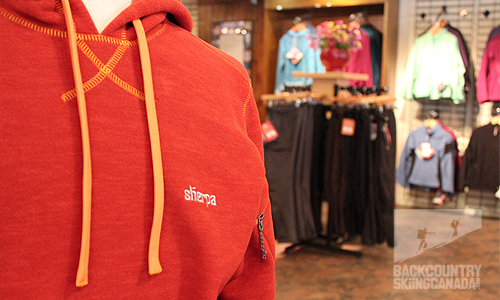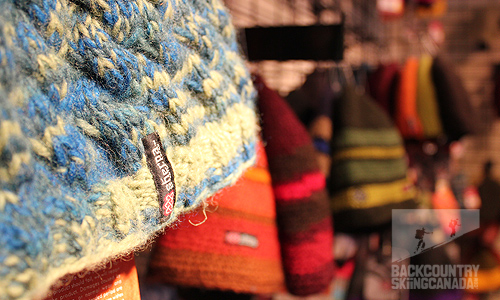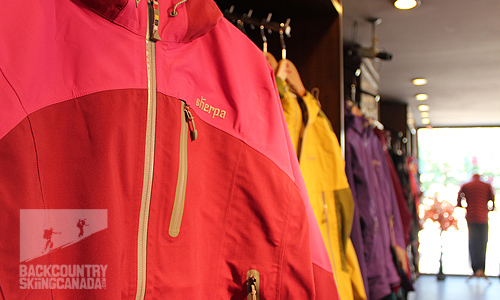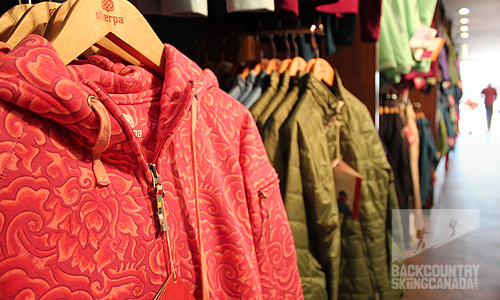 Upstairs from the retail showroom are the Sherpa head offices for Nepal. We sit in Tashi's office as he raises these questions and explains a philosophy where his ancestors wisdom meets modern gear manufacturing. Tashi continues, "People who don't know us inevitably ask, 'Why in the face of all the contradictory evidence do you make goods in Nepal?' The challenges are many and sometimes daunting, but they have never stopped us from making any other choice but this." This commitment to improving life in Nepal hinges on Sherpa Adventure Gear being a successful business so that they can continue to invest in Nepal. So far so good. Not including satellite factories they have approximately 300 employees in their production house and 50 employees in their Kathmandu head office. They have retail outlets in Namche Bazaar and Pokhara, two major trekking destinations of Nepal. Their product is distributed internationally and they have their sights set on opening a flagship store in Seattle in a few years. As business grows, a portion of every sale contributes to the The Paldorje Education Fund, a foundation that provides scholarships for the children of factory workers, low-income workers as well as the children of guides who die while leading treks and expeditions in the Himalaya.
We walk back down to the showroom to browse the growing Sherpa line. As I admire a lilac-colour Event hardshell, I no longer take for granted the grand orchestration that was required to produce it. I follow the path of production wondering how the materials were sourced and how many countries were they sourced from? After sourcing from five different places overseas did they arrive on a Tata truck via the one road that leads into Kathmandu from India? Whose technically skilled hands perfectly sealed these seams? How many hands did it take to complete this jacket? What was life like for each of them? What do they dream of? And then my fingers ran over the embroidered endless knot and i was reminded that all things in all ways are tied together as one.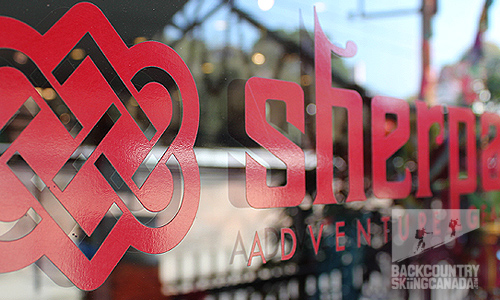 Take a closer look at some Sherpa Adventure Gear pieces, read the reviews on the GYAKZEN SOFT SHELL PANTS, KHANGRI SOFT SHELL JACKET and the SHERPA ADVENTURE GEAR KARNALI SHIRT, SONAM QUARTER ZIP, KOSHI SHORTS & SABA-TEK PANTS.