Sherpa Adventure Gear Mukti Pullover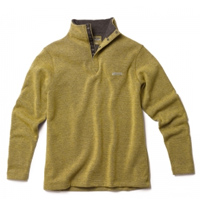 Sherpa Adventure Gear is slowly expanding their product line from the more utilitarian outdoor adventure gear towards lifestyle and leisure garments. The Sherpa Adventure Gear Mukti Pullover is one such product. The name "Mukti" comes from the Sanskrit word for "freedom," and the thinking goes that the Mukti pullover gives you the freedom to wear a pullover with the look of a sweater and the warmth of a thermal. The semi-fitted cut is loose and casual but upscale in every aspect. It has a stylish high collar and the non-itchy Italian wool blend is soft and warm on your skin. The addition of gunmetal grey snaps help secure the neck closure if you need to batten own the hatches but they serve an equally important purpose of just looking good. The Sherpa Adventure Gear Mukti Pullover could easily be worn as an insulation layer for outdoor activities should you choose but after experiencing it first hand I am sure you will agree that this one is ideally suited for dinner out or just lounging after a hard day in the mountains.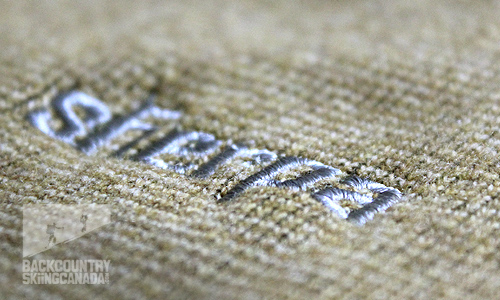 Fabric:
38% polyester / 43% wool / 16% nylon / 3% acrylic viscose
Sherpa Adventure Gear prayer flags on the label.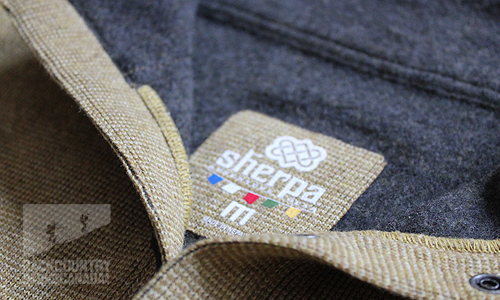 High collar with snaps.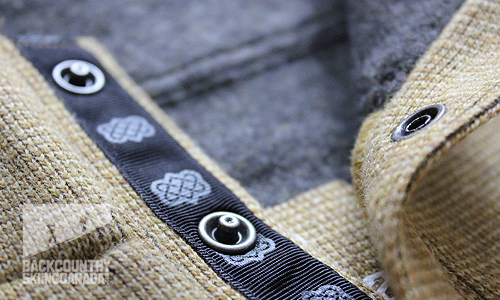 Soft wool interior.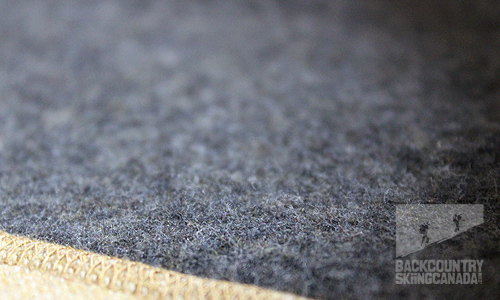 Endless knot detail on the upper back.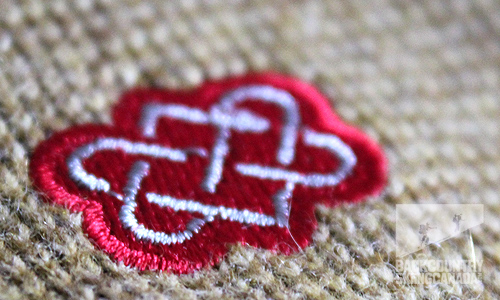 Verdict:
Who wants to look like you just climbed a mountain all the time? You have to be able to dress it up a little when needed. The Sherpa Adventure Gear Mukti Pullover is simple solution when you need to look good in under a minute. Throw the Mukti Pullover on over anything and you are stylin' in no time. The fabric weave is aesthetically pleasing and soft to the touch while the backing is soft and warm. The Mukti Pullover has no bells and whistles like chest pockets and media player storage, it's just a pullover that looks great and will keep you good and toasty. After all you can't wear your technical wear 24 hours a day.
For the full scoop on Sherpa Adventure Gear have a read of the story behind the company and if you are interested in other Sherpa Adventure Gear product reviews have a read about the Sherpa Adventure Gear Varun Jacket and the Sherpa Adventure Gear Banns Tech Quarter Zip.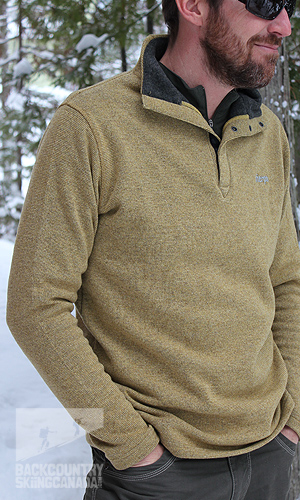 For a behind the scenes look at product development at Sherpa Adventure Gear watch the following video tour with the president of the company: