Sherpa Adventure Gear Khangri Soft Shell Jacket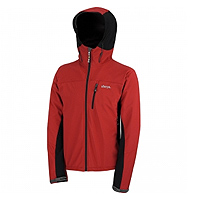 In an age of 'smoke and mirror' marketing where myths are created around a brand or product to boost sales, it's refreshing to stumble upon an authentic gem. Sherpa Adventure Gear is such a gem.
No facade or stories here. This company was created by Tashi Sherpa in 2003, he is of the Sherpa people and his company is based in Kathmandu, Nepal, where he employs Sherpas to make outdoor adventure apparel. Sherpa Adventure Gear popped onto Backcountry Skiing Canada's radar a few months back and after some research to determine that they were infact the 'real deal' we decided to contact them to see if we could find out more about their products which are relatively unknown in North America.
Sherpas are one of the original mountain people of Nepal. The word Sherpa means "People from the east", referring to the origins of the Tibetan people who fled to Nepal. The word Sherpa is actually pronounced "Shar-wa". Most Sherpas live in the eastern region of the country known as Solu, Khumbu, and Pharak. Westerners think of them as the true workers on the worlds highest mountains, setting fixed ropes, carrying heavy loads and guiding clients to the top of some of the most dangerous mountains in the world. Sherpa Adventure Gear employ local Sherpas in their office in Kathmandu, and collaborate with Sherpa artisans (some of whom are their cousins) to create some of their product designs. Sherpa Adventure Gear also sponsors Sherpas to test their products - who better really? To top this off they also direct 50¢ from every product sold to a special fund for the underprivileged Sherpa children of Nepal.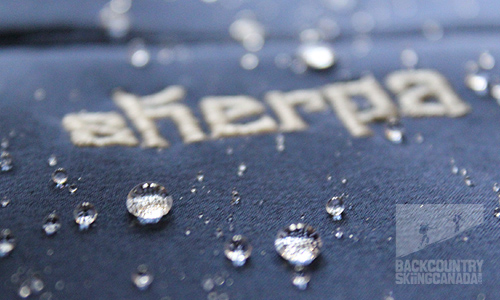 "Khangri" is the Tibetan word for snowy mountain and that is the name of the Sherpa Adventure Gear soft-shell jacket we are reviewing. Softshell jackets are ideal for backcountry ski touring as they are wind and water-repellent and highly breathable. The Sherpa Adventure Gear Khangri soft shell jacket utilizes zonal contraction to increase breathability by incorporating a second more breathable fabric under the arms, at the sides and on the hood. These side stretch side panels provide extra give for a broader range of motion while ski touring. To keep things warm and comfy a soft, polyester fleece lining is bonded to the shell membrane. This soft shell excels on the up-track and windy ridge and when things get too cold when you stop moving it becomes and great insulating layer under a hard shell.
Features:
Fit: Elbows are articulated for a more natural fit.
Hood: Fully adjustable and will fit over a climbing/ski helmet.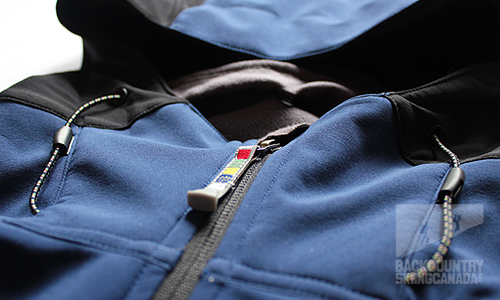 Pockets: Two fleece lined zippered pockets for keeping your hands warm and one Napoleon style chest pocket with built in media port to hold small easily accessible items or your tunes.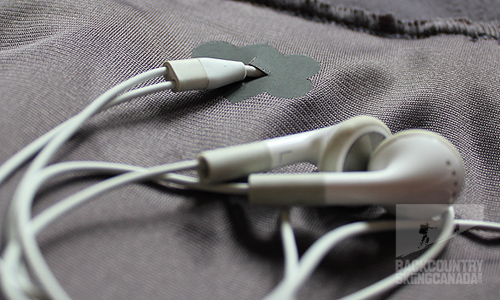 Zippers: Built in zipper garaged keep things neat and tidy and provide some water resistance.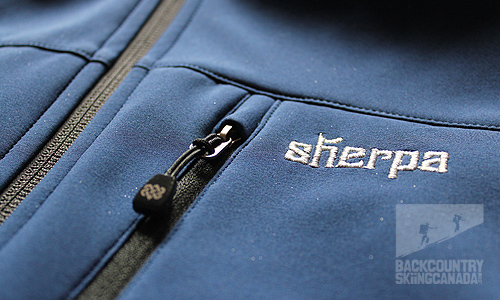 Cuff: Velcro adjustable cuffs to get a good seal around your gloves and keep the warmth in and snow out.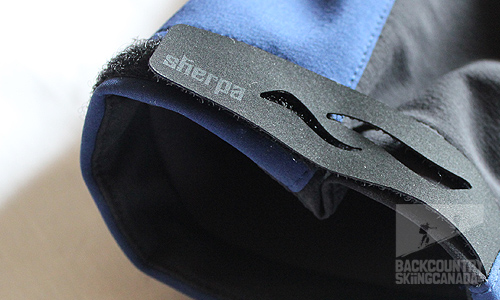 Waist: Dual adjustable waste cinches to help keep things snow tight.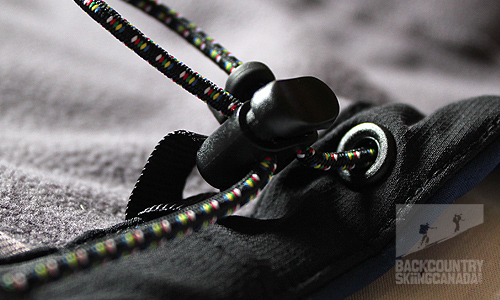 Zonal Construction: A secondary more breathable fabric is used under the arms, at the sizes and on the hood.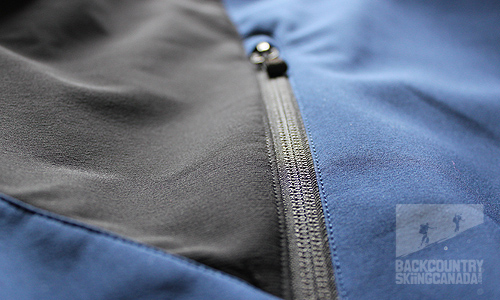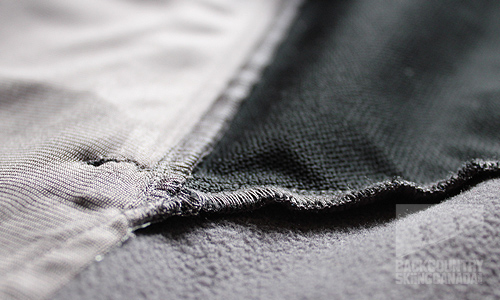 Fleece lined: Super soft next to your skin and good insulation.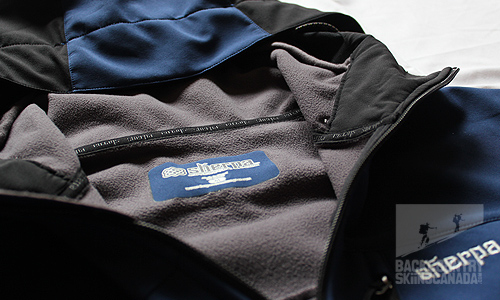 Verdict:
Like all soft shells, the Sherpa Adventure Gear Khangri soft shell jacket is water repellant but not water proof, it will shed a light rain if you are out spring skiing but it will wet out if it turns to a down pour. Keep your DWR (Durable Water Repellant) close buy and apply often to ensure that the Khangri jacket continues to do its job. I found the Khangri soft shell jacket breathed well on the up (thanks to its zonal construction) and once I reached the top it allowed me to cool down with out getting cold immediately thanks to the fleece lining. Over a base layer it makes a great insulation layer for ski touring on all but the coldest days and packs away pretty compact when you overheat and no longer need the added protection.
There are nice bright fabric details on the zipper grab and adjustment cords which contrast with the jackets base colour adding a bit of fun. Overall I found the fit (we tested a Medium and I am 6' and 170lb) to be ideal in most areas but too short in the overall body length. I found the Khangri soft shell barely covered my waist and when I started heading up the skin track it would just ride up and allow wind and snow to get in. The sleeves however were a perfect length and did not ride up while skinning or even if you had your arms above your head.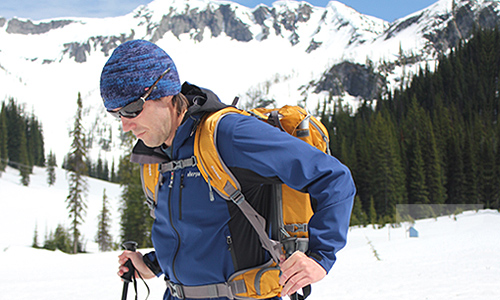 For a behind the scenes look at product development at Sherpa Adventure Gear watch the following video tour with the president of the company:
SPECS:
Price: $119 US
Colour: Red, Green, Black, Blue
Size: S, M, :, XL, XXL
Weight: 16.6 oz / 470g
Fabric: 75% polyester / 20% polyurethane / 5% spandex [Lining] 60% Tactel, 30% Coolmax, 10% Lycra
PROS:
Well made and reasonably priced from a company that is true to its roots and makes a difference with every purchase.
CONS:
The body length could be more generous as the jacket rides up during any activity and lets in wind and snow. Available colours are generic and not that appealing.
Rating: 7.5/10
Fit / Mobility 1/2
Packability 2/2
Warmth / Breathable 1.5/2
Features 1.5/2
Quality / Price 1.5/2

This is only our opinion. Do you disagree? Did we miss something? Are we totally out to lunch? Join the discussion in the forums here, and let us know what you think. People like/dislike gear for different reasons so chime in and we'll get a well-rounded evaluation. Check back mid-season to see how our review stands up to our in-the-field testing.
Back to the rest of the reviews.
---