SealLine Wide Mouth Duffel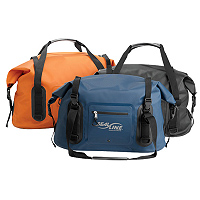 I love SealLine products like the SealLine WideMouthTM Duffel Bag. I've strapped them to the top of my car, the back of my motorbike and the bow of my kayak. They've kept my only dry clothes dry and my lunches out of the mouths of ravens. They can be hucked, strapped, dragged, and lost temporarily in ditches and marshes…only to find that everything inside is just the way you left it. Pure poetry. They also float when filled with gear! They're made in Seattle, and the company has an excellent record of customer service.
If the tiny ship had tossed, my gear would still have been dry.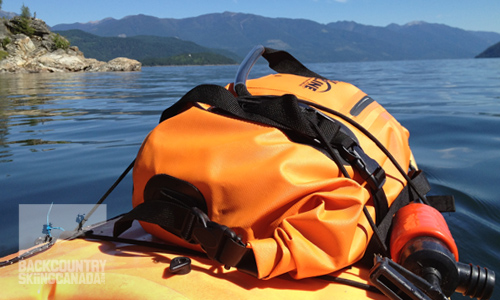 The SealLine Wide Mouth Duffle Bag is no exception. It has RF-welded seams, rugged fabric (19 oz. scrim-reinforced vinyl side with heavy duty 30 oz. scrim-reinforced bathtub vinyl bottom, to be precise), and the characteristic dry seal waterproof closure. It keeps water out. Period.
Good seams abound.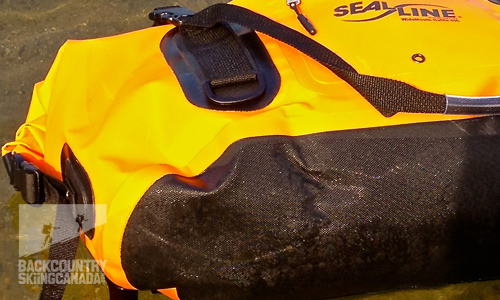 It really does float.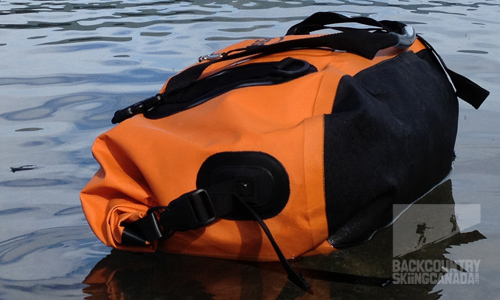 Digging a little deeper, this version of the SealLine bag has a number of unique features not available on their industry-standard 20 L versions:
Handy d-rings attach to the bag's webbing and function to hold the carrying straps, but even more impressively, as tie downs if you want to strap this bag onto something. Like your roof. Or your dog (just kidding – but perhaps under the right circumstances…).
D-Rings on both sides allow for not-falling-off-your-car tie down.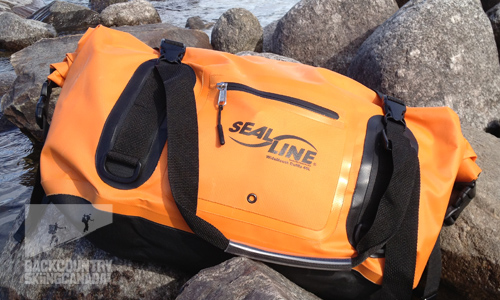 The carrying handles are convenient, and if you haven't packed the bag full of rocks, they allow you to hold it like a purse (man or woman version – see below).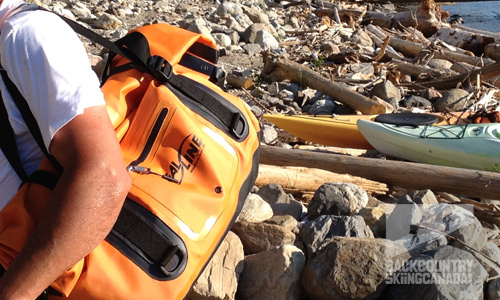 The wide mouth allows for super easy packing – or last minute throwing-all-of-the-extraneous-bits-that-didn't-fit anywhere-else-packing. I managed to fit one three person tent, one two person tent, 2 synthetic sleeping bags, and two changes of (summer) clothing for two people in it for a recent trip. That's a lot of gear. The 40L designation is slightly deceptive, though, due to the aforementioned waterproof closing system—once you've rolled the wide mouth down three times to ensure impermeability, you've lost some volume for sure…so don't assume you'll get the same into this as you would with a backpack with the same volume designation.
Chips won't crumble.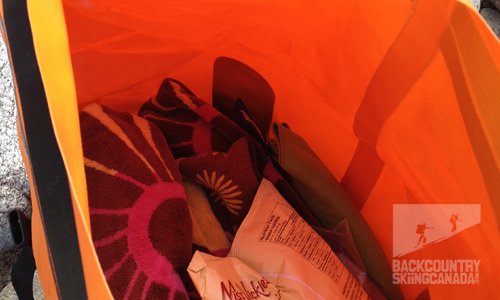 Initially, I was excited about taking this bag on kayaking daytrips. It's too much bag for daytrips, however, and it neither fits into the hatches nor straps comfortably on the decks when used to capacity. Two 10-20L bags with easier access do the trick better.
Where this bag shines, though, is in the cockpit of a sailboat or motorboat, or in a canoe–towels and lunches and bathing suits are all pretty accessible, and are guaranteed to stay dry until you need them. It's also an excellent car camping bag – At 1 lb 12 oz, and awkward to carry, I wouldn't want to sling it into a deep backcountry or highcountry camping site, but in the boot of the car until you need to set up your campsite in the rain—perfect; to stash ski touring gear if you're being flown up—no problem; for road trips strapped to the roof of your car – ideal. Nothing would ever get in.
There's one curious feature that I'm still not sure about. There's a convenient front outside zippered pocket, great to stash keys or a cellphone or a map/ wallet/ passport, but it has a metal-grommetted drain hole at the bottom (see photo), that goes straight through the vinyl into the pocket, rendering the waterproof zipper, and, in my mind, the entire pocket, totally useless. Although if you don't care about having the pocket's contents soaked, it's a good feature because the inside of the bag is a free-for-all, with no internal compartments in sight.
Pocket close-up.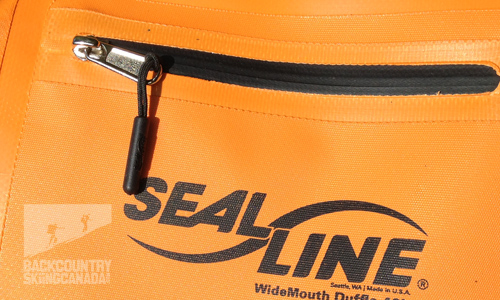 But what if you want to keep your phone/ keys/ maps/ etc dry? This little hole poses a big problem.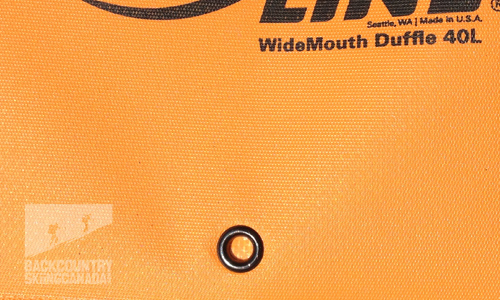 Verdict:
All-in-all, this is a great piece of gear if you already have some smaller dry bags, and are looking to up the anti to ensure you never have to set up a wet tent and sleep in wet sleeping bags again. It comes in bright orange, black and royal blue, and at a price point under $100, it's fairly affordable if you're looking for an easy- to–pack, completely waterproof large bag. If you're looking for easy access, inner pockets, or a true 40L capacity, however, this ain't your bag.
SPECS:
Price: $90US
Dimensions: 30.5 x 30.5 x 56cm / 12 x 12 x 22"
Volume: 40 liter / 2400 cubic inches
Weight: 794 g / 1lb 12oz
Material: [top] 19oz scrim-reinforced vinyl, [bottom] 30oz scrim-reinforced vinyl
Manufacturer Warranty: Lifetime
PROS:
- Bombproof construction
- Well-placed and ample tie-downs
- Totally Waterproof
- It floats!
- Not too many moveable/ breakable parts
CONS:
- Ridiculous outerpocket
- No inner pockets
- Not true 40L capacity if closed completely
- Awkward to carry when stuffed full
Rating: 8/10
Innovation 1.5/2
Function 2/2
Aesthetics 1/2
Features 1.5/2
Quality/Price 2/2

This is only our opinion. Do you disagree? Did we miss something? Are we totally out to lunch? Join the discussion in the forums here, and let us know what you think. People like/dislike gear for different reasons so chime in and we'll get a well-rounded evaluation.
Back to the rest of the reviews.
---