Scarpa Maestrale RS—Front and Centre. The shell and cuff are made of polymide (or grilamid, to be precise). This light and stiff material has traditionally been used to make sunglasses. It's the "special sauce" in the RS.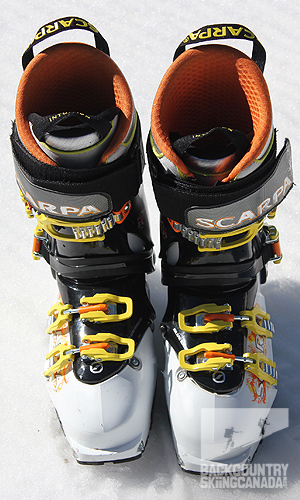 Here's the "Alpine Axial Tongue Closure," an ingenious bit of engineering that let's you swing the tongue out of the way for easy entry and exit. Cool.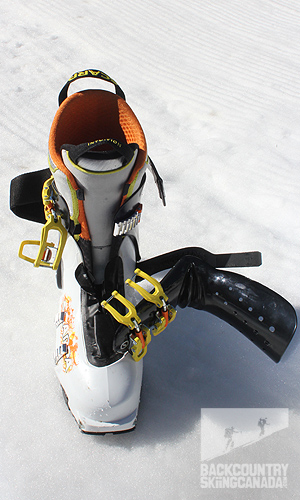 From above. Just like its little brother, the Maestrale.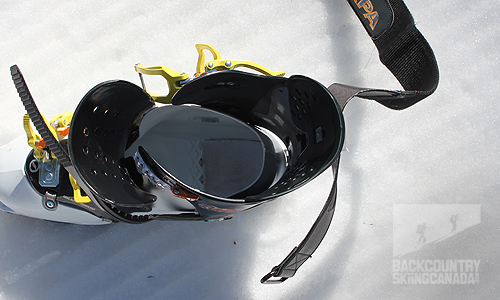 Here's a close up of the quick-step fittings from Dynafit that provide peace of mind. Last year's Garmont Cosmos had some issues with this aspect as did the Salomon Quest a year or two earlier. No problem here. Excuse the gunk in the pinhole—that shouldn't be there.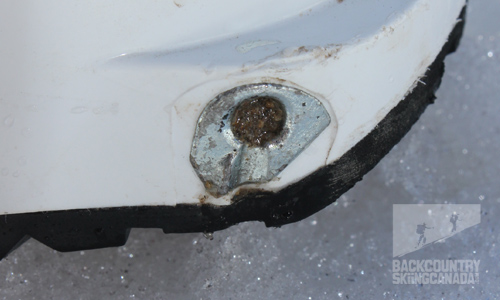 Bomber walk/tour mode lever. All exterior for simple field repair.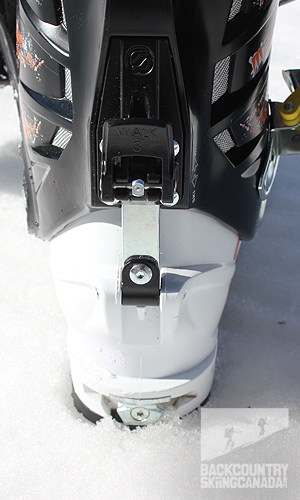 The Intuition Proflex RS liners contribute to the boot's comfort and customizability. These liners are toasty and I often swap out other boot liners with these if I am skiing boots from another manufacturer. Removable tongue. Very light.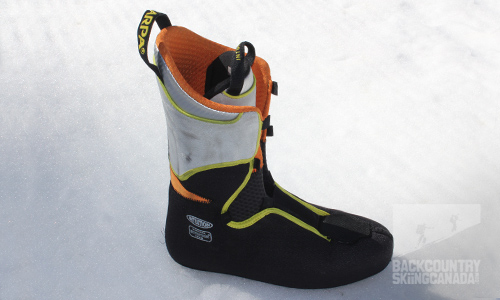 Very at home with a Dynafit rig. I also ski them with a pair of BigBends when doing lift-accessed days. They can handle big, phat skis with aplomb.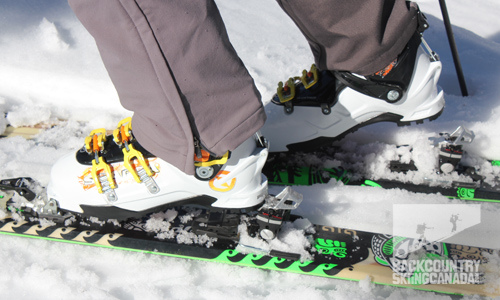 Features:
- Inner Boot: Intuition Pro Flex RS
- Shell | Cuff | Tongue: Polyamide I Polyamide I Pebax®
- Buckles: 4 + 50mm Power Strap RS
- Forward Lean: 16° & 20°
- Flex Index: 120
- Range of Motion: 37°
- Sole: Vibram® Cayman
- Binding System: AT, TLT
- Forefoot width: 101mm
Verdict:
The Scarpa Maestrale RS AT boots are the company's entry into the ever-evolving beefy-but-light category occupied by the likes of the Dynafit Vulcan. I loved the earlier Maestrale for all the same reason I love this boot. At just an extra 40g though, the RS is noticeably stiffer than the earlier iteration. It may be a personal choice but I'm happiest skiing stiffer boots. I'm not particularly aggressive; stiffer boots just allow me to ski better. I dug the Garmont Delirium, but boy were they dogs on the uptrack. The Maestrale RS offers the double whammy of excellence on the way up (thanks in part to a 37° range of motion) and the solid feel, even flex and general beef of something approaching an alpine boot. Is this not the Holy Grail?
Silas enjoying the pow at Ice Creek Lodge with a little help from the Scarpa Maestrale RS.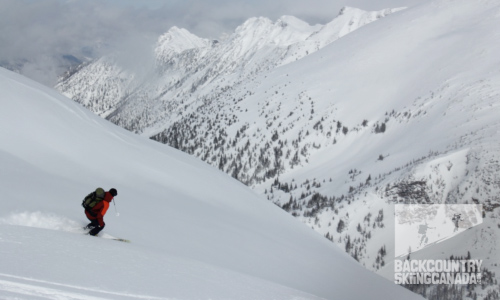 SPECS:
Price: $699 US
Weight: 1571g; 3lbs 7oz (1/2 pair size 27)
Flex: 120
Colour: White, Yellow and Orange
Sizes: 24.5 – 32
PROS:
Light, stiff and well-crafted boot. Super comfy liner, smart in-an-out system with the tongue, reasonable price.
CONS:
The RS graphics aren't for everyone but that really isn't an issue. I am between sizes but that's my own fault.
Rating: 8.5/10
Fit/Comfort 2/2
Cuff Rotation 1.5/2
Function 2/2
Weight 1.5/2
Quality / Price 1.5/2

Back to the rest of the reviews.
---