Scarpa Rush Alpine Touring Boots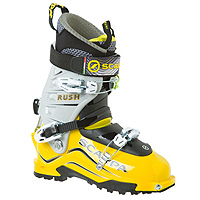 The Scarpa Rush is a dialed down version of the Scarpa Maestrale (which is reviewed by a Backcountry Skiing Canada reviewer here, and won our gear of the year award last season). From what we can tell, the major differences are: 1) three buckles, not four 2) a slightly less beefy power strap 3) a slightly less beefy instep buckle. Poking around a bit on the Scarpa website, we read of other differences. For example, the Maestrale has a forward lean of between 18° – 22°, whereas the forward lean on the Rush is 15° – 19°. There is also a weight difference of 86g/3.6oz with the Maestrale coming in at 1516g/3lbs 6oz for a pair of 27s and the Rushs tipping the scales at 1430g/3lbs 2.4oz—these weights are both for a single boot.

Now - we think a boot should be judged on its own merit and not be asked to measure up against another boot in the line. Challenge is - we love the Maestrale so we just can't help but compare it to the Rush. And the two boots are just so similar. Be sure to check out our Maestrale review. It supplements this one nicely and goes into some of the common features in a little more detail. Let's look at some pictures to learn more about the Rush:
Scarpa Rush—front and centre. Made of happy-earth Pebax Rnew.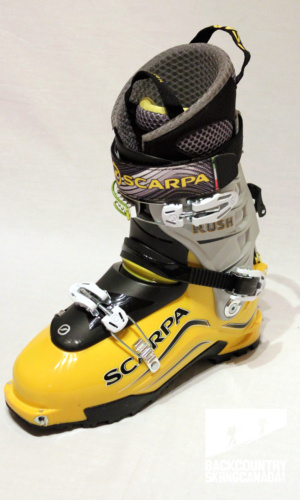 Shot from the back. Exterior walk/ski mechanism. Key.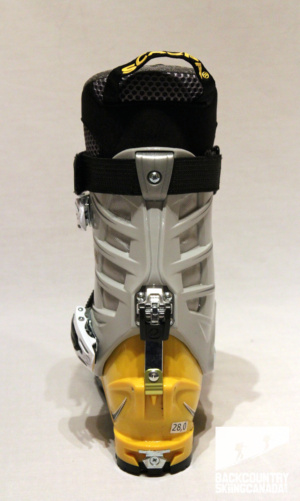 The all-important instep buckle. We love the way it keeps our heels down.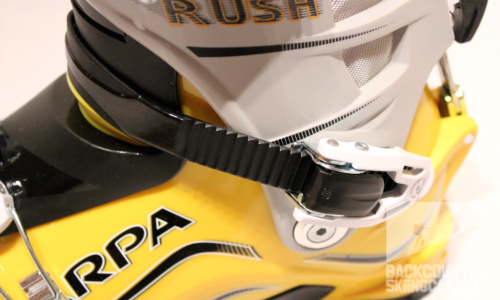 Cuff shot. Like the Maestrale, smart weight-saving measures. Not overlapping alpine style.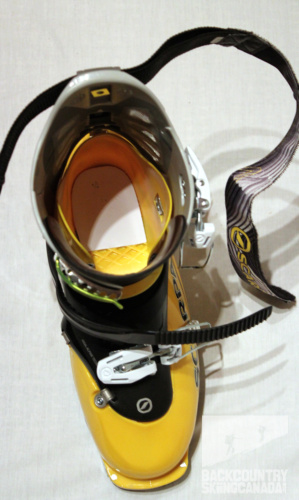 The "Alpine Axial Closure" is a fancy way of describing the flip-out-of-the-way tongue. This is a super cool feature and allows for easy in and out.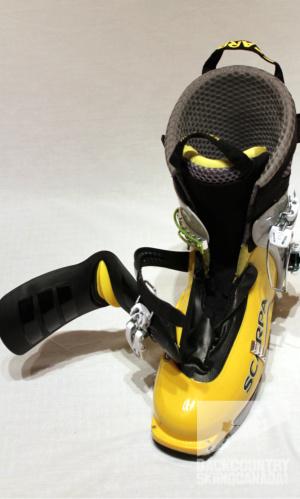 Vibram Mistral soles with a little rocker under the toe. Great for hiking on just about anything.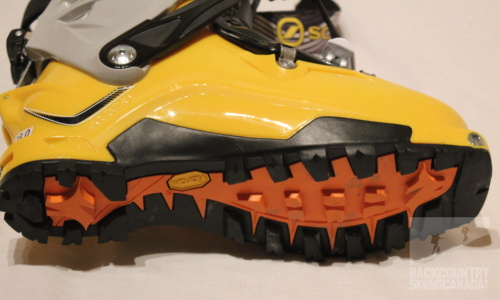 Intuition Proflex G3 liners. In our opinion, Intuition makes the best liners out there. And they're Canadian too, eh.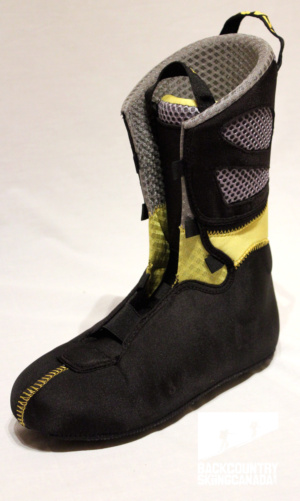 Verdict:
The Rush is a great boot. We opted not to go into much detail on things like the tech-compatible Quick-Step toe holes because they are also present on the Maestrales. Our overarching question is: why go for the Rush if the differences between it and the Maestrale are so minor. Is the weight savings justified in the Rush's lessened beefiness? They are $50 less…The answer lies in another question. What do you want to use the boots for and what kind of a skier are you? If you plan on doing many long-distance tours and traverses, the Rush may be for you. If you are one of those skiers who can ski beautifully with not-much support, go for it, the Rush may be your answer. If you, like us, go up to go down and are looking for the sweet spot of support/beef and weight, perhaps consider the Maestrale. The Rush is a specialty boot and the good folks at Scarpa know this.
Rush on snow x2.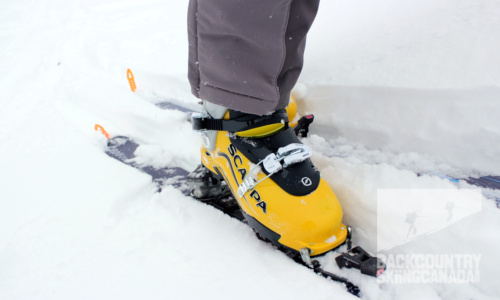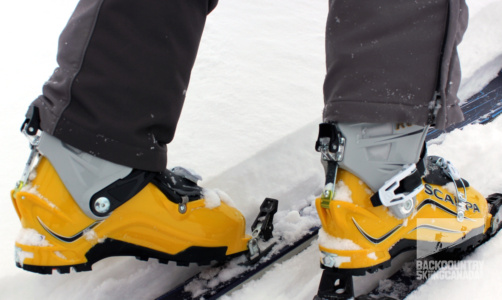 SPECS:
Price: $559
Flex: 100
Inner Boot: Intuition Pro Flex G3
Shell | Cuff | Tongue: Pebax® Renew
Buckles: 3 + Active Power Strap
Forward Lean: 15° – 19°
Sole: Vibram® Mistral
Weight: 1430g; 3lbs 2.4oz (½ pair size 27)
Size: 24.5 – 31
Binding System: Tech, AT
Forefoot Last Width: 101mm
PROS:
Super smart, weight-saving features. Comfortable and customizable liner.
CONS:
None…if you're looking for a boot like this. We felt its slight lack of support and stiffness. (This, admittedly, coming from confirmed Maestrale evangelists).
Rating: 8/10
Fit/Comfort 1.5/2
Cuff Rotation 1.5/2
Function 1.5/2
Weight 2/2
Quality / Price 1.5/2

Join the discussion in the forums here, and let us know what you think. People like/dislike gear for different reasons so chime in and we'll get a well-rounded evaluation.
Back to the rest of the reviews.
---