Scarpa Maestrale Alpine Touring Ski Boots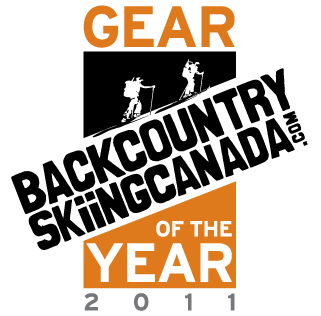 The Scarpa Maestrale Alpine Touring Boot was a hands-down, "Gear of the Year" winner for the 2010/2011 season. Backcountry Skiing Canada testers were unanimous in their appreciation of the lightweight, four-buckle design and of Scarpa's complete delivery on their promise of a high-performance touring machine. Complementi Scarpa!
The Backcountry Skiing Canada Team.
---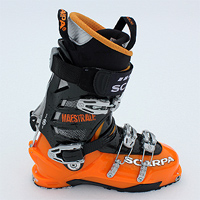 I have been skiing the Scarpa Maestrales for a little over a month now. I took them on a four day backcountry tour into Rogers Pass here in BC, I've skied on them at Whitewater, our local hill, did a day cat skiing at Retallack, and have taken them with me on numerous day tours in the Kootenays.
This is the fourth alpine touring boot I have skied, and the second one from Scarpa. I'm not a very aggressive skier and, as I get longer in the tooth, I find that weight makes a big difference. I have paired the Maestrales with both biggish skis (108 underfoot) and smallish skis (95 underfoot). Scarpa has positioned this boots as a long-range touring boot that doesn't sacrifice on support and beef. In my assessment, they are bang on. The Maestrale is a stiffish, very light, full-featured four-buckle boot.
Because of the hybrid video/text nature of this review, we won't go into gory detail on the features here but we'll touch upon some key aspects and share some photos for you to take a closer look. Be sure to scroll down to the bottom to check out the video.
Varia
Scarpa has teamed up with Dynafit and includes the "quick-step-in" inserts for the toe-hole engagement on tech bindings. The literature claims a 70% easier entry (puh-lease). Whatever the number, with these little doohickies, it is easier to get in and out, for sure. Thumbs up also to Scarpa for their Pebax Renew shell material. I poked around the web a bit to look into this material and didn't learn much about it other than it's "bio-based." (editor's note. more info on the Rnew material sent to us by Scarpa today: Because Rnew is made with 90% Castor plant oil, it requires 29 percent less fossil fuel and puts out 32% fewer emissions in the process of bringing Rnew from raw to useable material.) They give these boots a flex rating of 100. Flex ratings are somewhat arbitrary but they are helpful when assessing a manufacturers' different boots (for perspective, the Mobe has a rating of 125). The Maestrale are not a super stiff boot and they don't claim to be. If you ski mostly lift-service, get another boot. This boot is a high-performance ski touring machine, which you can run on the occasional lift-serviced day.
The Maestrales make love to the camera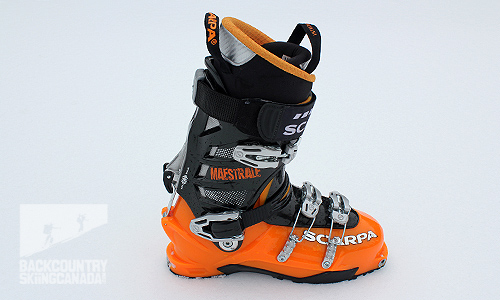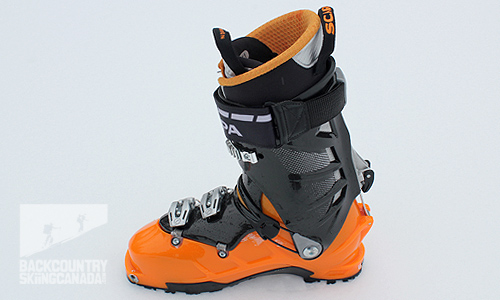 The robust walk tour mode lever. Outside the boot for field repair.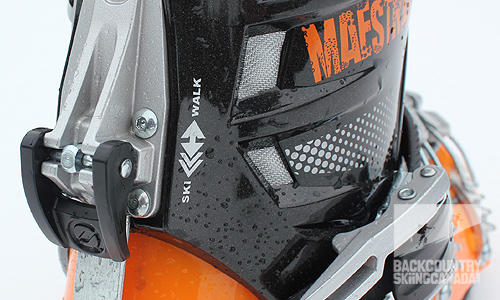 The instep buckle and elastic power strap.
The easy in-out tongue in open mode. Great feature. Look at all the drilled holes to bring the weight down.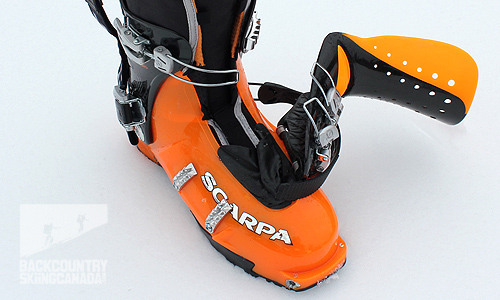 The Intuition Pro Flex G liner. Light, warm and comfy wumfy.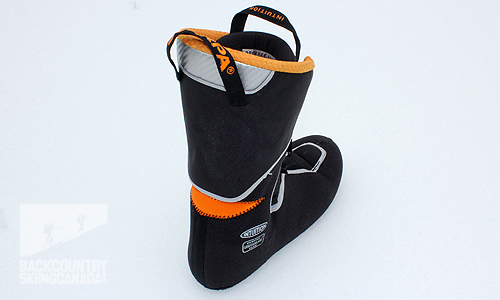 Nice attention to detail. The orange part of the liner is more flexy than the rest. Good news when touring on the flats.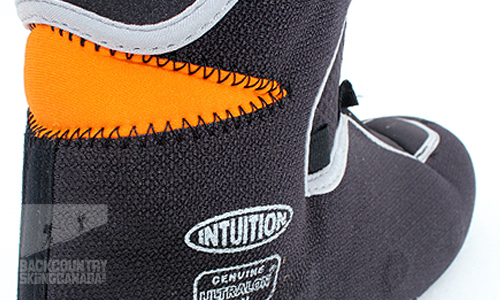 Got sole. Thin, Vibram-made with a little rocker in the toe.