Salewa MS Firetail Approach Shoe and MS Rapace GTX Light Mountaineering Boot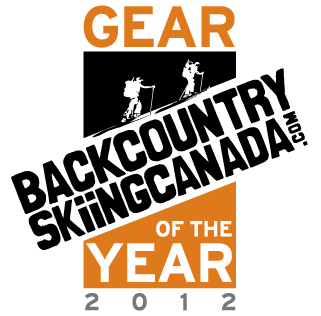 The Salewa Rapace GTX Light Mountaineering Boot joins the hallowed halls of Gear of the Year (off-season version). Testers liked its light weight, crampon compatibility, comfort and ability to step up to light mountaineering sessions in a pinch. The Rapace performed well on ½ day and multi-day hikes and kept our feet dry and happy. They look pretty cool too!
The Backcountry Skiing Canada Team.
---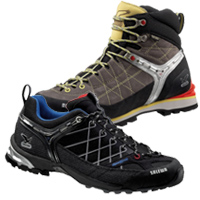 Though relatively new to North America, the Salewa brand is very well established in Europe and has a long track records of developing and manufacturing a full range of high quality and very popular gear. After just five years in North America, Salewa gear is making inroads into our collective gear psych, slow but sure. We were very happy to put a pair of the Salewa Firetail approach shoes and Rapace (pronounced ra-pa-che) GTX mountaineering boots through the ringer and we'd like to share our impressions with you.
Starting with the Salewa Rapace ('cuz it's bigger)… we took these bad boy on several day hikes and an overnighter into the Valhallas. First impressions were that this is a remarkably light boot with a lot of support and stiffness in the sole. Positioned as a lightweight mountaineering boot because of its crampon compatibility, the Rapace performed well on snow in the alpine but we have yet to attach crampons (which looks to be super easy). We carried a heavy load, scrambled over rocks and were ready for more. There is a little break-in time required and the out-of-the-box comfort promise may be a stretch but that's to be expected from any respectably stiff boot.
The Firetail approach shoe is also remarkably lightweight but better suited for light hikes or getting to your favourite bouldering spot. It also works well if you want to look extremely cool and well equipped walking to the coffee shoe in any mountain town.
Let's take a closer look at some features, eh?
The boot has a decided Euro look to it that reeks of fine craftsmanship. Note the rubber rand around the entire boot. Bombproof.

'not sure exactly what the good people at Salewa call this feature : 3F System EVO or Power. Anyway, the Rapaces (and the Firetail) feature this external cable wire thingy forming a "Y" around the ankle. I wasn't sure if this was a real asset or just a bit of an aesthetic flair. Whatever-the-case, my foot and ankles were always snug and secure.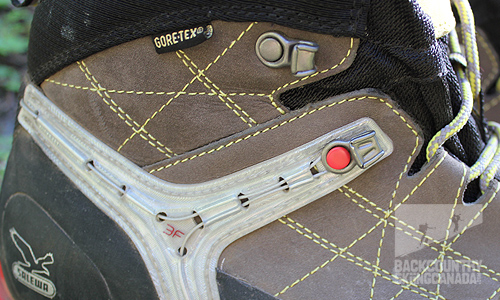 The soles work perfectly on all conditions tested. Vibram is always a good brand to go with. Dirt doesn't seem to gunk up and grip is good. I don't know how well they'd perform on frozen slippy stuff but I guess that's where the crampon compatibility would come in.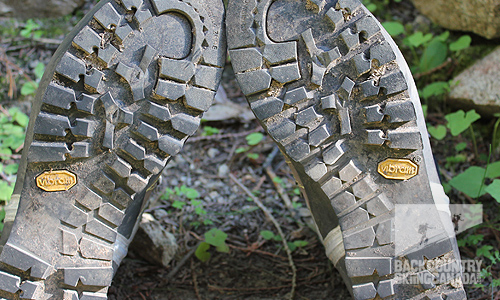 Here's a close-up of the heel with the "step-in" crampon feature. I figure if I use crampons at least once with these boots, this feature will be nice to have.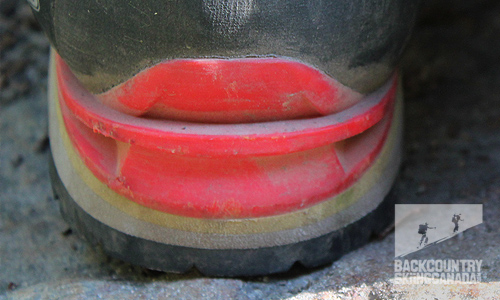 Here's a shot of the multi-fit footbed that is a big bonus in both the Rapace and the Firetail. Want to wear a pair of thick socks one day? Between sizes perhaps? These dual footbeds (which I am surprised no one thought of before) can make it happen.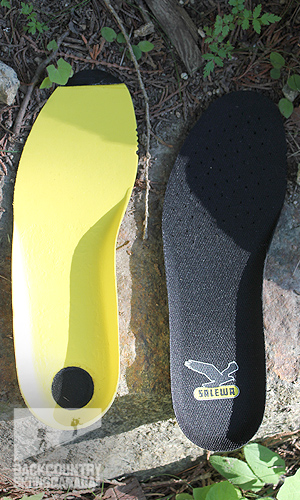 Now, to the Salewa Firetail.
Grrrrr. The Firetail looks aggressive. The Kevlar rands makes for a remarkably durable shoe (or we think they will anyway—they're only a couple months old).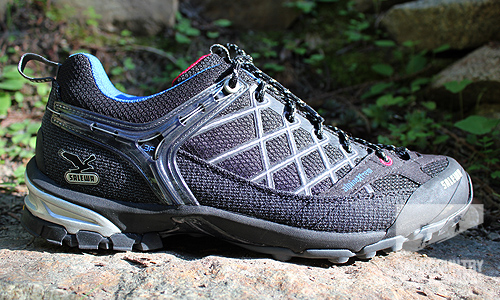 From above. Note that this shoe is built on a relatively thin last. If you have wide or high volume feet, consider trying them on at your local retailer, prior to purchase, to make sure they work for you. This is not the case with the Rapaces, which can accommodate wider trotters.

Here's the same Y/3F exoskeleton feature as appears on the Rapace. May be overkill on this kind of a shoe but it looks high tech and doesn't weight much.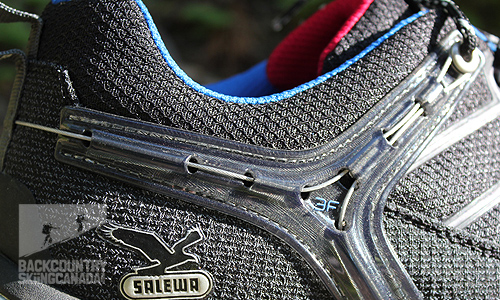 The outside (and inside) of the toes features a bit of sticky rubber if you want to jam into a crack and feel the friction. Not a real rock climbing shoe but this feature adds to its versatility.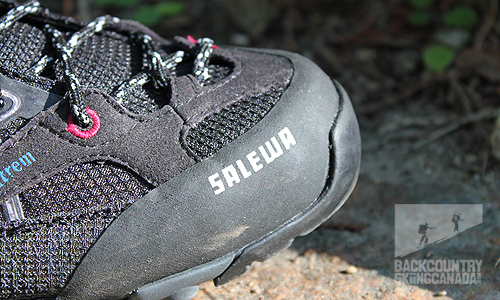 Alien suction cup soles (also Vibram) performed well in all conditions tested. The sole is quite stiff for this kind of a shoe. Good news in the battle against foot fatigue.

Verdict:
The Salewa Rapace mountaineering boot and Firetail approach shoes together let you cover the gamut of hiking options most people encounter. They are stiff, well built and stylish. We are looking forward to beating on them (in a nice way) for years to come.
SPECS:
Salewa MS Rapace GTX Light Mountaineering Boot:
Price: approx $260
Sizing: 6-13 (with ½ sizes)
Colours: Grey
Weight: 660 grams (9 ½)
Salewa MS Firetail Approach Shoe:
Price: approx $120
Sizing: 6-13 (with ½ sizes)
Colours: Yellow, green, lime green, black (with red interior), black (with blue interior)
Weight: 410 grams (9 ½)
PROS:
Well made, reasonably priced and bombproof. Make for happy, well rested feet and lots of fun.
CONS:
Rapace Gore-Tex liner makes them a little warm on hot days. It also makes them weatherproof—a common trade off. Firetails may be a little thin for the average North American "bigfoot." Make sure to break in the Rapaces before heading into the mountains to avoid putting the Salewa 100% blister free promise to the test.

This is only our opinion. Do you disagree? Did we miss something? Are we totally out to lunch? Join the discussion in the forums here, and let us know what you think. People like/dislike gear for different reasons so chime in and we'll get a well-rounded evaluation.
Back to the rest of the reviews.
---