The aerodynamic design of the Rhino Rack ski box is complemented nicely by its shiny black finish. It has a very low height of only 14.5" to maximize vehicle clearance and conveniently opens from either the passenger or driver side, which seems to be the standard feature on most roof top boxes these days. Your ski gear is kept secure by two keyed-alike locks (one on either side) which control three interior locking points that fasten the lid to the lower portion of the box and deter thieves. Durable UV-safe and weather-resistant plastic materials such as Acrylonitrile Butadiene Styrene and Acrylic Styrene Acrylonitrile (ABS and ASS) are used in the construction of the Rhino Rack so that sharp skis and snowboard do not compromise the box's integrity.
Unlike ski and cargo boxes from several years ago, you don't need any tools to install the Rhino Rack RMFZ85 box and it only takes five minutes to complete the job. You will, however, need a second pair of hands to assist in getting the box up on top of the car as it does weigh in at 20kg, which is still on the lighter side for a box of this volume. Rhino-Rack's Master-Fit system uses 4 removable clamp assemblies to aid in an easy-on/easy off process. The clamps slide along tracks inside the box to accommodate a cross bar spread from 24.25" all the way up to 36.5". Once aligned properly you press the large red built-in buttons and tighten the clamping jaws around your roof rack bars. The bars can be a maximum of 3.5" wide and 1.33" tall, but this should accommodate most roof-rack configurations. Next, simply push the red button again to lock the box in place. The final step for installation is affixing the two cargo straps that will keep your skis, boards and other items from flying around inside the box should you decide to imitate The Dukes of Hazard. The straps tie off to four anchor points, which are attached to metal reinforcement rails that run along the underside of the box and add strength and stability to both the anchor points and the box.
Shiny black outside.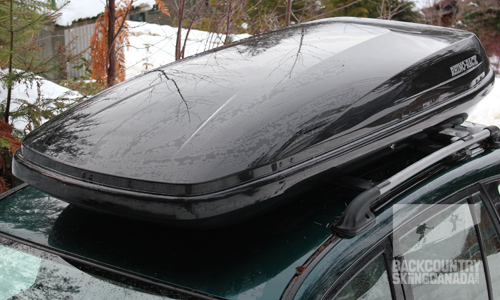 500L of space inside.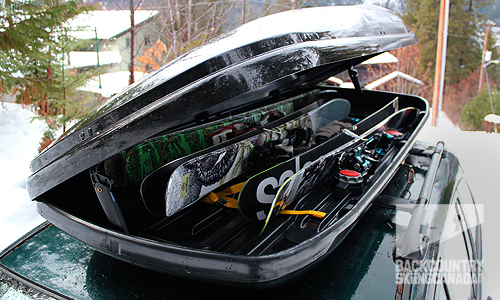 Features:
Material: Acrylonitrile Butadiene Styrene, Acrylic Styrene Acrylonitrile
Opening: Dual Side
Locking Points: 3
Load Securing Straps Included: 3
Application: Round, square, aero/elliptical and most factory crossbars
Maximum crossbar dimensions: 3.5" wide x 1.33" tall
Crossbar spread: 24.25" - 36.5"
Ski/snowboard capacity: 6 - 8 pairs of skis (under 83.1") or 4 - 6 snowboards (under 83.1")
Maximum ski length: 82-5/8"
Two locks, one either side secure three locking points.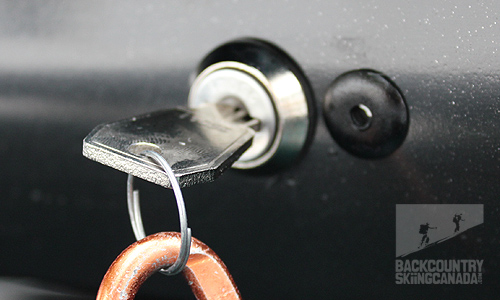 Three interior locking points ensure your stuff stays safe.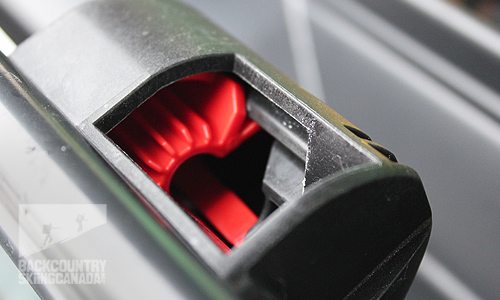 Two interior tie down straps to keep things secured.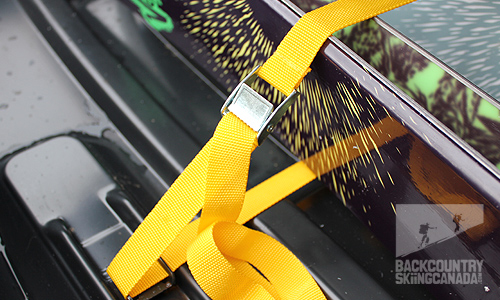 Adjustable lockng mechanism that provides an easy on and off process.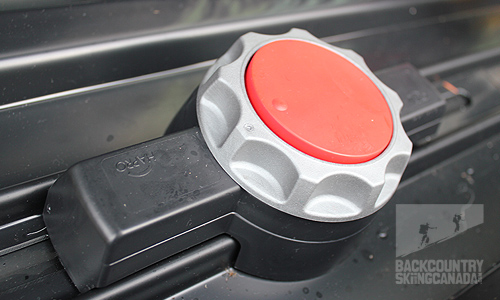 They are removable too!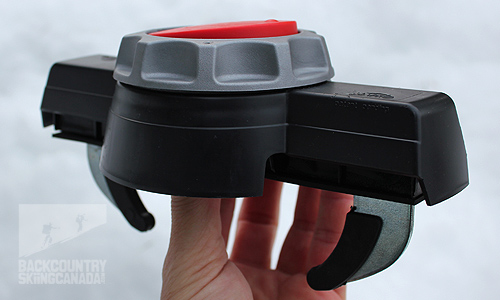 Adjustable tracks provide a wide range of fit for various spaced roof rack bars.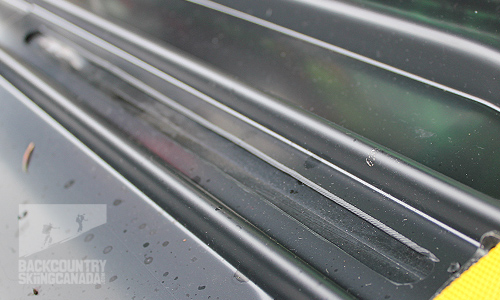 Installed and clamped tight to the bars.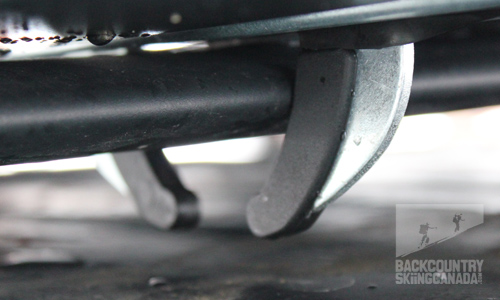 Clamps opened allowing for box removal.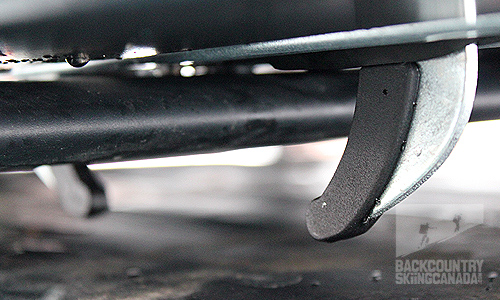 One hindge for each end of the box provides easy open and close.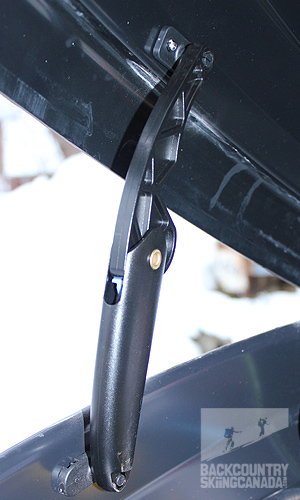 Verdict:
Sometimes it pays to be the underdog; look at what other companies are doing and then try and do it better for less. The Rhino-Rack RMFZ85 Ski Box is a small payer in the North American market (for the time being) but this is exactly what makes them try harder to catch up to the big boys. It is hard to argue with a ski box that is 30-50% cheaper than the competition when the quality and features are still top notch. The Rhino-Rack RMFZ85 Ski Box has all the features you would expect from today's ski/cargo roof top boxes: dual locks and access, easy installation and removal as well as 500 litres of cargo space. Because the Rhino-Rack RMFZ85 Ski Box can be installed in a matter of minutes it is not only a great option for transporting multiple pairs of skis and/or snowboards, it is also a very convenient option for packing extra luggage and camping equipment in the off season. As I own a small and more fuel-efficient SUV the additional cargo space is welcome on road trips and because it only takes a matter of minutes to put the Rhino Rack on or take it off I can easily remove it after each trip to maintain fuel efficiency (not in winter of course since it is used daily).
So if you want to follow the trend of larger roof top storage for your ski and camping gear (since the smaller boxes seem to be a thing of the past) then check out the Rhino-Rack RMFZ85 500 litre Cargo Box and save yourself some serious cash in the process.
SPECS:
Price: $629 US / $739 CAN
Dimensions: Length 215cm/84.6", Width 90cm/35.4", Height 37cm/14.5"
Capacity (volume): 500L / 17.5cu ft of storage space
Weight: 44lbs/20kg
Max weight Capacity: 165lbs/75kg
Color: High-gloss black
Warranty: 5 years limited warranty
PROS:
- Great value for you money
- Easy on / easy off
- Removable mounting mechanism lets you store the box flat on the ground without the risk of breaking the mounts
- Recessed bottom for improved aerodynamics when mounted on roof racks
CONS:
- The locks can be a little stiff to operate
- The aesthetics are not as nice as some of the higher priced competitors
Rating: 9/10
Capacity              2/2
Features              1.5/2
Install                  2/2
Weight                 2/2
Quality / Price     1.5/2
This is only our opinion. Do you disagree? Did we miss something? Are we totally out to lunch? Join the discussion in the forums here, and let us know what you think. People like/dislike gear for different reasons so chime in and we'll get a well-rounded evaluation.
Back to the rest of the reviews.
---

---
Backcountry skiing is an inherently dangerous activity that requires experience and knowledge to travel safely. Any of the routes on this site may be dangerous depending on conditions. You are responsible for your own safety in the backcounty—the team behind backcountryskiingcanada.com disclaim any responsibility for any injury resulting from people travelling on routes described on this site.  To read our Terms of Use and get all the details, read HERE. 
---