Rab alpine shorts, MeCo 120 shirts and Orbit Pull-on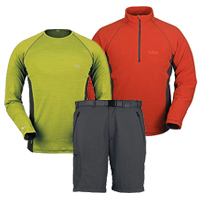 Our previous Rab reviews have included the Rab Sawtooth Pants, Rab Latok Tour Pants, Rab Exodus Soft Shell Pants, and the Rab Latok Jacket, all of which are backcountry touring specific technical clothing.

We were pretty impressed with the quality of design and manufacturing that Rab showcased in each of these ski touring specific products. With the creation of our "Off-season" gear review page this spring it was only natural for us to investigate Rab's summer line-up of technical clothes. This review will focus on a full top to bottom set-up for those still keen to get into the mountains in the off-season. Starting on the lower quarters we will look at the Rab Alpine Trek shorts that are made for hiking and alpine lake swims. Moving up top we put the Rab Meco 120 short and long sleeve Tees through the paces. These base layer shirts are a mix of Merino wool and Cocona fibres to keep you dry and cool in the heat of summer. Finally, we will finish off with the Rab Orbit Pull-on, which is a Polartech fleece with a unique weave to keep you warm on those alpine nights.
Rab Alpine Trek Shorts:
Price: $70.00 CAD
Weight: 290g / 10oz
Colours: Dark Shark, Pumice
Sizes: S-XXL
The Rab Alpine Trek Shorts are a 70D 100% nylon single-weave-stretch fabric (SWS), which provides good durability and some stretch. For activities such as alpine climbing and summer hiking, the shorts have an active cut that allows a wide range of movement. The Rab Alpine Trek shorts are also pretty breathable thanks, in part, to the unique perforated/soft fleece pocket lining. Conveniently, there is a built-in adjustable belt with a Duraflex buckle and four YKK zippered pockets: two hand warmer, one thigh and one back pocket. There is even a built in key tether in the front right pocket to ensure your keys stay put.
Zippered cargo pocket.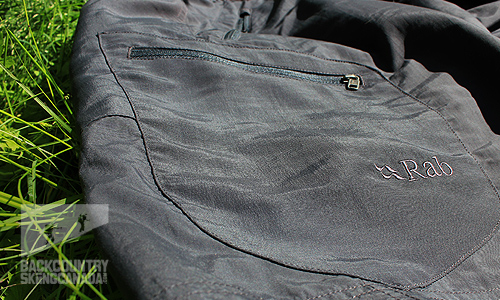 Perforated/soft fleece pocket lining.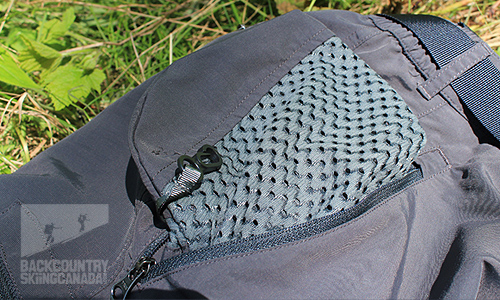 Built-in adjustable belt with a Duraflex buckle.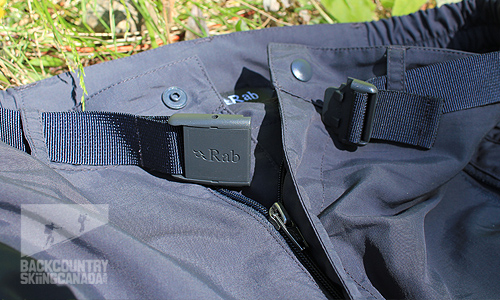 Back zippered pocket, one of four pockets.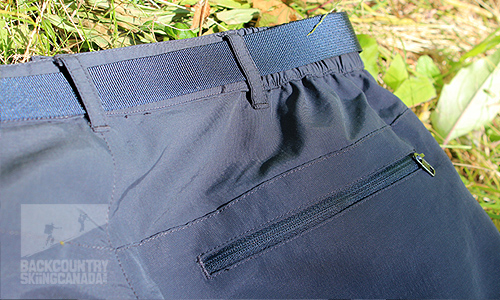 ---
Rab MeCo 120 Long Sleeve Tee:
Price: $95.00 CAD
Weight: 160g / 6oz
Colours: Beluga, Maya, Spring
Sizes: S-XXL
Rab MeCo 120 Short Sleeve Tee:
Price: $70.00 CAD
Weight: 120g / 4oz
Colours: Beluga, Maya, Spring
Sizes: S-XXL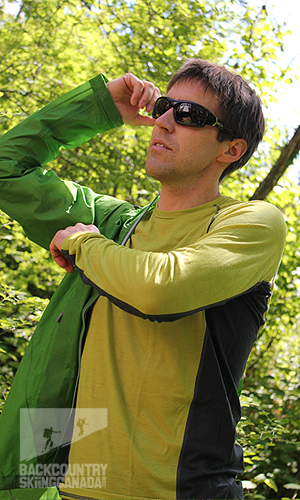 The Rab Meco 120 Short and Long Sleeve Tees are not your average base layers. Rab has taken the benefits of Merino wool and combined them with the benefits of Cocona® (hence the "MeCo" name). This translates to a base layer that will keep you warmer, dryer and smelling better even in cold weather or high intensity activities. The shirts are made of a blend of 65% ethically sourced Australian Merino wool and 35% recycled polyester with the new Cocona® technology (see below for a description of Cocona®). The Merino wool provides a soft touch fabric with superior odour resistance that keeps you warm even when wet. The Cocona technology adds to the antimicrobial qualities of the fabric and accelerates the drying time of the Merino wool to a reported five times faster. Typically, Merino wool has a minimum weight of 140g, but with the addition of Cocona the MeCo base layers are lighter, weighting in at 120g/s/m (that's grams per square meter), meaning that the shirts are light enough for hot or cold weather activities. The medium cut and flatlock low bulk seams are also ideally suited for active pursuits.
The Cocona technology uses recycled coconut shells that would have otherwise gone to landfills. The shells are first converted into activated carbon for the Air and Water Filtration industry. The particles that are too small to be used by these companies are then embedded inside the polyester fibres, meaning that they will not wear out or wash off. To control future shrinkage the Cocona is 'Super Washed.' As a bonus, this process is completed without the use of chlorine and in a Bluesign® accredited facility, which means the environment is protected.
Ulta thin and soft fabric.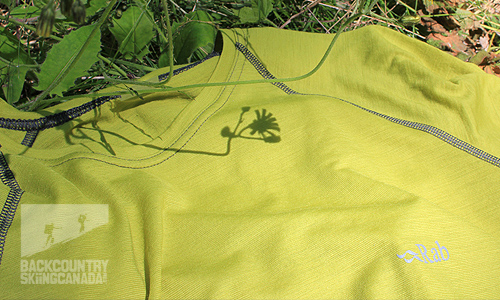 Flatlock seams to keep you comfy.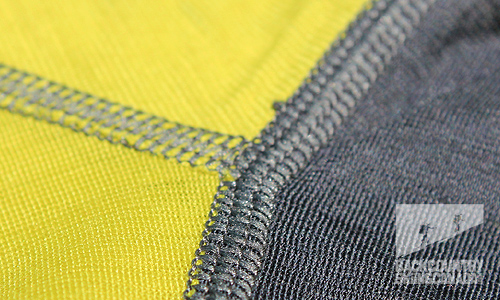 ---
Rab Orbit Pull-on:
Price: $65 US
Weight: 260g / 9oz
Colours: Fire, Blazon, Beluga
Sizes: S-XXL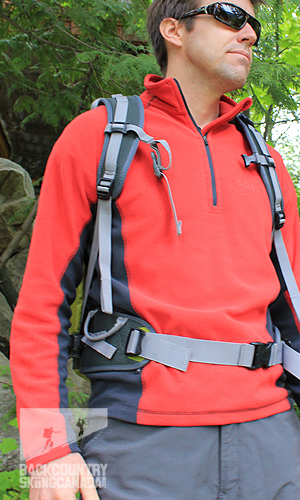 The Rab Orbit Pull-on is, as the name indicates, is a warm microfleece pull over. The Orbit is made from lightweight Polartec 100 fabric, which provides greater warmth to weight ratio than most other fabrics. The Orbit works well as either a mid layer or a stand-alone layer and comes with an integrated YKK 1/2 zip to give you some ventilation options when you get too warm. In addition, this piece has flatlock seam construction that prevents any pressure points from your pack straps. In keeping with their attention to detail, Rab puts a welcome spin on a traditional pull over style fleece with the addition of a micro stripe pattern that gives the Orbit Pull-on a unique texture and look. Added to this is a two-tone contrasting fabric under the arms which results is a simple insulation layer that works on trail and off.
High-end integrated YKK 1/2 zip.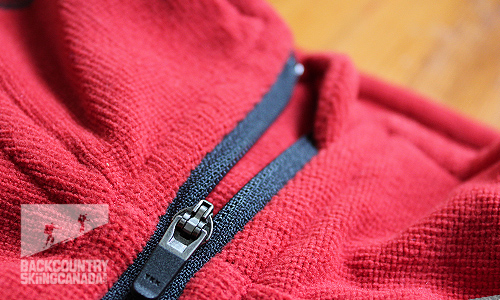 Polartec fleece that doesn't look like your average fleece.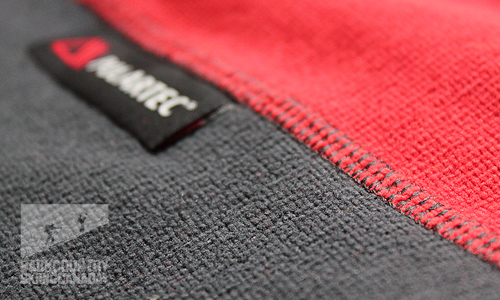 ---
Verdict:
Rab continued to impress us with this latest review. These four products definitely built upon the positive reputation that Rab has had in our minds based upon our previous winter specific product reviews.
The Rab Alpine Trek shorts have been a staple on spring hikes here in the Kootenays as well as while just lounging around waiting for the rains to clear this 'monsoon-June'. They are ideally suited to wet weather adventures and the odd jump in the lake as the fabric dries super quickly. The fabric seems to be pretty tough and so far has taken the abuse of the trail. The biggest benefit of the Rab Alpine Trek shorts has to be the four zippered pockets and perforated fleece lining (ok, so that was two). To truly appreciate the benefits of the pocket lining you simply have to try it. The only possible improvement we can think of would be the addition of laser cut drain holes in the cargo pocket.
The Rab MeCo 120 short and long sleeve Tees had big shoes to fill after reading all of those incredible claims on the hang tags: "Warmer, dryer, better smelling," yeah right I thought! How can one ultra thin fabric do all this? Well I am not sure, but simply put, it does. Although I have a rack full of base layer shirts to choose from my new MeCo shirts are getting all the use these days. The Rab MeCo 120 short sleeve is going on day 6 without a wash and with some pretty heavy perspiration time (I know this sounds gross) but it still smells like I just took it out of the package - thanks to the merino/Cocona fabric. It's also incredibly thin so you are cooler on the really hot days and yet it provides a nice soft base layer for colder days. It delivered, no doubts.
Now that we are surrounded with all of these new wonder fabrics, fleece seems so 90s. In my mind fleece had its decade in the sun 12 years ago, so I was skeptical to review the Rab Orbit Pull-on. I pondered the picture on Rab's website several times before deciding to take it on. Hesitation, however, quickly subsided once my tactile senses had an opportunity to take over, "is this fleece?" It feels more like a soft chamois than a fleece and it sure doesn't look like one either. The two tone exterior micro stripe pattern goes a long way to disguise that 90s fleece look and modernize an old classic. I am impressed by the insulation value of such a light fleece and the deep chest zip is very high quality. I only wish the medium had a little more room in it, so if in doubt go for the larger size.
With all of these garments I am a fan of the subtle branding that Rab employs. The Rab logo is in the typical left chest location but the contrast is kept to a minimum so that it's not the first thing you see, a nice change to being a walking billboard.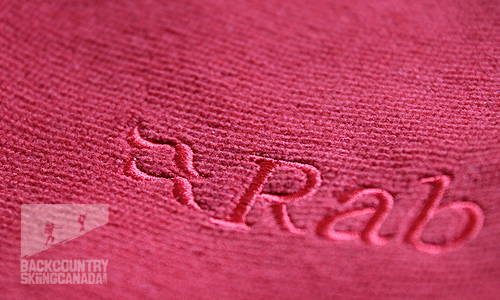 PROS:
The perforated fleece lining in the hand warmer pockets of the Alpine Trek Shorts is a brilliant feature! The Orbit Pull-on micro-strip fabric is a beautiful evolution of the standard fleece.
CONS:
The Alpine Trek Shorts need drain holes in the cargo pocket to enable water to exit after a lake swim. The Orbit Pull-on fit a little smaller than I would have liked.

This is only our opinion. Do you disagree? Did we miss something? Are we totally out to lunch? Join the discussion in the forums here, and let us know what you think. People like/dislike gear for different reasons so chime in and we'll get a well-rounded evaluation.
Back to the rest of the reviews.
---