Rab Sawtooth Pants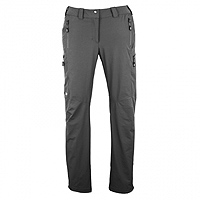 The Sawtooth soft shell pant is not meant as an all season ski touring pant, it is really designed to take advantage of those warm spring ski touring days and we know we all like to take advantage of those. Traditional waterpoof/breathable hard shell ski touring pants just won't make the grade once April rolls around and the mercury spikes above zero (Celsius for our American readers). I have found that a good quiver of ski pants tailored to the weather will get you through the season much more comfortably than a single hardshell. There is nothing worse than toiling away on the up track on a spring blue bird day with all your vents wide open and you are still getting roasted from the inside out due to your hard shells just not breathing enough. Fair enough, these things have limits. Enter the Sawtooth soft shell pant from Rab. The Sawtooth Pants are a lightweight double-weave soft shell pant ideal for spring ski touring conditions however, they are not so ski-style specific that you can't be right at home hiking, camping or wearing them around town.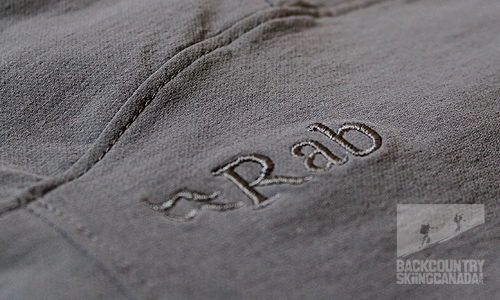 The Company:
Rab is a UK based company which has been around for over 30 years now and was founded by Rab Carrington, an accomplished mountaineer in the 1970's. Taking his experience from his mountain expeditions Rab started designing and manufacturing sleeping bags and jackets adding a new dimension to high performance mountaineering gear. With it's origins in Europe, Rab does not have much of a presence here in North America ... yet. After sampling the design and quality of their products we are confident that Rab could easily establish a foothold here in Canada and the US.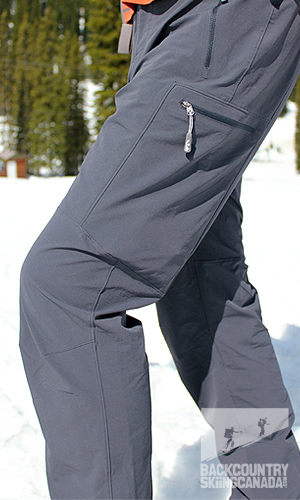 Features:
Reinforced crampon patch: Provides extra inside leg protection to prevent crampon or ski punctures.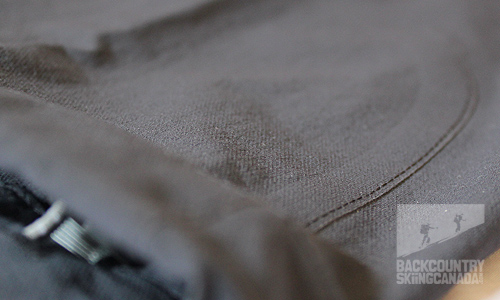 Articulated knee: Ensures that movement is unrestricted aiding comfort

Tricot lined waist band: Wicks moisture and provides comfort.

DWR: The fabric has been treated with a Durable Water Repellent (DWR) coating which provides water repellency for a rain shower, however they will wet out should it pour.
Belt loops and Snap fly closure: Keeps pants secure during active activity.

Hem drawcord: Cinches the pants down over your boot tops.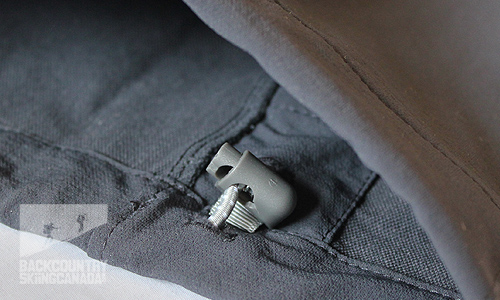 Pockets: Two zip mesh-lined hip pockets for small items and two zip thigh pockets for larger items.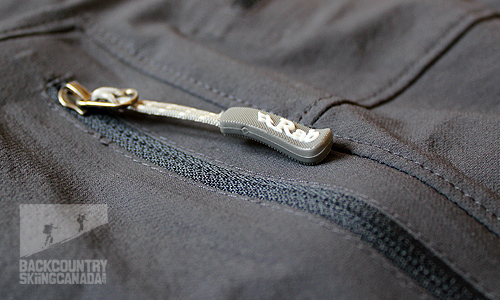 Ultimate Combo:
To complete the one-two punch Rab has just released (new for spring 2011) the Boreas Pull-on which like the Sawtooth pants is lightweight breathable layer ideal for spring ski touring. The boreas Pull-on protects you from the sun (UPF 50+) and provides some wind resistance as an outer layer but when things get cold it performs well as an insulating mid layer. The deep ventilating chest zip helps you get this over-the-head top on and off and allows for a good venting on warmer days. There is one small stash pocket for your, well ... stash. The hood is definite plus when it starts to snow and is designed to fit under your helmet should you want to block out the ridge-top winds. The Boreas Pull-on is a great companion to the sawtooth pant. It comes in 3 colours and retails for $95 Canadian.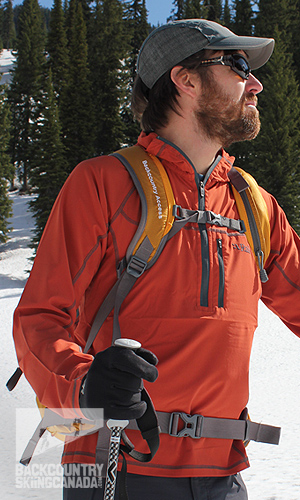 Verdict:
The RAB Sawtooth soft shell pants are easily among my favourite pieces of backcountry ski clothing. They function as designed, look and feel good and are made of quality materials that should stand the test of time. Thanks to 10% spandex in the material mix and the articulated knee design these pants provide a wide range of motion and offer ample flex for active activities like ski touring.
These are not just great spring ski touring pants specific to a single limited use.They provide the flexibility to wear them for hiking, mountaineering and general day-to-day wear as they do not look like a ski pant. I cannot say enough about how well these pants fit and perform and would recommend you introduce yourself to Rab products to see for yourself. The Sawtooth soft shell pants are new for Spring 2011 and just in time for the spring corn snow skiing.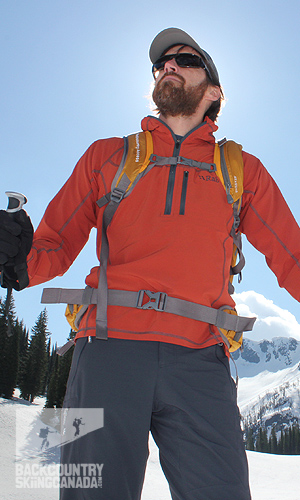 SPECS:
Price: $135 CAN
Fabric: 90% nylon, 10% spandex
Weight: 400grams /14oz
Colour: Beluga (dark grey), Pebble (light grey)
Size: S, M, L, XL
PROS:
Extremely comfortable and light, breaths and provides some water repellency. Really deep thigh pockets ideal for maps and larger items. An ideal pant for spring ski touring.
CONS:
None
Rating: 10/10
Fit / Mobility 2/2
Packability 2/2
Warmth / Breathable 2/2
Features 2/2
Quality / Price 2/2

This is only our opinion. Do you disagree? Did we miss something? Are we totally out to lunch? Join the discussion in the forums here, and let us know what you think. People like/dislike gear for different reasons so chime in and we'll get a well-rounded evaluation. Check back mid-season to see how our review stands up to our in-the-field testing.
Back to the rest of the reviews.
---
UPDATE APRIL 2013:
Over the years of reviewing gear there has only been a handful of products that have been awarded a perfect score of 10/10 and the Rab Sawtooth pants are one of them. The Sawtooth are really well constructed and have gotten an incredible amount of wear over the past few years. I not only wear these on hikes, ski tours and camping trips but I would have to say these are my go to pants for around the house as they are just so comfortable. The fit is bang on for my frame and the articulation and range of motion of the soft shell fabric is way better than a pair of track pants, and this way you don't look like you have given up on life quite yet.
---