Rab Latok Tour Pants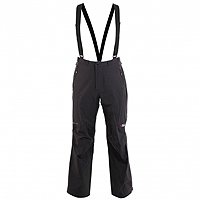 While Rab clothing may not be as common in the backcountry around BC as other major outdoor clothing manufacturers, the UK-based company has been producing high quality, technical outerwear for over 30 years and has a dedicated following around the world. With the use of "Event" waterproof fabric, they certainly have something to brag about.

I had a chance to try out Rab's Latok Tour Pants on a recent spring foray to ski couloirs at Kootenay Pass. The Latok's are built for ski touring and mountaineering and are intended to endure tough abrasion – which I had the displeasure of testing.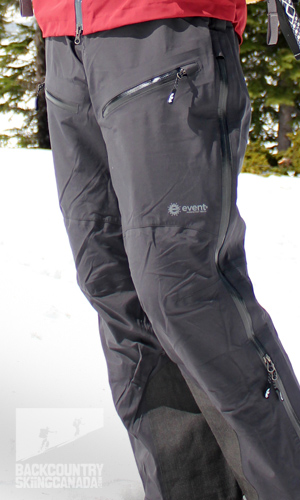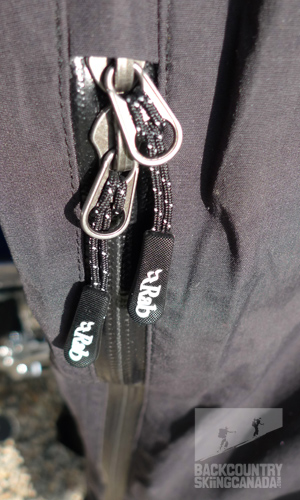 I wore a medium in the Latok and I'm 5'6" tall with an inseam of 30". Lengthwise, they were good, if not a tad long. The articulated knees functioned nicely and I really forgot I was wearing a pair of "test" pants. For me, when I forget about how my gear is functioning that means it's doing its job well.

I did notice some "bagginess" in the upper hip area, which isn't in keeping with other mountaineering pants. When ski touring, I appreciated this extra room, especially boot packing up steep coolers, but I did not have the opportunity to put on a harness for climbing and this may be something to consider if you plan to rope up a lot.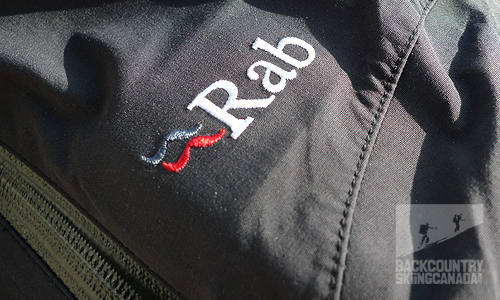 The front leg pockets on the Latok were handy, allowing me to store a camera or just about anything else with ease of access and well away from pack belt and other waist-area items.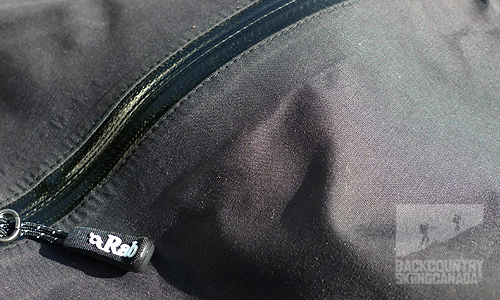 The "event" fabric was impressive and lives up to its claim of letting the sweat out. The temps were into the mid-teens (Celsius) on this day and I was really impressed with how cool they were. Even with the sides zipped up they stayed remarkably dry inside even tough I was sweating. Very impressive.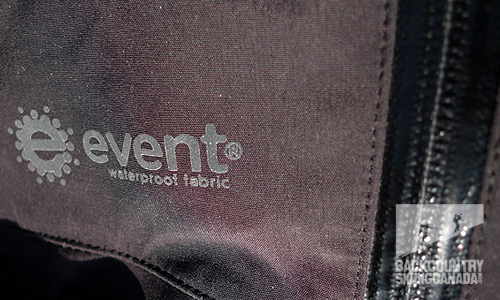 Durability was also tested when I was hiking off a snowless ridge through alder and boulders and went for a ride down a 20-foot embankment. I was certain I had ripped the pants as it was a spectacular bum slide, but the pants were unscathed.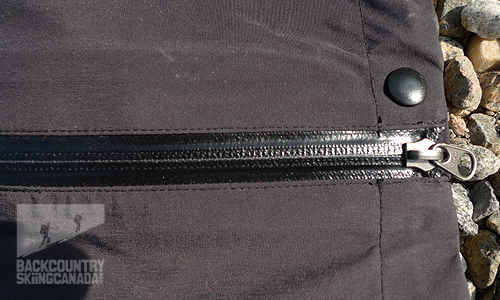 Features:
- Full length water resistant side zips
- 2 hip pockets with water resistant zips
- Belt loops with detachable suspenders
- Articulated knees
- Fixed snow gaiters with mesh stretch for comfort
- Schoeller Keprotec reinforced instep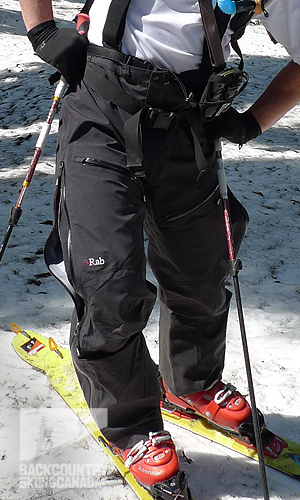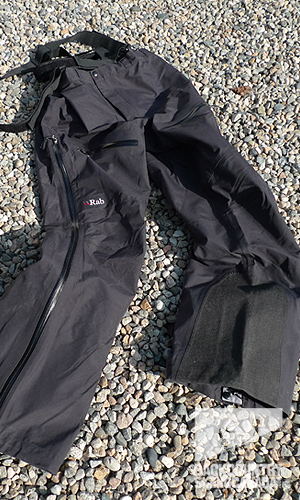 SPECS:
Price: $260 CDN
Weight: 750g / 26 oz
Sizes: S, M, L, XL, XXL
Colour: slate
PROS:
Overall, the Rab Latok Tour Pants are a well-built, smart design that combines simplicity (less is more) with attention to detail. The "event" fabric lives up to its billing as waterproof yet remarkably breathable. From fit to function, these pants are quality.
CONS:
If you plan to rope up a lot, the bagginess in the hip area may be a concern. Try on a pair first if you have the chance.
Rating: 9/10
Fit / Mobility 1/2
Packability 2/2
Waterproof / Breathable 2/2
Features 2/2
Quality / Price 2/2

This is only our opinion. Do you disagree? Did we miss something? Are we totally out to lunch? Join the discussion in the forums here, and let us know what you think. People like/dislike gear for different reasons so chime in and we'll get a well-rounded evaluation.
Back to the rest of the reviews.
---