Rab Latok Jacket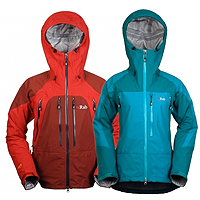 Growing up I had it drilled into me that when you buy something you buy it to last. These days having the latest technology or style seems to trump longevity of a product. I've always wondered why not both? Why can't our goods be so well designed that they will last for years and years (if they're well maintained of course)? This is something I look for in a hardshell since frankly they're essential to all-season ski touring and a good one ain't cheap so you want it to last. You also want it to accommodate everything you're gonna need and most importantly protect you when it counts.
Most backcountry skiers I know have one hardshell which they use for backcountry skiing as well as resort skiing. I am sure they would love a super lightweight hardshell for ski touring and a beefier hardwearing jacket for resort skiing to match a quiver of skis but not everyone has that luxury. Having said all that, there are some hardshells on the market now which do an exceptional job of covering all bases. Rab's Latok Jacket is one of them.
Still not widely known in North America, Rab has been in the mountain apparel business since 1981. Mountaineer/climber Rab Carrington established the business at his home in Sheffield, UK to design equipment that stood up to 'the most extreme conditions in the world'. The company has now changed hands but the ethos lives on and is evident in the quality and durability of their clothing.
Features:
Rab's Latok Jacket is designed to be breathable and hardwearing. It's zonally constructed from midweight and heavyweight 3 layer eVent fabric. The heavyweight eVent fabric is highly durable and is used in the high-wear areas of the jacket, such as the shoulders and waist where your backpack will rub. The Latok is feature rich with 4 external (3 on the womans version) and 2 internal mesh pockets (1 on the womans version), with room for maps. All zippers are waterproof with rain drain points and a storm flap on the main zip. Other features include:
- Venting pit zips with rain drain points
- Adjustable velcro cuffs
- Stowable, helmet compatible, wire peaked hood
- Double exit hem cord for cinching your jacket
- Double exit waist (in pockets) drawcord to cinch you jacket in at the back waist to articulate the fit
- Most importantly (at least for skiing) the jacket has a long cut. This keeps the snow out and negates the need for a bulky powder skirt.
Check out these glamour shots:
>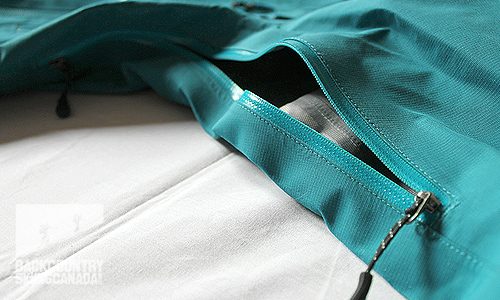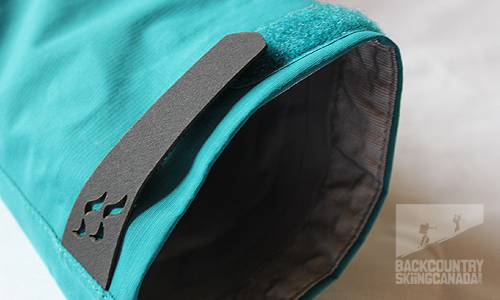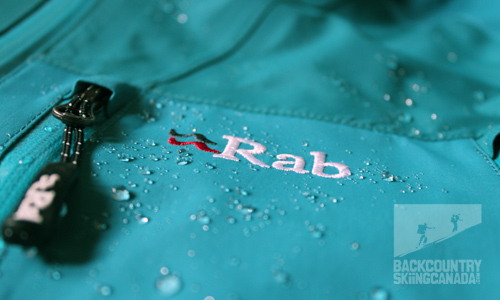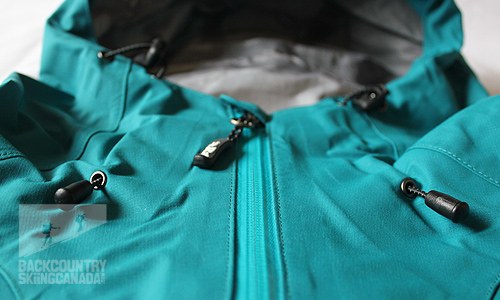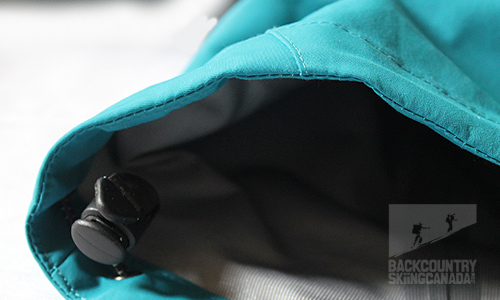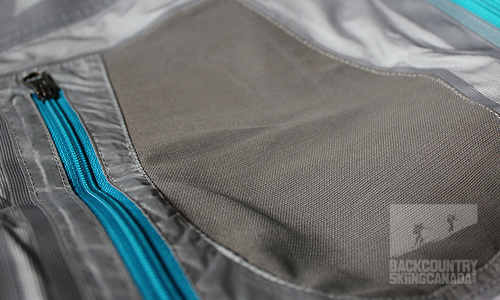 And of course the mens version: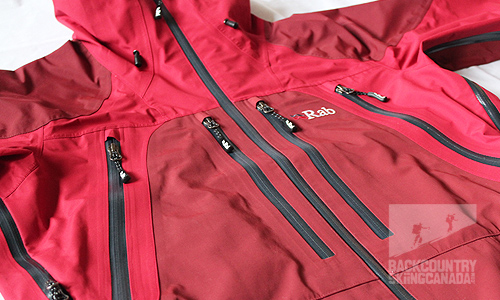 Verdict:
EVent fabric has been around for long enough now to live up to it's reputation of being one of the most breathable waterproof fabrics on the market. This is the second jacket that I have owned that uses eVent and while you may get moisture build-up inside where your pack hip-belt and shoulder straps sit, this fabric does indeed breath better than any other comparable fabric I have tested on the market. This isn't the lightest jacket on the market specifically for ski touring performance, it is a practical, highly durable jacket. A workhorse that will stand up to tree snags, tough conditions and day-to-day use. Where it excels in practical features it doesn't compromise on design or fit. The long cut is ideal for keeping the snow out in powder conditions. The woman's jacket in particular is really well articulated and flattering (a.k.a looks hot).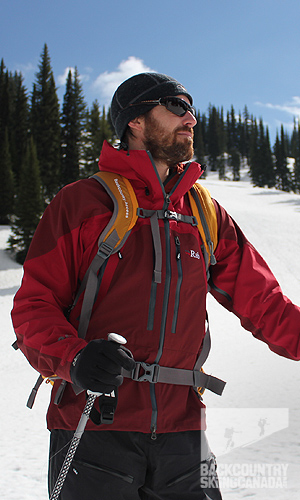 SPECS:
Price: $450 CAN
Weight: 760g (mens), 590g (mens)
Sizes: S - XXL (mens), 8 - 16 (womans)
Colour: Cardinal, Charcoal, Pois (mens) Black, turquoise, purple (womans)
PROS:
This jacket is a lifer. Designed to last, it's full-featured and well articulated.
CONS:
None.
Rating: 9.5/10
Fit / Mobility 2/2
Packability 1.5/2
Waterproof / Breathable 2/2
Features 2/2
Quality / Price 2/2

This is only our opinion. Do you disagree? Did we miss something? Are we totally out to lunch? Join the discussion in the forums here, and let us know what you think. People like/dislike gear for different reasons so chime in and we'll get a well-rounded evaluation. Check back mid-season to see how our review stands up to our in-the-field testing.
Back to the rest of the reviews.
---
UPDATE APRIL 2013:
The Rab Latok Jackets have stood up incredibly well to 70+ days of skiing over the last two season. I have bashed into trees, rocks and even a creek bed and there is not a battle scar to be found on them. It's a durable jacket that is made extremely well. All of the adjustments and zippers still work and thanks to the darker colours it hides the dirt and grime really well. I love all the pockets and how form fitting it is, there's a reason it will see many more ski seasons to come. A great ski jacket all around, hence the 10/10 rating!
---