RAB Exodus soft shell Pants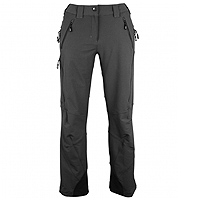 This year I have had the good fortune of wearing a pair of Rab's Exodus softshell pants for women and I am now looking forward to spending a complete winter season in them.
During the advent of the softshell craze I was working in a gear store which stocked a number of pairs of women's mid- to heavy-weight softshell pants. I remember spending one afternoon trying on every pair we had in the store, only to find that they either looked too 'mumsy' or they were too short in the leg or crotch. I put it down to the fact that softshell pants just weren't cut for my body type (active and tall). The Rab Exodus pants are another story. It seems Rab take considerable effort to design their womens clothing for woman. Not only is the cut of the Exodus pants highly flattering, they are comfortable too. So now we have the important stuff out of the way, how do they perform?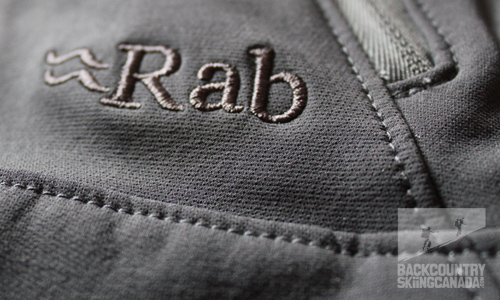 These pants are solidly constructed, designed for durability, they will withstand a tree snag where your hardshells won't. They fit a ski boot snuggly to keep the powder out. The fabric is stretchy and the cut articulated so you can move easily. I am used to wearing a base layer under a hardshell for my touring set-up but I find I seriously overheat on the up track sometimes as a result. The Exodus pants are highly breathable but insulating enough that I no longer need the base layer so I can move without my legs cooking. I wore these skiing on a few warm bluebird spring days this year and found the side thigh vents to be awesome air-conditioners. These pants are really versatile, perfect for the mountains where the weather can change on a dime.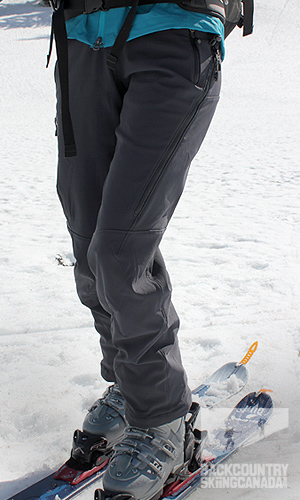 Features:
- Durable mid-weight stretch woven soft shell
- Weather resistant and highly breathable
- Welded and top stitched pocket construction
- 1-way YKK smooth and flat fly zip with snap closure
- 1 thigh pocket with smooth and flat YKK zip and mesh lining (Love the mesh lining)
- Side thigh vents with smooth and flat YKK zips and internal storm flap
- Belt loops
- Articulated knees
- Adjustable hem cinch system
- Cordura abrasion resistant crampon patches
- Women's specific cut and styling
- UPF 50+
- Inside leg length: 78cm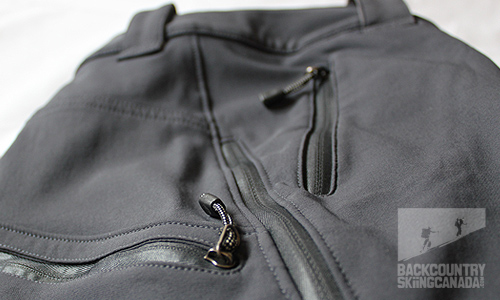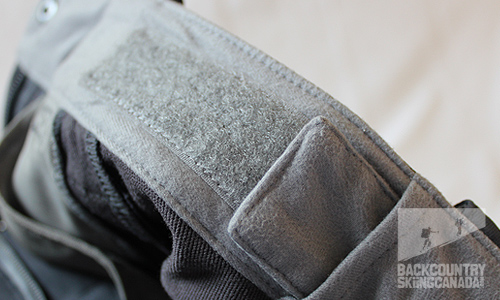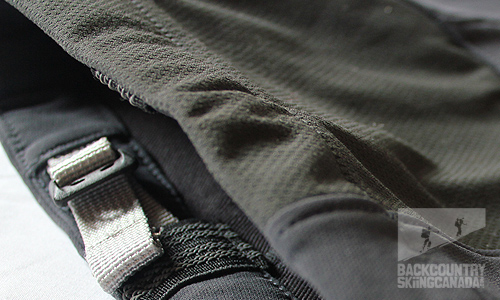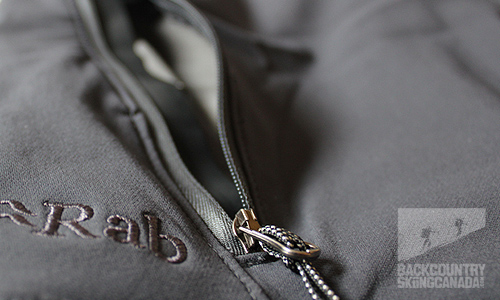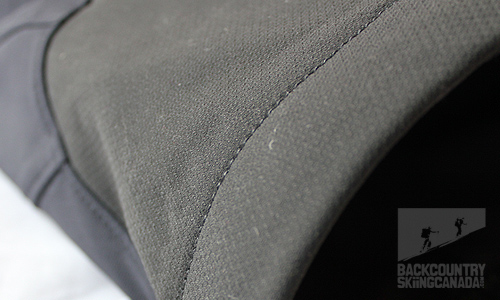 Materials:
I love finding practical and versatile pieces of gear that still make me feel like a woman because they are made to fit a woman. These pants do just that and they feel good to wear too. The woven lining is soft and they are warm enough to wear on their own but breath and vent well so you won't sweat-it-up too much when you're hiking up (who says women don't need venting?). They are water-resistant but not water-proof so don't plan on wearing them in a downpour but really that's not what they are designed for. Like I said I am really looking forward to putting more miles on these pants, they have filled a gap in my touring set-up. My only nit-pick is that I've never been a fan of seams that sit just above the knee. I find that seams close to the knee can be uncomfortable when you are really climbing, I know they are there for articulation and freedom of movement but I suspect I may find these seams annoying on a long, steep up track. Something I can live with though given all the pros.
SPECS:
Sizes: 8 - 16
Weight: 520g / 19oz
Retail Price: $119.95
Colour: Beluga (charcoal), Hummus (beige)
PROS:
Feminine flattering cut - these babies look good. Great ventilation, mesh lined pockets. Well priced, well constructed and highly durable.
CONS:
Horizontal seams just above the knee could irritate.
Rating: 8/10
Fit / Mobility 1.5/2
Packability 1.5/2
Warmth / Breathable 1.5/2
Features 1.5/2
Quality / Price 2/2

This is only our opinion. Do you disagree? Did we miss something? Are we totally out to lunch? Join the discussion in the forums here, and let us know what you think. People like/dislike gear for different reasons so chime in and we'll get a well-rounded evaluation. Check back mid-season to see how our review stands up to our in-the-field testing.
Back to the rest of the reviews.
---