Princeton Tec Apex Rechargeable Headlamp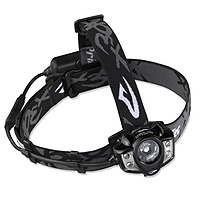 "It is better to light a candle than to curse the darkness," suggested an ancient Chinese proverb. That thought crossed my mind many a times in the past year both in times of trouble, and in times of joy. In all cases the answer to both safety and newfound adventure was found in the form of a trusty headlamp.
Having become a new father in the past year, my daylight outdoor fun hours were severely compromised. Rather than curse the darkness however, said trusted headlamp lit the candle of post bed-time treks by foot, wheel and ski.
In the multi-sport backcountry enthusiast's quiver, multi-functional devices that are durable and reliable are critical to safety and maximizing the value of every gear- dollar spent. The Princeton Tec Apex rechargeable headlamp handily fills that need. This ten ounce device proves as adept on hard charging, after-dark mountain bike rides as it is lighting your way from tent to bathroom or hut to hut in the mountains. Due to its relatively large size and weight, it's not the ideal choice for the weight obsessed backcountry skier. From short evening excursions to multi-day overseas trips, the Princeton Tec Apex is the one-stop shop of headlamps.
Climbing, biking or hiking, the Princeton Tec Apex Rechargeable Headlamp does it all.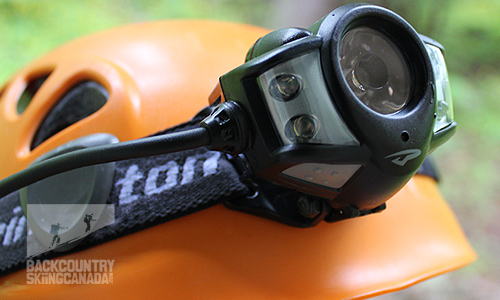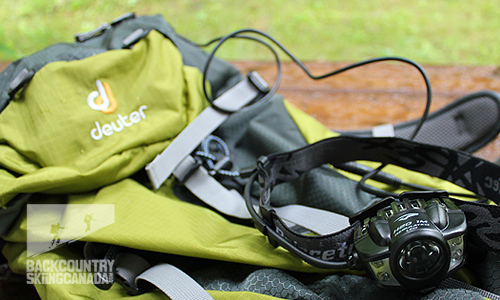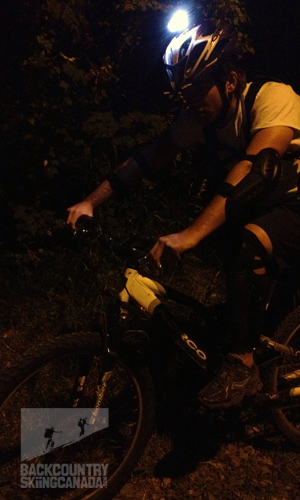 Versatility is the name of the game for the 2.5 X 1.75 X 1.5 inch lamp. The 200 lumen output features a central high output Maxbright LED and four surrounding Ultra-bright five millimeter LED's providing wide and tight angle beam abilities. Five lighting selections are available in total.
For maximum distance the Ultra-bright high beam will stretch upwards of one hundred meters with a total burn time of up to five hours. Switching to low you gain an additional three hours of burn time; however total beam distance drops into the sixty meter range. For the uphill bike climbs on winding trails, the low beam was more than adequate to light the way, switching over to high for the downhill blitz, keeping pesky rocks and roots in full vision when the speed picks up.
Heading from trail-head to home, under the city street lights, the blink function, swiveled to rear facing on your helmet adds an extra ounce of blacktop travel safety. Taking it deeper into the backcountry, the blink function can provide 61 hours as a safety beacon, sending out a beam greater than 23 meters.
For slower speed affairs, be it gathering firewood at the campsite, or late-night dog walking, the four, 5 millimeter LED's provide long life of up to 20 hours on high. The wide beam of the 5 millimeter lights is ideal for close range work such as après-ski equipment repairs or building your campfire for the night with a total beam distance near 25 meters. Switched to low, the 90 hour burn time provides a 20 meter beam for a week-long camping trip with no need to recharge mid-trip.
When the time to recharge does arrive, you won't have to shell out cash for new batteries, and with the right equipment, you'll have no need at all to return to electrified civilization. The lithium ion battery pack features an included USB recharging cord for quick reloads of power. For the long haulers out there, portable solar panel setups with a minimum output of 5 volts and 1 amp will provide an on the go charging scenario to keep you self sustained in the wilds. If you're traveling far and wide overseas on your next backcountry voyage, the ease of USB charging negates the annoyances of foreign power voltages and plug interfaces. If you've got your laptop, you're good to go.
A few glamour shots of the headlamp and battery pack.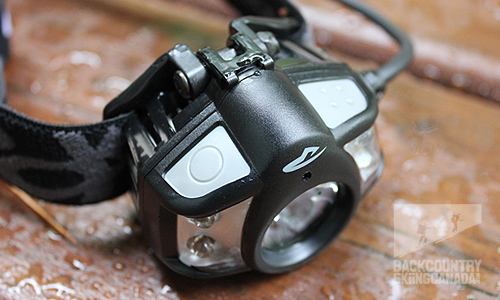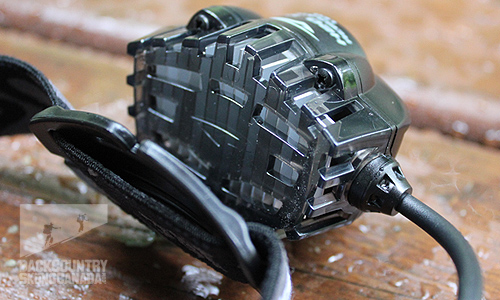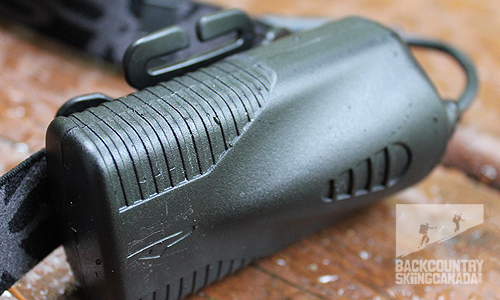 Heading out on two wheels, the included helmet mount Velcro strap provides several options for comfortable mounting. The only potential drawback was cleverly anticipated by Princeton Tec with the inclusion of a 42 inch extension cord. Mounting the battery pack on a helmet is less than ideal, however the extension allows for comfortable storage in your backpack or nearby pocket while you ride. One downfall , slight as it was with this setup was on tight trail descents in which the looping extension cord occasionally snagged the odd tree shark, disconnecting the power. Routing the cable through your helmet to exit at the rear, leaving minimal potential for snags seemed to solve the problem.
Through several hard two wheel crashes, the durability of the Apex was tested. Coming through with flying colours, the high-grade construction materials proved more than adequate to ensure a long lifespan through the toughest of conditions. An added IPX7 rating will save you from "H2 Oh no," moments, ensuring waterproof protection to one meter in depth for up to half an hour.
Less glamorous but equally important features include a built in power meter saving you from embarrassing fails on the trails. Heat regulating technology has been built in to prevent burnout, and a regulated circuit board prevents the long slow fade-out of a dying battery, giving you equal light from start -up to shut-down.
If responsibility has got you relegated to night-time adventures, or you simply need a reliable, durable and multi functional headlamp to keep having as much after-dark fun as you can with your snow pants on, than the Princeton Tec Apex model will fill your need and save you cursing the darkness.
The lighting modes and of course the recharge.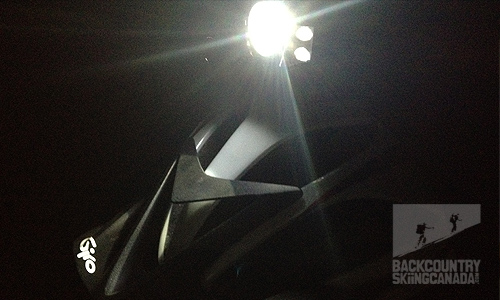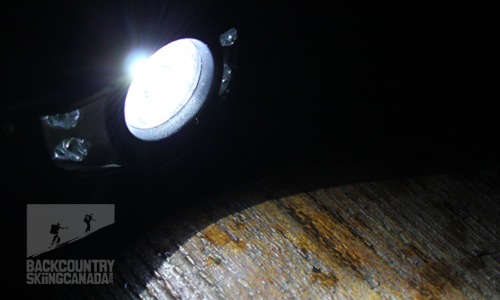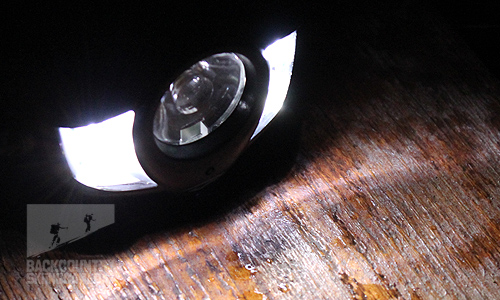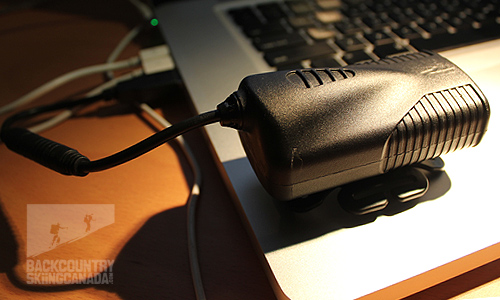 Verdict:
For the adventurer that wants a single headlamp with multi-functionality, the Princeton Tec Apex series is the one-stop shop headlamp you're after. Ideal for overseas travel, multi-day adventures, biking, camping, touring and pushing a crying baby along your favourite urban trail.
If you want something on the more demure side of things then the Princeton Tec Fuel ($29.99 US) or the Princeton Tec Remix ($39.99 US) may be just your thing. The Princeton Tec Fuel provides 70 Lumens of power from 4 LEDs with a total burn time of 146 hours on just three tiny AAA batteries. All this awesomeness comes in a 78 gram headlamp while the Remix is 83 grams and supplies 100 lumens with he same 3 LED's and a bonus Maxbright LED for that extra bright-light. While neither of these are as bright as the Princeton Tec Apex rechargeable headlamp they will certainly do the trick for those gram obsessed people out there.
The Princeton Tec Remix.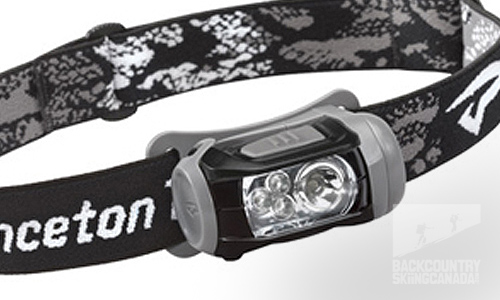 Princeton Tec Fuel Headlamp.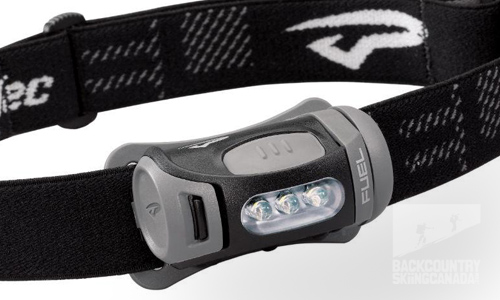 SPECS:
Price: $149.95
Max light output: 200 Lumens
Beam distance: 26 to 96 meters
Settings: 5 (High and low central LED, high and low 5 mm LED's and strobe)
Burn time: 5 hours on high to 90 hours on low
Dimensions: 2.5 X 1.75 X 1.5 inches
Batteries: USB rechargeable battery pack
Included in case: head strap, additional bike helmet Velcro strap, 42 inch extension power cord, bulb and battery pack
PROS:
Long battery life, excellent long and narrow beams as well as shorter wider beams, rechargeable battery pack saves purchasing new batteries, USB charging cord allows easy recharging anywhere you've got a computer and interfaces nicely with portable solar panels. USB charging allows easy charging overseas. Easily accessible buttons.
CONS:
Utilizing the included 42 inch extension cord is handy, but creates a snag hazard. Remembering that your attached while using the extension can be tricky when taking off your pack. The included head-strap is tight at full extension for large heads in toques. The bulkiness and weight of the headlamp and battery back are not ideal for the weight obsessed backcountry touring crowd.

This is only our opinion. Do you disagree? Did we miss something? Are we totally out to lunch? Join the discussion in the forums here, and let us know what you think. People like/dislike gear for different reasons so chime in and we'll get a well-rounded evaluation.
Back to the rest of the reviews.
---