Looking in and up at Powder Creek Lodge. A 2475m flank of Hellroaring Ridge presiding above.

Looking out from the front deck to the gnarly north-facing runs—some of which are 900m. The incredible deck -view is something you often don't see at other lodges. It really contributes to the open feel.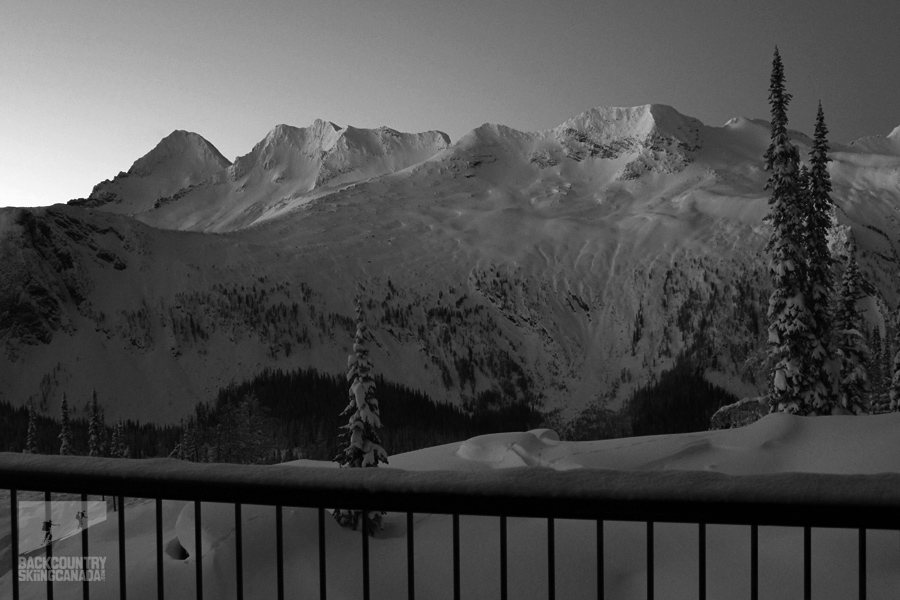 Sublime. Here's the view from the Sugarbowl looking west toward Kootenay Lake and the Selkirk Mountains. The red-roofed lodge is perched in a perfect vantage point.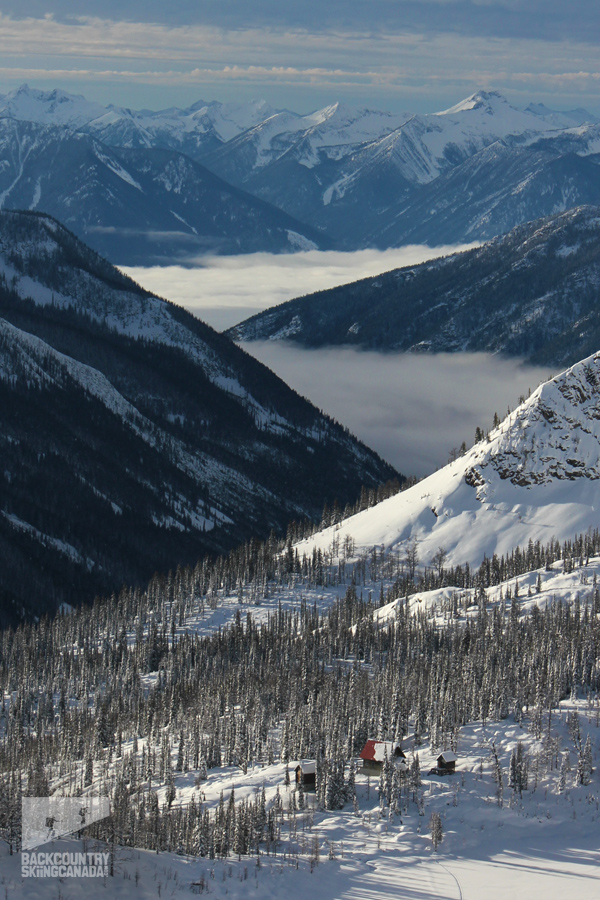 Here's a little alpine glow coming off the north-facing slopes across Powder Creek Valley. Beauty!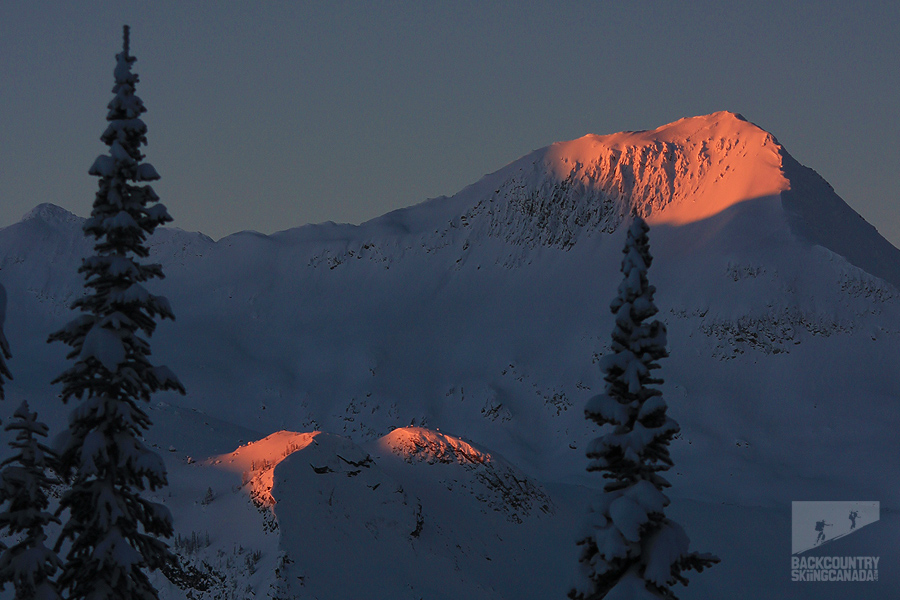 Digs.
The lodge itself is very comfortable and well appointed. No dirtbag vibe at all. Features like the six, 2-3 person private bedrooms make getting away from it all easier than in some lodges which are set up more dorm style. Duvets, closing bedrooms doors and lovely mountain views add to the charm. The interior finish and woodwork, the "his and her" bathroom wash-up area, the spacious kitchen with four sinks for squeaky clean dishes, and the totally dialed dining area and living room make for a highly functional and comfortable environment.
A massive front deck, always in need of snow removal, offers a great outdoor escape spot when in need. It also serves as home for the fully functional BBQ. The liquid toilets may seem like a minor bonus but they are major when you don't have to leave the building for mid-night relief. All in all, the lodge is in good shape, and looks and feels like the entire building was conceived of, and built, at once. This in contrast to some backcountry lodges where you can feel the add-ons and bump-outs that have been built over the years ( a la Kootenay). This lack of a "making things up as you go along" building style isn't a must; rather, it just contributes to the lodge's comfort and how it all works in terms of people flow and space.
A micro-hydro system means electric power is available. This is an Internet free zone. The sauna is spacious, well-thought out and inviting, as is the shower. Heating is a combo of wood and propane.
We take you on a thorough tour of the interiors of the buildings during the first four-or-so minutes of the video (up top). Be certain to check it out.
The deeeluxe kitchen, shot from the dining area.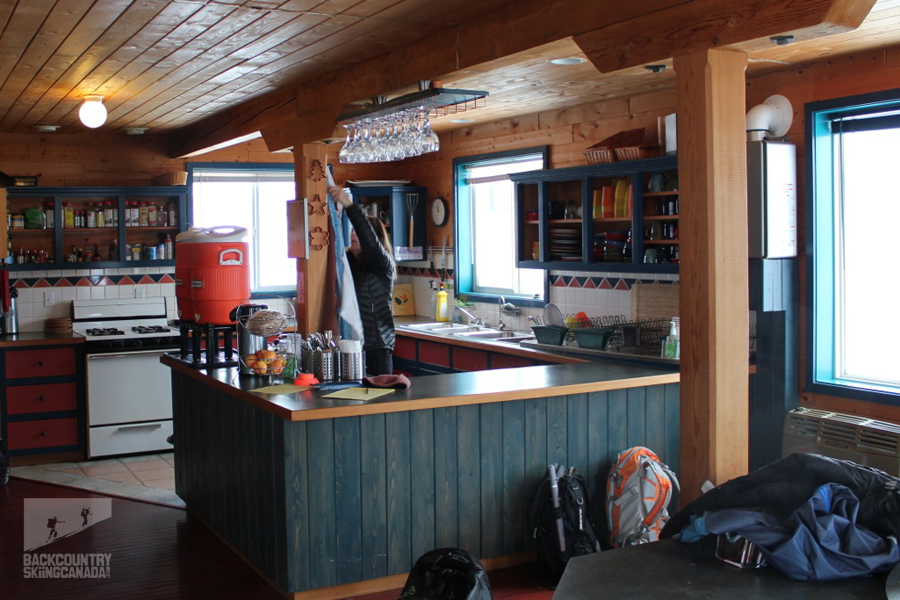 The dining area with de riguer lazy Susan.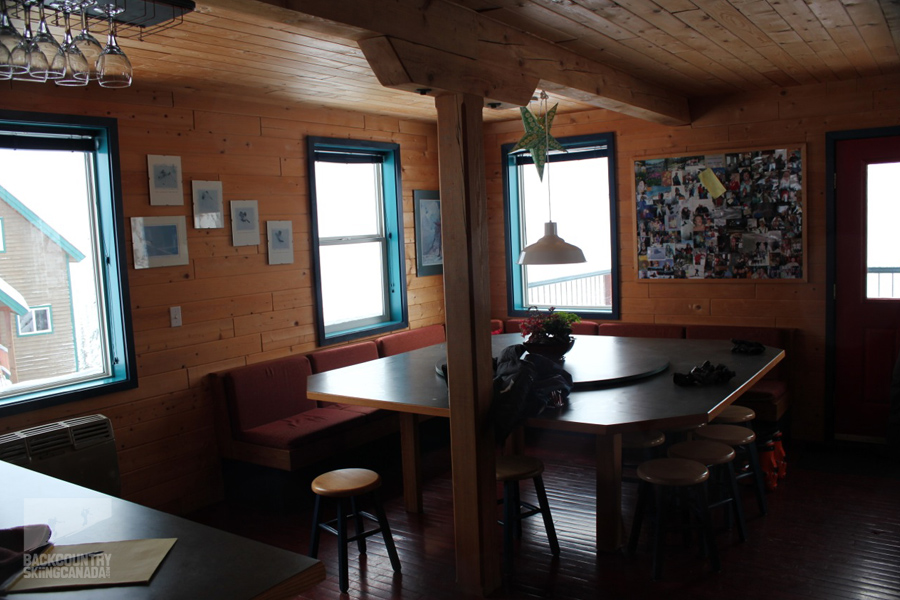 From the living room space, back toward the dining area. Note the wood stove which heats the lodge and fuels the drying rack on the second floor above. (2:30 in the video)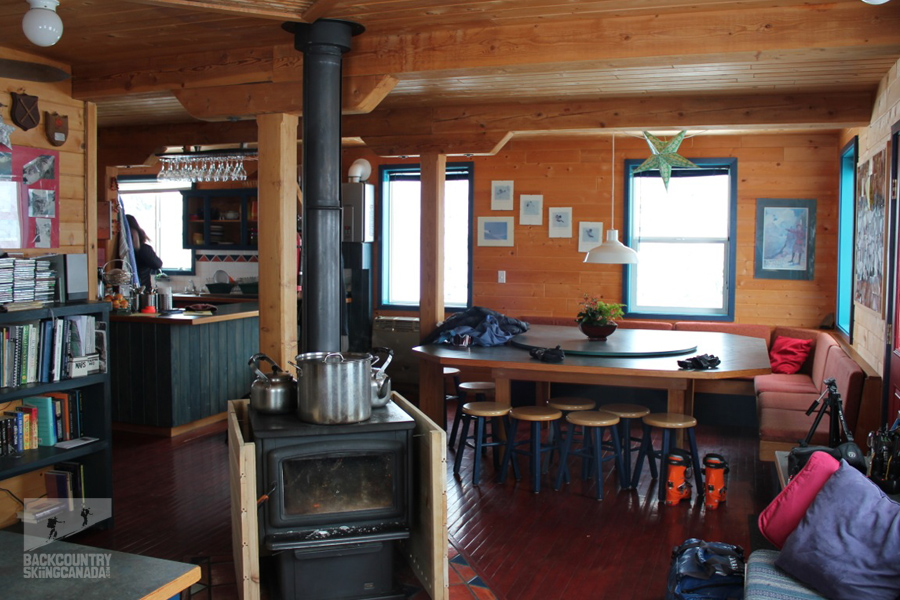 The Terrain.
The two of us were cautious and taking it easy compared to the rest of the group—even though many of them were pushing 60. It was early season, new terrain, and the snowpack had yet to make up its mind, so we played it safe. Make sure to take a look at the video on this page because co-owner Heather Smith (the other owner is Guus Diks) does a great job of describing the various runs and terrain (just after the 5-minute mark).
Thinking about it all again and looking at the photos make me realize that we just scratched the surface of the 7,150 hectares of skiable terrain. It's now clear why some folks return to Powder Creel Lodge year after year to check off various tours and descents. On a return trip, I'd definitely try and get up into the alpine a little more and do a big day into the Attic.
Let's talk a little about the terrain we experienced. After arriving and getting settled, we hit Home Run directly above the lodge. The uptrack leading to this zone also gives access to the Backdoor above, which drops you into Breakfast Run and Gash Trees, an amazing run to Mosquito Lake below the hut at valley bottom. Backdoor is also one way to more northish facing terrain into the Campbell Creek drainage and the Attic. Sitting at the point between Powder and Campbell Creek drainages allows for an enlightening orientational experience. If you've spent time on Kootenay Lake, you might know Powder and Campbell Creeks from their "mouth" sides. Being up high on the opposite end helps the region's topography all make a little more sense.
There are endless touring possibilities at Powder Creek. On good viz days, we went up high to Sunshine Ridge.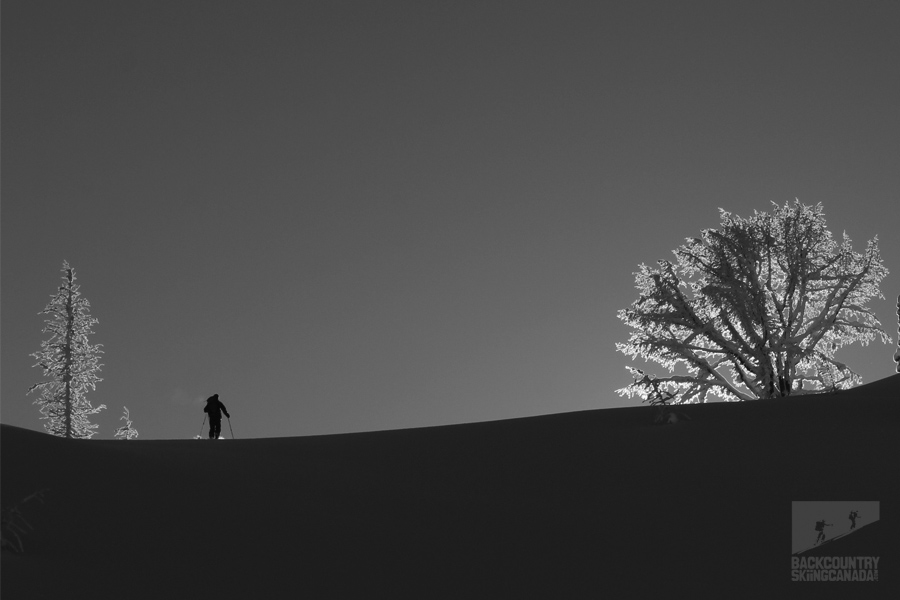 Digging a pit in the SugarBowl, east of the lodge.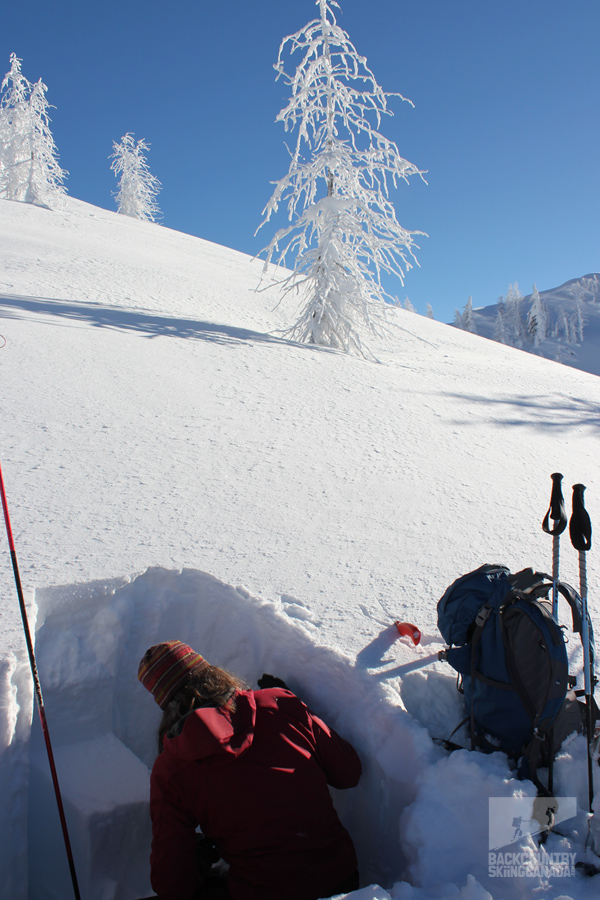 Gaining the aptly-named Sunshine Ridge.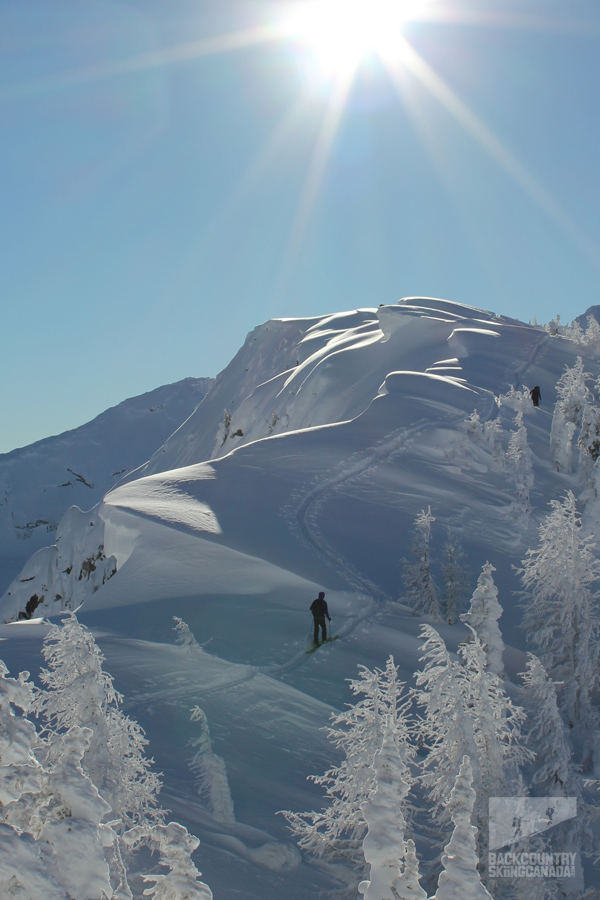 The skier with-no-name comes off the ridge down into the Cirque Basin Zone.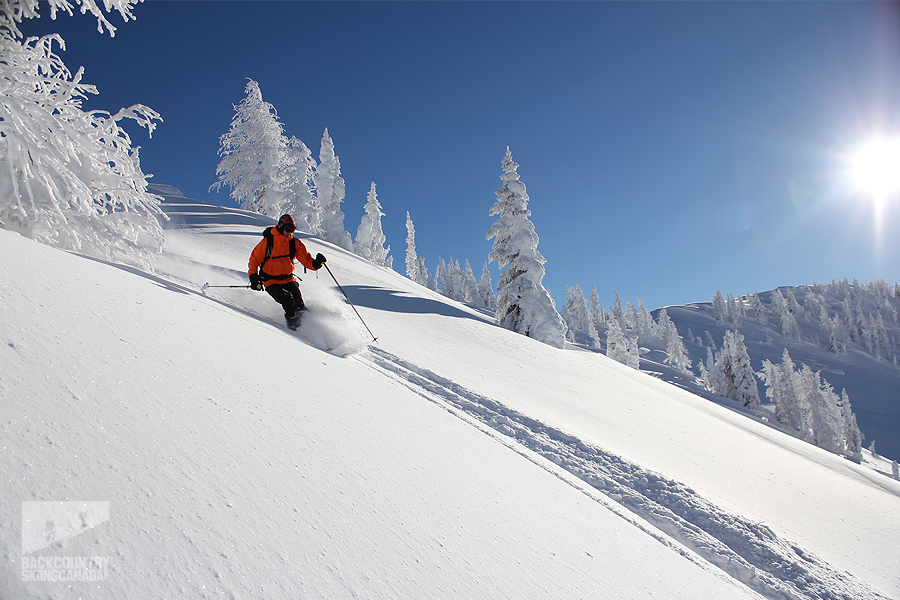 Coming back across Lise Lake to the comforts of Powder Creek Lodge after a good, and hard, day.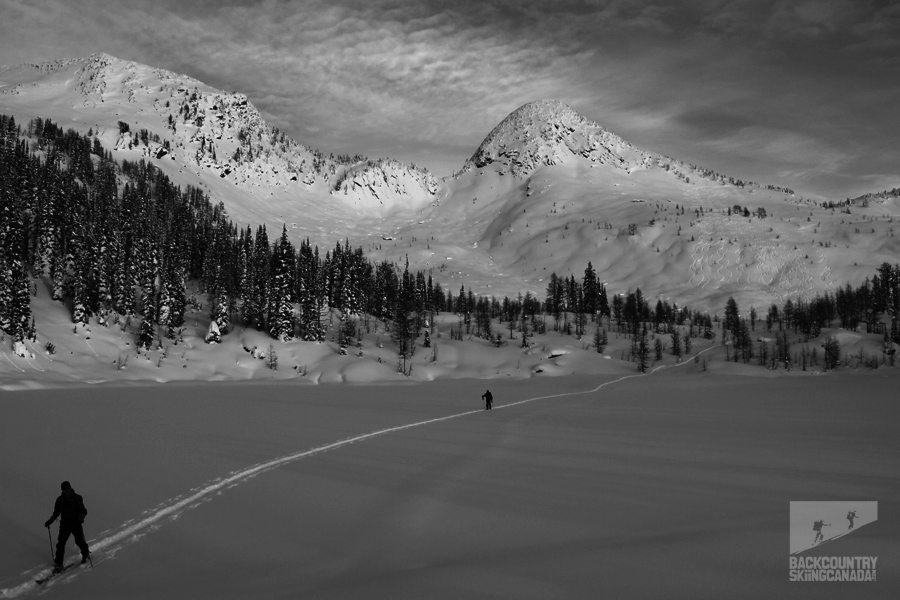 Here's what the skiers in the photo above would be looking at. The buildings of Powder Creek (in amazing technicolour).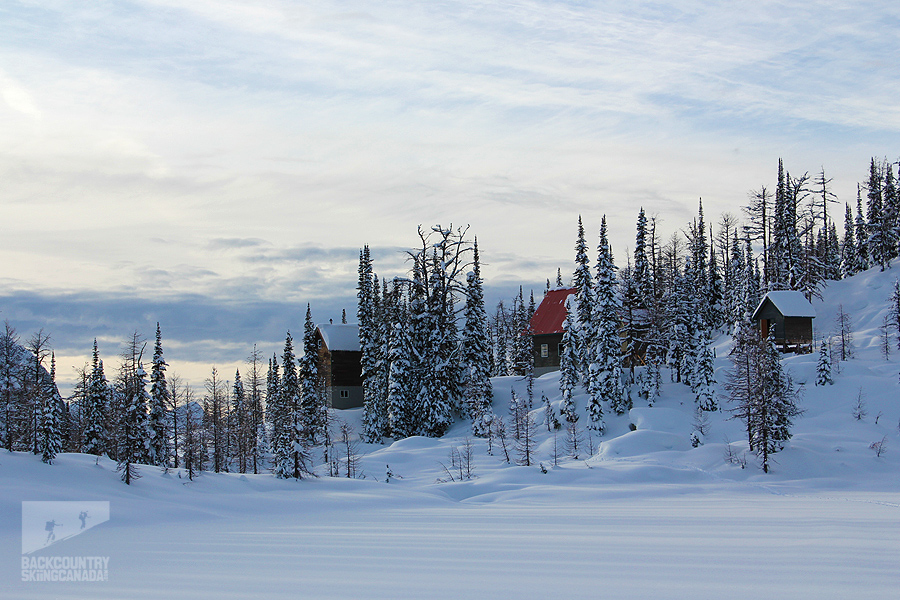 One of the best days. Ever. Lapping up the treed terrain off Wishbone Ridge.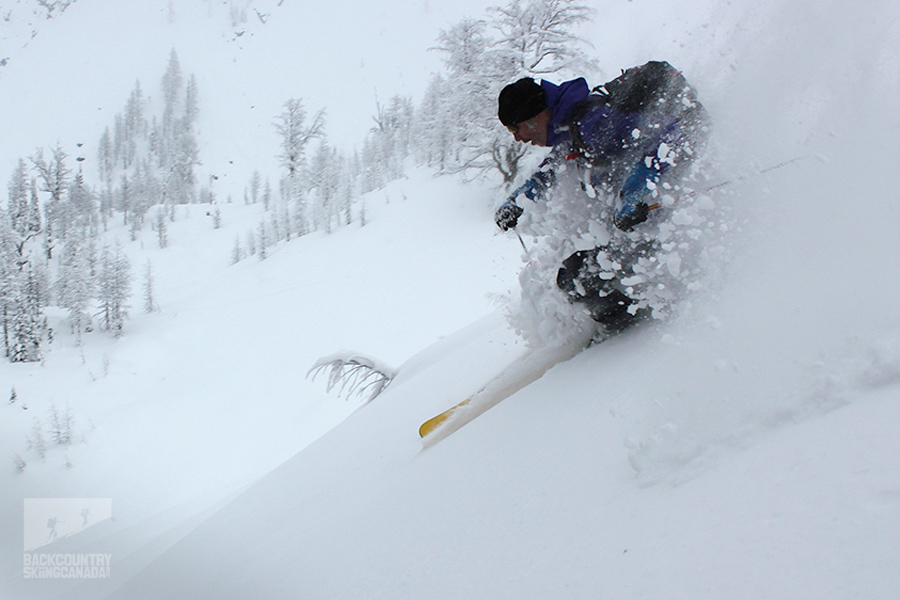 Getting GIFed on lap 5.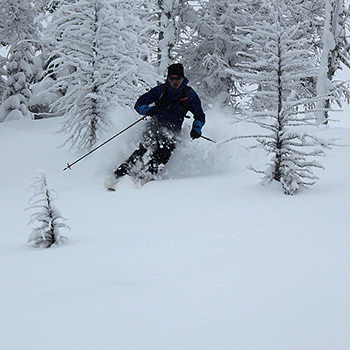 Verdict:
It's clear that if you are ever able to go to any backcountry lodge in the BC Interior, you should. If you have a choice, different lodges appeal to different people. Good powder and excellent terrain seem to be a given with any of the many lodges we've been to. They aren't significant differentiators. Lodge builders locate their operation with these two factors in mind.
If you are wondering what makes Powder Creek so special, I'd say it comes down to a couple things. 1) The state of the lodge. It's in great shape—very comfortable, well conceived and functional. This is not always the case. Some lodges have more of a "beater/ramshackle" feel to them. 2) The atmosphere. Perhaps it was because co-owner-Heather was with us for the week and there were other women on the trip. The vibe was more "balanced" than some of the all-male adventures we've experienced. It's not just the participants though. Heather's touch is apparent and appreciated throughout the lodge. This is a welcomed change in the male-dominated world of lodge ownerdom. 3) The location: there's something excellent about being away from it all in the Purcells. And the location, east of the lake, adds to this. You feel like you are really "out-there." And it's nice.
Thanks very much to Heather and Guus for hosting us.
SPECS:
Price per 12 for self-guided/self catered: $15,400.
For 12, guided and catered: $26,950

Rating: 9.5/10
Comfort 2/2
Accessibility 1.5/2
Terrain 2/2
Amenities 2/2
Quality/Price 1.5/2
Location: Staging area is in Kaslo, about an hour north of Nelson, BC.
Airports: The closest reliable options are (note the absence of Castlegar) Spokane, WA – 400 km / Kelowna, BC 200 km / Cranbrook, BC – 300 km
The Powder Creek Website is excellent and very informative. You can see details on everything from terrain to a great gallery of photos over the years.
This is only our opinion. Do you disagree? Did we miss something? Are we totally out to lunch? People like/dislike lodges for different reasons so chime in and we'll get a well-rounded evaluation.
---
Below are a few screen captures of our days courtesy of our Suunto Ambit 2 GPS watch, check out more crazy data at our Suunto Moves Count page here.
January 5th, 2014's data click here.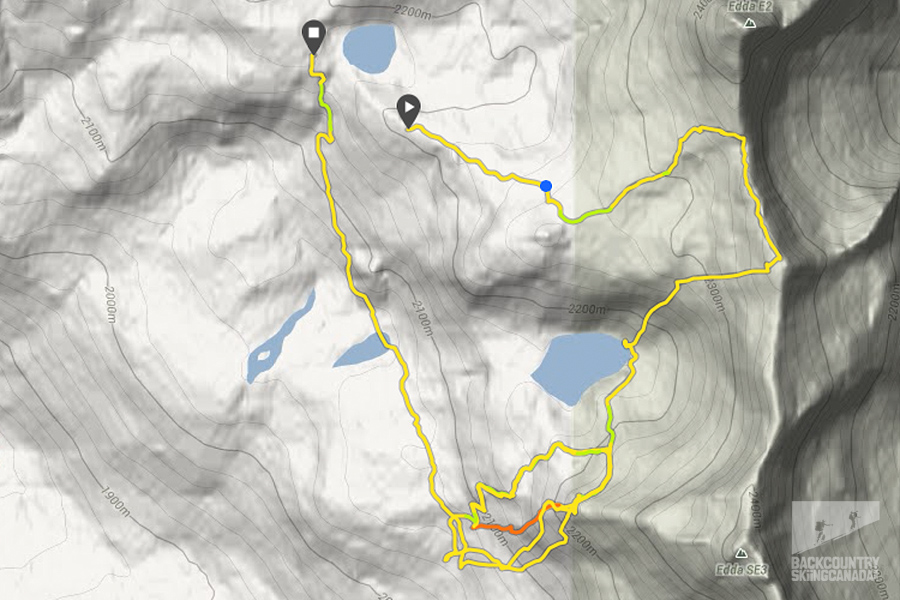 For January 6th, 2014's data click here.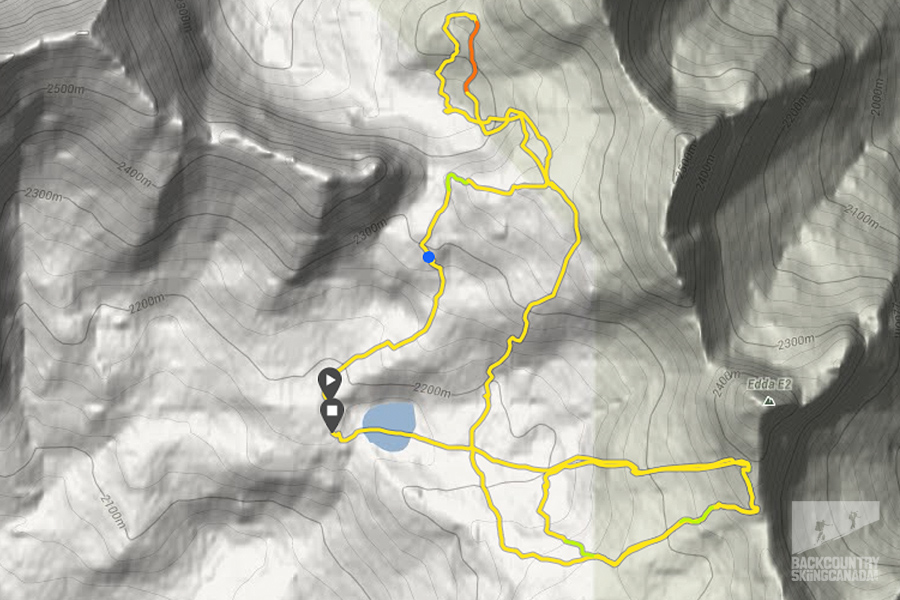 For January 7th, 2014's data click here.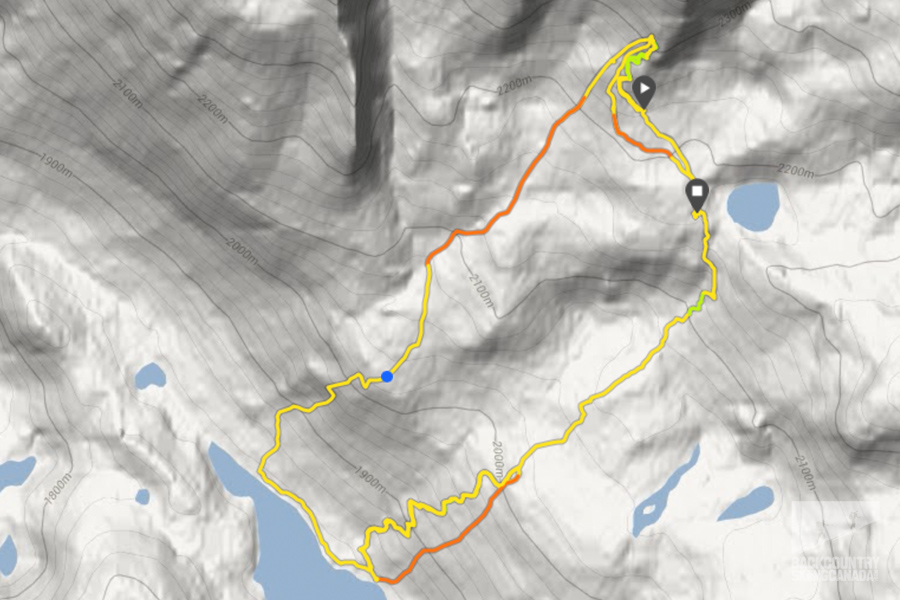 For January 8th, 2014's data click here.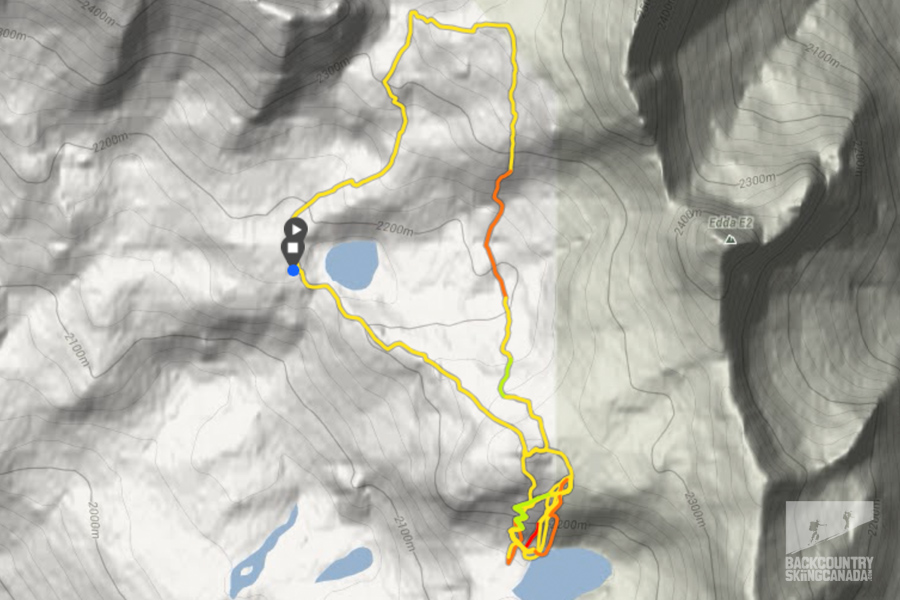 For January 9th, 2014's data click here.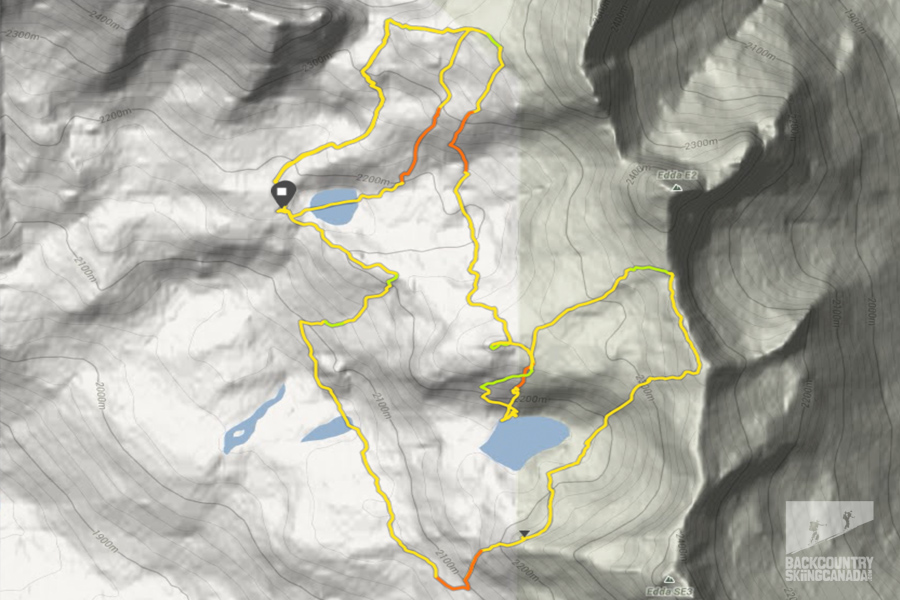 For January 10th, 2014's data click here.