Plum Guide Bindings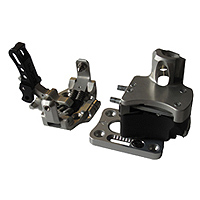 Turning 40 sucks. Your body begins to rebel and ache from time to time and inevitably it just doesn't listen the way it used to. Gone are the days of lugging heavy luxury items up the skin track to a remote cabin. Here are the days of gram counting. Lighter is more efficient, lighter is easier, lighter makes me happy. Enter the Plum Guide Binding - the latest binding development on the ever-expanding tech binding front, and a long overdue 'goodbye' to traditional AT bindings.
The Plum Guide binding is manufactured by Felisaz SAS in France. The company is family-run and was established in 1968 to manufacture precision machined mechanical parts. In 1994 they extended their expertise to include manufacturing parts for motorcycles, watches and ski bindings. In 2004 Plum focused on rando race bindings and dominated the market with their Race 135's, 145's and 185's. Finally, in December 2010 the Plum Guide Binding was born.
Design:
The Plum Guide Binding design is similar to other tech bindings on the market with the exception of weight, materials and a few innovations of their own: The heel piece of the Plum Guide Binding can be rotated in both directions to achieve the desired heel lift. There's a 15mm distance between the ski boot and the top of the ski which allows for a natural flex and eliminates the 'dead spot' between the toe and heel piece. While most of the other Plum Guide Binding features (listed below) are unique, one thing that remains the same is the mounting pattern. This is 100% identical to the (non-race) Dynafit touring bindings so no need to re-drill those skis if you are looking to change brands.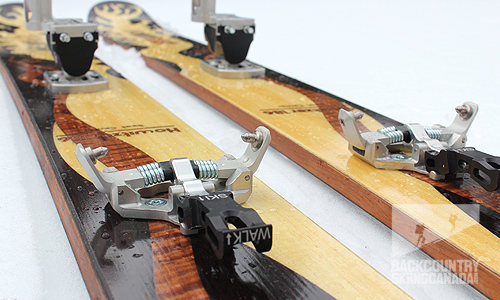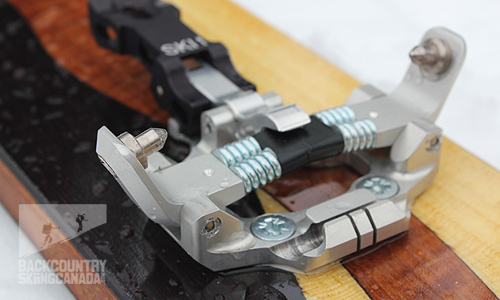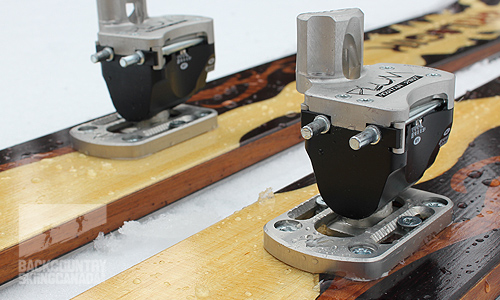 Features:
- Weight: At only 670g a pair it is almost 1/2 the weight of other tech bindings on the market and one quarter the weight of a traditional AT binding.
- Four axis rotation system: The heel unit provides easy multi directional rotation with either hand.
- Heel lift: Three position skinning elevator on the heel unit.
- Adjustment: The heel unit is adjustable by 30mm which will theoretically accommodate 4 to 5 boot sizes. This can be a fussy adjustment as there is no horizontal adjustment screw (to save on weight) but rather an adjustment track. But really how many times do you need to adjust your bindings?
- Ultra light weight materials: Aerospace grade Aluminum, steel and polymer are used.
- Precision: All parts are CNC machined at a precision of 1µm, which ensures accurate dimensions.
- Release: Forward and lateral release system to minimize injury.
- Frame: The high-rigidity frame and wide integrated base offers stability on the downhill.
- Crampons: Crampon insert molded directly into the overall frame of the toe.
- Certification: The Guide bindings conform with release safety standards and should likely be TUV certified by the end of 2011.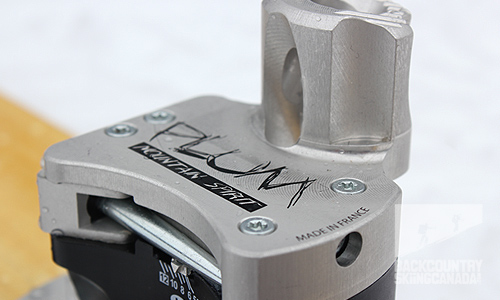 Step in:
Coming from a non-tech binding world, the learning curve has not been instantaneous but I would not say it has been a steep one either. The alignment of my boot with the binding toe pins has been a new skill to learn and to further the issue my Black Diamond Quadrant boots have a sole lug that pushes my boot back just a few millimeters - but enough to make alignment that much more tedious. Something to get used to.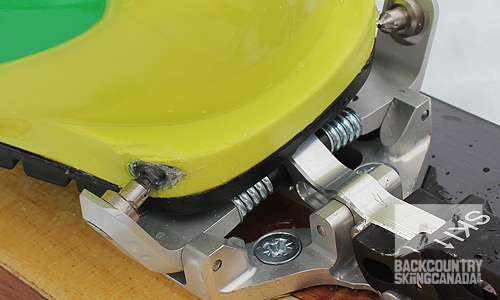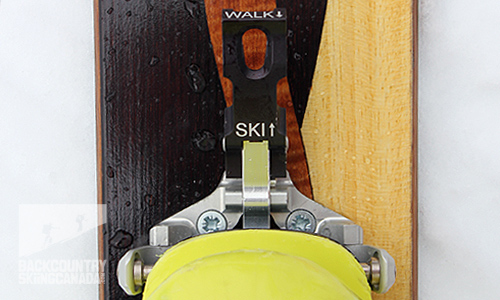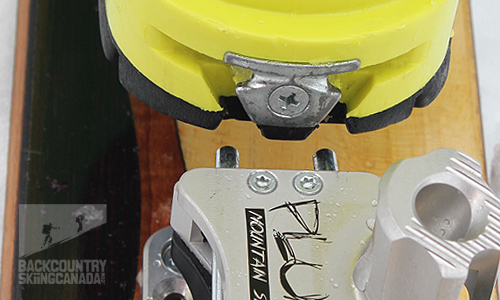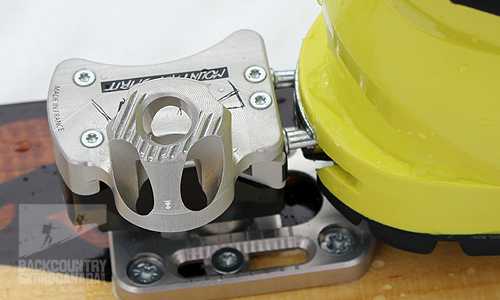 Skin up:
The free pivot of the toe piece on the Plum Guide bindings like other tech bindings is nirvana compared to traditional AT bindings where you carry the heel piece and support bar with every stride. My quick calculations show that I have saved 3.3 pounds by switching over the the Plum Guide Bindings. That's 1.6 lb/foot and as the saying goes " a pound on the foot = 10 on the back" - happy back.
One drawback that I have noticed so far on the skin track is when it comes time to perform a kick turn on a steep switch back. You need to take it easy performing this manoeuvre or else you will have a premature release.This is due to the angle of my boot becoming perpendicular to the ski and the toe of my boot hitting the front lock lever on the binding and forcing it from the lock position to ski position where it can then release. After speaking with the manufacturer they assure me that this is limited to only a few boot models and they have already solved the issue and re-designed the front lock lever and are sending over a new piece so that the Plum Guide will then accommodate my Black Diamond Quadrant AT boots. Problem solved. (UPDATE MARCH 2012: I have received the new front lock lever and installed it and this is no longer an issue, with a few weeks on the updated Plum Guides all is well and they work great!)
The Plum Guide includes a turret on the heel piece (unlike the 'Plum Guide S' model) which allows three raised heel positions for climbing. Neutral: without any lift and the heel piece rotated 90 degrees clockwise out of the way. Low: With the heel piece rotated 180 degrees (either clockwise or counter clockwise) so you can use the heel piece as a riser. High: with the heel piece rotated 90 counter clockwise to use the turret as a riser. Multiple holes are integrated into the heel piece turret to save weight and also allow you to use your pole to pivot the heel piece and engage the heel riser. The heel turret is constructed of solid aluminum and will not break if you apply stress, however, your pole might.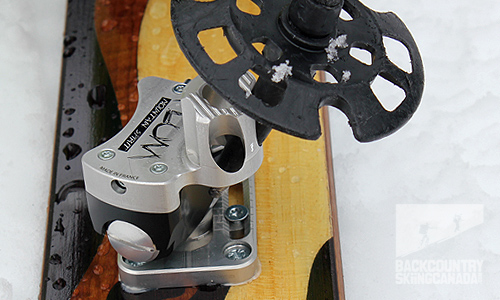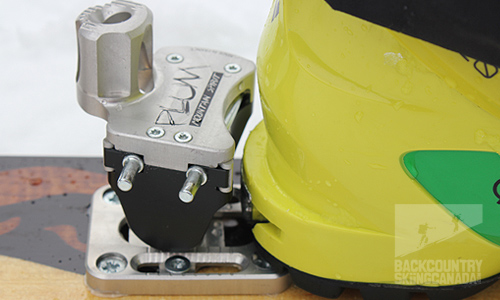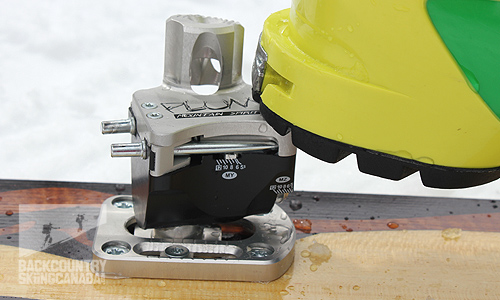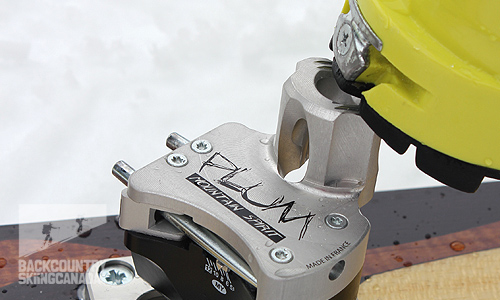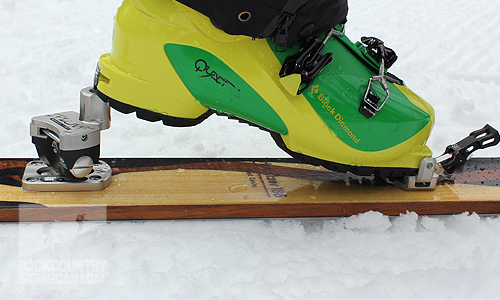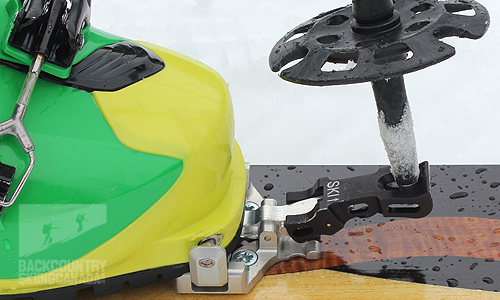 Ski down:
The Plum Guide Binding felt as solid as a traditional AT binding, other tech binding or even a downhill binding thanks to the choice of materials it's constructed from. There was very little play in the boot to binding transfer of energy and the skiing felt effortless. Without the benefit of a built-in ski brake you do save precious grams but if you release the bindings when skiing, there is a 50/50 chance that the ski may rocket. A pair of leashes were included with the Plum Guide Bindings but this process takes me back 20 years to when this is all there was - I still cringe every time I put them on. Thankfully, inside sources at Felisaz SAS assure me that a ski break will be available for fall 2011. Check back then for an update as we plan on testing this much needed add-on.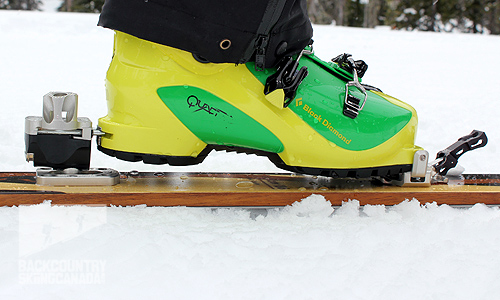 The Verdict:
The weight savings alone will add years to my ski touring opportunities and save my meniscus, ACL, MCL and various other parts in my back (whatever they are called). Beyond weight, the Plum Guide Bindings are solid on the down and seem to be almost absent on the up. And, if the Plum Guide Binding is good enough for Glen Plake then it's surely good enough for me.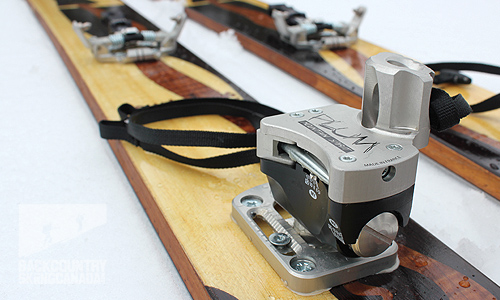 SPECS:
Price: $620 CAN
Weight: 22.65 oz / 670g (per set w/o screws)
DIN: 5.5 to 12
Availability: As of spring 2011 the availability in North America was limited to select locations in California, Colorado and only two Canadian retailers, one in Whistler and one in Squamish.
PROS:
Very light, high-quality manufacturing from strong materials (minimal plastic).
CONS:
No brakes available to date and supplied leashes cumbersome. (Note: Plum has also re-designed the leashes to be more versatile in length and improve disengagement. We will test the new leashes more and update you with our findings and eagerly await the new brake component.)
Rating: 8.5/10
Ski/hike performance 1.5/2
Transition 1.5/2
Durability 2/2
Weight 2/2
Quality / Price 1.5/2

here, and let us know what you think. People like/dislike gear for different reasons so chime in and we'll get a well-rounded evaluation. Check back mid-season to see how our review stands up to our in-the-field testing.
Back to the rest of the reviews.
---
UPDATE APRIL 2013:
I have had the Plum Guide Tech Bindings on two separate pairs of skis over the last two years and these bindings have performed flawlessly. They are incredibly light and the machined aluminum is tough enough to ski not just out-of-bounds, but in bounds at the resort as well. The brakes are due out this fall (2013) so we hope to get our hands on a pair of these and see how they work as well. The Plum Guide Bindings are my tech binding of choice and I recommend you consider these if you are in the market for a tech binding.
---