Two of the most innovative features of the Pieps DSP are related to the search function. First, the Digital Signal Processor is able to pick up transceivers that are transmitting at a signal which has drifted away from the desired 457kHz frequency. Second, there's what DPS calls the Smart Transmitter technology. This little bit of wizardry basically auto-adjusts the sending antenna to give searching beacons the strongest signal possible and can even switch antennas should there be interference from external electronic devices.
The Pieps DSP Pro has a rugged, compact design with all the controls on the front side and only the battery compartment on the back side.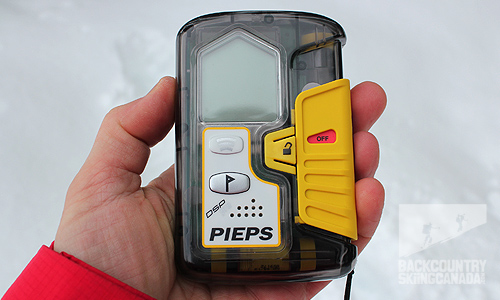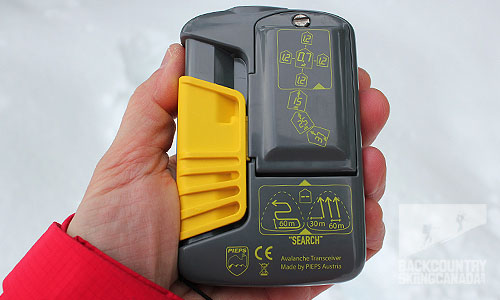 Features:
- Three antennas, plus self-checking reference antenna
- Smart Transmitter adjusts signal to allow for the easiest solution in a multiple burial scenario
- Circular range for extended, symmetrical search area
- Digital Signal Processor to pick up beacons transmitting drifted signals
Continuous carrier mode enables use with older, analog beacons
- Direction and distance from initial detection
- Auto antenna switch
The Pipes DSP Pro will automatically switch to the strongest transmitting antenna to ensure your transmission range is greatest. This may occur due to electrical and magnetic interference from phones, MP3 players and radios. In order to prevent this interference, it's recommended that all electronic devices be at least 15cm away from the DSP Pro in transmit mode and 50cm away in search mode.
- iProbe support
The DSP Pro is compatible with the Pieps TX600 mini-transmitter (for dogs and equipment) and the Pieps iProbe which has added search capabilities.
- Scan function
To scan for multiple signals simply press the scan button while in search mode and the DSP Pro will indicate the number of transceivers in a 5m range, a 20m range and a 50m range.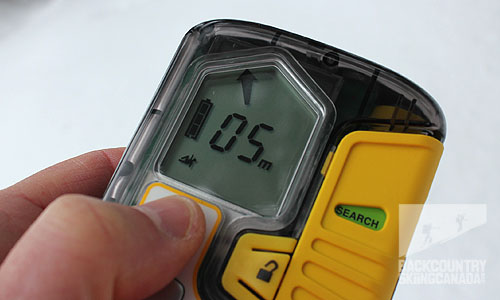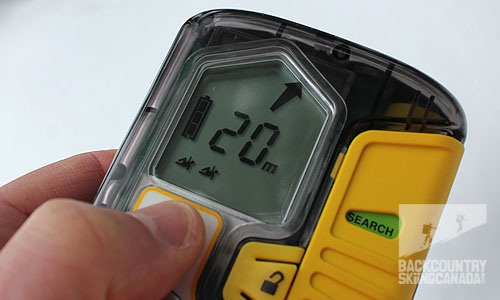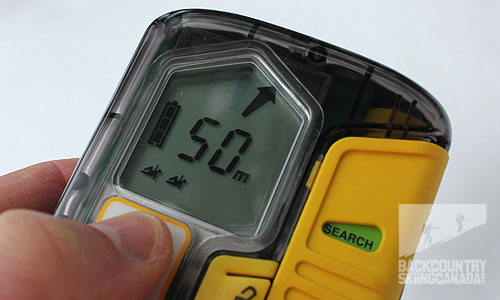 - Multi burial indicator
If more than one signal is within range the DSP Pro will show multiple icons of people at the bottom of the screen indicating one, two or three signals.
- Marking
The Pieps DSP Pro Transceiver will automatically search for the strongest signal once you switch over to search mode. Once you have found the first transceiver press the mark button to suppress that signal. An outline will then appear around one of the icons at the bottom of the screen. The DSP Pro will now automatically search for the next strongest signal. You can mark up to 5 transceivers in this manner. If you press the Mark button for three seconds you will reset the mark function for that signal. To reset all marked signals simply turn the transceiver to transmit and then back to search.
- Inclinometer (slope angle)
Inside the new DSP Pro transceiver is an integrated three-dimensional inclinometer to measure slope angle. Simply press the scan button for three seconds while in transmit mode and then place the transceiver on ski pole on the slope you wish to measure. The Pieps DSP Pro will automatically switch back to transmit mode after 20 seconds.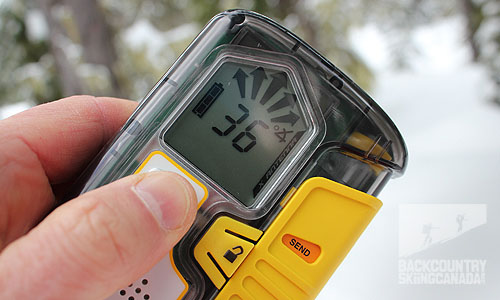 - Frequency measurement
If you press the scan button for more than three seconds while in search mode you can check the frequency of other transceivers within range. The display will show the deviation from the standardized frequency of 457kHz in Hz with an arrow to the right if it is + and to the left if it is -. The ideal maximum deviation for transceivers is less than +/- 30Hz.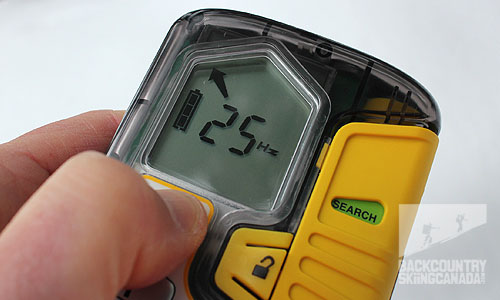 - Auto send to search
In the event of a secondary avalanche, a motion sensor will automatically switch the Pieps DSP Pro from search to send mode (transmit) after a pre-set amount of time. This function is by default not activated on the Pieps DSP Pro but instead must be turned on online at the Pieps service portal and then programmed into the transceiver so you will need DSP data cable or see your authorized Pieps dealer.
- Software update via USB
The operating software of the Pieps DSP Pro is updatable as new releases become available. You will need the optional DSP data cable to download the new OS from the updatable as new releases become available. You will need the optional DSP data cable to download the new OS from the Pieps on-line service portal or see your authorized Pieps dealer.
- Optional hand loop
The Pipes DSP Pro comes with an optional hand loop to carry your transceiver in a securely closed pant pocket with a secure clip attachment point.
- Self check
When you switch the Pieps DSP Pro transceiver on it performs a self check where the transmitting frequency, all antennas, amplifiers and processors are tested and an 'OK' or warning code is displayed along with the current firmware version number.
Let's have a look at the various screens of the DSP Pro. First there's 'Send' or 'Transmit mode and once switched over to search you can see it has picked up two signals. The next photo shows the first signal marked and the DSP locking onto the second signal. Pieps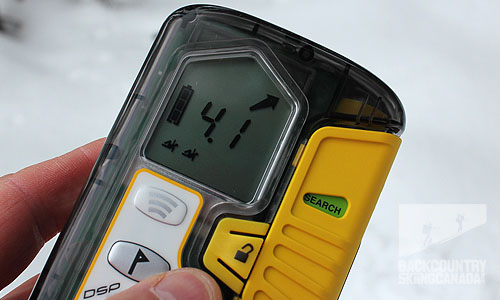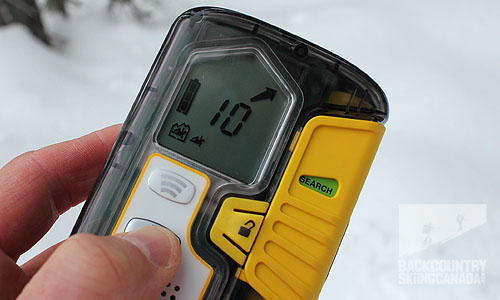 Features found in the DSP Pro and not available in the DSP Sport model:
- Scan feature
- 60m maximum range and search strip width (DSP Sport only has 50m)
- Inclinometer (slope angle)
- Frequency measurement
- Auto send to search (motion sensor)
- Battery life of 400hrs (DSP Sport has 200hrs)400hrs (DSP Sport has 200hrs)
- Price is $100 more than the DSP Sport model which is priced at $274.95
Verdict:
Having used the original Pieps DSP transceiver for three full seasons now I have become accustomed to how easy it is to use and how accurate at finding buried transceivers it is. Nothing has changed in these departments for the new DSP Pro. The searching features are spot-on and multiple burial scenarios are a piece of cake (with the required practice of course) with the same great marking functionality. The scan button is again included in the new DSP Pro as is the frequency measurement option which I must admit I do not use as often as I should. The addition of the inclinometer is a nice-to-have feature for those that do not know how to measure slope angle with their poles. This is a function that I will be using more and more in order to assess avalanche terrain as it is an important part of the avalanche equation.
It's nice to see that Pieps now offers up a Sport version for those with less spendy budgets or who simply don't need all the bells and whistles of the Pro. Personally for the extra $100 I think the long list of features (see above) is well worth the price of admission since when you think about it, your friends lives could depend upon that extra battery life or extended range of 10 more metres.
It's nice to have the on-off, search and transmit controls all together in one compact slider switch; however, I did notice that there is no 'click' or stop at 'Send' so it's very easy to cruise right by send and end up in search mode as you turn on the DSP Pro. Not a huge problem but just not as easy as the last version. The small lock button that you need to depress to switch between modes also seems to be tighter so using it with gloves on does take some practice. The harness, on the other hand, is a huge upgrade over the previous model with a more form fitting and intuitive design. The elastic cord is now housed in the harness strap until needed and there is a very cool 'Quick-Pull' feature that allows you to pull on the clip strap to virtually eject the DSP transceiver from its harness. No more fiddling to pry it out of its one-size too small harness. Super simple.
Although there are a few minor area that could be improved upon as mentioned above, overall the Pieps DSP Pro gets two big thumbs up and is definitely an improvement on what was already a great product.
Pieps DSP Pro transceiver in its harness and with the optional hand loop cord for use in a secure pant pocket if this is your preferred method.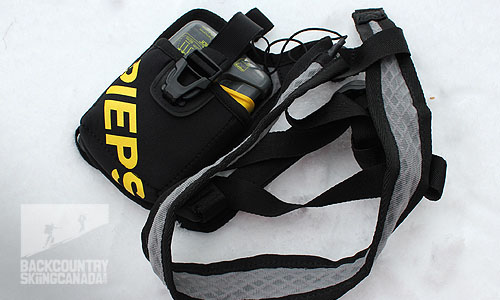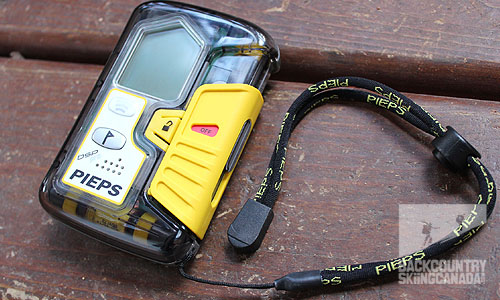 SPECS:
Price: $449CAN / $374.95US
Weight: 200g / 7.1oz (including batteries)
Maximum Range: 60m / 197ft
Search Strip Width : 60m / 197ft
Dimensions: 115 x 74 x 27mm / 4.5 x 2.9 x 1.1in
Antennas: 3
Frequency: 457 kHz (EN 300718)
Power Supply: 3 Alkaline AAA batteries, IEC-LR03, 1.5V
Battery Life: 400+ hours in send-mode
Warranty: 2 years (can increase to 5 years by registering your product online)
PROS:
- Built in inclinometer which provides slope angle calculation is very convenient.
- 60m range is at the higher end while weight is on the lower end - both ideal.
- Lower price for the new PRO version is always nice.
- The scan function is a great feature to quickly show you what you are dealing with in an avalanche scenario.
- Harness Quick-Pull system is helpful to get the DSP Pro out of the harness very quickly
CONS:
- The short leash provided doubles as a wrist strap but it isn't elastic so the reach is very limited (unlike the old one).
- Switching from search to transmit can be tricky with gloves on as the lock button is small.
- Polarized sunglasses interfere with viewing the display easily.
- The on-off / search / transmit slider can be pushed past transmit and into search mode easily. There needs to be some resistance at the transmit setting before it is able to go into search mode.
- Battery life icon displays in 3rds and not as a percentage which would be more helpful.
Rating: 9/10
Ease of use 1.5/2
Technology 2/2
Features 2/2
Weight 2/2
Quality / Price 1.5/2

This is only our opinion. Do you disagree? Did we miss something? Are we totally out to lunch? Join the discussion in the forums here, and let us know what you think. People like/dislike gear for different reasons so chime in and we'll get a well-rounded evaluation.
Back to the rest of the reviews.
---