Features:
- 3-layer Gore-Tex Pro – waterproof and highly durable
- Water resistant zippers
- 2 elastic drawstrings on the hood
- Articulated sleeves
- 5 large exterior pockets
- 2 interior pockets
- Under arm ventilation zips
- Elastic drawstring
- Snow skirt that snaps into any Peak Performance pants
- Recco system
A radio pocket is a nice addition as it's always a pain to have your zipper open so the aerial can fit! This pocket has a hole to allow for the aerial.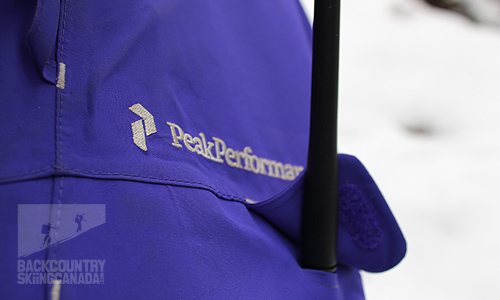 Helmet compatible hood with two adjustable drawstrings for extra fit and the Recco is included in this design.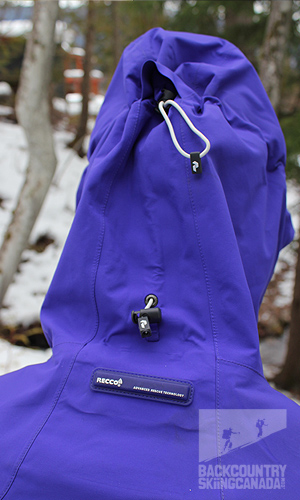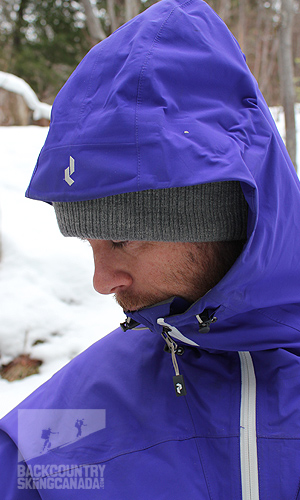 Pit zips for ventilation which are great on the up track.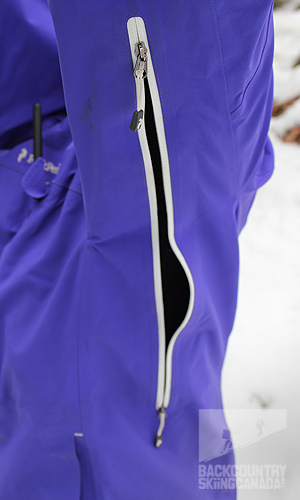 The generous chest pocket allows you to carry extra snacks, notebooks, phone etc.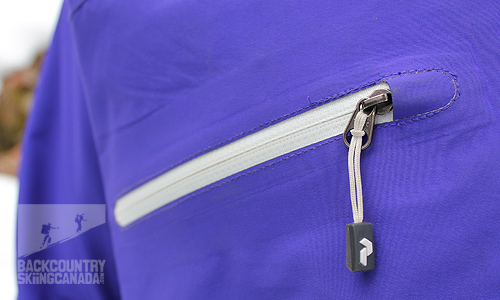 A sleeve pocket on the upper left arm seems useful but I haven't found a use for it yet. It isn't very convenient for a lift pass. It could be a great place to carry ID or credit cards?! If nothing else it looks good.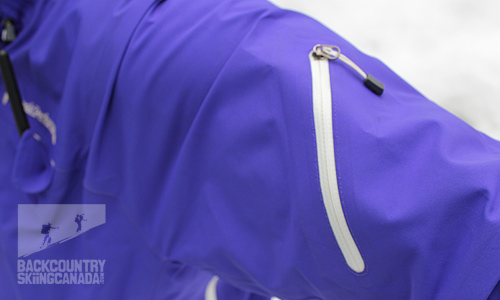 If you need to wipe your goggles this cloth is attached to the inside of the radio pocket on elastic cord.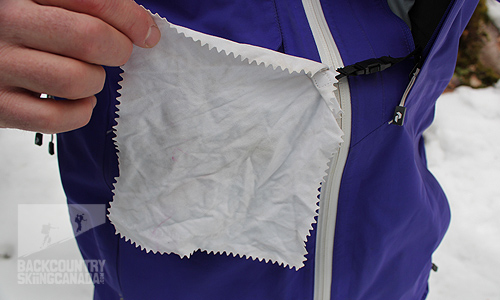 Simple adjustable Velcro cuffs.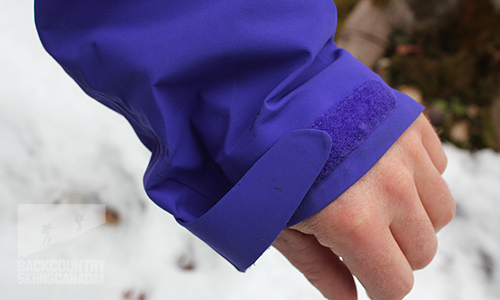 The jacket has a snow skirt that syncs beautifully with the Heli Pants. I was surprised how easy it was to put together. It certainly adds an extra layer of protection for those blower powder days.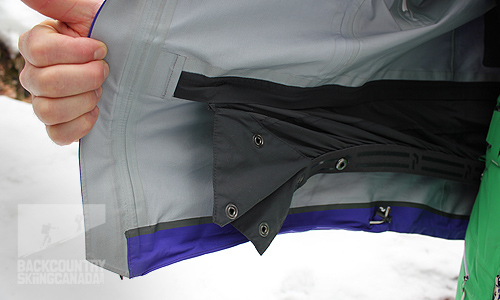 A generous inside chest pocket.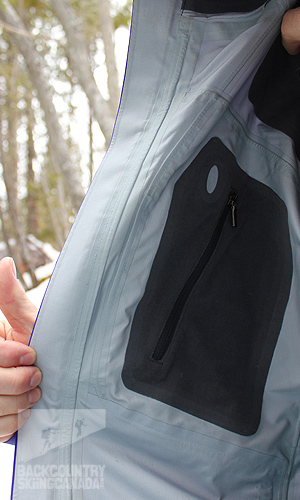 Verdict:
I simply love it. It stands up to the test traversing mountain ridges, guiding at a local CAT skiing operation and strutting around at the local ski resort. Come rain or shine it is peak performance, fashion and function, all the way.
The jacket has a great cut allowing plenty of room to fit an extra insulating layer while keeping a great shape allowing freedom of movement when skiing. I like that there are a generous number of pockets including a radio pocket and an MP3/I-player pocket.
The jacket is well constructed with 3-layer Gore-Tex Pro, which is super durable and stands up to the test in high winds on ridge tops and high precipitation days. I really love the high collar that covers the chin when the jacket if fully zipped. It's annoying when talking to a companion or communicating on the radio but in stormy weather you will be glad of the extra coverage to protect your face from the elements.
It does not feel restrictive thanks to the Gore-Tex triple Pro Shell that is flexible. The articulated sleeves mean that the jacket will fit best when you are skiing, so when you are charging down the mountain you can enjoy the ultimate comfort and protection.
SPECS:
Price: $700
Colors: Bright Grass/Dark Fern; True Black/Dark Steel; Vibrant Purple/Deep Purple
Sizes: XS to XL
Fit: Free ride
PROS:
- It's a great looking and well fitting jacket. I am usually a medium size and the large was a great fit and still enough space to fit an extra layer.
- There are lots of generously sized pockets.
- The extra length on the back hem is great protection from the elements when you are bending down to adjust your bindings
- The high collar that covers the chin when the jacket if fully zipped.
- Easy to use snap in snow skirtt
CONS:
- I found the hood was too small to effectively go over my ski helmet.
- The sleeve pocket on the upper left arm does not serve any real purpose and without a transparent pocket it can't be used for a ski pass.
- The radio pocket is awkward to access and I have real trouble getting a radio in and out. - Nice idea but the inner radio sleeve needs to be more spacious
- I don't like that all the zips close in an upward motion – I find it much easier getting ready at the top of the mountain to close pockets by zipping downwards
Rating: 8/10
Fit / Mobility 1.5/2
Packability 1.5/2
Waterproof / Breathable 2/2
Features 1.5/2
Quality / Price 1.5/2

This is only our opinion. Do you disagree? Did we miss something? Are we totally out to lunch? Join the discussion in the forums here, and let us know what you think. People like/dislike gear for different reasons so chime in and we'll get a well-rounded evaluation.
Back to the rest of the reviews.