Patagonia Torrentshell Stretch Jacket and Pants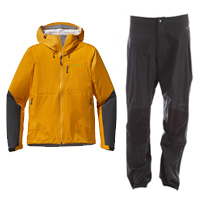 Winter Is Over. Isothermal snow plagues the mountain tops where Whisky Jacks have long since had corn. Echos of hoots and hollers and shadows of lost GoPros soon become the last residents of winters' backcountry. One by one we retire our skis. Average temperatures have pushed dawn patrol ahead 6 months. But don't fret, as spring returns for another year, so do rainbows. And with no reason to be any less adventurous, a change in your outdoor uniform may inspire. Patagonia's Torrentshell Stretch Jacket is recommended for anyone from the hardcore outdoor enthusiasts, who won't let a little stormy weather ruin their fun and those made of sugar. Aptly named, this Nylon H2No rain shield will protect anyone in the most torrential of downpours. No need to cower in this weather, the RipStop stretch forearms and shoulder blades keep you mobile and venting pit zips allow to cool off from battling the steeps.
Patagonia's Torrentshell Stretch raingear will allow movements when surefooted precision is demanded.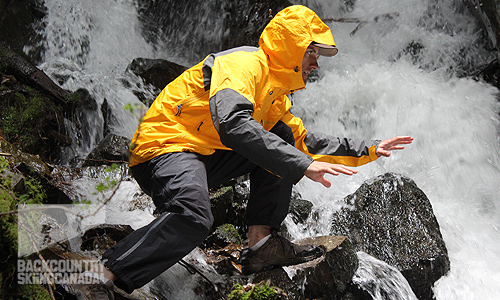 This jacket comes with all features expected with such a price tag. The micro-fleece lined neck and chin adds comfort and double zippered pit zips gives choice to open/close direction. It is helmet compatible with a large visor-touting hood that folds down into a good sized & fashionable collar.
Hood out or collar popped this jacked has style for anyone. Stretch panels featured in grey.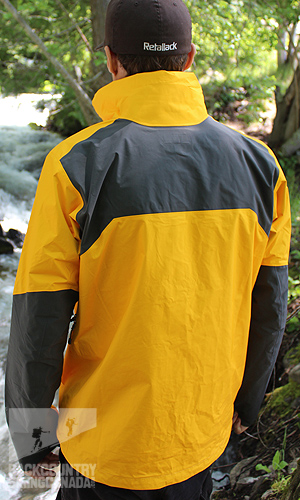 Adjustable drawcords, velcro cuffs, and waterproof zippers and ability to compress into a pocket are par for the course with these types of garments, but Patagonia added gussets and stretch panels for a larger and more comfortable range of movement, increasing its functionality and allowing you to reduce the number of jackets in your quiver. Details like a Zipper Garage to park your sealed, watertight zippers into are a nice touch however I think they missed the mark by leaving out fleece liners in the hand-warmer pockets and an additional inside pocket for added security.
Tucked away into a handwarmer pocket for easy stowing.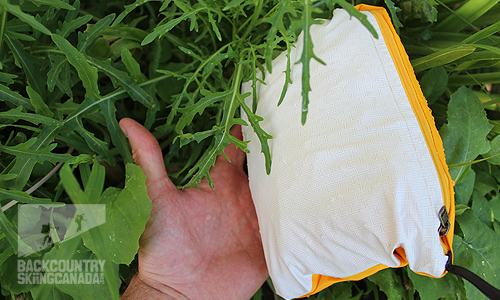 Zipper garages & quality tabs are details that add something extra to this jacket.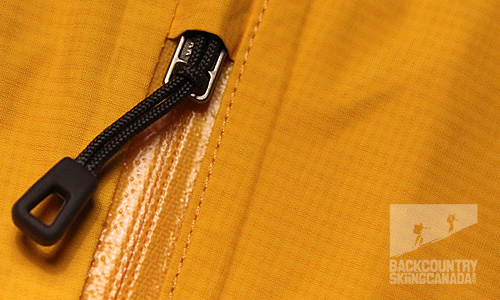 Microfleece adds comfort to the neckline while a light raised pattern & taped seams keep you light and dry.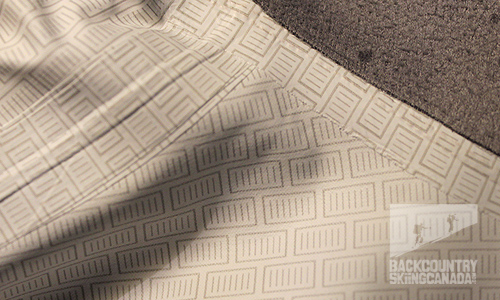 To complete the ensemble in the attack against torrential rain, Patagonia's Torrentshell Stretch Pants are made of all the same materials as the jacket, comes in all sizes but only one colour, black. This time the stretch material is located in the knees, perfect for making those climbing strides without pulling up your cuffs or feeling restricted. The elastic bands around the cuffs will keep them synched to the outside of your boots and a zipper down the outside seam allows to open for breathability. Unfortunately there are no pockets or belt loops, so ensure the size is right before buying these as the waist size is not adjustable outside of the partial elastic waist band.
Torrentshell rain pants stretch in the knee and are extremely waterproof.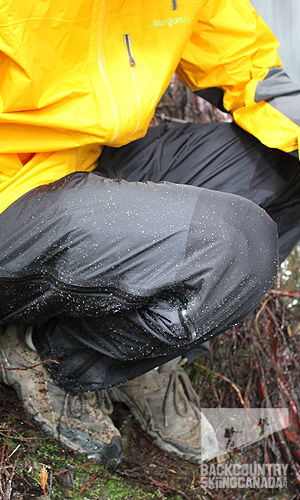 With a 20,000mL rating you should have no excuse not to get outside and 5 different colours will instil some individuality without looking like a Mammut advertisement. Go ahead and get dirty, this nylon wetsuit's Deluge (Durable Water Resistant) fabric finish have been tested and are machine washable.
Easy in, easy out with the leg length zipper with elastic waistband.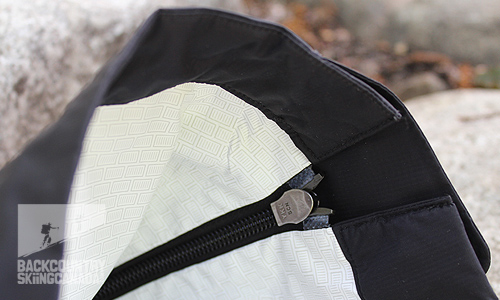 Jacket Features:
- H2No 2.5-Layer 100% Nylon Ripstop Fabric with Deluge Fabric Finish.
- Helmet Compatible, 2-way Adjustable Hood with Laminated Visor.
- Micro-fleece Lined Neck.
- Coated, Watertight Zippers.
- Pit Zips.
- Internal Storm Flap.
- Adjustable Velcro Cuffs.
- 1 Chest & 2 Hand-Warmer Pockets with Zipper Garages.
- Hood & Waist Adjustable Drawcord.
- Underarm Gussets.
- Light & Compressible Interior Raised Pattern.
- Folds down into either hand warmer pocket for easy storage!
Pants Features:
- H2No 2.5-Layer 100% Nylon Ripstop Fabric with Deluge Fabric Finish.
- Light & Compressible Interior Raised Pattern.
- Leg-Length Waterproof Zippers
- Elastic waist & cuffs with snap.
Verdict:
Initially I sneered at these pants & jacket based on the price and a glance at its features, how far has rain gear come since I was a child in rubber boots and splash pants? Upon closer inspection it turns out this jacket holds water, figuratively of course. Its innovation combines outdoor exploring and exercise with style and functionality. I maintain that this jacket is rather expensive, but at the top of Patagonia's Torrentshell Rain Jacket fleet it will perform as advertised. A lifetime warranty may ensure that this is the last rain jacket you ever buy, but with your adventurous lifestyle it may be subjected to more wear and tear then most. Unlike the jacket I am disappointed with the pants. They are too expensive for what you get and missing a wide variety of features. I would hope that Patagonia evolve the pants into a more functional garment for the next iteration.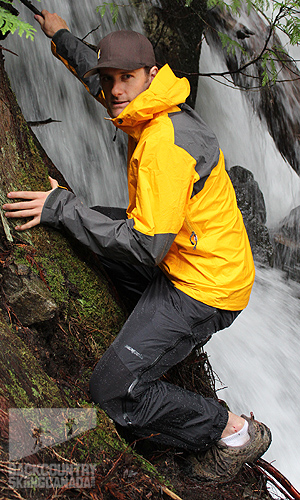 SPECS:
Jacket Specs:
Price: 229.00 CAD
Sizes: XS - XXL
Colours: Tupelo Yellow, Bandana Blue, Black, Cilantro & Forge Grey
Fabric: 40 Denier - 100% Nylon
Weight: 388 g (13.7 oz)
Pant Specs:
Price: 199.00 CAD
Sizes: XS - XXL
Colours: Black
Fabric: 40 Denier - 100% Nylon
Weight: 306 g (10.8 oz)
PROS:
- The jacket is available in a variety of sizes & colours, and offers many features, has double zipper pit zips and is comfortable & stylish.
- The pants come in a variety of sizes, same H2No Technology, Stretch in knee area & zippers from top to bottom for venting.
CONS:
- The Jacket pockets don't have fleece liners. No inside pocket.
- The Pants come in only one colour, they're expensive for available features, have no pockets and no belt loops.
Jacket Rating: 8.5/10
Innovation 2/2
Function 1.5/2
Aesthetics / Fit 2/2
Features 1.5/2
Quality / Price 1.5/2
Pants Rating: 6.5/10
Innovation 1.5/2
Function 1.5/2
Aesthetics / Fit 1.5/2
Features 1/2
Quality / Price 1/2

This is only our opinion. Do you disagree? Did we miss something? Are we totally out to lunch? Join the discussion in the forums here, and let us know what you think. People like/dislike gear for different reasons so chime in and we'll get a well-rounded evaluation.
Back to the rest of the reviews.
---