Patagonia Black Hole Snow Roller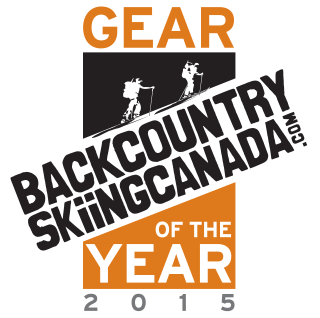 Patagonia is renowned for well thought out product design that takes the environment into consideration and the Black Hole Snow Roller is no exception. They've taken the traditional ski bag and amped it up a few notches with top of the line protection and ease of transportation being pinnacles of this design. Travelling to your next pow destination just got that much easier.
The Backcountry Skiing Canada Team.
---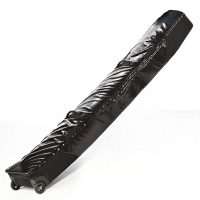 Patagonia released the Black Hole Duffel Bag a few years back and has since expanded the line to include 12L and 22L messenger bags, 25L and 35L packs, 45L, 60L, 90L and 120L duffel bags, 45L and 100L wheeled duffel bags and now the Patagonia Black Hole Snow Roller available in 167cm and 190cm lengths. Having already reviewed the Black Hole Duffel Bag a few years back I was very interested to see how Patagonia's winning design principles would translate over to a ski bag with wheels.
Below you can see the durable exterior fabric, the built in carrying handle and the lockable full zips which all add up to keeping you precious ski and snowboard gear safe while in transit.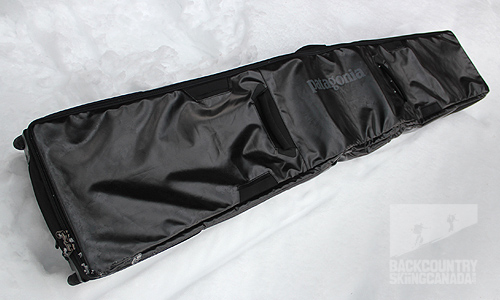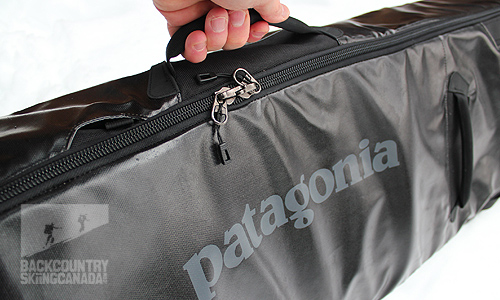 The Patagonia Black Hole Snow Roller is made of the same super-durable, highly water-resistant fabric that's found on the Black Hole Duffel. A durable water repellent finish repels light rain and snow and decreases dry times should things get wet. A dense foam lines the interior side panels and bottom of the Black Hole Snow Roller and pads your snowboard or skis (two pairs max) from damage that is often incurred during travel. This padding also provides structural integrity to the bag to limit compaction and crushing on the inside. Two internal mesh pockets provide space for keeping smaller items such as repair or tuning supplies secure and easily accessible. A clam shell zipper provides full access to the interior of the bag and facilitates easy in/out of skis and boards.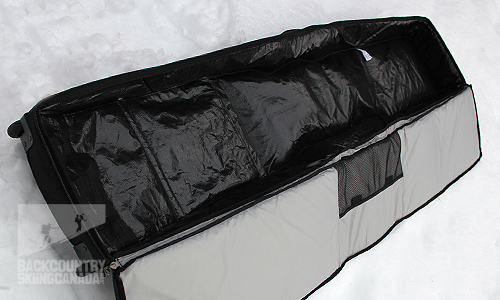 Two pairs of skis and poles fit easily.

Or one snowboard.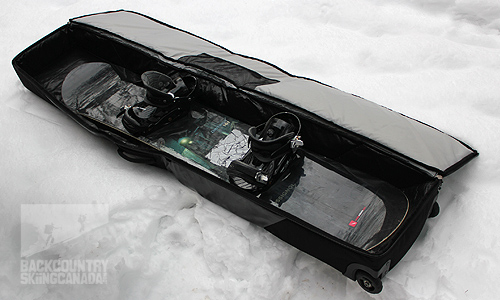 On the exterior of the Black Hole Snow Roller there are four sewn in webbing daisy chains which allow you to clip or lash additional gear or bags to the Snow Roller. If you ever need to haul the Black Hole Snow Roller or strap it down these daisy chains are very handy. Transporting an additional Black Hole Duffel Bag with the Black Hole Snow Roller is a snap thanks to the hidden load loops which hook into the daisy chain. Now you can roll multiple bags from car to check in much easier. Oversized wheels at one end give the snow roller it's moniker and provide an easy way to cover longer distances without having to shoulder the weight of your skis or board. If you prefer to muscle all the weight there's a top handle or side handles for carrying the Black Hole Snow Roller like a briefcase.
Carry all your gear with one hand by using the load loops that connect to the daisy chain on the Patagonia Black Hole Duffels.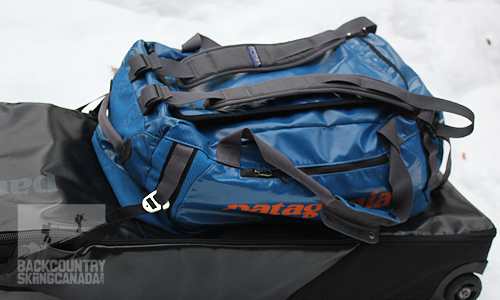 The load loops store in a concealed pocket out of the way when not needed.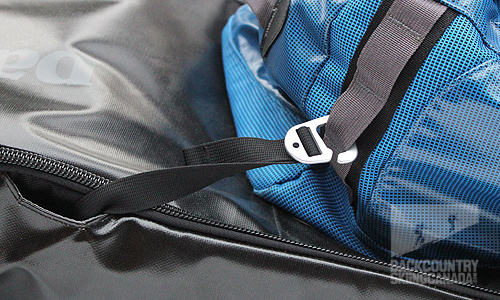 Features:
- Waterproof fabric with sewn seams to protect your gear in wet conditions.
- Four corner-mounted webbing daisy chains facilitate hauling and tying down big loads.
- Clamshell zipper design provides easy access to the main compartment.
- Foam padded bottom and side panels to protect contents.
- 14.7-oz 1,200-denier polyester (50% solution-dyed) with a TPU-film laminate and a DWR (durable water repellent) finish.
- Built in roll wheels for easy rolling or carry with haul handles.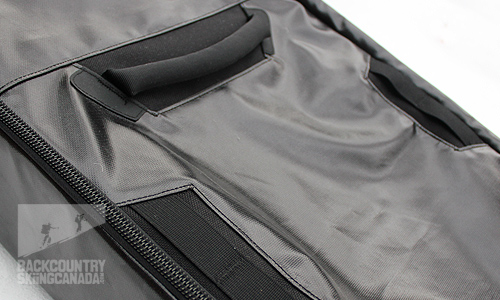 - Zippers with lock loops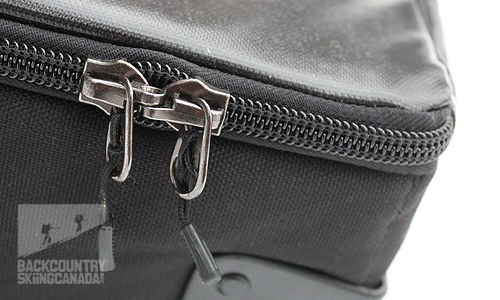 - Mesh pocket to store small items like ski and board tuning gear.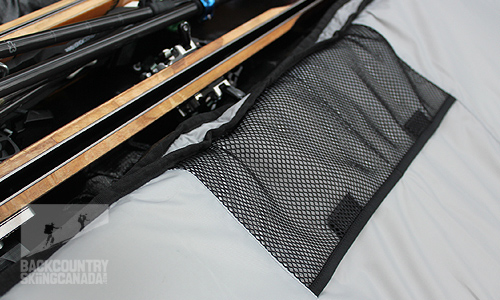 Verdict:
Since starting up Backcountry Skiing Canada five years ago, my winter travel has grown exponentially and the need to keep my ski gear safe and ding free has started me thinking about ridding myself of those flimsy $20 canvas ski bags I have used for so long. A hard case was my initial thought however the added weight and expense guided me in the direction of a less beefy alternative. The Black Hole Snow Roller appeared in Patagonia's line up this fall and it seemed like a natural solution after my experience with the Black Hole Duffel.
Having used the Black Hole Snow Roller on several international ski trips over the course of the winter thus far, I can say that it has kept my skis in mint condition and also provided a much more efficient way to transport my ski gear from the car to check in and back again. I could easily carry two pairs of alpine touring skis given that their bindings are so compact but I also tried two pairs of super fat alpine skis and then of course also a lone snowboard.
The only down side of the Black Hole Snow Roller is that once it has served its' purpose it doesn't compact down very small so it takes up a lot of room in your hotel room or rental car. Also be sure to adequately dry your skis before putting them into the Black Hole Snow Roller for longer periods of time as the interior does not absorb moisture and your ski edges will eventually start to rust.
If you value your skis (and why wouldn't you as they provide so much joy in life) then you ought to look at the Patagonia Black Hole Snow Roller to protect your investment and also make your travels that much easier!
SPECS:
Price: $369 CAN
Weight: 3674g / 8lbs 1.6oz
Colours: Black
Capacity: 2 pairs of skis, 1 snowboard 190cm max length
PROS:
- Durable design with waterproof fabric.
- Padded bottom and sides protect your skis or board.
- Oversized wheels make it easy to transport without the need to carry.
- Black doesn't show the dirt and grime of travels.
- Internal pockets hold smaller items.
- Daisy chains allow you to lash on other bags, specifically the Black Hole Duffel Bag.
- Clamshell zipper provides easy access to your skis and snowboard.
- Zippers have lock loops.
CONS:
- Pricey at $369
- Doesn't fold down very small so it takes up a lot of space once you get where you're going.
- Could use more internal pockets to separate gear and organize things.
Rating: 9/10
Features: 2/2
Innovation: 1.5/2
Ease of use: 2/2
Durability: 2/2
Quality/Price: 1.5/2

This is only our opinion. Do you disagree? Did we miss something? Are we totally out to lunch? Join the discussion in the forums here, and let us know what you think. People like/dislike gear for different reasons so chime in and we'll get a well-rounded evaluation.
Back to the rest of the reviews.
---