Patagonia Northwall Soft Shell Jacket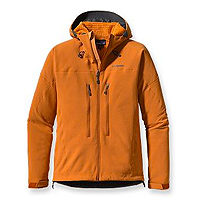 They say "there are several ways to skin a cat". I am not sure I want to know the origins of the phrase though I can appreciate its meaning and how it relates to each of us being unique in our approach to our backcountry skiing clothing choices. Some prefer to cover all their bases with a soft shell for the up, a hardshell for the decent and an insulating down jacket for the rests in-between. Then there are others who are minimalists who prefer to go with a single soft-shell jacket which works for the up, the down and the bits in-between. I tend to err on the side of caution and bring the whole kit with me as you never know what you are going to find out in the mountains. The old boy scout motto - "be prepared" has served me well to date. Then again, everyone is different.
If you are looking for a jack-of-all trades soft-shell then the Patagonia Northwall Jacket should be on your radar. This is a softshell that can be worn almost as a hardshell. It's weather resistant thanks to the Polartec Power Shield Pro fabric which is also super durable and resistant to abrasions. Most softshells give minimal insulation value but the Patagonia Northwall Jacket has built in wall-to-wall carpeting (so to speak) so it is perfect for cold conditions. The Regulator high-loft grid interior is incredibly plush for maximum warmth while still being breathable. With this one jacket you can get protection from the cold and wet while still being tough and breathable - a great combo.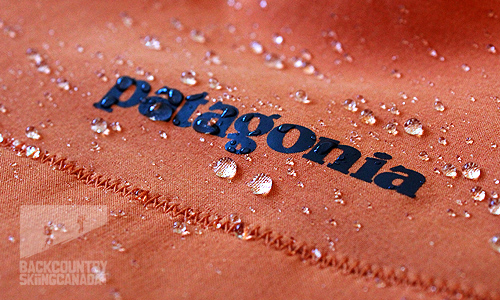 If that wasn't enough Patagonia has included a new patented feature into the Northwall jacket called the "Touch Point System". This is one cool feature, it is designed to help you reduce the fumbling when you need to tighten things up when the winds begin to howl on the ridge top. Patagonia has embedded cord locks in the hem and hood so that you can easily pull to synch things up, and to release you simply press on the Touch Point system (the grey area) to activate the lock release. This is a much slicker design than the traditional spring locking system that is usually tethered to the garment which you have to fumble with to orientate and then activate. Also, because the Patagonia Northwall Jacket is so warm it carries some extra bulk, to try and minimize this Patagonia has integrated a pleated gusset on the cuffs. The pleats remove that extra fabric that doubles back on itself when you cinch the cuffs with the velcro adjustments. Nicely done!
And finally, Patagonia uses sonic welded seams with micro stitching to reduce bulk and weight - this one is still Patent pending.
Details:
Seams: Sonic-welded seam construction with micro-stitching to reduce seam bulk and weight.
Hood: Helmet-compatible, 2-way-adjustable hood with laminated visor for visibility in bad conditions.
Adjustability: The 'Touch Point System' uses three embedded cord locks in the hood and two in the hem for easy adjustments to seal out rain and snow.
Sleeves: Modified Y-Joint sleeve construction for increased mobility.
Zippers: Two water-resistant, zippered torso pockets which are above the harness/pack-line.
DWR: Moisture-shedding durable water repellent outer treatment to keep you dry in all but a deluge.
Cuffs: Low-profile cuff closures with pleated gussets reduce bulk when you need to cinch things down with the velcro adjustments.
Pleated gussets take out some of the bulk.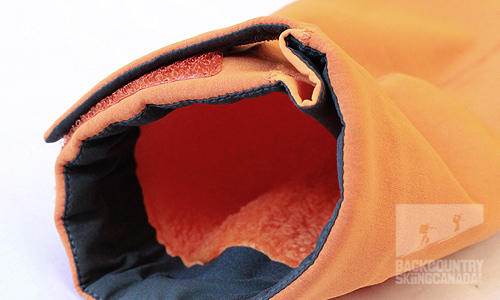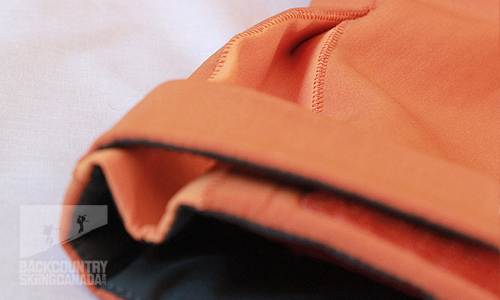 Zippers, zippers, zippers.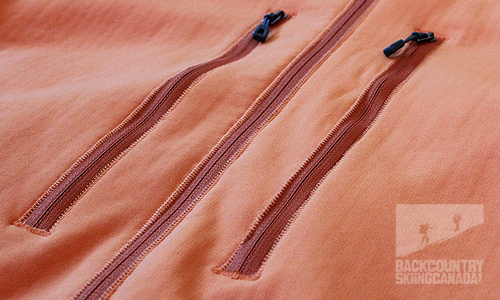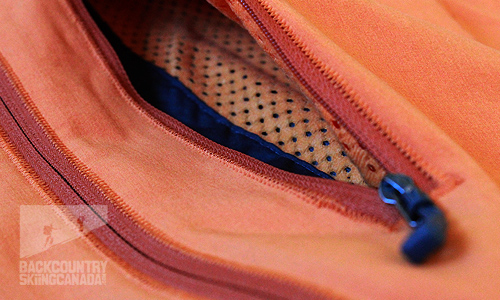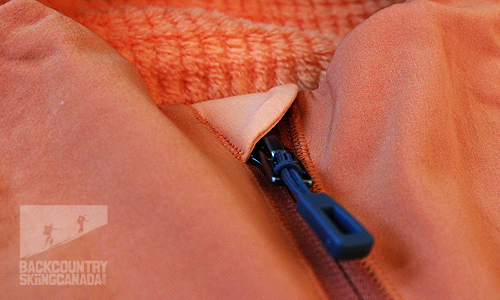 Interior pocket.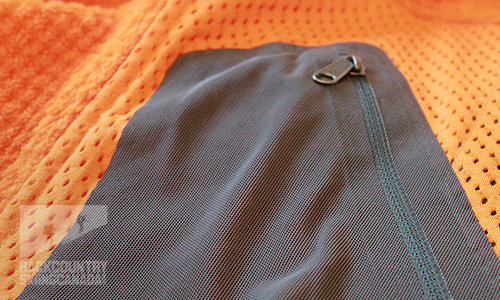 Touch-Point system make adjustments easy-peasy.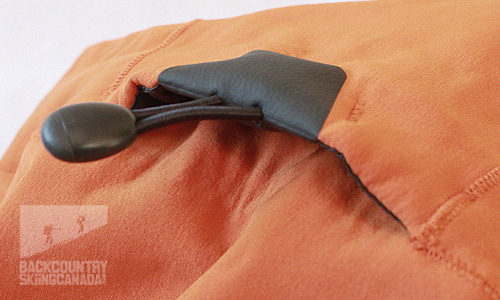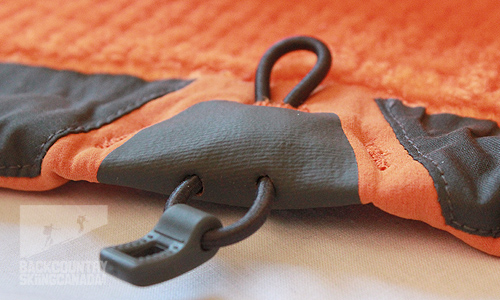 Materials:
Exterior: 12.5-oz Polartec Power Shield Pro® fabric is 94% polyester and 6% spandex.
This durable fabric uses hydrostatic resistance to keep you dry from both within and out. It provides weather protection and breathability.
Interior: Regulator Insulation, which is a high-loft Insulation that is compressible and warm while not begin too heavy. It also provides some moisture transport to keep you dry on the inside.
Wall to wall carpetting (Regulator insulation).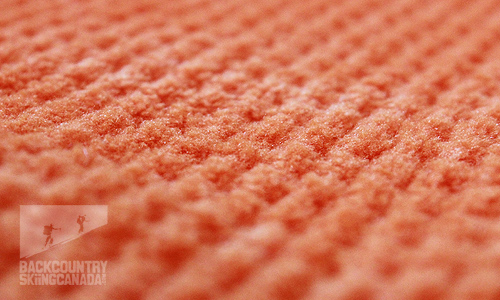 Verdict:
The Patagonia Northwall Jacket is new this fall. I originally balked at the $449 price tag, however, with Patagonia's environmental commitment and ethics you expect to pay a little more, also the unique features of this soft-shell and its added warmth do justify the extra dough. Cost aside, the Patagonia Northwall Jacket is innovative and delivers on keeping you warm and toasty. It has everything you could want in a single-layer jacket minus the media port in the chest pocket (if this is your thing). It provided great range of motion thanks to the fabric stretch and Y-joint sleeve construction.The DWR would keep you dry in a light rain but not a downpour so I would always bring along a shell if conditions were wet and warm. Over all, I found that the Northwall works well as a stand alone piece. It's a little on the heavy side for backcountry skiing especially if you are planning on taking along the full kit (down, hard shell, etc.) but if you wanted one jacket that would perform well in-bounds and keep it simple out-of-bounds then the Northwall is it.
Ready for the storm.

SPECS:
Cost: $449
SIze: XS, S, M, L, XL
Colour: Fennel, Deep Mango, Black
Weight: 731g / 25.8 oz
PROS:
This is one feature-rich soft-shell that will serve as a single-layer on your next backcountry sortie. Favourite feature has to be the pleated cuffs and the Touch Point system. Bravo again.
CONS:
At $449 this is one expensive soft shell - yikes. Twice the weight and bulk of traditional shells (but also twice the warmth and protection).
Rating: 7/10
Fit / Mobility 1.5/2
Packability 1.5/2
Warmth / Breathable 2/2
Features 2/2
Quality / Price 1/2

This is only our opinion. Do you disagree? Did we miss something? Are we totally out to lunch? Join the discussion in the forums here, and let us know what you think. People like/dislike gear for different reasons so chime in and we'll get a well-rounded evaluation. Check back mid-season to see how our review stands up to our in-the-field testing.