PROBAR Whole Food Meal Replacement Bar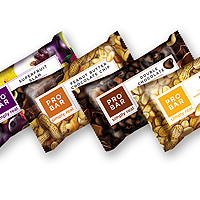 An adventure in the mountains is rarely without those ubiquitous "bars", be they nutrition bars, energy bars, sports bar, meal replacement bars, protein bars… you get the idea. There are a lot of companies making bars these days; the market is saturated with a multitude of options, so how do you decide? I personally look for a bar that is mostly made from organic ingredients that I can pronounce and understand, that has some plant based proteins, that doesn't contain copious amounts of added sugars and that is less franken-science and more about real ingredients. Of course it has to taste good but I also want to know that it is doing my body good and is not merely a chocolate bar cloaked in a granola façade that is going to give me an energy high followed closely by a huge energy crash. The PROBAR is a 'bar' that fits all of these requirements so we decided to have a closer look.
PROBAR has its roots in the Wasatch mountains of Utah, as do so many other outdoor adventure based companies. In the late 90s a group of foodies wanted a bar to recharge with that contained natural, whole foods with no chemical additives and 100% vegan organic ingredients. They couldn't find one, so they started making one themselves and called it PROBAR.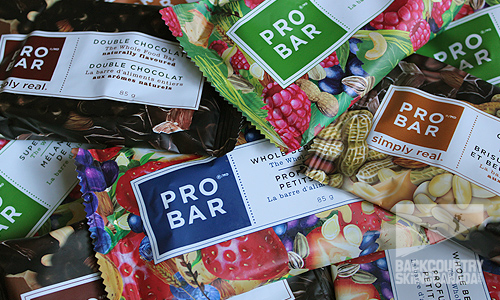 PROBAR has three collections: original, Fruition and Halo and, as you would expect from the company's history, all three contain organic whole foods and the original and Halo collections are also 100% vegan). The PROBAR original bars are classified as meal replacement bars and are rich in raw food. Believe it or not, these bars contain 15 whole foods including: grains (sorry celiacs), chunky nuts and fruits, Omega 3 and 6, as well as 8 - 12 grams of plant based protein. Although this may sound too healthy for some of you, before you judge you really need to taste one to appreciate that, not only do they satiate your cravings, they don't taste anything like glue and sawdust. In fact, they taste good, really really good. The full list of PROBAR original flavours includes: Peanut Butter Chocolate Chip, Double Chocolate, Peanut Butter, Superfruit Slam, Old School PB&J, Whole Berry Blast, Superfood Slam, Original, Koka Moka, Nutty Banana Boom, Cran-Lemon, and Twister and Apple Cinnamon Crunch. There is also a new sweet & savoury selection of PROBARs to choose from with flavours such as Cocoa Pistachio, Maple Pecan, Cherry Pretzel and Kettle Corn.
The PROBAR Fruition collection is a fruit based gluten free alternative without the extra fat and calories. In addition to fruit they have a date, oat, chia seed and cashew base with flavours such as Chocolate Orange, Lemon, Cherry, Strawberry, Blueberry, Peach and Cran-Raspberry. We did not receive any samples of the PROBAR Fruition bars so we cannot verify that they taste as good as they sound. Based on the original bars, we have no reason to believe that they wouldn't be as equally delicious.
The final collection in PROBAR's hat-trick are the PROBAR Halo bars which are said to be for those with more of a sweet tooth. Like the bars in the other collections, they contain organic, vegan, natural whole food ingredients but the calories are limited to 150. The roster of flavours is straight out of any child's youth: Rocky Road, S'Mores, Honey Graham and Nutty Marshmallow. Again, as with the PROBAR Fruition collection we cannot vouch for the PROBAR Halo collection as they eluded us as well.
PROBAR Superfood Slam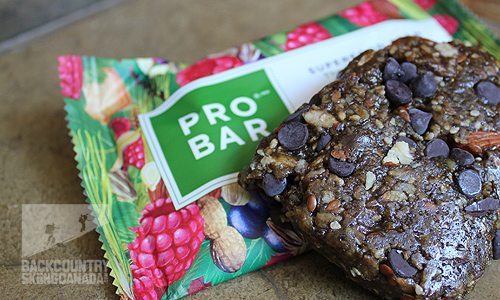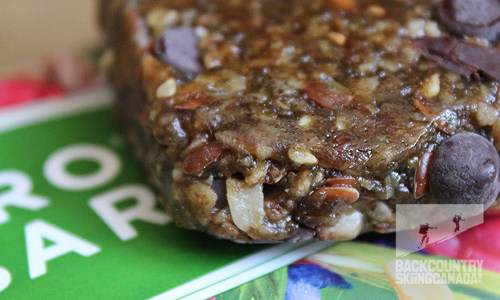 PROBAR Double Chocolate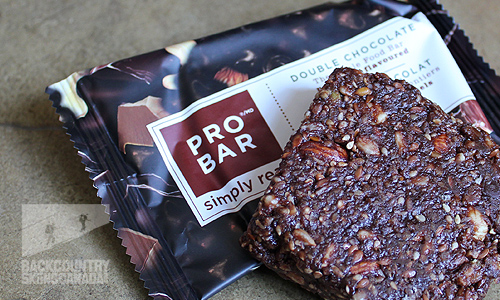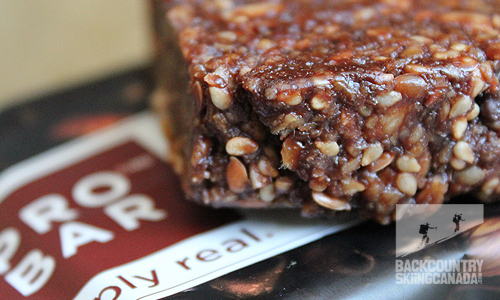 PROBAR Peanut Butter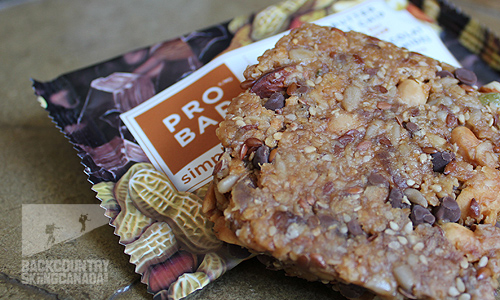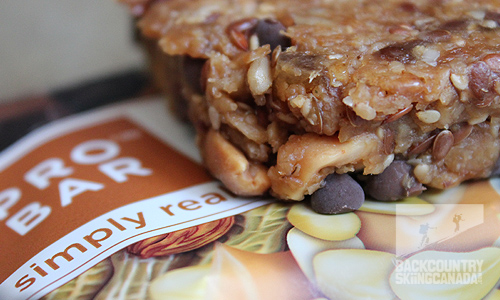 PROBAR Superfruit Slam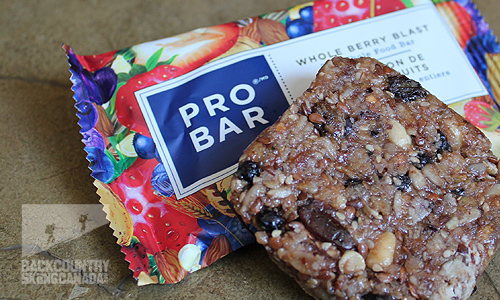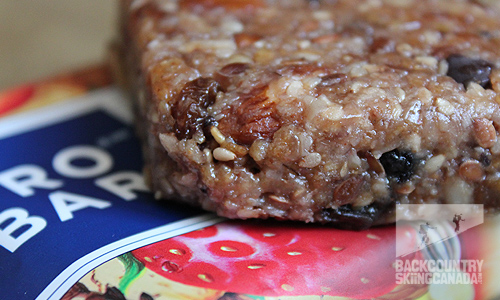 Nutritional Info:
PROBAR original collection
- Certified Organic
- 100% Vegan
- Rich in Raw foods – 70% Raw
- Good source of Omega 3 and 6
- 8-12 g of plant based protein
PROBAR Fruition collection
- Certified Organic
- Gluten free
- One serving of fruit in every bar
- 160 calories per bar
- 4 grams of fiber
- 2 grams of fat
- Dense with antioxidants and Omegas from Chia Seeds
PROBAR Halo collection
- Certified Organic
- Vegan and Dairy Free
- 150 Calories per bar
- Good Source of Omega 3 & 6
Verdict:
We were recently sent a sampling of the vast variety of products and flavours that PROBAR produces. Although we cannot comment on the Halo or Fruition line of bars we were able to test the Superfood Slam, Double Chocolate, Peanut Butter and Superfruit Slam PROBARS from the original collection. With each flavour we tested we became more impressed with the quality of these products and how they managed to take a unique twist on otherwise traditional flavours. The Peanut Butter PROBAR was our first to sample; it had the perfect level of sweetness and contained entire peanuts for a really chunky and fulfilling snack. Next up was the PROBAR Superfruit flavour which was packed with more fruit than we expected; we actually encountered entire strawberries and blueberries and these were not small, dried, flavourless berries, these were big, juicy and full of flavour—wow. We followed this up with the PROBAR Superfood flavour which was a truly unique flavour. It combined a blend of organic wheat grass, organic barley grass and organic alfalfa powder with Manitoba Harvest raw shelled hempseed to give it a really unique green flavour that was not overpowering but just enough to be unique and interesting. This was balanced off with several other unique ingredients and unsweetened dark chocolate just to keep the hippy-trippy meter from red lining. The last flavour we sampled was one we did not hold very much promise for, PROBAR Double Chocolate. Now don't get me wrong, I like chocolate but just not the ultra-sweet over the top sugar filled chocolate bar flavours I have been accustomed to with other bars. Once again I was pleasantly surprised, the PROBAR Double Chocolate contained plenty of chocolate without all the sweetness that normally sends my glucose levels through the roof. In fact, at only 18 grams of sugar per bar, this bar actually contained less sugar than the other three bars we sampled.
Overall PROBAR was just what I was looking for in a "nutrition-energy-sports-meal replacement-protein call it what you will" bar. The bars are jam packed with flavour without all the frankenscience and sugar. They offer up a healthy organic non GMO verified bar that does not compromise my health. They are priced a little higher than the competition at roughly three bucks a bar, but, in this case at least, you get what you pay for.

SPECS:
Price: $2.99 CAN / bar
Weight: 85g / 3oz
Awards: Whole Foods Magazine's "Best Nutrition Bar for 2009″for the second consecutive year
PROS:
Incredibly tasty and full of chunky, rich flavours, organic ingredients and not too sweet like other bars.
CONS:
A little on the pricey side compared to most other bars and a recyclable or compostable wrapper would be ideal.
Rating: 9/10
Ingredients         2/2
Taste                  2/2
Effectiveness       2/2
Weight                 1.5/2
Quality / Price     1.5/2

Join the discussion in the forums here, and let us know what you think. People like/dislike gear for different reasons so chime in and we'll get a well-rounded evaluation.
Back to the rest of the reviews.
---