Outdoor Research Transcendent Hoody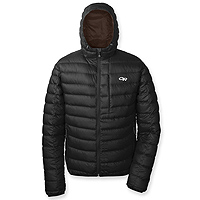 In the name of simplicity I have always been a one down jacket guy, get the biggest, warmest, most hard core one you can find and wear the hell out of it. Who really needs two of anything?
That was last season. This season I want to reduce as much volume and weight in my pack as I can so I have broken that first rule and now own two down jackets with very different functions. The Outdoor Research Transcendent Hoody is a new product from Outdoor Research and is the third product in the Transcendent jacket line-up. Outdoor Research first created the Transcedent Vest and it was improved by adding sleeves, and so you have the Transcendent Sweater, add a hood to this and you get the new Transcendent Hoody.
If you backcountry ski you need to carry an emergency insulation layer or simply a layer to keep you nice and toasty while you lunch, transition or bag the summit. Carrying a full-on beefy down jacket can take up considerable bulk even if you use a compression sack to squeeze it down. All the squeezing in the world will not reduce the 600 - 800 grams of weight,… and really how many times have you required this much warmth? You can save a full 300 grams or about half the weight by packing the new Outdoor Research Transcendent Hoody - and the hood itself only adds 64 grams of weight while providing unmeasurable amounts of warmth and seclusion from the elements - it's a no-brainer really.
All down jackets are warm and comfy to wear but the Outdoor Research Transcendent Hoody is warm (but not suffocatingly hot) and ultra compact thanks to the Ultralight 20D recycled ripstop polyester shell and taffeta lining - now doesn't that just sound cozy? Have a look at the picture below to see how small the Transcendent Hoody compacts. I use an ultra light compression sack to keep the Transcendent Hoody dry and protected from sharp objects in my pack, although it can also be stuffed into its own pocket which doubles as a stuff sack.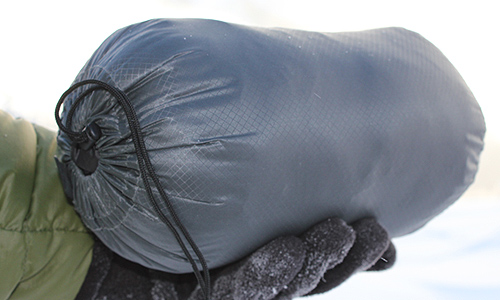 The Napolean pocket is a nice feature for keeping small things easily at hand and if you didn't know it was there you may never find it. If this external pocket is not big enough for you needs then use the two huge pockets on the inside of the jacket for carrying maps and naan bread (should you choose).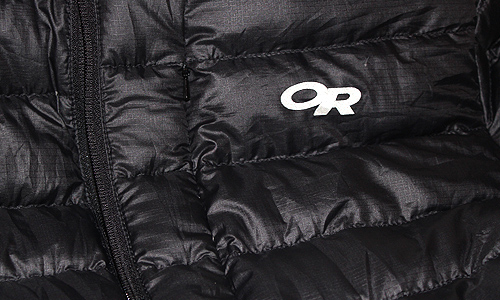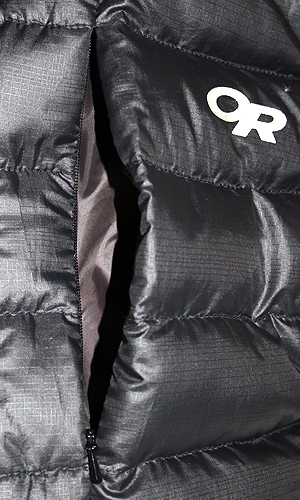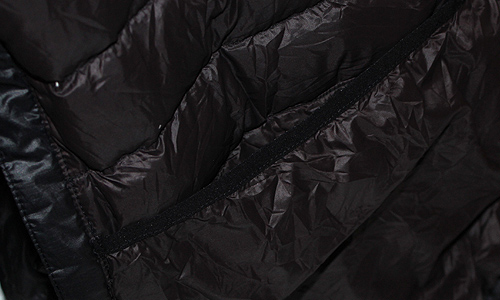 Layering:
The key to staying warm w/o sweating is layering and the Outdoor Research Transcendent Hoody can be used either as an outer layer for a quick break in the day to avoid cooling down or as an inner layer with a windproof/waterproof shell over top to keep the furnace stoked.
The Hood:
The Outdoor Research Transcendent Hoody's main feature is it's hood (obviously) and this addition to the Outdoor Research Transcendent Sweater adds warmth and comfort by blocking out the wind and keeping your head and neck toasty warm. The hood adds minimal bulk and weight and provides so much warmth that it is a no-brainer. The hood has two front adjustments and a back synch for making it nice and snug in summit gales or keeping it loose for the mid day lunch break.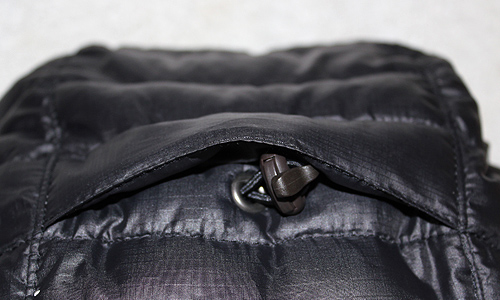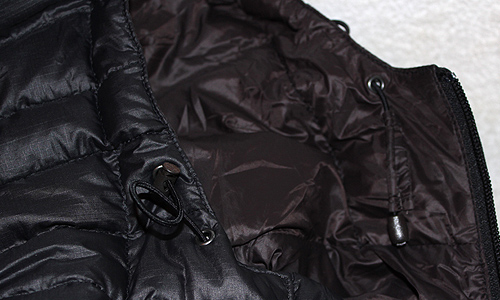 Features:
• 650+ fill down insulation
• Ultralight 20D recycled ripstop polyester shell; taffeta lining
• Down-filled dual pull adjustable hood
• Brushed tricot-lined collar
• Front zipper with internal stormflap
• Zippered napoleon pocket
• Two zippered handwarmer pockets; one doubles as stuff sack
• Stretch binding at cuffs
• Adjustable hem
• Two large internal pocket
SPECS:
Price: $180.00 US
Sizes: Small, Medium, Large, Extra Large
Weight: 15.6 ounces/442 grams (large)
Color: available in Olive, Expresso, Diablo, Black
PROS:
Light, compressable, warm and snug
CONS:
None
Rating: 10/10
Fit                    2/2
Packability        2/2
Warmth             2/2
Features            2/2
Quality / Price   2/2

This is only our opinion. Do you disagree? Did we miss something? Are we totally out to lunch? Join the discussion in the forums here, and let us know what you think. People like/dislike gear for different reasons so chime in and we'll get a well-rounded evaluation. Check back mid-season to see how our review stands up to our in-the-field testing - Brad.
Back to the rest of the reviews.
---